Categories >
Guides and Tips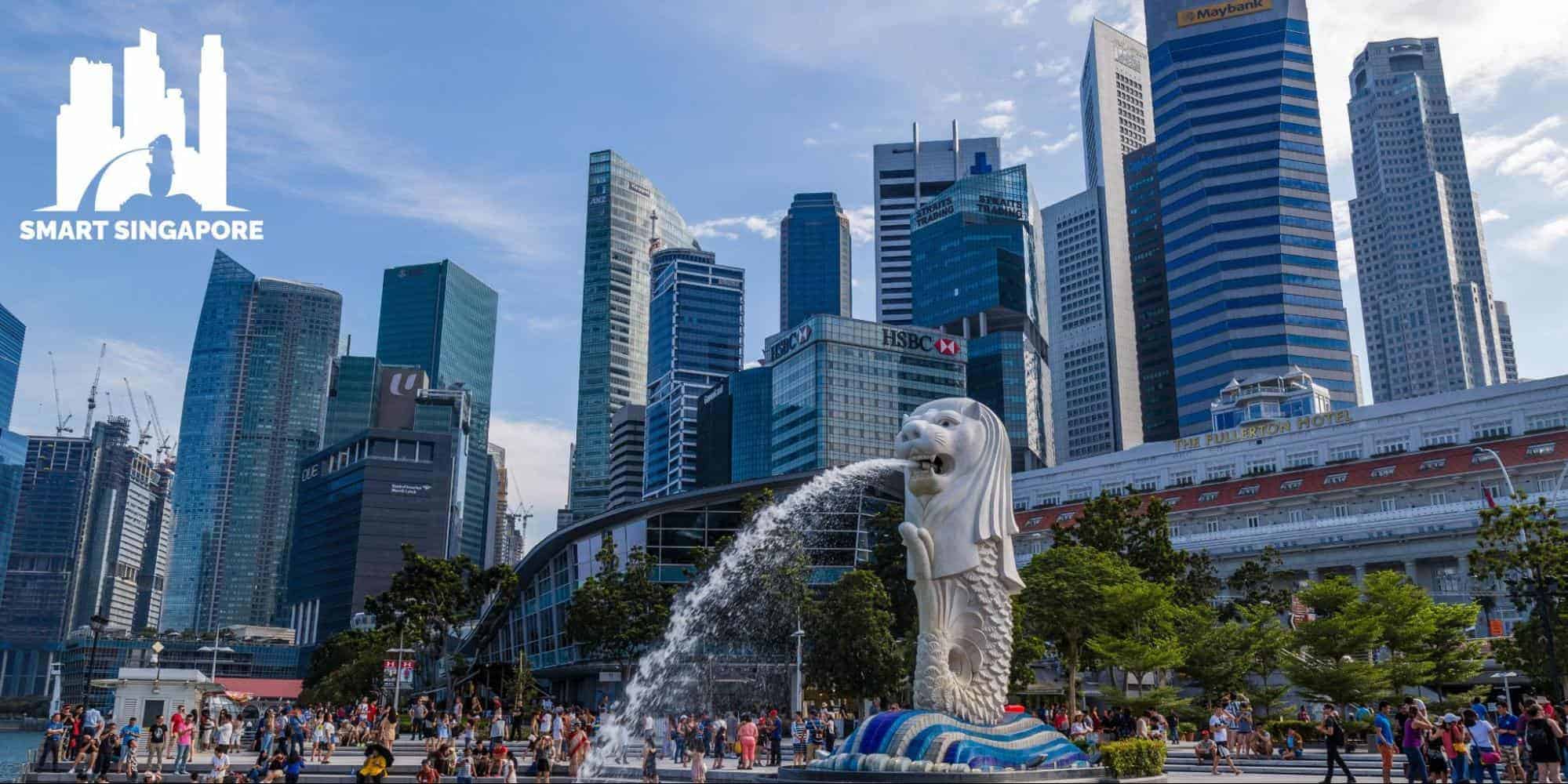 20 Mind-Blowing Facts about Singapore You Should Know
There's a lot to see and explore in one of the world's smallest nations. Despite its small size, tourists can find points of interest that may seem unusual or unique to the rest of the world!
If it's your first time visiting the country, we've compiled a list of 20 facts about Singapore that you should keep in mind.
You might find this newfound knowledge helpful or entertaining. It's up to you lah!
1. Chewing gum is banned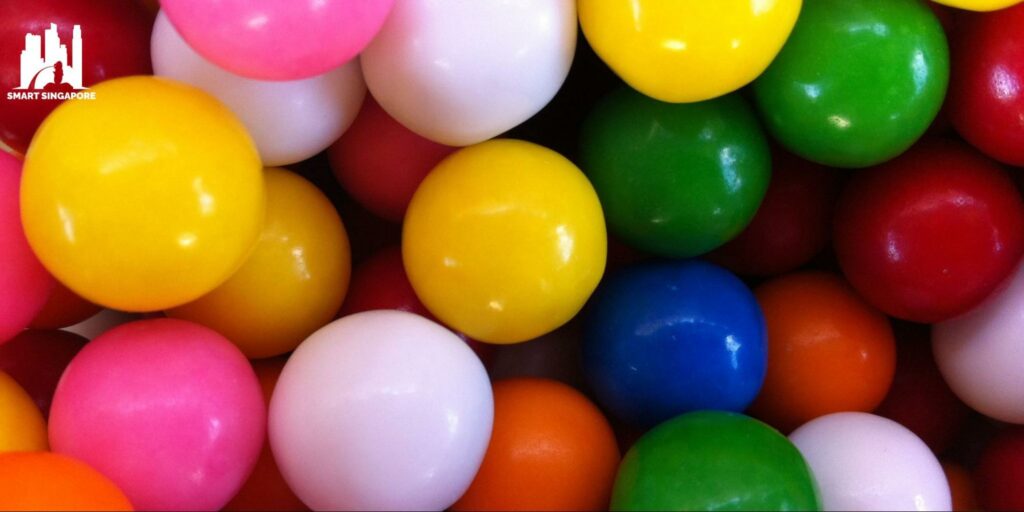 You may have heard about Singapore's reputation for its clean surroundings, but did you know that it's the product of a strange yet compelling law?
Singapore's infamous chewing gum ban has been in place since 1992. You won't find stores selling chewing gum, so it's better to curb your cravings using other methods.
The ban was implemented due to the growing maintenance problems within high-rise buildings and public areas where remnants of chewing gum were rampant.
Officials complained about the rising cost of cleaning and the number of damaged supplies to remove chewing gum remnants from public buses, streets, walls, and even keyholes.
Since then, the sale, export, and manufacture of chewing gum have been banned, and the end goal was to promote cleanliness and discipline among the locals.
The result? Cleaner streets and unbroken cleaning supplies.
In an effort to promote balance, officials allowed the use of chewing gum for medical purposes in 2004. Singaporeans are required to secure a prescription for dental chewing gum. 
2. Singaporeans are master walkers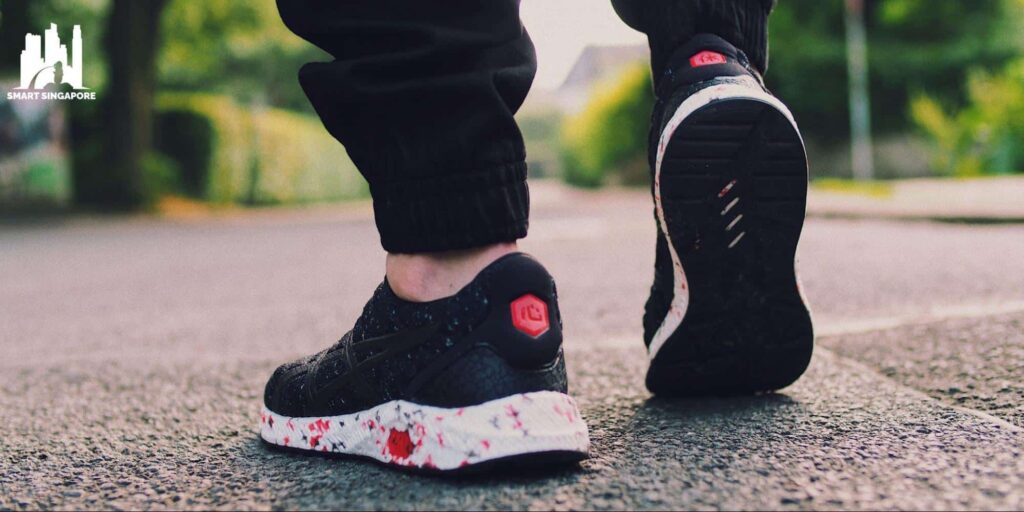 Since the nation is a city-state, it's not surprising to find many locals walking the streets to get from one place to another. It's pretty easy to get around the city.
Even if Singapore's public transport system is one of the most efficient in the world, many locals still prefer to walk. With such clean streets, it's hard not to!
That said, Singaporeans are accustomed to walking a lot and are also pretty quick on their feet.
A study concluded that the average Singaporean could walk 19 metres within 10.55 seconds, ranking them among the fastest walkers in the world!
Fast-moving cities like Singapore often have designated areas for walking. Getting to work on foot shouldn't be a problem after a couple of years of practice.
3. The Merlion is Singapore's most iconic symbol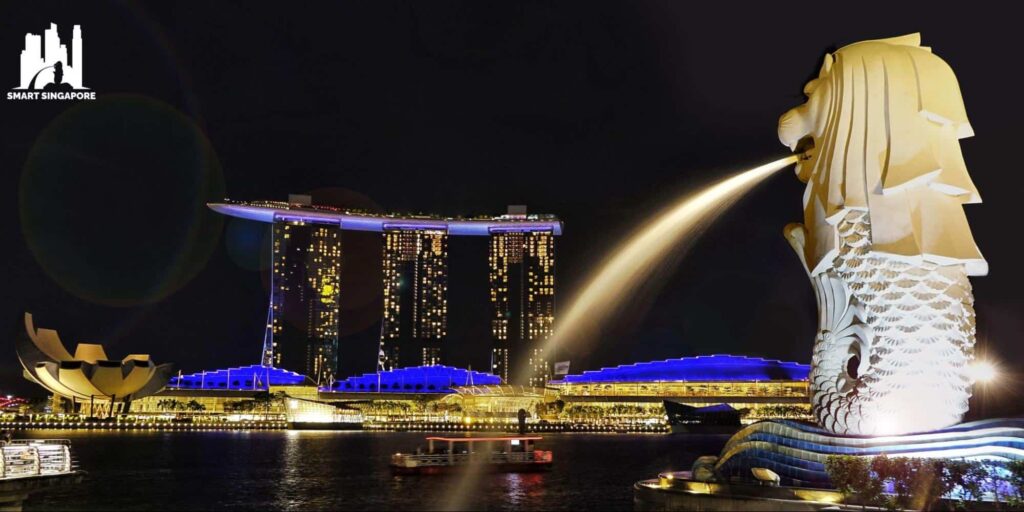 There's a reason why you'll find the iconic Merlion in many postcards from Singapore. The half-lion and half-fish statue is widely accepted as Singapore's most iconic national symbol.
You'll likely find many souvenir shops clad with Merlion merchandise, from coins to shirts.
The Merlion's origin story is based on a legend of Singapore's humble beginnings as a fishing village and a fateful encounter between a prince and a lion.
A 14th-century Sumatran Prince named Sang Nila Utama was sailing through the seas when his fleet stumbled through a storm.
The prince and his ship reached an island paradise when the storm cleared. There, he encountered a lion, which to the prince was considered a good omen.
Why is Merlion famous in Singapore?
The Merlion was conceptualised to honour the nation's origin as a fishing village and its discovery by a prince.
While the legend dates back centuries, the Merlion itself was not embodied until 1972 after officials erected an 8.5-metre statue at the mouth of the Singapore River.
In 1997, the statue was then relocated to what is now known as Merlion Park, overlooking Marina Bay.
4. Singaporean males have to go through mandatory military service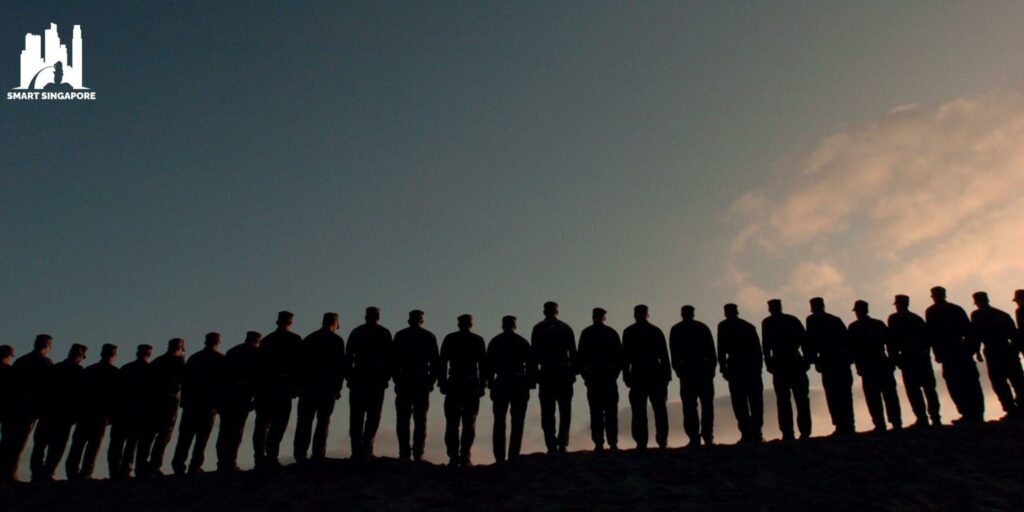 Several countries in the world still implement mandatory military service among citizens of legal age. Singapore is one of them.
In 1967, the National Service Bill was passed and required every Singaporean male citizen aged 18 years old to undergo compulsory military service.
The Bill extends to permanent residents in Singapore.
How long is mandatory military service in Singapore?
Participants indicated in the National Service Bill serve two years as full-time National Servicemen.
When Singapore became a newly independent nation, the government only had about 1,000 soldiers.
Officials thought it was necessary to build a more substantial body of abled countrymen when the need for retaliation arose.
The bill was adopted from Switzerland and Israel's current mandatory military service schemes. The collaboration between Israel and Singapore helped solidify the nation's armed forces over the years.
5. Buildings in Singapore have a height limit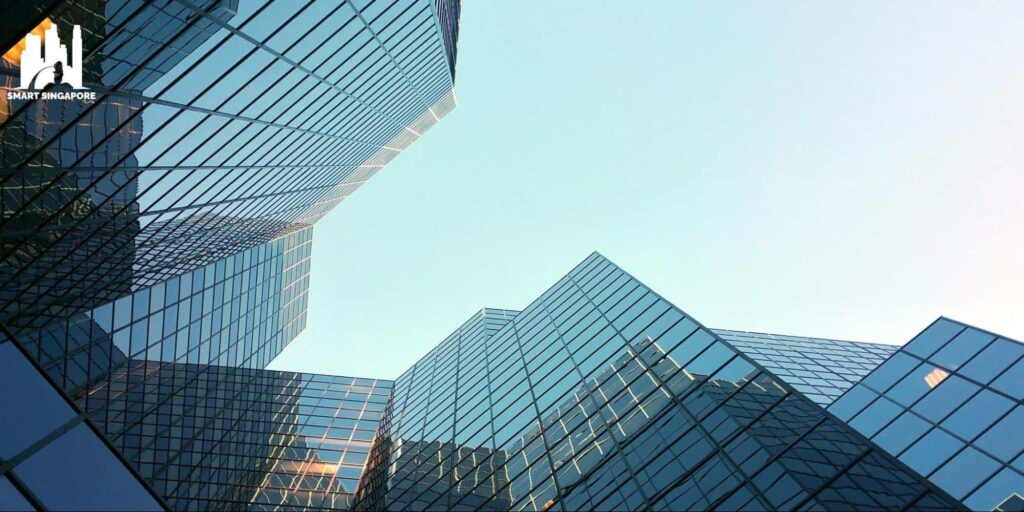 When the sun sets, Singapore's skyline lights up into a glittering menagerie of skyscrapers. Don't let the majesty fool you, however.
While many of the city's tallest buildings tower over districts, you won't find buildings taller than 280 metres.
That's because Singapore has a height limit for its city buildings. The only three buildings that actually reach that height are the UOB Plaza, OUB Centre, and the Republic Plaza.
If you think the view from Marina Bay Sands is impressive, try heading up the city's tallest buildings. Even with the height limit, you'll still get superb views of the city.
6. There are 27 Singlish words in the Oxford dictionary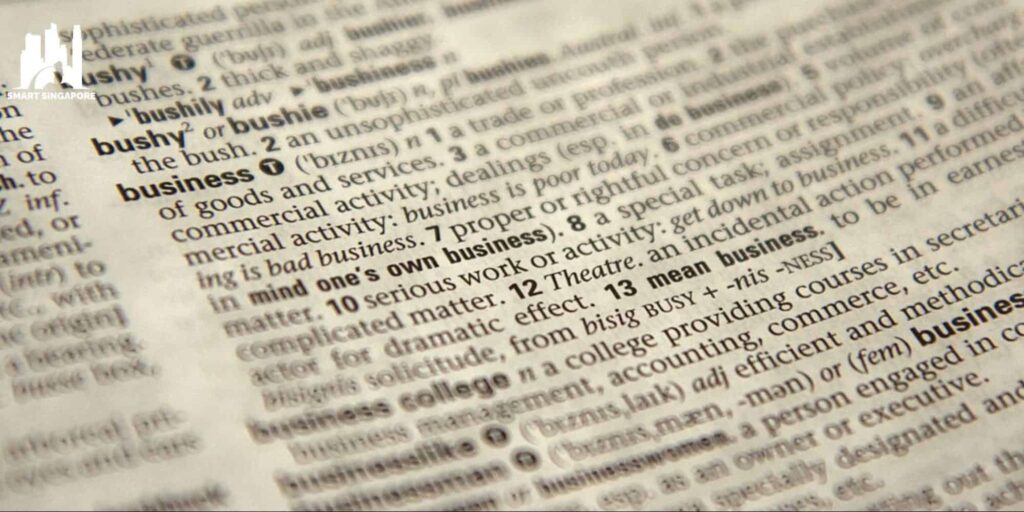 Singapore's iconic dialect has made it into the Oxford dictionary! If you've ever been to Singapore, it's hard to miss out on Singlish, the country's widely spoken English-based dialect.
The accent and blend of other languages make Singlish even more charming. If you're keen on learning a few words, pick up your nearest Oxford dictionary.
Famous Singlish words such as lah, sinseh, and kiasu were included in the dictionary as early as the 2000s.
Who knew that the words hawker centre are uniquely Singaporean? There are several other Singlish words you can learn from the Oxford dictionary to help you on your next visit.
7. Singapore is home to flavoured Yakult drinks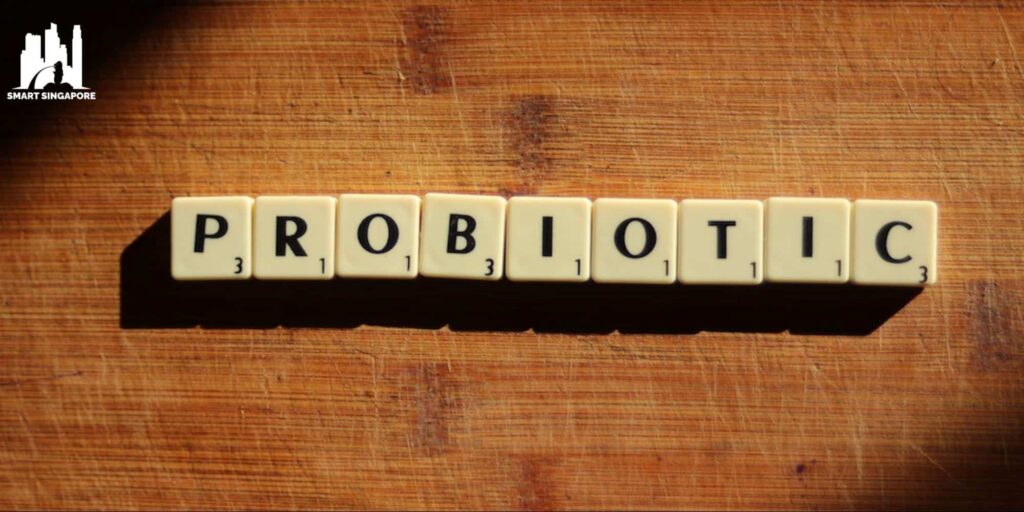 Although made in Japan, Yakult has dominated the global probiotic drink market since 1935. The iconic bottle shape and red foil are easily recognisable in any supermarket worldwide.
While many other companies try to replicate the goodness of Yakult through local versions, the taste of the original never gets old.
That said, it isn't easy to find flavoured Yakult anywhere. However, Singapore should be on your bucket list if you're a Yakult aficionado.
That's because Singapore is the only country in the world that offers flavoured Yakult! From grape to apple, there's a variety of flavours to try.
Even better, Yakult in Singapore is served in 100-millilitre bottles. It's bigger than in other countries. It's safe to say that getting a healthy digestive system is more fun in Singapore.
8. Singapore is the largest hawker centre hub in the world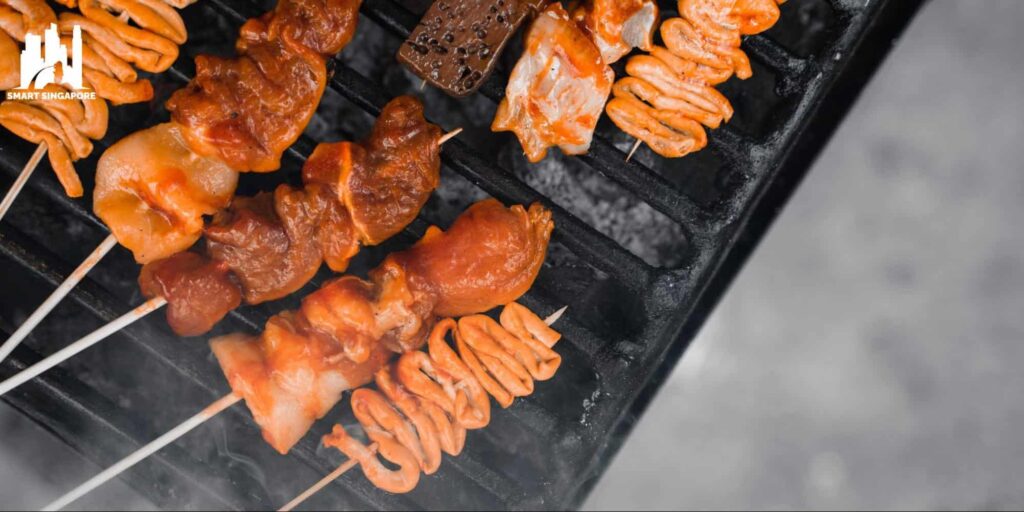 Now that you know "hawker centre" is a uniquely Singaporean term, you shouldn't be surprised to hear that the country is home to the most significant food hub in the world.
Hawker centres are central to Singaporean food culture, and there's nothing like it in the rest of the world.
Also known as food centres where stalls serving mouthwatering food and drink make hundreds of locals and foreigners flock to these particular areas.
Aside from traditional Singaporean food, hawker centre stalls also serve various dishes from global cuisines like Indian, Malay, and Chinese.
If you're travelling to Singapore anytime soon, make sure to check out Hong Lim Market & Food Centre or Adam Road Food Centre for the best of Singaporean food culture.
9. The National Anthem is printed on the $1,000 bill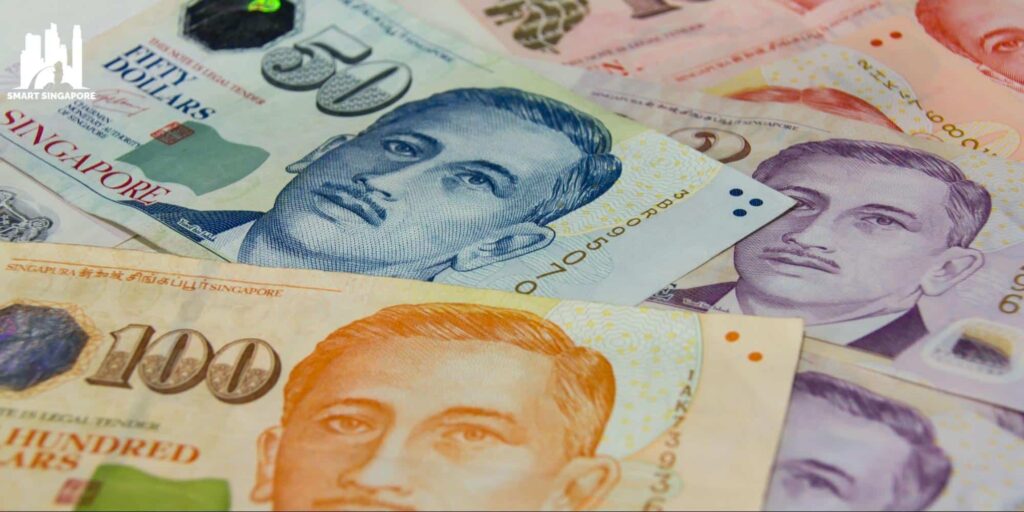 Currencies worldwide are often decorated with intricate designs for distinction and better protection against fraud.
Other countries use national heroes, famous landmarks, or iconic national symbols. In Singapore, it's the national anthem.
On the $1,000 bill, Singapore's national anthem, "Majulah Singapura," is inscribed in microprint. It's a unique feature that sets the Singaporean currency apart from others.
If you have extra cash on you after your trip to Singapore, take a closer look at the notes you carry. You're likely to find unique figures and symbols on them.
They also make for great conversation starters. You can show off wealth and knowledge with this fun fact about Singapore.
10. The Singapore Flyer is the second-highest Ferris wheel in the world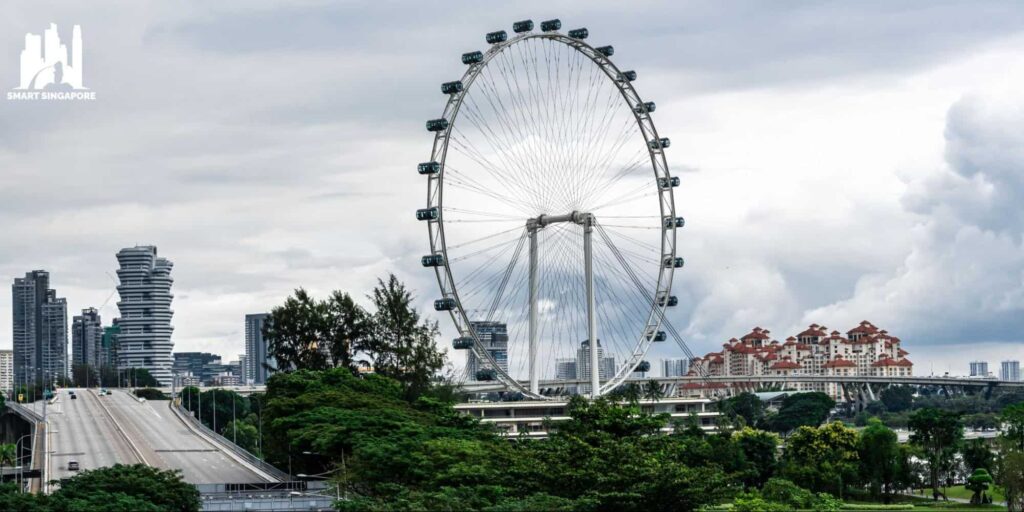 The Singapore Flyer is Asia's largest observation wheel and second in the world.
How tall is the second-tallest Ferris wheel in the world?
At 165 metres tall, the Singapore Flyer was once named the tallest worldwide before the High Roller in Las Vegas was erected.
The Singapore Flyer consists of 28 air-conditioned capsules on its rim. Each capsule has a weight capacity of around 28 passengers.
That's quite a large capsule, considering the massive size of the wheel itself. Even better, the Singapore Flyer was designed to be disability-friendly.
This gives disabled passengers access to some of the best views of Singapore. Over the years since its erection, the Singapore Flyer has been considered a popular point of interest and pop culture icon.
While visiting the Singapore Flyer is impressive enough during the day, riding it at night is an entirely different experience.
The spectacular nightlife of Singapore can be best enjoyed from the top of the Singapore Flyer. It's a definite attraction to visit when you're in Singapore.
11. The Singapore Botanic Garden is a premier orchid research centre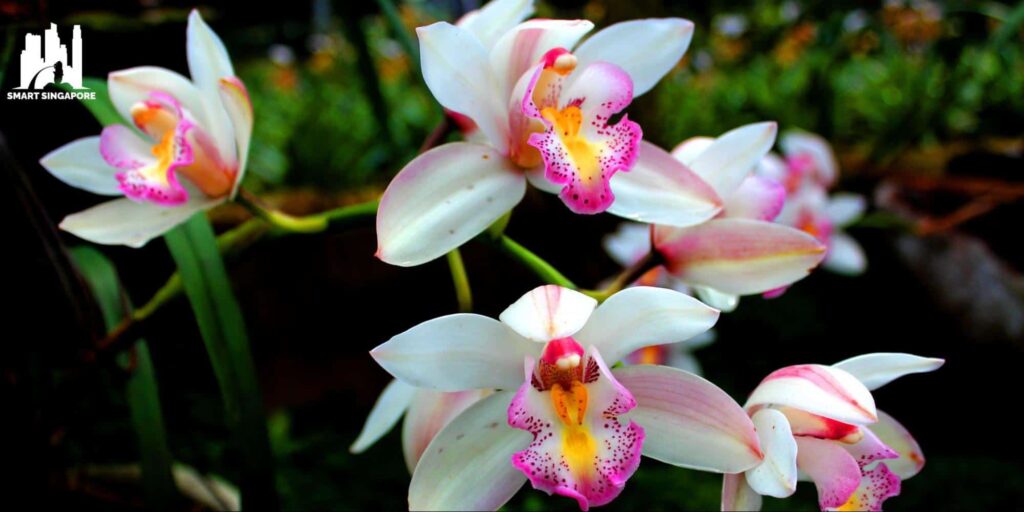 Are you a fan of blooming flowers? Orchids are some of the world's most sought-after and unique species of flowers.
They thrive in tropical areas of the world, including Singapore, where the orchid is its national flower.
What is so special about Botanic Gardens in Singapore?
The Singapore Botanical Garden is a haven for orchid lovers. It boasts lush greenery and a quiet retreat from bustling city life.
The garden is also one of the world's premier orchid research and breeding centres. Many horticulturists flock to the Singapore Botanical Garden to examine unique orchid types.
Aside from orchids, tourists can also find dozens of tropical flora within the garden's vast landscape. The Singapore Botanical Garden is an excellent spot to visit if you're looking for date ideas or a potential wedding venue.
12. The Singapore Grand Prix hosted Formula One's first-ever night race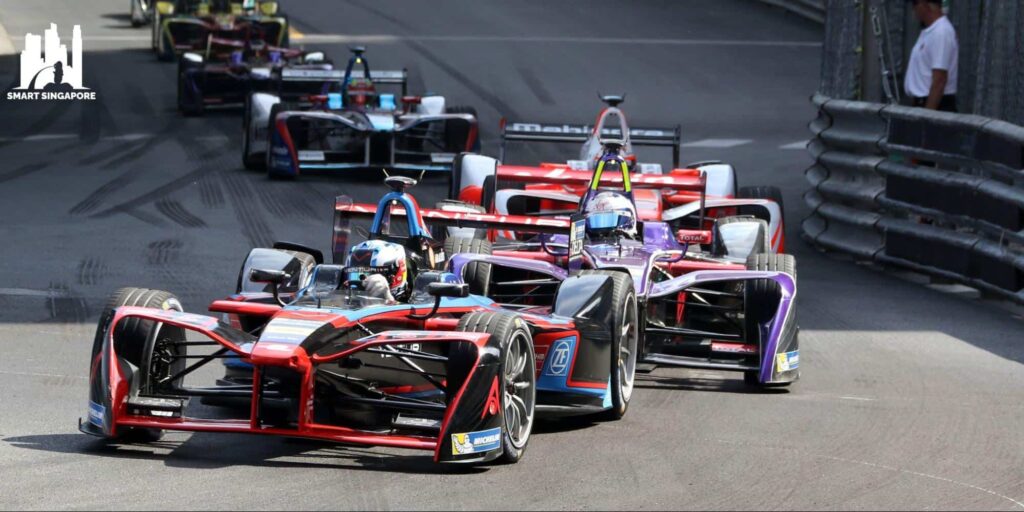 The first night race ever in Formula One history was held in Singapore. The 2008 race at the Marina Bay Street Circuit was met with rave reviews for the spectacular backdrop and fast action.
Many Formula One fans who attended the event considered the race one of the most memorable. Although night racing opens doors to complications, the race was Singapore's debut as a Formula One destination, and they definitely didn't disappoint.
Since then, night racing in Formula One has become quite a sensation in different countries. However, the 2008 Singapore Grand Prix will forever be tattooed in Formula One history.
13. Freshwater is imported into Singapore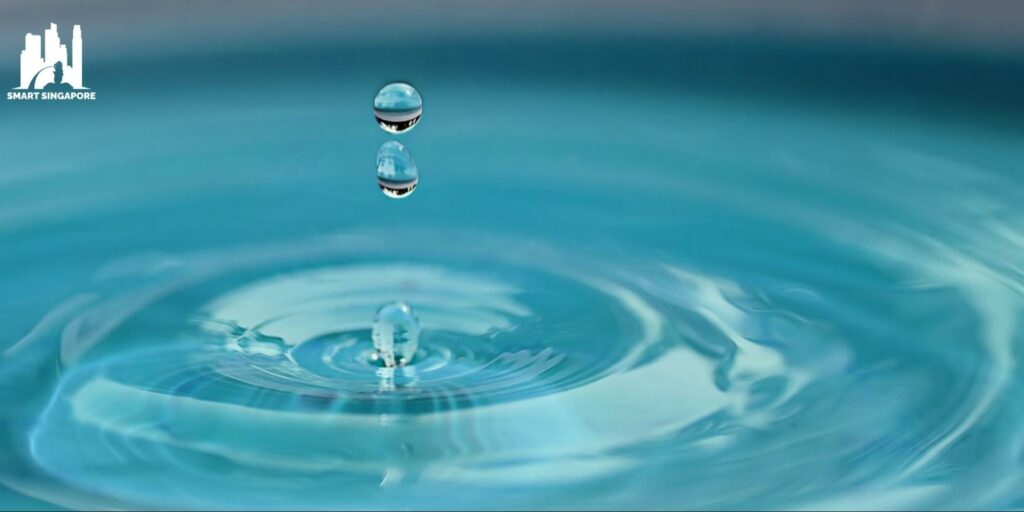 Singapore is a tiny country that relies on imports for resources. Over 50 years ago, the small nation only had two water sources.
Today, Singapore has four water sources officially called "Four National Taps," one of which is imported.
As a tropical country, Singapore is no stranger to typhoons and strong rain showers. In the nation's early years, citizens experienced floods, drought, and pollution.
To combat the dire consequences of natural disasters, Singapore sought to diversify their fresh water supply through desalination or imports.
What did Singapore do to obtain more freshwater?
Singapore currently obtains water from four different resources: desalination of seawater, local catchment, water reclamation, and imports.
Since it rains a lot in Singapore, catching and channelling rainwater through canals and reservoirs is considered the most efficient source of fresh water for Singaporeans.
These reservoirs help prevent floods by redirecting rainwater to controlled spaces. Singapore has also developed a high-grade wastewater reclamation brand called NEWater.
Reclaimed wastewater is one of Singapore's leading sustainability practices to ensure every citizen gets access to fresh water.
The brand NEWater aims to meet the country's demand for freshwater by up to 55% by the year 2060.
14. Singapore is home to the world's best airport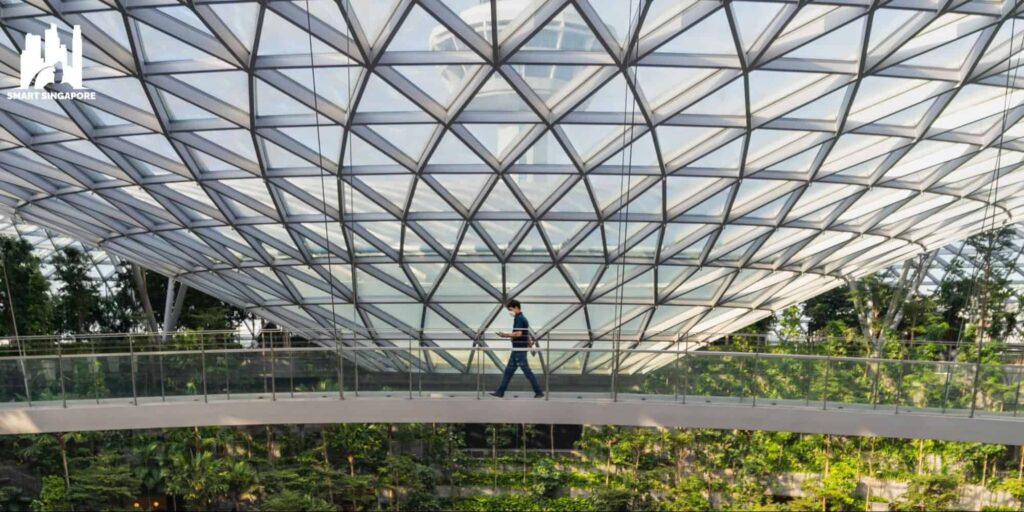 Singapore Changi Airport is constantly lauded for being the world's best airport. There's so much to do and see in its terminals!
What can you do in Singapore airport for 4 hours?
If you find yourself stuck with a long transit, take the time to explore Singapore Changi Airport's three terminals. From dining to shopping, you can get a taste of what Singapore offers without stepping outside the airport.
A few activities you can do are but not limited to
Dine local and international cuisines from a wide array of restaurants
Get free relaxing massages
Play thrilling games at the immerse Experience Studio
Watch blockbuster films at the theatre
Take postcard-worthy photos at the Canopy Bridge
Be one with nature at the numerous gardens
Cool off at the rooftop pool
Make the most of your adrenaline rush at the play areas
Shop until you drop at the countless luxury stores
Explore what the country has to offer using interactive city tours
Take a trip down each of the airport's three terminals using the ultra-fast train
Some famous attractions at Changi Singapore Airport are the gardens and canopy bridges. Once you step foot into these breathtaking spots, take as many photos as possible!
15. Singapore has its own signature cocktail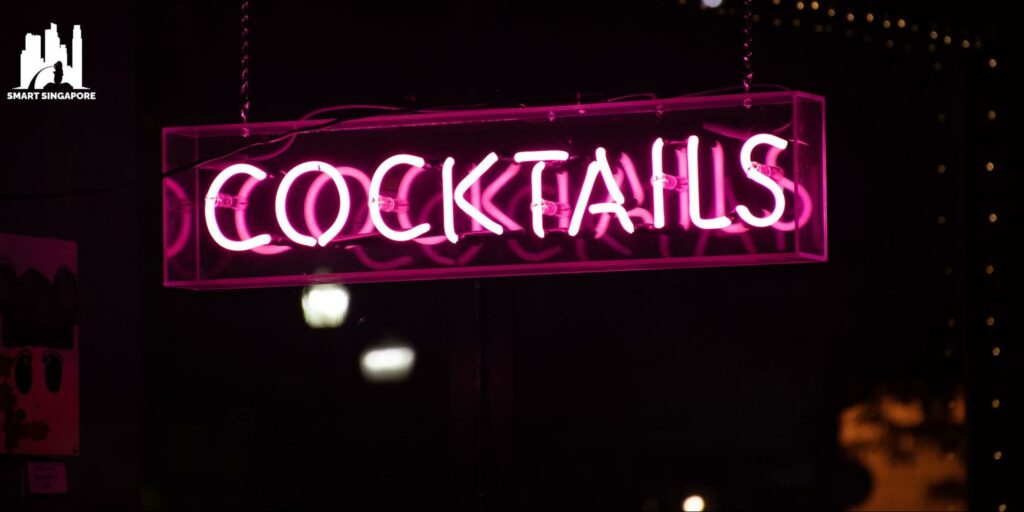 The Singapore Sling is a delicious yet boozy cocktail that every tourist should try when they visit Singapore.
The cocktail was created in 1915 at the infamous Long Bar at the Raffles Hotel. Due to its juice-like appearance, many women back in the day would order it as a disguise for alcohol.
How many ingredients are in a Singapore Sling?
The Singapore Sling was an instant hit among locals and has been a staple in Singaporean bars. Order a glass from the Long Bar if you want a dose of its punch.
There are at least five ingredients in a Singapore Sling. The cocktail is a mix of gin, cherry liquor, pineapple, and lime juice, with a few drops of bitters and club soda.
Other bars or pubs may create their own mix of the signature cocktail, but the gist of its charm is evident no matter where you enjoy it.
If you're a tourist, you should check with your liver specialist for medical travel clearance. It's better to be safe than sorry!
16. Singapore is comprised of over 60 islands
Did you know that Singapore is comprised of 63 islands? It may not seem like it, but the tiny nation is packed with a lot of islands to see.
Of the 63 islands, only three remain inhabited, including the main island of Singapore.
Seven of these islands are for military use, while ten are artificial or reclaimed land. After knowing this about Singapore, the tiny city-state doesn't seem small anymore!
17. Not flushing in public toilets is an offence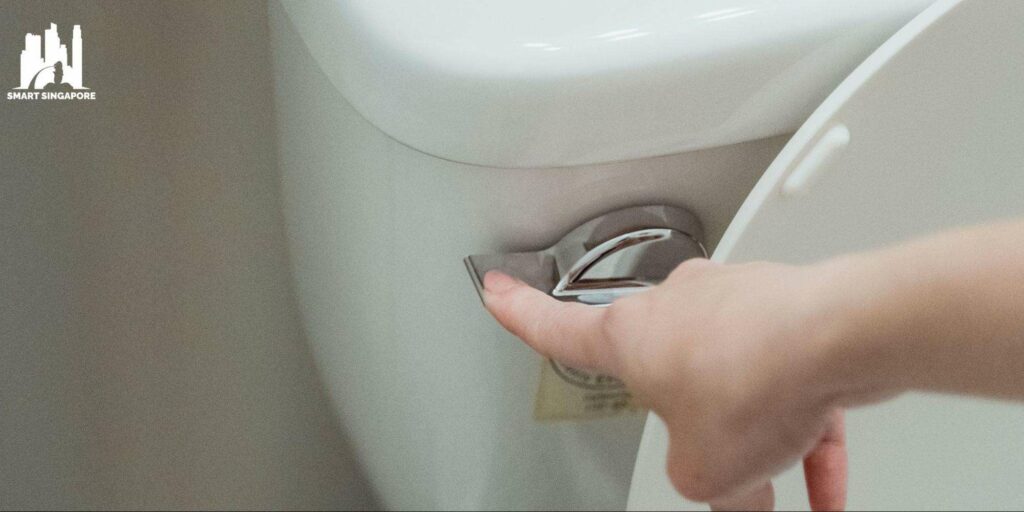 To emphasise Singapore's strict laws on cleanliness and etiquette, forgetting to flush after using a public toilet is considered an offence.
Singapore is known for its cleanliness, and it's only suitable for tourists and locals to abide by laws to maintain the country's reputation.
What happens if you don't flush the toilet in Singapore?
If you forget to flush after using a public toilet, you may be fined over $150. If you refuse to pay it, you may be sentenced to serve jail time.
Keep this fact about Singapore in mind before you visit. Always flush a toilet after using one, especially in public!
18. Singapore's Gardens by the Bay is the world's tallest indoor waterfall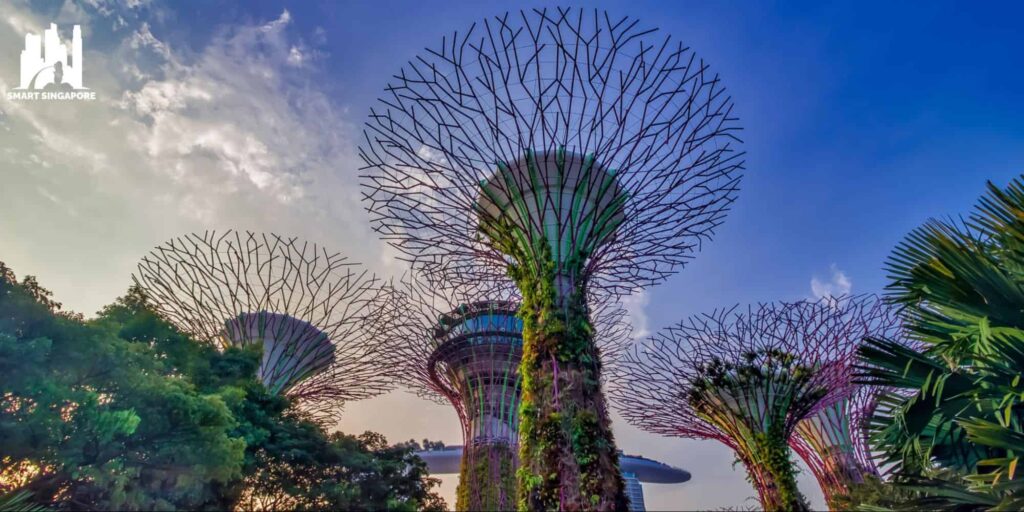 Gardens by the Bay is a popular attraction for tourists. It's the world's tallest indoor waterfall, after all!
What's so special about Gardens by the Bay?
As one of Asia's horticultural hotspots, Gardens by the Bay has over 1.5 million flora from around the world.
The conservatories are packed with lush greenery and colourful flowers, which make for great photo opportunities.
There are two leading conservatories at Gardens by the Bay, and they collectively cover over 20,000 square metres.
It's a whopping size that deserves a spot among the world's largest glasshouses.
You can visit the Flower Dome and Cloud Forest as your first two stops before exploring the Canopy Walk and Supertree Observatory.
If you're into flowers, check out the Floral Fantasy exhibit for a delightful feast for the eyes.
19. November 7 is National Tree Planting Day in Singapore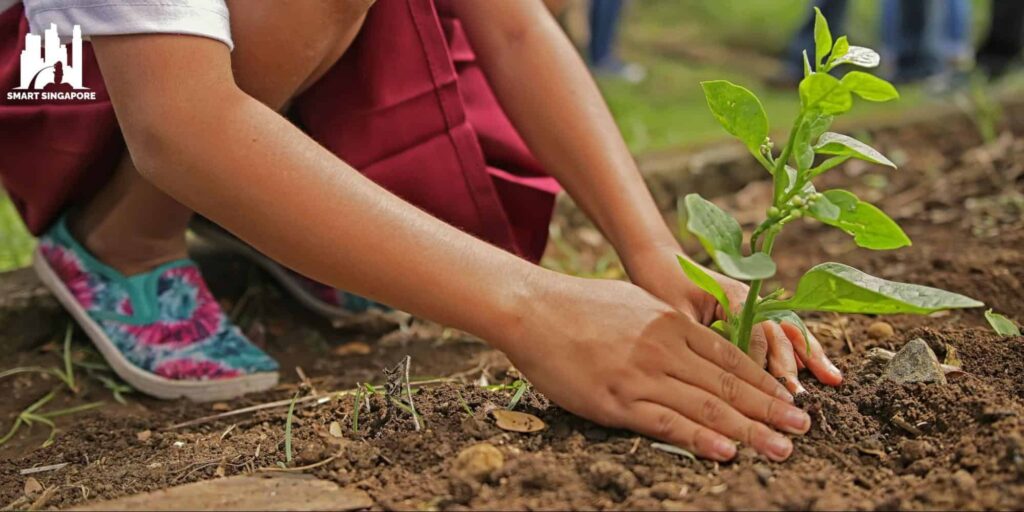 Singapore has its own National Tree Planting Day, which is celebrated every first Sunday of November.
Citizens of all ages and backgrounds, including government officials, dedicate this day to planting more trees around Singapore's main island and reclaimed areas.
When did tree planting start in Singapore?
The first tree planting event was held in 1971 and has since been practised every year until today.
It's a great initiative that promotes environmental awareness and sustainability. In 2008, an initiative named Clean and Green Week was launched to encourage recycling and other greener activities among citizens.
If you want to catch this event on your own, make sure to plan a trip around the first week of November.
20. Singapore has one of the world's lowest infant mortality rates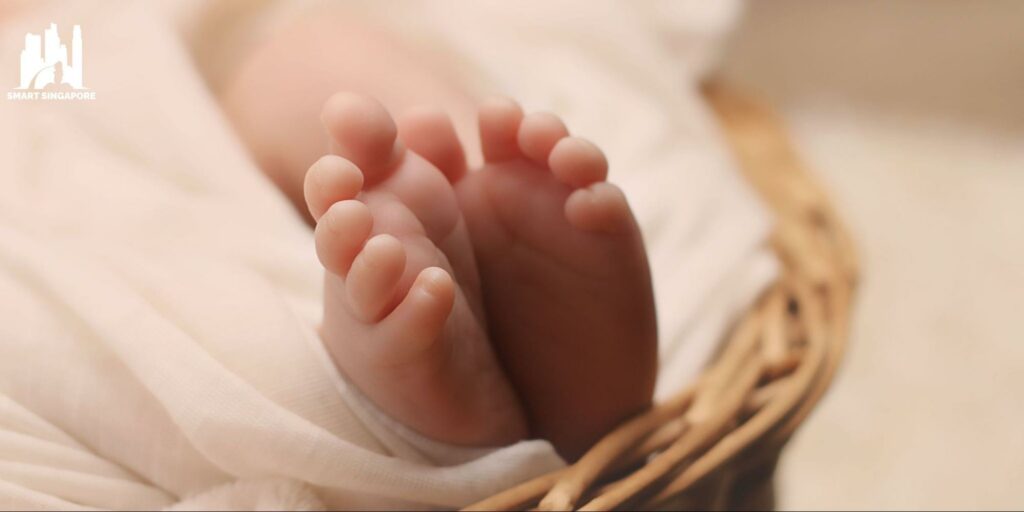 Aside from ranking high on life expectancies, Singapore also has one of the world's lowest infant mortality rates.
Why is Singapore's infant mortality so low?
The low infant mortality statistic is commonly attributed to the country's efficient healthcare system. Citizens and permanent residents are given access to quality medical services, especially for children.
You can find some of the best paediatric clinics in Singapore. Even better, Singapore's healthcare system is subsidised, giving more access to medical care for those who can't afford private clinics.
Singapore in a Nutshell
The tiny island nation has so much to offer, despite its size. Learning more about the city-state is a great way to discover Singapore.
With great housing and the best schools for expatriates, Singapore is a haven for travellers who may one day wish to migrate there.
We don't blame them. It's a pretty awesome country to visit more than once in a lifetime!