Categories >
Guides and Tips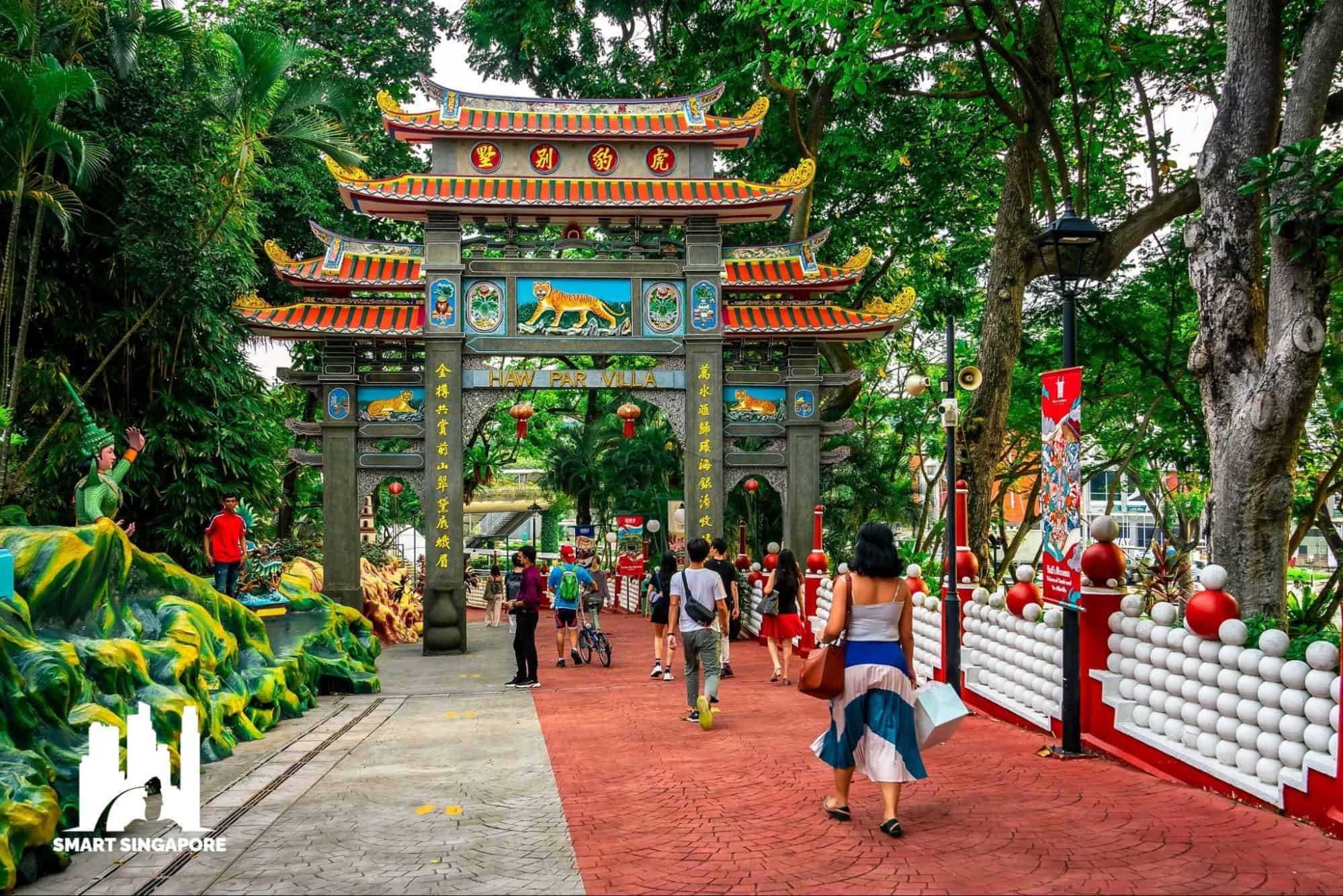 Your Ultimate Guide to Exploring Haw Par Villa, Singapore
If you think theme parks are all about fun and games, you might just change your mind once you visit Singapore's Haw Par Villa.
Eclectic, bizarre, and enlightening, this park's take on introducing Asian culture and mythology piqued our interest, and we believe you'll feel the same!
Read this guide to prepare your itinerary (and your heart) for a day out in this one-of-a-kind park. 
What's so special about Haw Par Villa?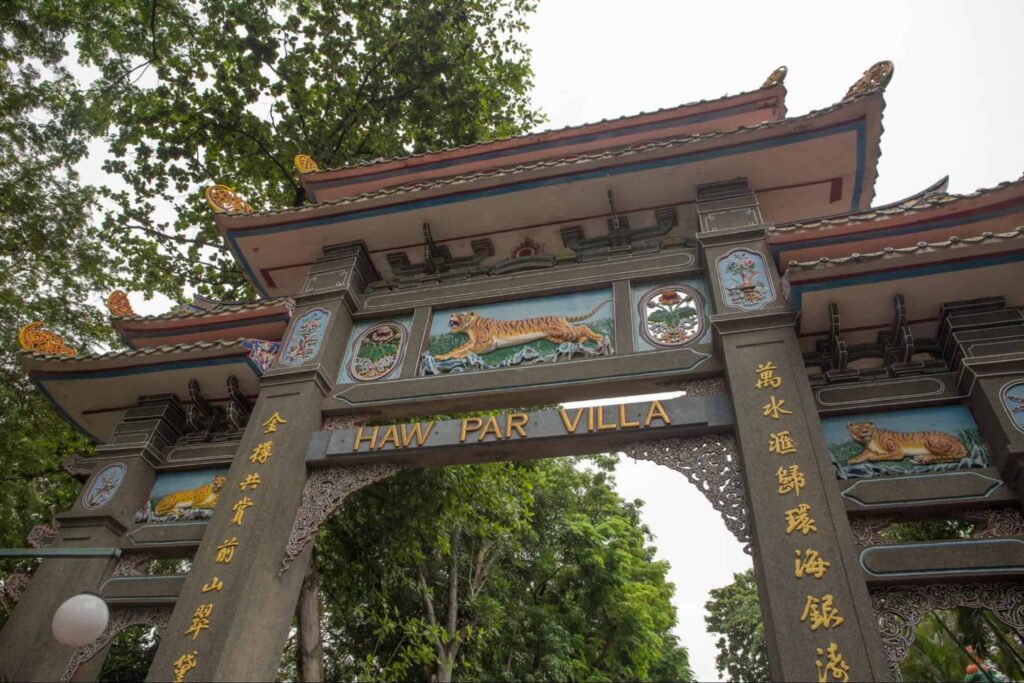 What makes Haw Par Villa special is the manner in which it educates its guests.
The theme park optimized its 8.5-hectare land by utilizing visually striking life-size sculptures and fixtures to illustrate the core beliefs that have shaped Chinese and Asian culture for generations.
Since it's done this way, even kids can get a gist of what the displays depict without reading a thing. 
Is it free to enter Haw Par Villa?
Entering Haw Par Villa is absolutely free!
That said, an entrance fee is charged to guests who will visit the Hell's Museum, which is located inside the park.
Inside This Guide to Haw Par Villa
Essential Information about Haw Par Villa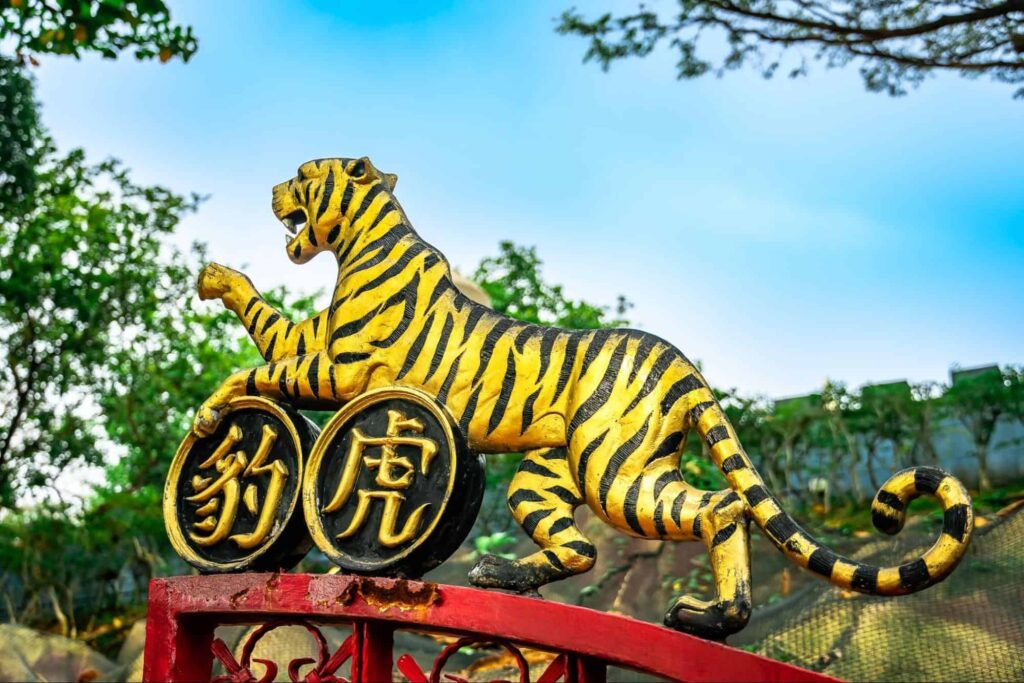 Address
262 Pasir Panjang Rd, Singapore 118628
Contact Details
+65 6773-0103 | hvp@journeys.com.sg | enquiry@hellsmuseum.com.sg
Opening Hours
Daily: 9:00 AM – 8:00 PM
Parking
Hours: 7:30 AM – 8:00 PM

*Carparks are available at the main entrance and via Zehnder Road

*There are also parking slots in Science Park & Westway Shopping Mall
Rates
Free entry
Parking: $5 per entry for cars, $1 per entry for motorcycles
Good-To-Know
– An ATM is available at Haw Par Villa MRT station
– Limited shelters are available since Haw Par Villa is an open-air park
– 60% to 70% of the park are wheelchair-accessible
– Wheelchairs and transport for hire are not available inside the park
Haw Par Villa is an engaging outdoor gallery that educates visitors on Asian culture, beliefs, and philosophy through intricate sculptures and dioramas.
Expect to see religious elements from Buddhism and other religions, elaborate dioramas telling famous Chinese classics, and statues representing China's lessons on morality.
There's also the Hell's Museum (we'll talk about this in a bit!) exhibiting how different beliefs perceive death and life after it.
We recommend preparing yourself mentally and emotionally for some immensely curious displays (we're looking at you, Ten Courts of Hell).
Why was Haw Par Villa built?
Haw Par Villa was built in 1937 by businessman Aw Boon Haw for his younger brother, Aw Boon Par. The park was also conceived in hopes that its displays would help provide moral guidance to visitors. 
Haw Par Villa and Aw Boon Haw are known for the world-famous topical ointment Tiger Balm. This root explains why Haw Par Villa is once called Tiger Balm Gardens.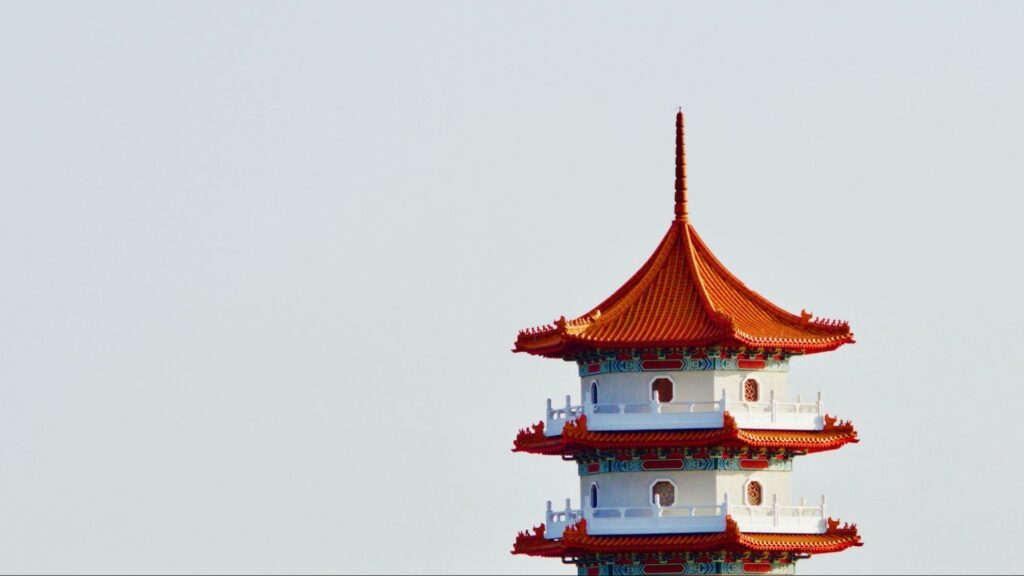 How old is Haw Par Villa?
Haw Par Villa is 85 years old as of writing. It has seen reconstruction after the end of World War II, then transferred to the Singapore Tourist Board (STB) in 1988 for redevelopment.
In August 2015, STB has chosen the travel company Journeys to operate and manage the park. Haw Par Villa has since seen continuous improvements and additional in-park tours.
When did Haw Par Villa close?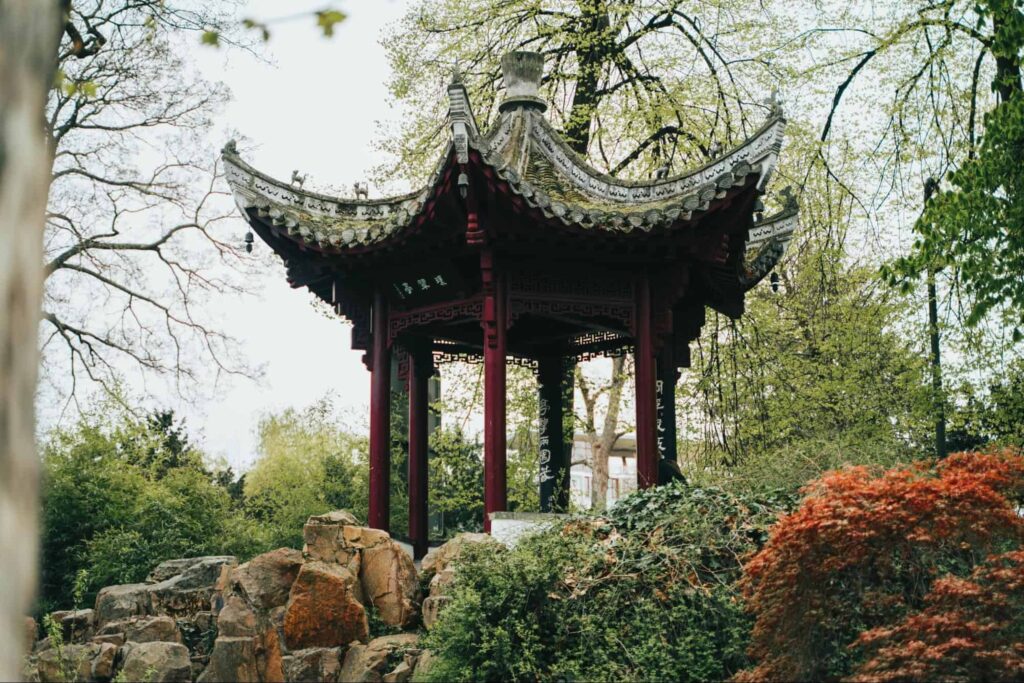 Haw Par Villa closed during the world war in the 1940s when it was used as an observation point by the occupying Japanese troops.
The park's revival began when the war ended but was closed again in 1988 to make way for the STB's redevelopment.
It was reopened in 1990 as Haw Par Villa Dragon World, where it featured an amphitheater, indoor theaters, and a boat ride through the Ten Courts of Hell.
Unfortunately, International Theme Parks Ltd. (who was assigned to redevelop and manage the park) incurred losses and gave up its rights in 2001.
The park was transferred to Orient Management and operated as a free park until its closure in 2012 due to a lack of commercial gain.
STB once again attempted to revive Haw Par Villa in 2014 through the festival Reliving Haw Par Villa. The event attracted over 12,000 people, giving new hope for the park's revitalization.
Why was Har Par Villa preserved?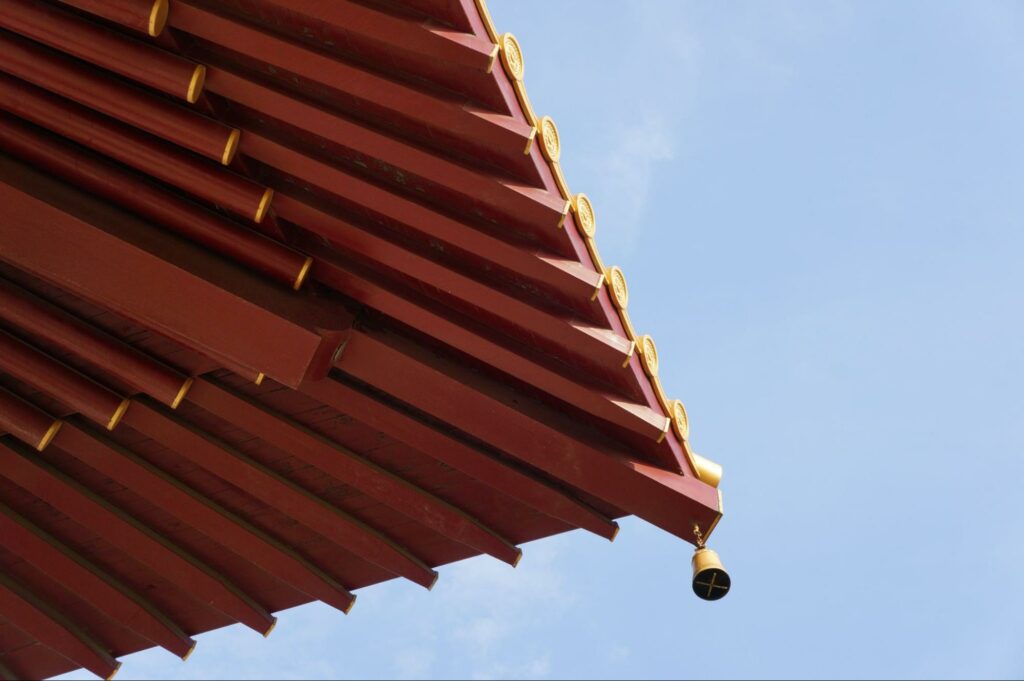 Advocacy groups and architects in Singapore called for the preservation of Haw Par Villa, as it's the only Chinese cultural resource of its kind in existence today. 
It used to have a sister park in Hong Kong, but the latter has long been demolished in 1998.
The park is also older than other famous theme parks in the world such as Disneyland.
Haw Par Villa Trails
You can enjoy Haw Par Villa at your pace using a provided trail or with a tour guide. Both options provide plenty to discover and opportunities for amusing photos!
You can also go independently by exploring the park using your original itinerary (which you can whip up with this helpful map). 
Whatever you choose, be sure to prepare yourself for long walks under the sun.
Footsteps to Enlightenment Trail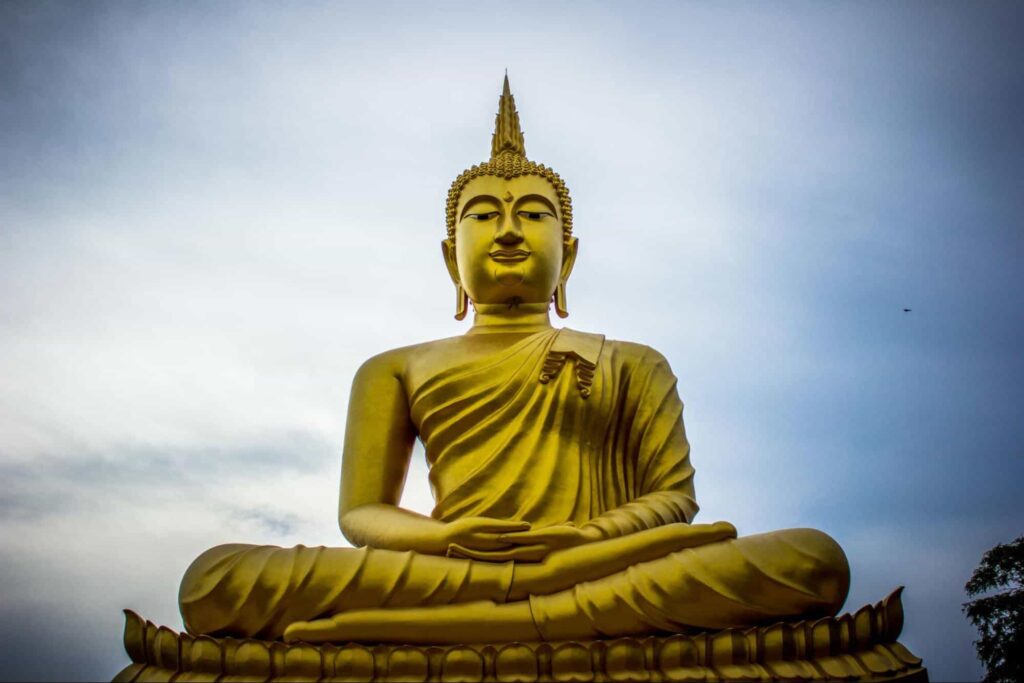 The self-guided Footsteps to Enlightenment Trail encourages you to walk around Haw Par Villa in search of Buddhist elements dotting the park.
It has 16 points strategically spread around the site, allowing you to see not only the Buddhism part of Haw Par Villa but also the attractions in between.
One of the notable displays from the trail is the Sakyamuni Buddha, a key feature of the Pagoda Pond. The pond is located a few steps away from the park's entrance, and it's a real looker!
You're also bound to see two Laughing Buddhas as you move forward. These statues are massive, making their smiles more infectious.
Another trail highlight is the captivating diorama for the Chinese classic novel Journey to the West.
The display depicts scenes of the protagonist Tang Sanzang, a Tang Dynasty monk, who set out to India to acquire Buddhist sutras (or sacred text) for translation into Chinese.
The Zodiac Hunt Trail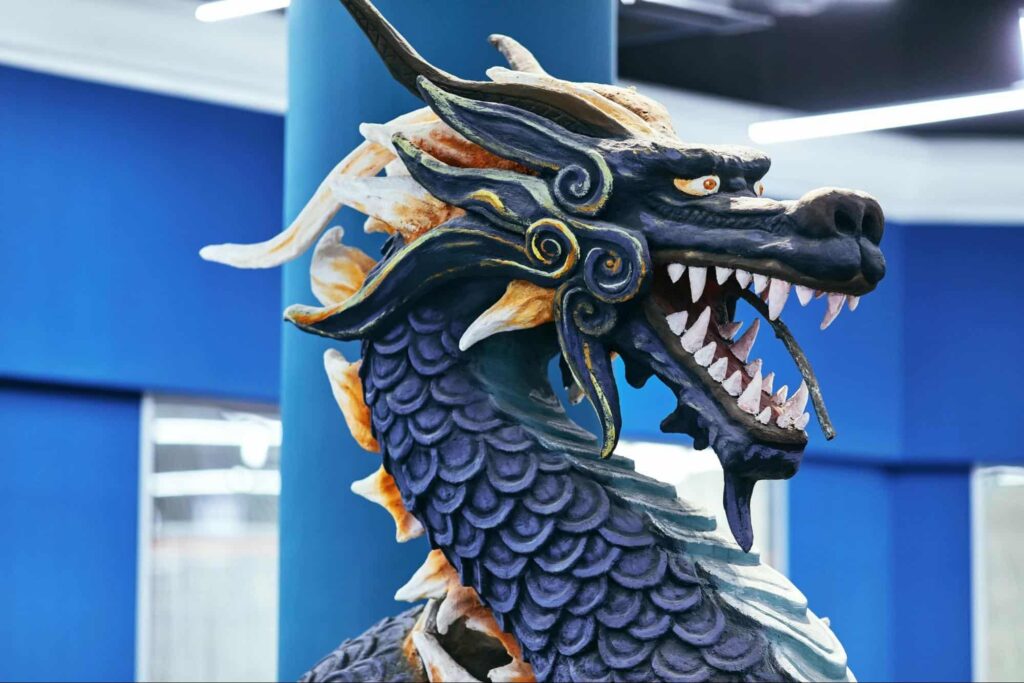 If you're interested in Chinese mythology (which you should, really), the Zodiac Hunt Trail is a fun way to get to know 12 animals that have long been a part of China's age-old stories passed down to generations.
Expect to see the tiger, monkey, pig, horse, dog, dragon, rabbit, rat, rooster, ox, snake, and goat. When you find them, you might also know why they were hailed as part of the zodiac!
That said, you'll have to keep your eyes peeled because the zodiacs are installed so they're inconspicuous! To make your hunt easier, Haw Par Villa provided a highly educational guide for this trail. 
Well, we think making them less noticeable will encourage you to look more closely at the displays, which might result in you learning more about the interesting Chinese myths depicted.
Hop! Par Villa Trail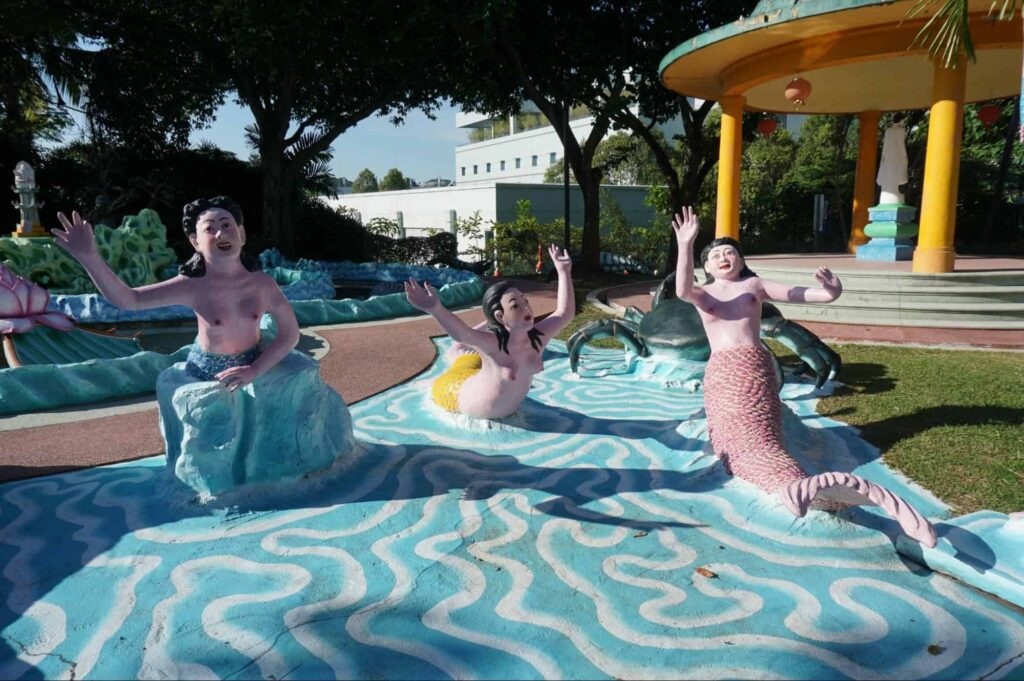 We understand if you get overwhelmed by the sheer number of displays inside Haw Par Villa. Honestly, we felt the same!
To give visitors some respite, the management created the Hop! Par Villa Trail which focuses on Instagram-worthy areas both popular and underrated around the park.
The curated points start at the main archway and its decorative Chinese poetic texts, with the translations available on the trail's map. Going deeper into the trail will show you the Emerald Alcove and the Pagoda Lagoon.
You'll also see the whimsical Mer-Cuzzi Paradise, the ornate Journey to the West dioramas, and adorable tiger statues displaying some Tiger Balm bottles.
Haw Par Villa's Ten Courts of Hell at Hell's Museum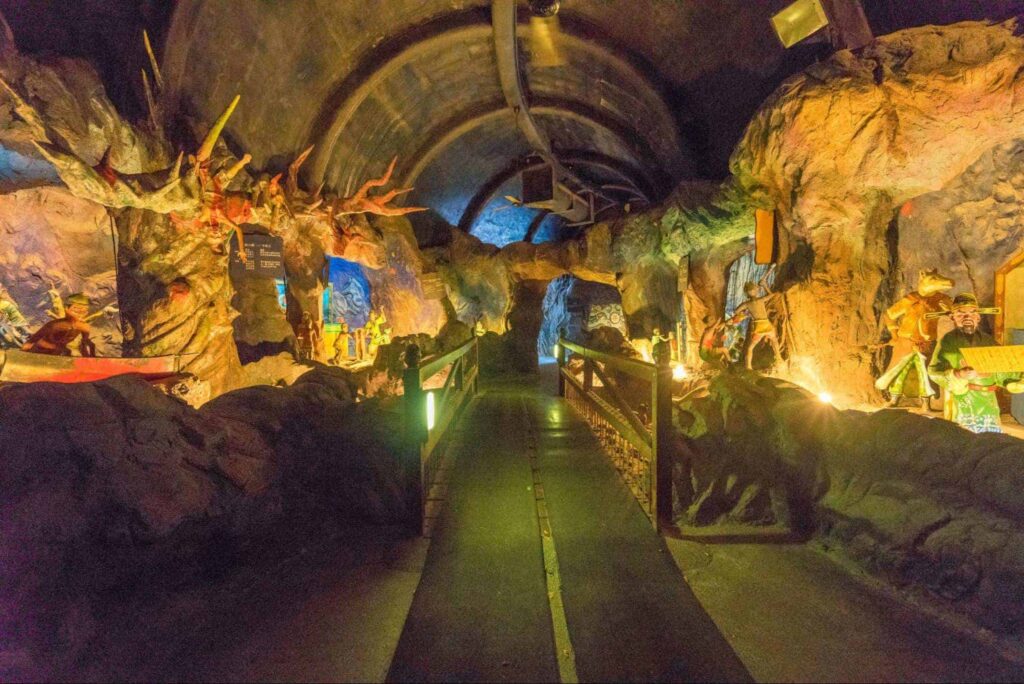 Address
262 Pasir Panjang Rd, Singapore 118628
Contact Details
+65 6773-0103 | hvp@journeys.com.sg | enquiry@hellsmuseum.com.sg
Opening Hours
Wednesday to Sunday: 10:00 AM – 6:00 PM
Rates
Adult: $18
Child: $10
Children under 6 years old: Free entry

*Due to some graphic displays, children under 9 years old are discouraged to visit the Hell's Museum
Guided Tour Slots
10:30 AM, 12:15 PM, 1:30 PM, 2:45 PM, 4:15 PM
The infamous Ten Courts of Hell was and is still the most popular attraction in Haw Par Villa. Prior to redevelopment, the gallery was a part of the park.
This exhibit will take you on a journey to several punishments that the ancient Chinese believed condemned sinners will suffer after death. The sculptures grow more graphic as you go deeper—expect figures impaled on thorny trees and decapitated bodies!
After Journeys' developments, the Ten Courts of Hell is now part of the larger and more educational 3,800-sqm Hell's Museum.
The museum features exhibits that delve into topics about death and the afterlife, enlightening visitors on the commonalities and differences between the world's major belief systems.
What are the Ten Courts of Hell?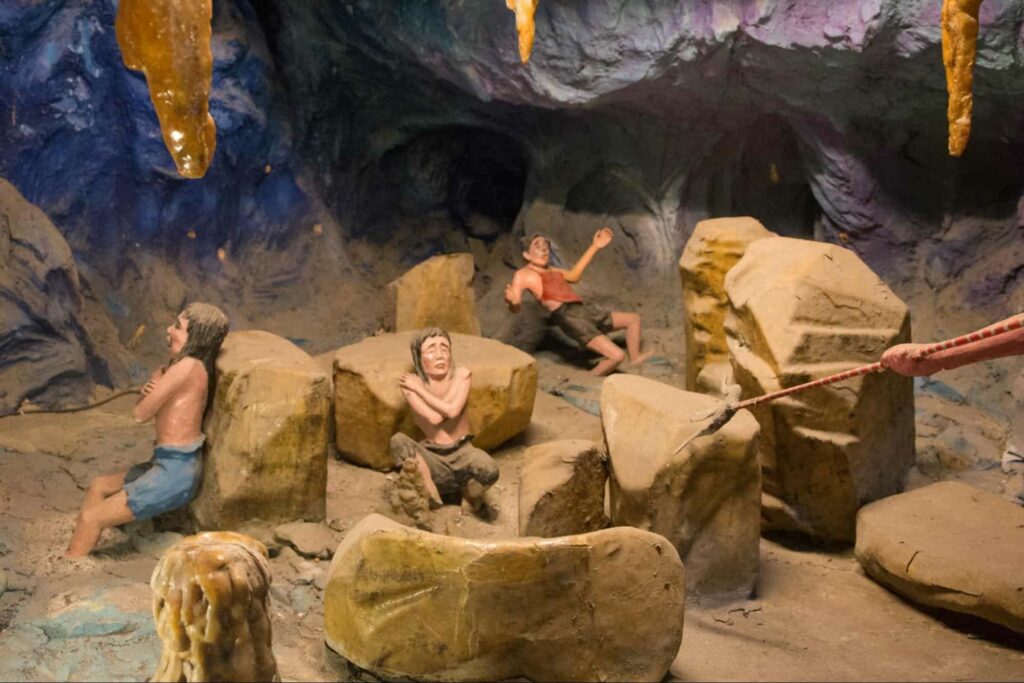 The Ten Courts of Hell are a series of courts that are ruled by 10 kings based on Chinese mythology. It's a depiction of where sinners will end up once they reach the afterlife.
The ten courts are named after the following kings:
King Qinguang
King Chujiang
King Songdi
King Wuguan
King Yanluo
King Biancheng
King Taishan
King Phingzheng
King Dushi
King Zhuanlun
We don't want to spoil you on what you'll see in each court, but we do recommend coming with an open mind and a strong heart.
The first court and last courts are probably the tamest. The first one depicts how the dead are sorted as sinners or not, while the last one shows how people who have gone through the punishments are reborn as other beings (say, as goats or rabbits).
The courts in between are all kinds of scary things. Expect blood, gore, and hideous punishers!
As several of the displays are graphic, it's best not to drag young children into the bizarre gallery. We don't want our little ones to have nightmares after!
Other Attractions in Haw Par Villa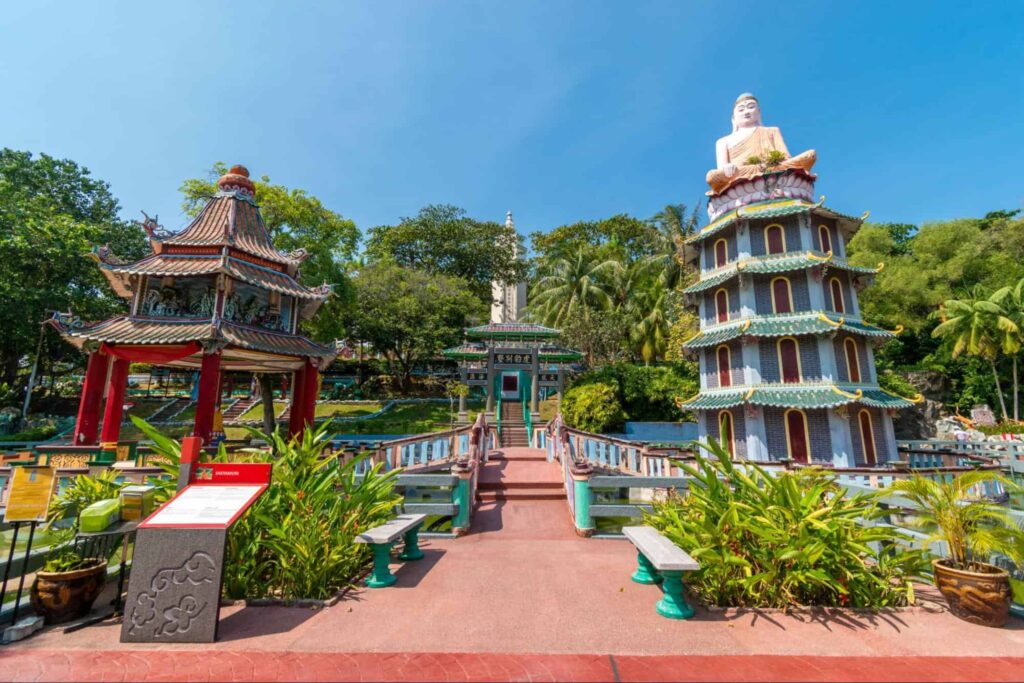 Apart from being home to life-size statues and dioramas, Haw Par Villa has designated spots for events and exhibitions as well as educational activities. Make the most of the park by checking what's on during your visit!
Culture Courtyard
Haw Par Villa's Culture Courtyard is an open space dedicated to Singapore's music and art events. Creatives transform this free area into a colorful and lively venue for education, interaction, and talent appreciation.
The Haw Par Villa Story Exhibition
Discover how the former Tiger Balm Gardens became the uber-famous park it is today with this educational exhibit about the origins of Haw Par Villa.
The exhibit is located in the Jade House, which is near the Sumo Wrestlers' statues and Culture Courtyard.
Educational Programmes
Haw Par Villa facilitates curated programs providing an in-depth experience of the displays in the park. One of these is the Sculpture Walk which aims to teach students about the sculptures and the stories behind them.
How to Get to Haw Par Villa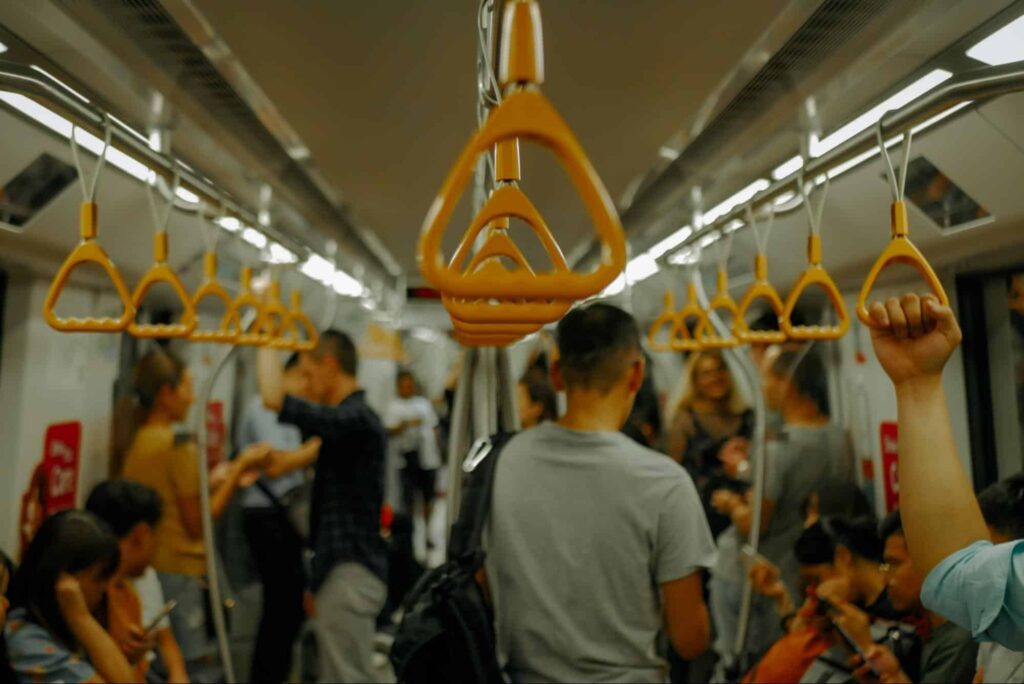 You can get to Haw Par Villa via train or bus.
Haw Par Villa is located right along Pasir Panjang Road, with train and bus stops just a few steps away from its entrance.
Via Train. Board the MRT and alight at Haw Par Villa Station, then take Exit A. The park is a minute's walk from there.
Via Bus. Ride a bus at the Pasir Panjang Road interchange. Buses 10, 30, 30E, 51, 144, 188, and 200 drop off commuters at a bus stop which is a minute's walk to the park.
Where to Eat at Haw Par Villa
You'll definitely go hungry after going around the park. Fortunately, nearby eats are available!
Haw Par Villa Visitor Centre
This amenity near the Hell's Museum offers refreshing drinks and delicious snacks, perfect for a quick break in between your explorations.
The information center is also helpful for acquiring essential information about the park and for buying souvenirs!
The Sixth Milestone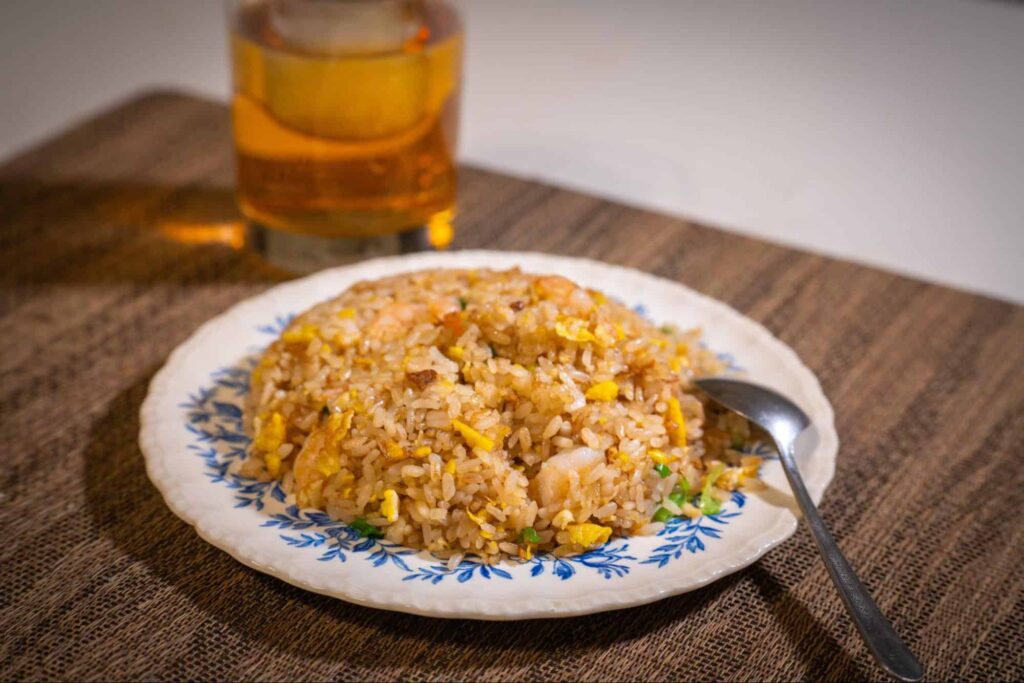 Opening Hours
Wednesday to Friday: 10:00 AM – 5:00 PM, Saturday to Sunday: 11:00 AM – 6:00 PM
Menu
Finger food: $3.50 – $10.80
Mains: $5.20 – $8.80
Beverages: $5
If you want to eat at a slower pace, consider checking out The Sixth Milestone.
This on-site restaurant close to the Pagoda Pond blends well with the place with its Chinese architectural style, but you can spot it easily as it has outdoor seating.
Note that the restaurant is closed on Mondays and Tuesdays, so plan your trip (or pack your meals) accordingly.
Things to Remember for Your Visit to Haw Par Villa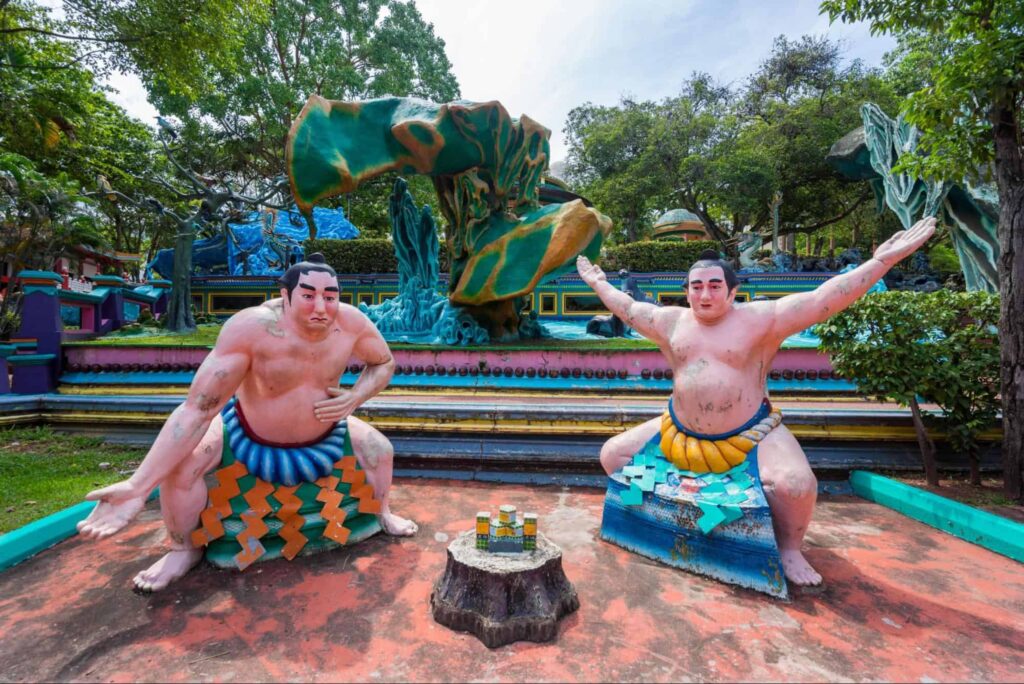 Like any other park, Haw Par Villa expects its visitors to observe proper etiquette and follow regulations while in the vicinity.
Here are some bits of information you should take note of before and during your visit. 
Don't climb the sculptures
Although their colossal size might be tempting, you are not allowed to climb the sculptures inside the park. Many of these creations are old and fragile, after all!
You can bring pets on a leash
You can bring your furbabies inside the park, provided that they are on a leash and you clean up after them. Larger dogs should come muzzled to ensure the safety of other guests.
That said, the Hell's Museum is off-limits to pets. They don't deserve hell, after all.
Bicycles aren't allowed
It sounds convenient, but you can't get around Haw Par Villa on a bike. You can leave it at the designated racks outside the Haw Par Villa MRT Station, though.
Smoking isn't allowed
You can't smoke inside Haw Par Villa.
Food and drinks aren't allowed in Hell's Museum
Meals are not allowed inside the Hell's Museum.