Categories >
Guides and Tips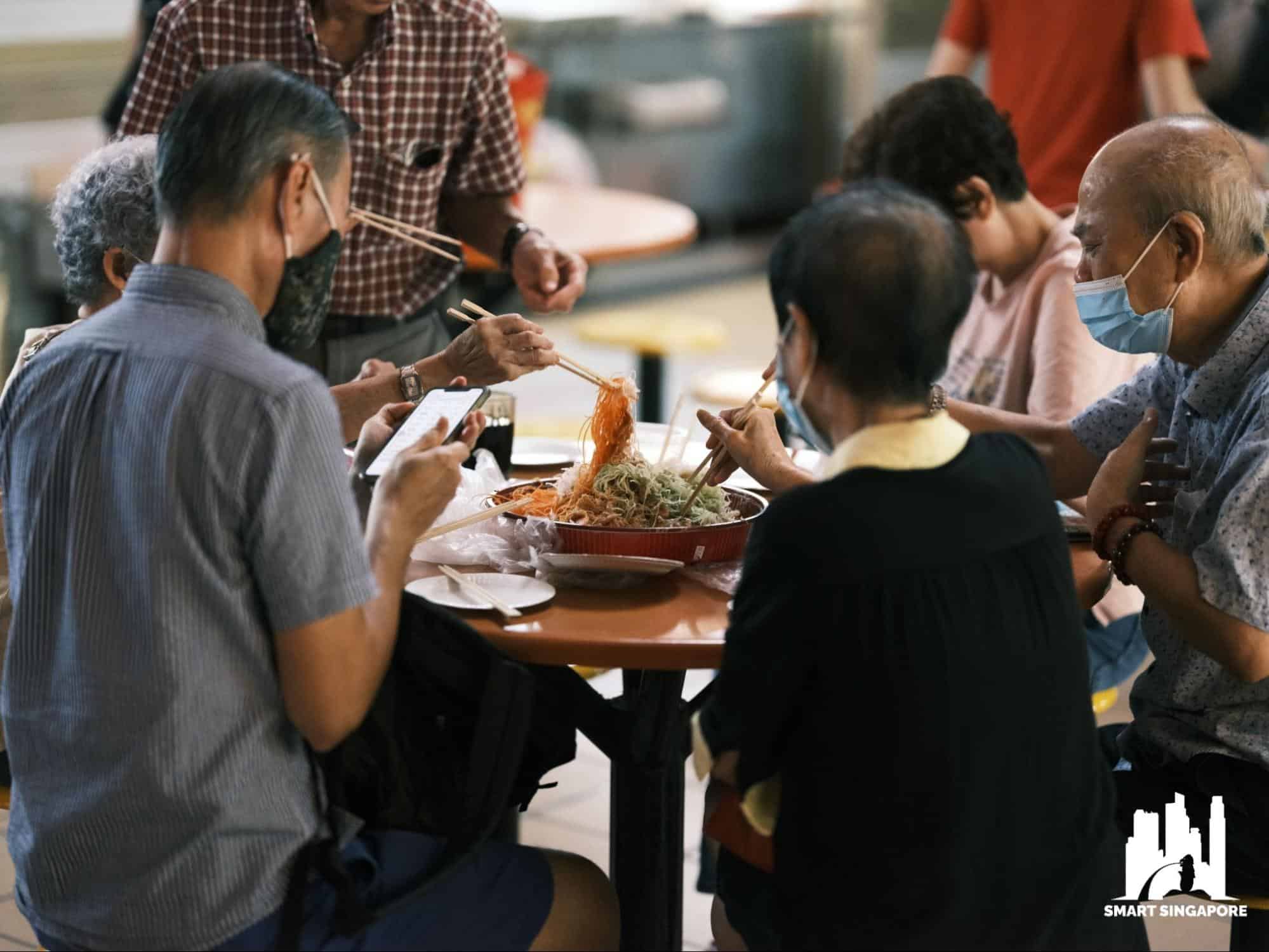 6 Tips on How to Order Food at a Hawker Center Like a Local
You never truly savored Singapore if you haven't tried its hawker centers. Fast-paced and diverse, these food hubs are a perfect analogy to the city's core qualities.
But just like how you need guidance to explore the country, you could use local advice to navigate its array of food stalls.
Here are tips to get the most out of the experience (and return home with a full tummy!).
1. Bring cash (preferably small bills)
Most stalls in Singapore's hawker centers don't accept credit cards, so ensure you have sufficient cash.
The good thing is that you don't need to carry so much money. Most dishes cost SG$ 3 to SG$ 10 (about US$ 2.21 to US$ 7.30) per order.
Hawker centers are also gradually accepting online payments through PayNow, PayLah, and GrabPay, among others. Check out the stalls' notice boards to know if you can go cashless.
Pro tip: Order kaya toast and chicken rice if you're strapped for cash. These dishes are priced at only SG$ 3 at the least and are hearty enough for a satisfying breakfast and lunch.
2. Decide what to order beforehand
Hawker centers offer a dizzying plethora of choices, so come prepared.
You can ready yourself in various ways:
Target a dish, like a bowl of laksa or a set of roti prata, and anchor your choice of stalls from that. My go-to is the springy wanton noodles from Tian Tian Noodle House in the Chinatown Complex.
Ask for the most-recommended stalls. Locals, online food guides, or our recommendations can provide a decent starting point.
Ensure you've finalized your list of dishes before your turn to order.
Sellers and the queue behind you won't appreciate you taking your time. The stall owners are incredibly busy, and the customers are starving.
You can also set limitations. You can keep yourself from getting overwhelmed by timing your ordering window (an hour or two) or limiting your budget (max of $10).
Limiting yourself can push you to become more efficient once you set foot on the aisles.
Pro tip: While in the queue, you can try asking fellow customers for recommendations. Locals are helpful. Not only will they enumerate top-rated dishes, but they will also tell you how to customize them (more on this later).
3. Chope a seat before ordering
Hawker centers are often packed to the brim, so finding a seat can be a challenge.
What I do is search for an available table before I line up in front of my favorite stalls.
Thankfully, it's so simple to reserve a seat thanks to our chope culture.
To chope a seat, leave one of your belongings on the table (preferably something you don't mind losing, such as a tissue packet, a receipt, or an umbrella). Your fellow eaters will understand that the spot is taken when they see it.
Sometimes, you might spy a vacant seat next to a stranger. Politely ask if you can take the spot first, though (some eaters will reserve seats for their companions).
I can't count the times I've sat down with total strangers for lunch, which is baffling because I'm introverted. I guess that's one of the magical things about hawker centers.
Pro tips:
Tissue packets are the most practical chope item, as you can also use them for wiping yourself and the table after your meal.
Try to buy your tissue packets from the elderly and less privileged who wait near the entrance of hawker centers. They will appreciate it!
4. Look out for stalls with long queues (and choose them)
A long line usually indicates that the food stall serves affordable meals, superior grub, or both.
You might find the snaking queue daunting at first. But fear not. Waiting lasts 30 minutes at most (not bad if you'd get that famous chicken rice, right?).
Pro tips:
Time your visit a few hours after peak times. For instance, head to the hawker center around 2:00 PM to 3:00 PM to avoid the lunch rush.
Know the stalls' schedules, though. Some sellers close after lunch, such as Lor Mee 178 at Tiong Bahru Market (known for their noodles).
Maxwell Food Centre's famous Popo & Nana's Delights (my favorite here is the homey chicken rendang!) also closes at 2:30 PM.
5. Know the language
Understanding a few slang provides tremendous help when you're in a hawker center.
When ordering, expect stall owners to ask "Eat?" or "Having here?" They mean to ask if you want to dine in/on-site.
For takeaways, the usual terms are "packet" and "dabao," which older stall owners will instantly understand. Younger sellers may get it if you say take-out or takeaway, though.
Also, check whether the stall is "self-service" or "delivery."
The former means you wait for your order near the stall and bring the food to your table yourself. The latter indicates that the servers will bring the food to you once it's ready.
Recently, some sellers have started providing buzzers, which I find convenient since I won't need to stand near the stall anymore. The little device will beep and vibrate to alert you that your food is ready.
Pro tip: If ordering from a "delivery" stall, ensure you got your table number right (the servers will ask for it). The table number is usually printed on a round sticker.
6. Order food like the locals do
Ordering food from hawker stalls is not as straightforward as you think. Locals love to customize their meals, asking for specific meat parts, particular sauces, and extra rice.
Here are some popular hawker food items and tips on how to customize them:
Chicken Rice
What is it: Poached chicken with fragrant rice, bean sprouts, and soup
Where to eat: Tian Tian Hainanese Chicken Rice at Maxwell Food Centre
Specify if you want a half or whole chicken. The former order includes rice, the latter none.
You can combine plain chicken rice with roasted or soya sauce chicken rice to experience the best of both worlds! Extra veggies and eggs are also popular customization requests.
You can request specific chicken parts!
Nasi Lemak
What is it: Fragrant rice with meat, anchovies, peanuts, fried egg, and sambal chili
Where to eat: Selera Rasa Nasi Lemak at Adam Food Centre
Check if your stall allows a la carte ordering. This way, you can choose your original nasi lemak combination to suit your palate.
Opt for a boiled egg instead of fried to reduce your calorie intake.
A helping of beef rendang and sambal squids can also enrich the already flavorful dish.
Bak Chor Mee
What is it: Flat, wide egg noodles in chili, oil, vinegar, and mushroom sauces, mixed with pork, mushroom, lettuce, and bean sprouts
Where to eat: Hill Street Tai Hwa Pork Noodle at Crawford Lane
You can ask the seller to remove and add specific ingredients.
Some stalls offer meatballs and dumplings; you may ask them to add those ingredients if you like them.
Wanton Mee
What is it: Noodles with dumplings, vegetables, and soup
Where to eat: Tian Xiang Wanton Mee at Tanglin Halt Food Centre
Many stalls serve beyond steamed and fried dumplings. You can add char siew, roasted pork, or roasted chicken.
You can request to remove the chili if you don't want your noodles spicy.
Some dishes, such as roti prata, chili crab, satay, and carrot cake, aren't customizable, but they are equally tasty, filling, and addictive!
Pro tip: Many stalls won't give you the soup when you order a dry version of noodles (wanton mee or bak chor mee). Either opt for the soup version instead or politely ask the stall owner to give you the soup for a fee.
---