Categories >
Other Services
Top 5 Studios for Relaxing Painting Sessions in Singapore
1. Avant-Garde Art Space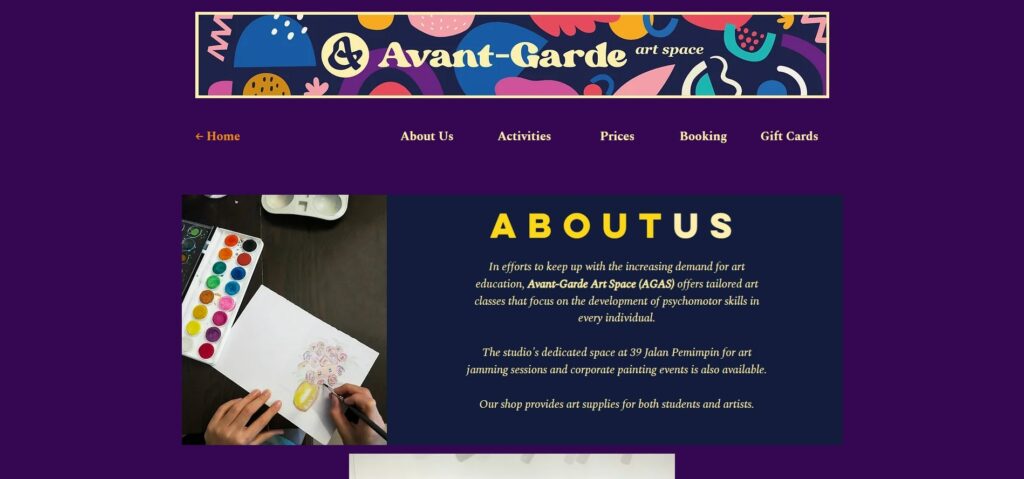 Sessions: Art jamming, painting classes
Website: https://www.triggerhearth.com/agas
Address: 39 Jln Pemimpin, Tailee Industrial Building, #04-3A, Singapore 577182
Contact Details: +65 8023-1554 | agas@triggerhearth.com
Operating Hours: Monday, Wednesday to Sunday: 12:00 PM – 10:00 PM
| | |
| --- | --- |
| Google Reviews | 5/5 |
| Total reviews | 4.9/5 |
| Score consistency | 5/5 |
| | |
| --- | --- |
| Session quality | 5/5 |
| – Fun and fulfillment | 5/5 |
| – Guidance | 5/5 |
| Art tools and amenities | 5/5 |
| Location access | 4.9/5 |
| Customer service | 5/5 |
| – Responsiveness | 5/5 |
| – Friendliness | 5/5 |
Pros
Relaxed, calming space
Pet-friendly studio
Plenty of options beyond the painting session
Biking or driving from CBD to the studio takes only about 15 minutes
Cons
Train commute to the studio from CBD takes an hour
Opens late
Like other art jam studios in Singapore, Avant-Garde Art Space holds classic painting sessions in its cozy space away from the hustle and bustle of the city.
The art jamming session I attended with my friend lasted two hours, sufficient time for me to finish a simple acrylic painting of my pet cat.
It also helped that the owners gently chimed in with their painting tips here and there. Their non-intrusive guidance contributed to me completing the piece.
Moreover, I felt the place's positive vibe, enhanced by the presence of the owner's friendly dog, Merah.
The studio allows visitors to bring their pets along, which is a plus point for animal lovers like me (though bad news for those who dislike dogs).
Aside from the non-structured painting sessions, the studio also offers classes for acrylic painting, watercolor painting, sketching, craft-making, and unique workshops (like applying paint on a ukulele).
Due to the range of activities, many visitors here are returning customers. They said they plan to try everything the studio has to offer.
Avant-Garde is a pleasant place to return to for the friendly staff and the dog.
It bummed me that the Avant-Garde opens late (at lunch), though. I and some visitors prefer morning sessions on weekends.
The only thing that pushed us to book a session regardless was the dog and the free drinks.
I also find the train commute too long (one hour from the CBD area). We recommend taking the bike or driving your car to the studio, but brace for the possibility of a full parking space.
2. The Art Nooq
Sessions: Guided and unguided canvas art, tote bag art, macaron art
Website: https://www.artnooq.com/
Address: 195 Pearl Hills Terrace, #01-58, Singapore 168976
Contact Details: +65 8042-1689 | contact@artnooq.com
Operating Hours: Monday to Saturday: 10:00 AM – 10:00 PM
| | |
| --- | --- |
| Google Reviews | 5/5 |
| Total reviews | 4.9/5 |
| Score consistency | 5/5 |
| | |
| --- | --- |
| Session quality | 5/5 |
| – Fun and fulfillment | 5/5 |
| – Guidance | 5/5 |
| Art tools and amenities | 4.8/5 |
| Location access | 5/5 |
| Customer service | 5/5 |
| – Responsiveness | 5/5 |
| – Friendliness | 5/5 |
Private set-up perfect for therapeutic painting sessions
Warm and approachable staff
Instagrammable workspace
Open in the morning
Booking a slot might be challenging at times
Closed on Sundays
Introverts who want a studio for themselves (and their select circle) should visit The Art Nooq.
The art jamming space allows exclusive booking of its studio for a minimum of two persons and a maximum of six.
Moreover, you are not limited to painting on a traditional canvas, as Art Nooq also offers painting sessions on tote bags and macarons (the latter are edible!).
You can also choose a guided or non-guided approach for the traditional painting session.
Some of my artsy friends who preferred the non-guided set-up said that working on their
art independently in such a cozy space did wonders for their creativity.
Meanwhile, I picked the guided session (booked one with my two teammates), as I'm a beginner, and I must say that the gentle facilitators, with their pro tips and warm approach, boosted me.
My finished work might not be on par with my other artsy friends. But at least I felt fulfilled and de-stressed!
That said, I think the sweet spot is a group size of four, as the studio is small. Four people in such a room might feel more free and unconstrained.
The strictly private sessions also mean that booking isn't as easy as those with public art jamming events. For instance, I had to wait a few weeks before finding an open slot.
It's also sad that the studio is closed on Sundays. Well, you can't have all the good things!
3. Paint Blush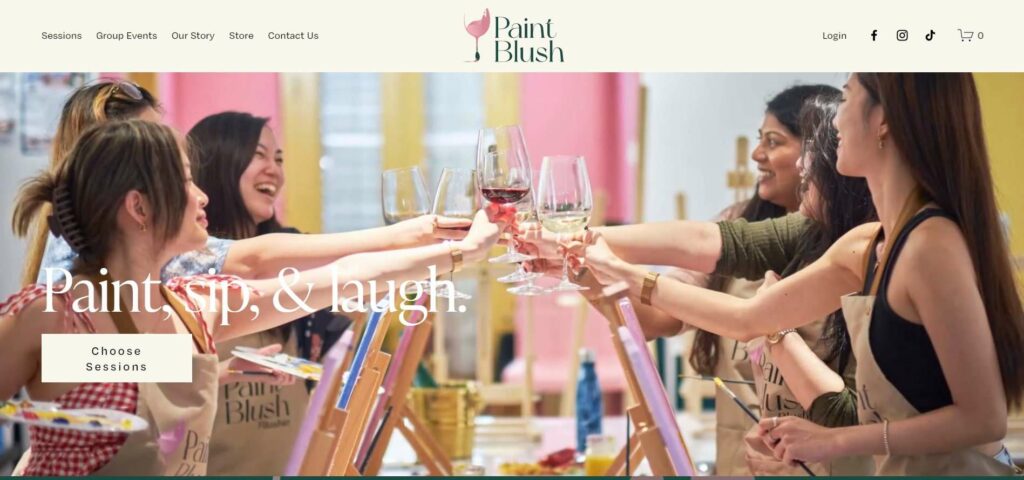 Sessions: Sip n' Paint, guided art jam, soft-guided art jam
Website: https://www.paintblush.sg/
Address: 73 Dunlop St, #02-00, Singapore 209401
Contact Details: +65 8883-7211 | hello@paintblush.sg
Operating Hours: Monday to Friday: 1:00 PM – 10:00 PM, Saturday to Sunday: 11:00 AM – 10:00 PM
| | |
| --- | --- |
| Google Reviews | 5/5 |
| Facebook | 5/5 |
| Total reviews | 4.9/5 |
| Score consistency | 5/5 |
| | |
| --- | --- |
| Session quality | 5/5 |
| – Fun and fulfillment | 5/5 |
| – Guidance | 5/5 |
| Art tools and amenities | 4.85/5 |
| Location access | 5/5 |
| Customer service | 5/5 |
| – Responsiveness | 5/5 |
| – Friendliness | 5/5 |
Varying levels of painting guidance to suit different preferences
Professional photo sessions available after the art jamming
Great venue for community bonding
Group size might be too big for some
Sessions might be too long for busy people
Paint Blush's Sip n' Paint sessions are ideal for beginners who need step-by-step guidance as they create their art.
During the painting session, visitors create a common piece by following a designated instructor as they show how to prep the canvas, choose and then mix colors, and execute brushstrokes.
When I tried the activity, it reminded me of a yoga or Pilates session where I can see how each pose is done and then copy it.
While the teacher basically spoon-fed our group, I found it lovely, as it meant I could sip my wine in peace (yes, you can bring your bottle of wine).
Also, I didn't have to agonize over what color to choose next or where I would place the paint on the canvas.
Sip n' Jam also helped forge a sense of community in the studio.
As sessions like this are open to the public, half of the people at that time were strangers. But doing the same activity felt like we bonded.
Of course, the activity may not suit seasoned art jammers who value freedom when painting.
Fortunately, Paint Blush offers semi-guided art jams for more talented painters. The session allows you to choose what to paint, while instructors provide tips as needed.
Some people may also find the maximum group size overwhelming; the studio has two rooms accommodating 8 pax and 24 pax.
If you prefer exclusivity, you might want to book a private session, though this option is subject to availability and may cost more.
Also, know that most sessions last three hours, which might be too long for busy people.
An alternative is the two-hour kids' painting sessions. You can book them even if you're not a child, but you'll be working on a smaller canvas.
But whether you choose the public or private art jam, you will be entitled to a professional photo session to document your achievements. And that's the best way to end the activity for everyone!
4. Wildflower Studio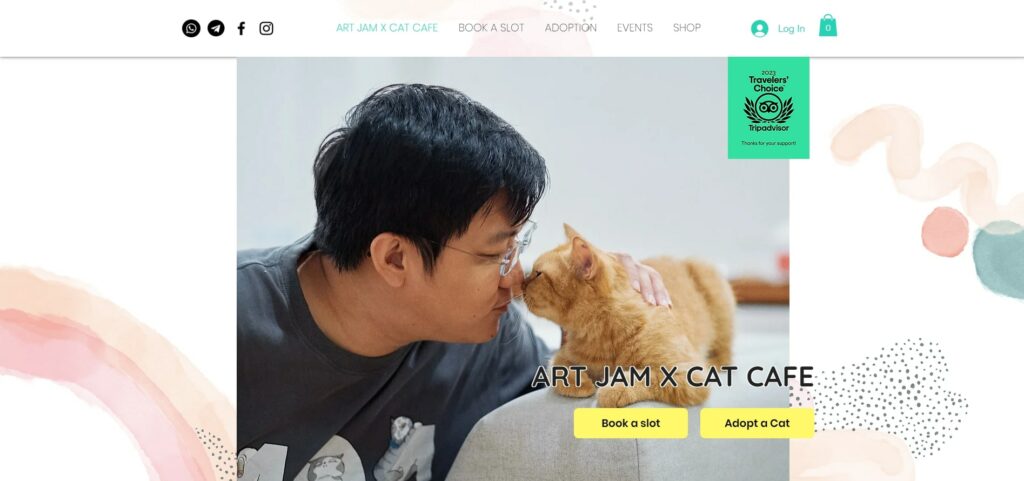 Sessions: Semi-guided art jam with cats, chill out with cats
Website: https://www.wildflowerstudio.sg/
Address: 56A Niven Rd, Singapore 228405
Contact Details: +65 8101-4990 | hello@wildflowerstudio.sg
Operating Hours: Daily: 10:00 AM – 12:30 PM, 2:00 PM – 7:00 PM
| | |
| --- | --- |
| Google Reviews | 5/5 |
| Total reviews | 5/5 |
| Score consistency | 5/5 |
| | |
| --- | --- |
| Session quality | 5/5 |
| – Fun and fulfillment | 5/5 |
| – Guidance | 5/5 |
| Art tools and amenities | 4.8/5 |
| Location access | 5/5 |
| Customer service | 5/5 |
| – Responsiveness | 5/5 |
| – Friendliness | 5/5 |
Friendly and candid staff
Lovely studio design
Visitors can have photo sessions with cats
No discounts for kids
Medium is limited to acrylic paints
Wildflower Studio combines two things I love—art and cats. So, of course, I immediately jumped onto the bandwagon and tried the session as soon as possible.
Interestingly, Wildflower's semi-guided art jam with cats is unlike other painting sessions I attended. The studio's session is structured so you get guidance in the first hour, freedom in the next, and cat feeding in between.
My first experience with the studio was serotonin-inducing—and not only because of the cats but also because of the cozy space and warm, accommodating staff.
I also love that we weren't limited to traditional fabric canvas. I picked the tote bag as my painting surface (so I could use it later), while my buddy tried using a wooden board.
The studio also has a card system, allowing you to tell the staff the level of help you need during the painting session. The cards say, "I need some tips," "I need more guidance," and "I prefer independent work."
I chose the "I need more guidance" card and received many helpful tips and encouragement from the instructors.
It's also great to know that art jamming here means you contribute to the studio's cause. Wildflower works with cat rescuers and runs a fostering program (you might even spot a feline among their rescue litter you want to adopt!).
However, the art jam session is a bit pricey at $48, so prepare your wallet. Children also don't get a discount.
The studio also limits its medium to acrylic paints. More adventurous artist wannabes who want to experiment with watercolor or oil paints may opt for other art jamming sessions (or enroll in an art class).
5. Splat Paint House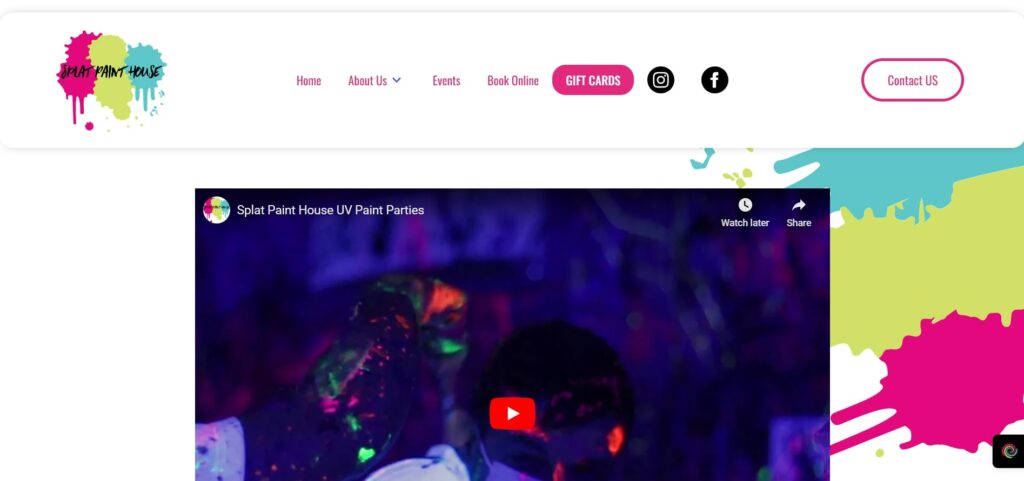 Sessions: Starter Package, Weekday Happy Hour, Party Pack, Date Time, Splatter Tote Bag, UV Party
Website: https://www.splatpainthouse.com/
Address: 207a Upper Thompson Rd, Singapore 547346
Contact Details: +65 8882-0839
Operating Hours: Wednesday to Friday: 3:00 PM – 9:00 PM, Saturday: 11:00 AM – 9:00 PM, Sunday: 11:00 AM – 7:00 PM
| | |
| --- | --- |
| Google Reviews | 4.8/5 |
| Facebook | 4.4/5 |
| Total reviews | 5/5 |
| Score consistency | 4.5/5 |
| | |
| --- | --- |
| Session quality | 4.65 |
| – Fun and fulfillment | 5/5 |
| – Guidance | 4.3/5 |
| Art tools and amenities | 4.8/5 |
| Location access | 5/5 |
| Customer service | 4.15 |
| – Responsiveness | 4/5 |
| – Friendliness | 4.3/5 |
Fun and free painting session
Family-friendly studio
Plenty of colors and unconventional tools available
Limited guidance
Customer service needs work
Splat Paint House offers a unique painting session where you can channel your inner Jackson Pollock (the messier version) without feeling guilty about the amount of paint you use.
The highlight of the activity involves splattering your canvas with paints the studio provides. You can work on your painting with squirt bottles, water guns, and any tool up for grabs on the table.
While not as structured as other painting sessions, I had so much fun with the activity. Applying paints without the usual constraints was liberating!
There were also many colors to choose from, helping our brain's creative gears.
My companions added that the liberal use of paint helped release pent-up stress.
Seeing each other looking dirty like children (colorful dirt) was also refreshing. We had a good laugh at ourselves!
My gripe with the studio is that the briefing at the start was limited to the staff telling us the common-sense rules (keep within your area, don't bother others, and don't walk with dripping paint).
They didn't teach us at least the basic techniques like how to create color combinations or how to fill the canvas. The approach threw me off a little, as I love some semblance of guidance (yes, even in splattering paint).
Also, we didn't get to bring our artwork home after the session, as the canvases would take around 48 hours to dry. While it's alright with me, some might find this setup a hassle.
Fortunately, you can opt for delivery to avoid returning to the studio.
Expect service hiccups, though, as the studio's customer service isn't exactly stellar. One of my companions had to come to the place personally, as no one responded to her follow-ups.
FAQs about Painting Sessions
---