Categories >
Guides and Tips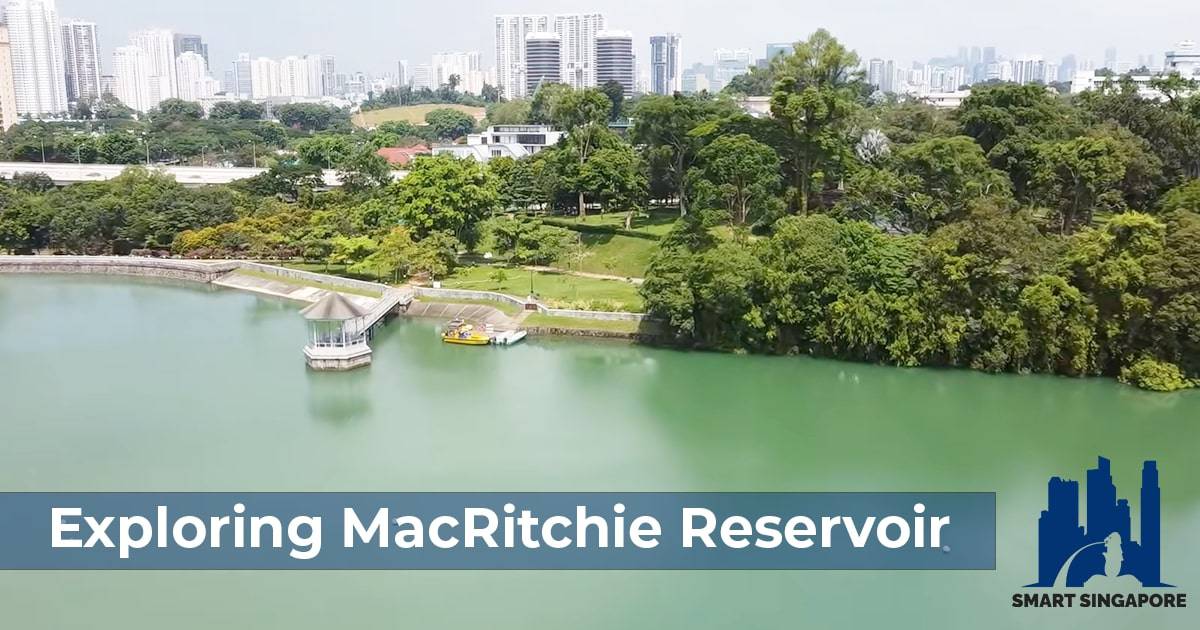 Exploring MacRitchie Reservoir in Singapore
Singapore is a city-state known for its modern skyline, bustling streets, and diverse cultural attractions. But venture just a short distance from the city center, and you'll find a peaceful oasis amidst the hustle and bustle: MacRitchie Reservoir.
Located in the heart of Singapore, MacRitchie Reservoir is a must-visit destination for anyone looking to escape the hustle and bustle of the city and enjoy some quality time in nature.
Whether you're a runner, hiker, birdwatcher, or simply looking to relax and take in the beauty of the surrounding greenery, MacRitchie Reservoir has something for everyone.
What is special about MacRitchie Reservoir?
MacRitchie Reservoir is special because of its unique ecosystem and wildlife. The reservoir is surrounded by lush rainforests, which are home to a wide variety of plant and animal species.
Here are just a few of the many things that make MacRitchie Reservoir a truly special place.
Unique Ecosystem and Wildlife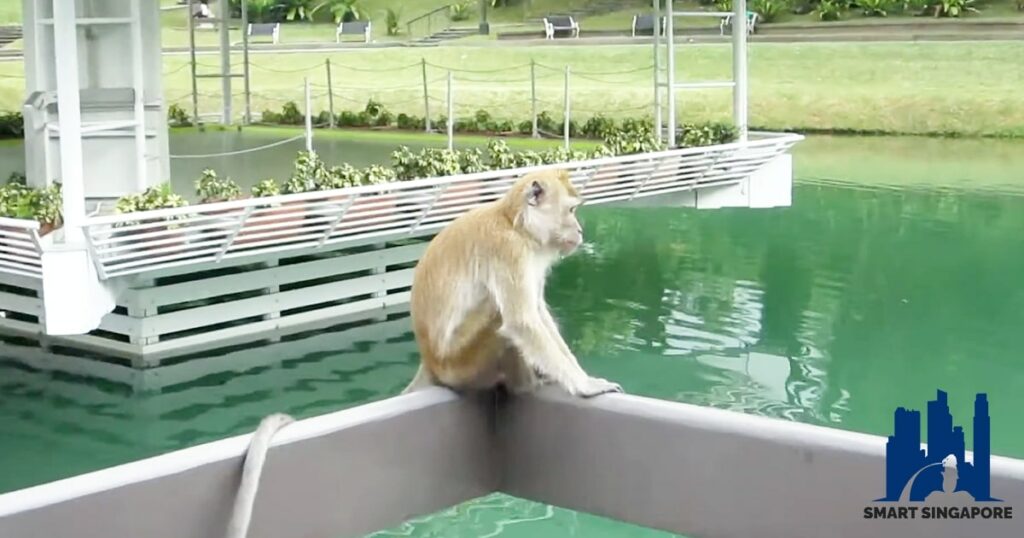 MacRitchie Reservoir is home to a wide variety of plants and animals. The reservoir and its surrounding areas are home to over 160 species of birds as well as numerous mammals, reptiles, and amphibians.
Visitors to MacRitchie Reservoir may be able to spot rare and endangered species such as the Sunda pangolin and the Malaysian colugo.
In addition to its diverse array of wildlife, MacRitchie Reservoir is also home to a number of unique ecosystems, including mangrove forests, freshwater marshes, and secondary forests.
Beautiful Scenery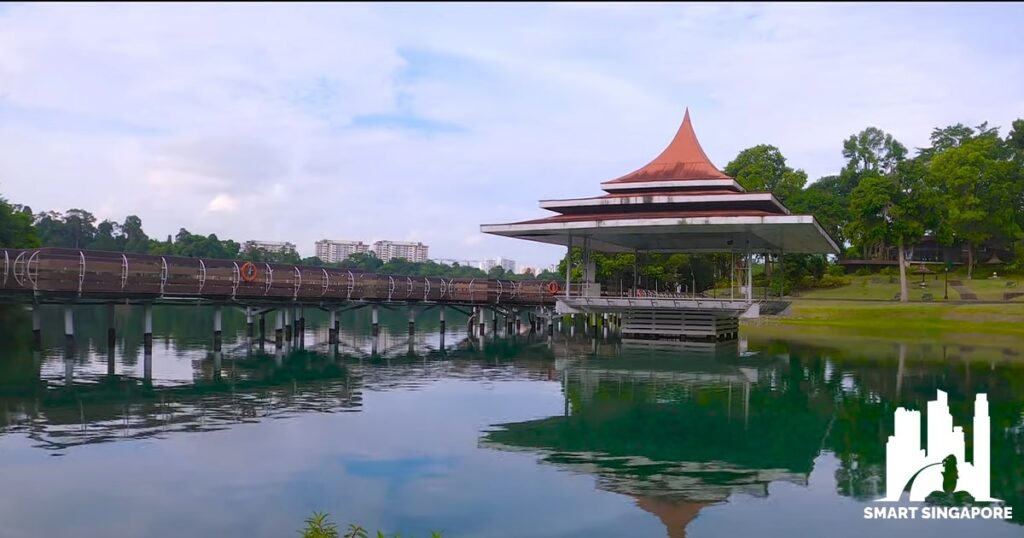 MacRitchie Reservoir is surrounded by lush forests, rolling hills, and serene waterways, making it a stunning landscape for nature lovers.
Whether you are hiking, running, or just enjoying a leisurely walk around the reservoir, you will be treated to breathtaking views of the natural beauty that surrounds you.
From the crystal clear waters of the reservoir to the towering trees and vibrant plant life, there is no shortage of visual delights to be found at MacRitchie Reservoir.
What is the history of MacRitchie Reservoir?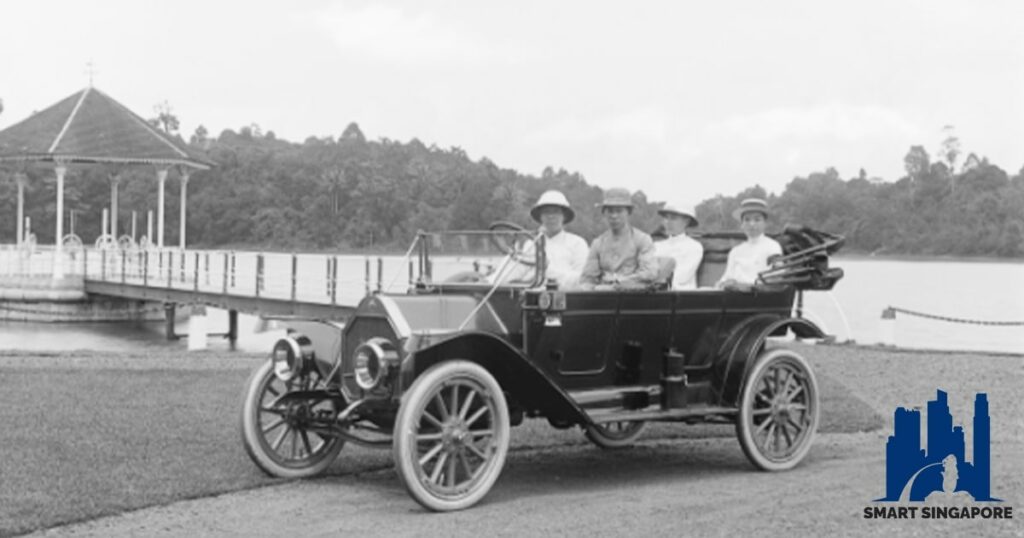 MacRitchie Reservoir has a rich history dating back to the late 1800s when it was first conceived as a way to provide a secure water supply for the growing population of Singapore.
Construction on the reservoir began in 1868, and it was officially completed in 1871. The reservoir was initially known as the Impounding Reservoir, as it was designed to hold water that had been collected from the surrounding catchment area.
Evolution of Macritchie Reservoir as a Popular Recreational Spot
In the early 1900s, the Impounding Reservoir was renamed MacRitchie Reservoir in honor of Sir William MacRitchie, who served as the Colonial Engineer for the Straits Settlements in the late 1800s.
While the reservoir was originally built for practical purposes, it gradually evolved into a popular recreational spot for locals and tourists alike.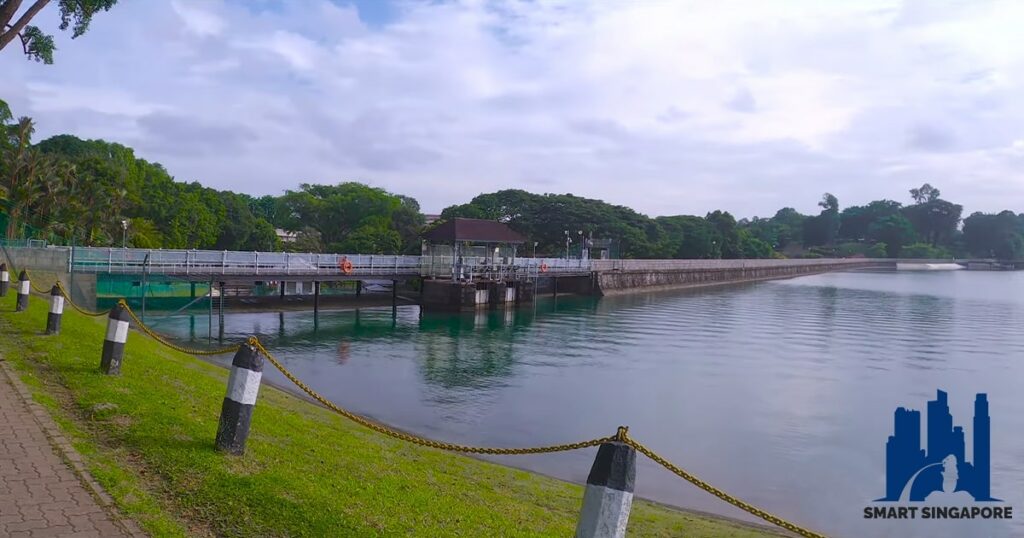 Today, MacRitchie Reservoir is known as one of the best places in Singapore to go for a walk, jog, or hike, with a number of well-maintained trails winding their way through the beautiful greenery surrounding the reservoir.
In addition to its natural beauty, MacRitchie Reservoir is also home to a variety of wildlife, including monkeys, birds, and other animals, making it a popular spot for nature enthusiasts and photographers.
Why is MacRitchie Reservoir important to Singapore?
MacRitchie Reservoir is important to Singapore, as it plays a vital role in the country's infrastructure and environmental health.
As one of the oldest reservoirs in Singapore, MacRitchie has a rich history and has undergone significant changes over the years to adapt to the country's growing needs.
MacRitchie Reservoir provides a secure water supply to SG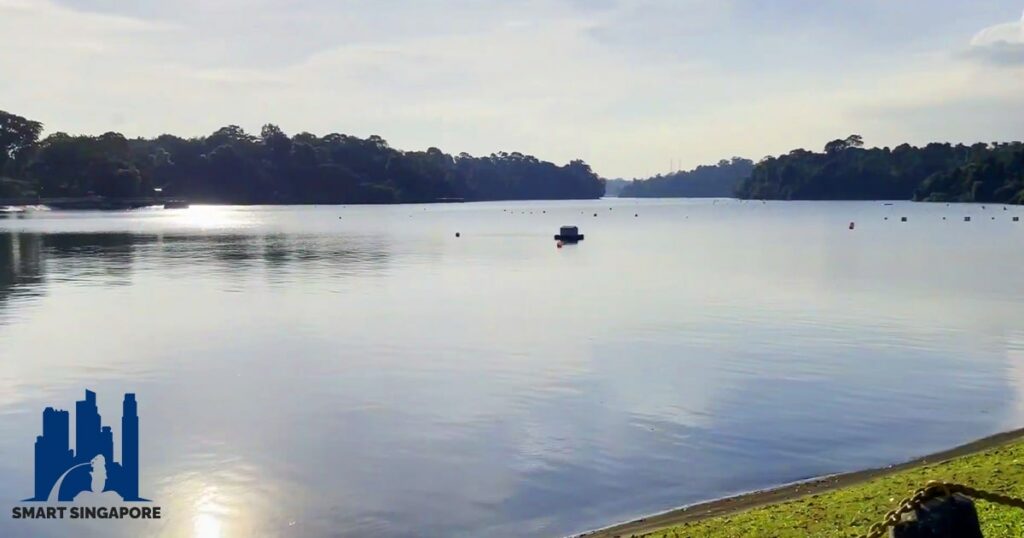 MacRitchie Reservoir is one of Singapore's oldest reservoirs and has played a crucial role in providing a reliable water source for the country's residents and industries.
It is managed by the national water agency, PUB, and is part of Singapore's integrated water supply system, which includes the use of treated water from reservoirs and desalination plants.
MacRitchie Reservoir is an important green space in SG
In addition to its practical use as a water source, MacRitchie Reservoir is also an important green space in Singapore. It is home to a diverse ecosystem of flora and fauna and offers a tranquil and peaceful escape from the bustling city.
The reservoir and its surrounding park are popular destinations for outdoor enthusiasts, including runners, hikers, and nature lovers.
The park also hosts various events and festivals throughout the year, such as the MacRitchie Nature Trail Marathon and the International Coastal Cleanup Singapore.
How do I get to MacRitchie Reservoir?
You can get to MacRitchie Reservoir by both public transportation and private vehicles. It is located in the central part of Singapore, on the island of Pulau Ujong.
Here are the different options for getting to the reservoir:
Public Transportation to MacRitchie Reservoir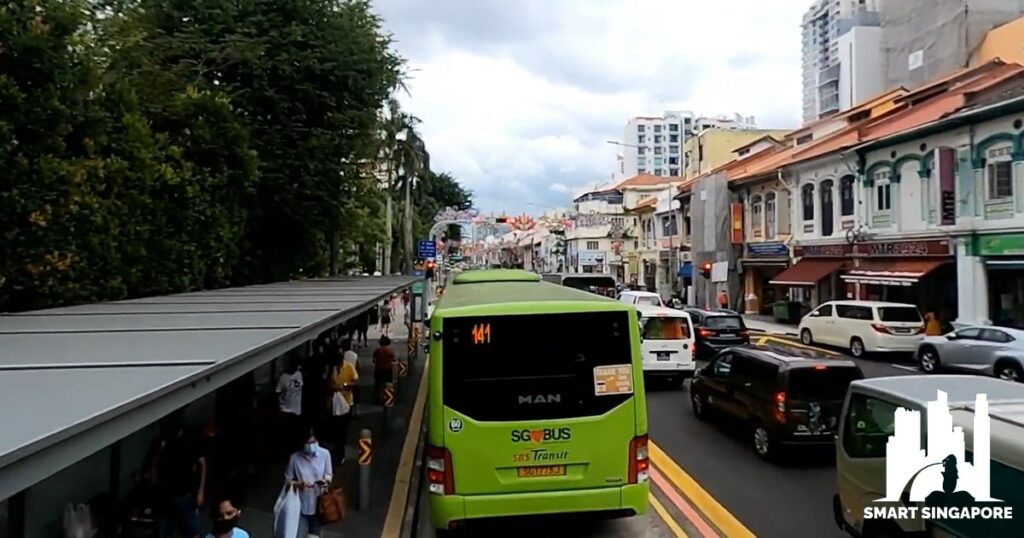 One of the most convenient ways to get to MacRitchie Reservoir is by taking the Mass Rapid Transit (MRT) system.
From the Caldecott MRT station, you can take a short walk westward along Toa Payoh Rise and turn right onto Thomson Road. From there, it's a 900-meter walk northward to reach the MacRitchie Reservoir Park entrance.
Alternatively, you can take a bus to get to MacRitchie Reservoir.
There are several bus routes that stop at or near the park:
| | |
| --- | --- |
| Starting Location | Bus Number |
| Bishan Interchange | 52 |
| Ang Mo Kio | 74, 130, 132, 165, 166, 167 |
| Farrer Road MRT | 93, 165, 855 |
| Toa Payoh Interchange | 157 |
| Yio Chu Kang MRT | 162, 852 |
MacRitchie Reservoir Driving and Parking Information
If you prefer to drive to MacRitchie Reservoir, there is a car park at the MacRitchie Reservoir Park entrance, which can be accessed via Lornie Road. Please note that parking fees may apply.
You can also enter MacRitchie Reservoir from Venus Drive, which is located on the other side of the park. From Venus Drive, you can park along the road or in the car park located near the entrance.
Please note that parking along Venus Drive is limited and may not always be available.
Is MacRitchie Reservoir free?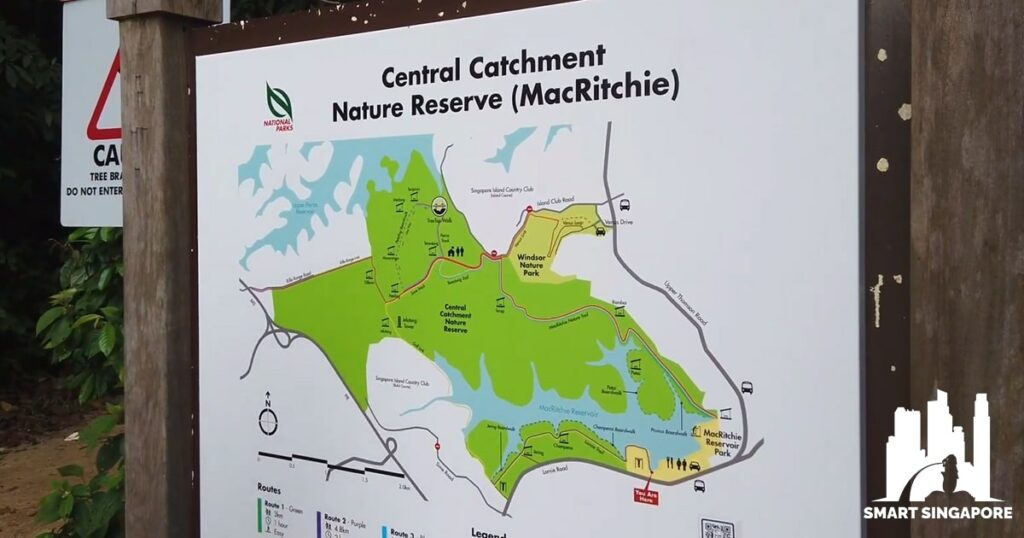 Yes, MacRitchie Reservoir is a public park, and anyone is free to enter.
However, there are a few other costs to consider when planning your visit.
First, there is a fee for parking at MacRitchie Reservoir. The cost is $1.20 per hour, and you can pay using cash or a credit card at the parking machines.
There is a maximum charge of $6 per day. If you're planning to spend a lot of time at the park, it may be worth it to consider taking public transportation or carpooling to save on parking fees.
In addition to parking fees, there are a few other activities at MacRitchie Reservoir that come with an additional cost. For example, you can rent a kayak or stand-up paddleboard from the Paddle Lodge for a fee.
These activities are not mandatory for a visit to the park, so you can choose to participate or skip them based on your budget and interests.
What amenities does the MacRitchie Reservoir offer?
MacRitchie Reservoir offers a variety of amenities, including restrooms, a cafe, a paddling rental center, and a parking lot.
The park also has several trails of varying lengths and difficulties as well as the TreeTop Walk, a 250-meter-long suspension bridge that offers views of the surrounding forest canopy.
There are also plenty of benches and shelters along the trails, providing a convenient spot to rest and take in the beautiful surroundings.
The reservoir has a number of well-equipped toilet facilities located throughout the park as well as drinking fountains to help you stay hydrated during your walk or hike.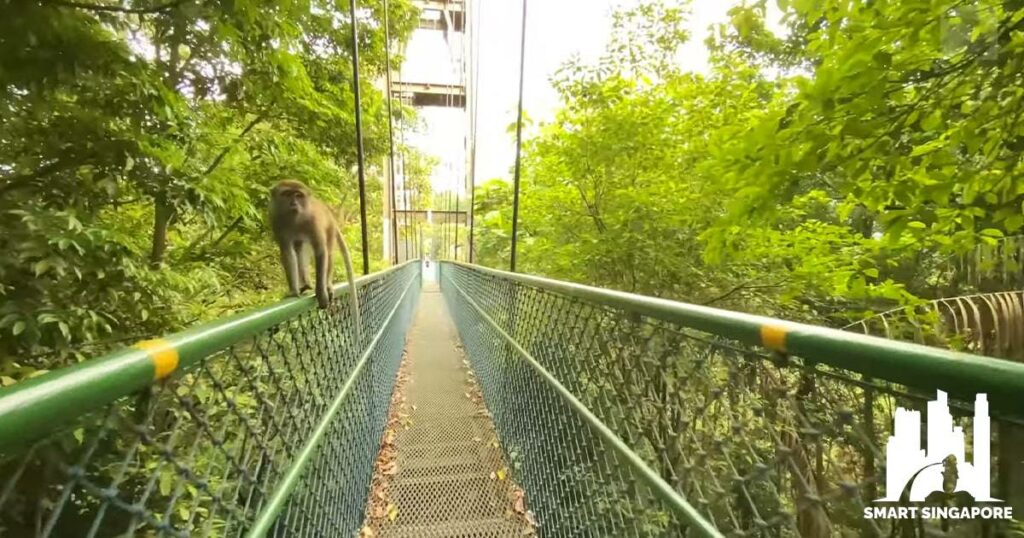 One of the most popular attractions is the TreeTop Walk. The TreeTop Walk is a unique attraction at MacRitchie Reservoir and is the first of its kind in Singapore and the surrounding region.
The 250-meter-long suspension bridge connects the two highest points in the park, Bukit Peirce and Bukit Kalang, and allows visitors to get a bird's-eye view of the diverse plant and animal life in the forest canopy.
The TreeTop Walk is free to access.
Alternatively, visitors are welcome to bring their own food and drink and enjoy a picnic in one of the park's many sheltered areas.
How long is the MacRitchie Reservoir walk?
The total length of the trails around the MacRitchie Reservoir is approximately 11 kilometers, and it can take anywhere from 2 to 4 hours to complete the full loop, depending on your pace and whether you stop to rest or take in the scenery.
The answer also depends on which trail you choose to follow.
The MacRitchie Reservoir Park offers a variety of trails with different lengths and difficulty levels, so you can choose the one that best suits your interests and fitness level.
Length and Difficulty of MacRitchie Reservoir Trails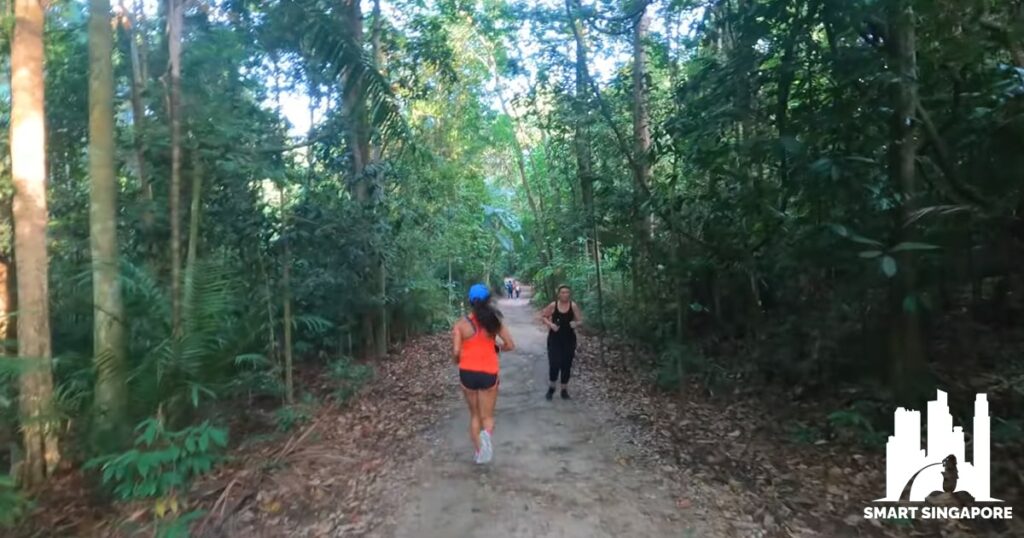 The MacRitchie Reservoir Park has a number of trails that range in length from less than a kilometer to more than 11 kilometers.
The shortest and easiest trails are the Lornie Trail and the MacRitchie Nature Trail, which are both less than 2 kilometers in length and suitable for leisurely strolls or easy jogs.
For more challenging hikes, there are several trails that are over 5 kilometers in length and feature hilly terrain and rugged terrain. These include the Jelutong Tower Trail, Sime Track, and Petaling Trail.
The longest trail at MacRitchie Reservoir is the Reservoir Loop, which is an 11.5-kilometer loop that takes you around the entire reservoir and through several different trails.
This trail is suitable for experienced runners and hikers, as it can be quite strenuous due to the hilly terrain and distance.
Tips for Planning your Walk at MacRitchie Reservoir
When planning your walk at MacRitchie Reservoir, be sure to consider your fitness level and the length of the trail you choose. If you're not used to long walks or hikes, it might be best to stick to the shorter trails until you build up your endurance.
It's also a good idea to bring plenty of water and snacks with you as well as a map of the trails to help you stay on track.
Remember to wear comfortable shoes and dress appropriately for the weather, as the trails can be slippery and muddy during the rainy season.
What is the best time to go to MacRitchie Reservoir?
For those who enjoy hiking and trail running, the cooler months from November to January may be the best time to go to MacRitchie Reservoir. The weather is generally cooler and more comfortable for longer walks, and the trails may be less crowded as well.
If you're more interested in wildlife viewing, the reservoir is home to a diverse range of species, including monkeys, birds, and reptiles.
These animals are more active during the warmer months, so visiting in the dry season from February to April may be a good time to spot them.
It's worth noting that the reservoir can get quite hot and humid during the wet season from May to October, so it's important to bring plenty of water and take breaks in the shade if you're planning to visit during this time.
Special Events and Festivals at the MacRitchie Reservoir
There are a variety of special events and festivals held at MacRitchie Reservoir throughout the year.
These events are often organized by the MacRitchie Nature Trail Association, a group of volunteers dedicated to promoting the conservation and appreciation of the reservoir and its surroundings.
These events may include guided nature walks, workshops, and other activities designed to encourage exploration and appreciation of the reservoir and its surroundings.
To stay informed about upcoming events at MacRitchie Reservoir, be sure to check the MacRitchie Nature Trail Association's website or social media accounts.
FAQs about MacRitchie Reservoir