Categories >
Guides and Tips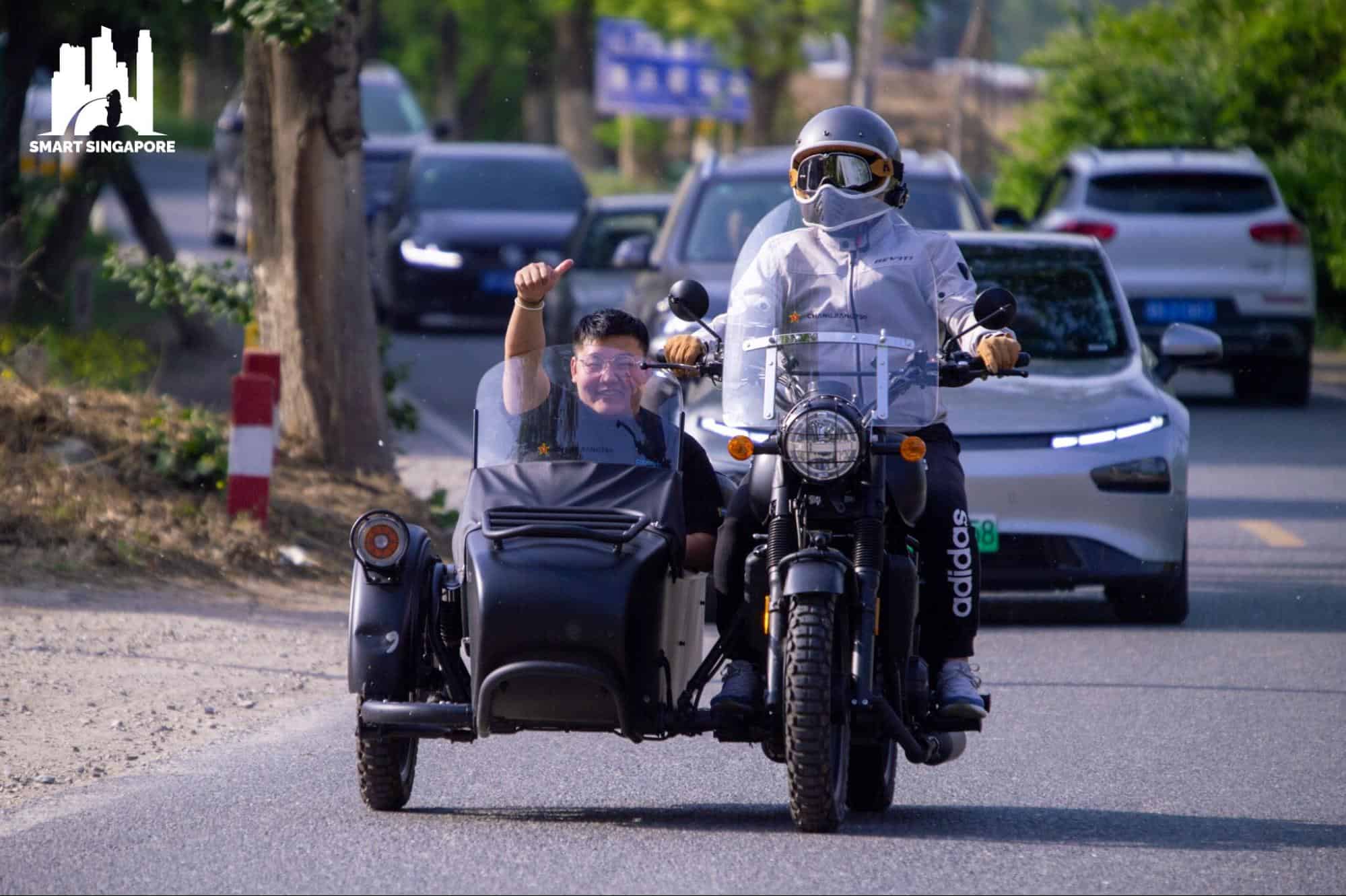 The Ultimate Guide to Sidecar Tours in Singapore
Singapore's sidecar tours offer a unique approach to experiencing the city's rich culture and heritage.
They hit the sweet spot between pacing and comfort. They're paced slower than when you're driving a car and less tiring than when you're walking down the street.
Tours even include information tidbits that your assigned driver share at each stop and interactions with Singapore's locals.
Since their 2018 launch, the one-of-a-kind tour has become so popular that even Hollywood stars from the Avengers: Infinity Wars joined the ride, with rave reviews after.
We know you're more curious now than ever! Here is a guide to Singapore sidecar tours to help you whip up your next itinerary.
Inside This Guide
What You Need to Know about Sidecar Tours in Singapore
What is a Vespa tour in Singapore?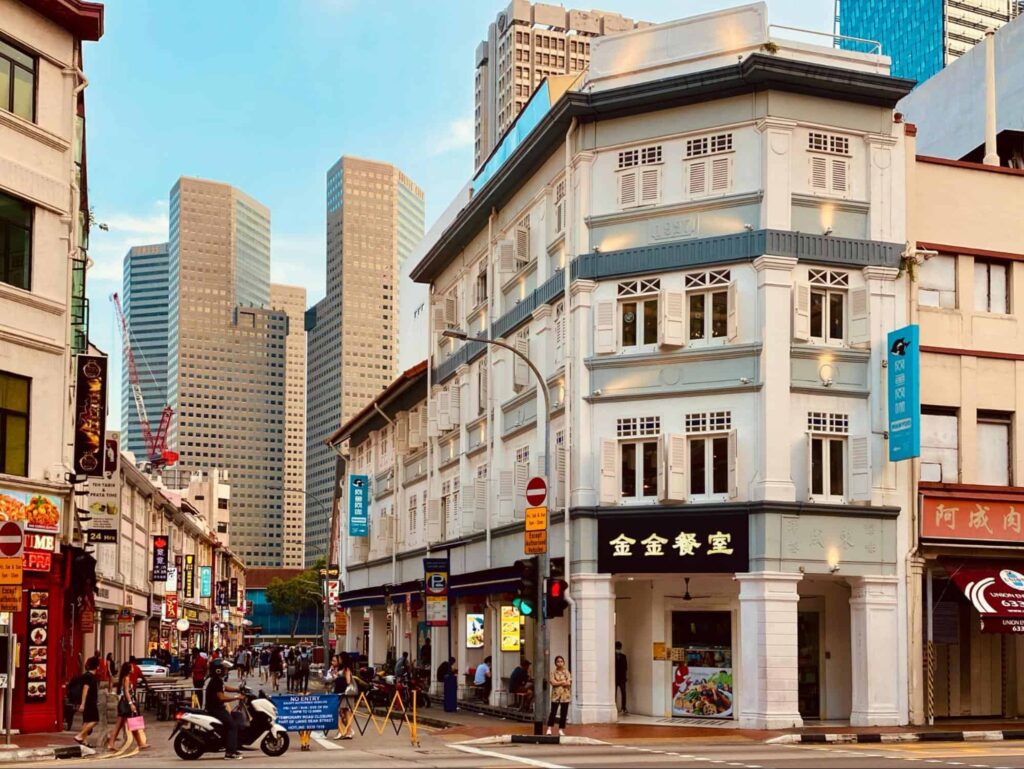 A Vespa tour is essentially a sidecar tour in Singapore that uses restored vintage Vespa sidecars to drive tourists around.
The lovely mini vehicles were acquired by the tour company Singapore Sidecars from Vespa operator Triquetra Singapore.
The vehicle holds one passenger and a driver and runs up to 70 km/h as per speed regulations.
Routes of Sidecar Tours in Singapore
Singapore Sidecars offers iconic tours featuring the neighborhoods of Kampong Glam, Joo Chiat, Katong, and Tiong Bahru. There are also night rides, themed tours, and bespoke tours for larger groups.
Take a look at each tour and its inclusions, and pick one—or all of them!
1. Kampong Glam & The Civic District Tour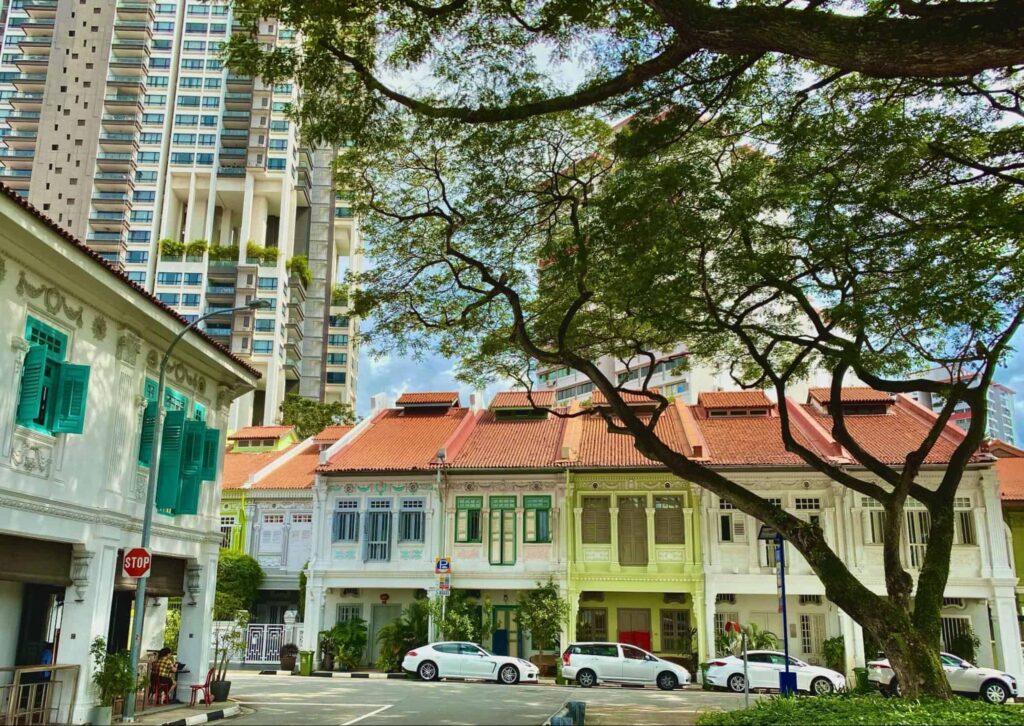 Meeting Point
Capitol Singapore, 13 Stamford Rd, Singapore 178905
Duration
1-3 hours
Itinerary
Haji Lane, Bussorah Mall, Sultan Mosque, Malay Heritage Centre, Esplanade, Anderson Bridge, National Gallery, St. Andrew's Cathedral, Kampong Glam, Street Art, quaint shophouses

*Additional kopi break and storyteller shophouse visits for 2-hour itineraries

*Additional specialist store visits for 3-hour itineraries
Operating Hours
Daily: 9:00 AM – 11:00 PM
Rates
$180 per person per hour
Shopaholics, architecture nerds, art lovers, and fans of Peranakan heritage can see something of interest in the Kampong Glam & The Civic District Tour.
Our favorite highlights of the tour include the eye-catching shophouses at Haji Lane and Kampong Glam's sidewalks. We also love how you can get to see the magnificent Sultan Mosque from a unique vantage point.
And while there won't be enough time to alight from the sidecar and enter the National Gallery, you can see plenty of street art along the way. Let's say the experience is a warm-up until you can visit the Southeast Asian art on display at the gallery!
What's so special about Kampong Glam?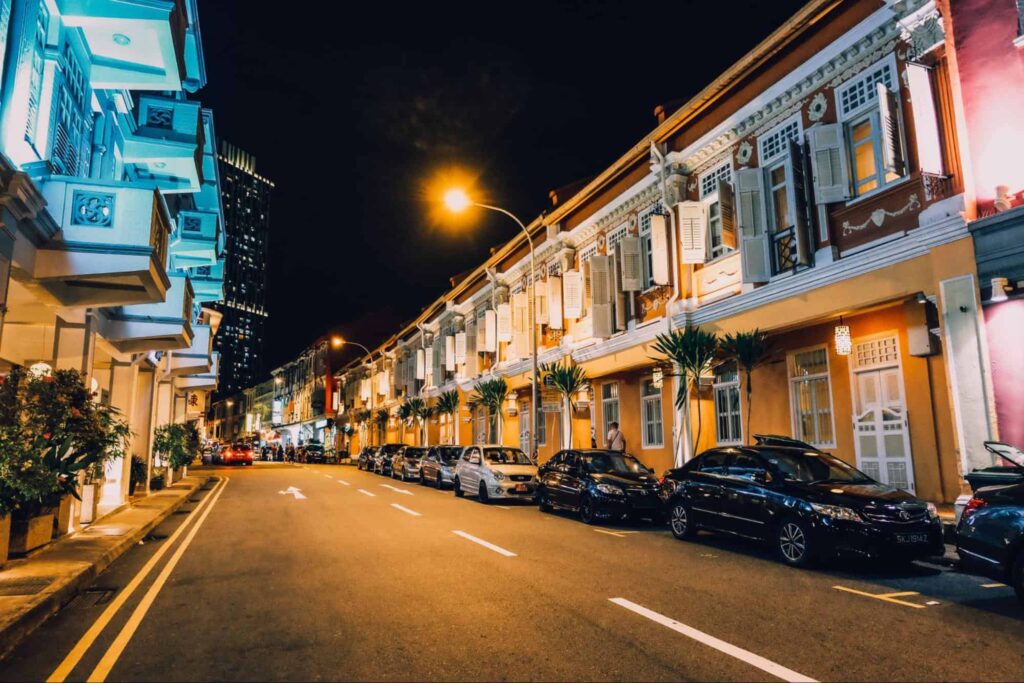 The special thing about Kampong Glam is that it allows you to experience Singapore's trademark diversity and heritage conservation ingenuity just by going through the neighborhood.
Its history of being an ethnic enclave for the Muslim community in the 1800s and its subsequent transformation into a melting pot for various cultures made the area a remarkable place.
It's packed to the brim with sights, food, and shops both old and new, a testament to the successful amalgamation of urban elements that made Singapore the distinct and characteristic city it is today.
Highlights from the Kampong Glam & The Civic District Tour
Here are some important facts about the sites that you'll see along the Kampong Glam & Civic District route. Check them out and visit them again at your own pace!
Haji Lane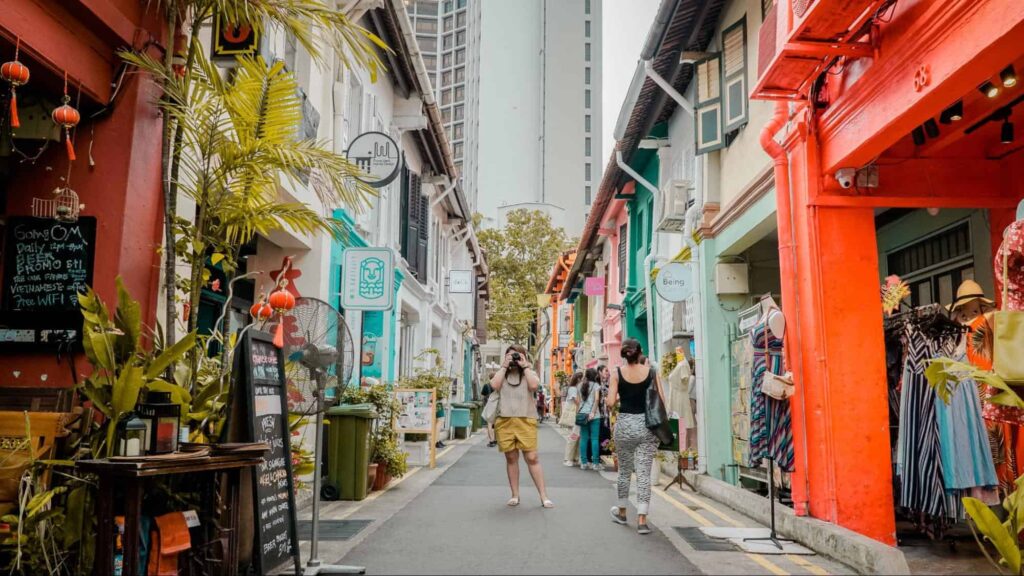 Haji Lane is one of the narrowest streets in Singapore. But don't let the road's width fool you!
This famous site features 19th-century shophouses painted in various bright colors, which will look extra lovely when you're seeing them from your Vespa seat.
The shophouses were transformed into the hippest cafes, bars, boutiques, and specialty stores. The two-hour sidecar itinerary allows you to get out of your sidecar and talk to one of the owners to gain a deeper insight into how the locals do business.
Why is Haji Lane called Haji Lane?
The name Haji from Haji Lane came from the term Hajj, which pertains to the Muslim pilgrimage to Mecca and Medina.
References to Islam and the Muslim community is noticeable in the area, as Kampong Glam was once the seat of the Malay Royalty in Singapore.
Sultan Mosque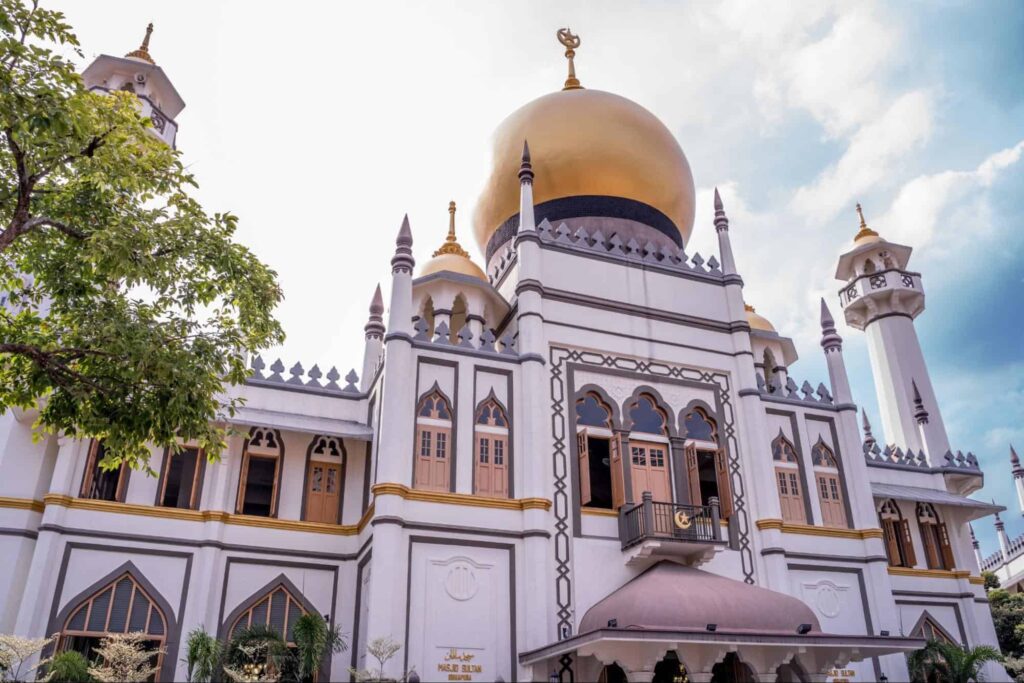 Address
3 Muscat St, Singapore 198833
Opening Hours
Monday to Thursday, Saturday to Sunday: 10:00 AM – 12:00 PM, 2:00 PM – 4:00 PM
Friday: 2:30 PM – 4:00 PM
You can see the Sultan Mosque's iconic golden onion domes even from a distance, but approaching the building on a sidecar will introduce you to more interesting discoveries.
For instance, seeing the majestic structure from the Vespa makes it much grander. Seeing it from below also brings your attention to its delicate ogee arches and impeccable symmetry.
Can we pray at Sultan Mosque?
Visitors are allowed to say their prayers inside the Sultan Mosque, provided that they follow the posted prayer times on the hall's notice board.
All visitors need to be in proper clothing when entering the mosque and should wear the provided cloaks. Also, you will be asked to remove your footwear.
The mosque's massive prayer hall can accommodate up to 5,000 worshippers.
National Gallery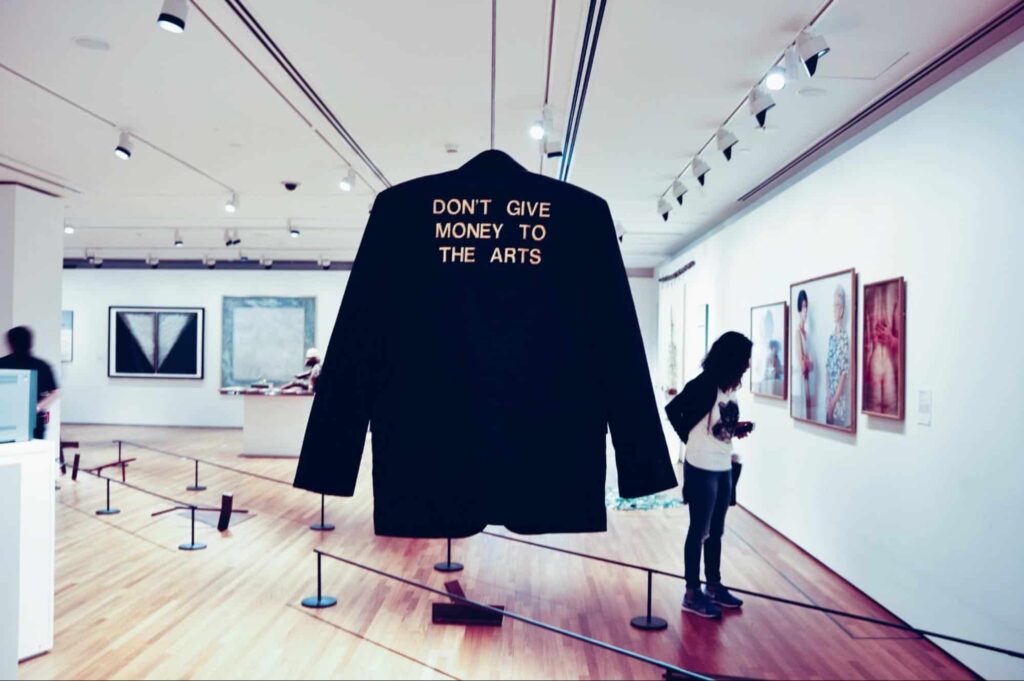 Address
1 St. Andrew's Rd, #01-01, Singapore 178957
Contact Details
+65 6271-7000 | info@nationalgallery.sg
Opening Hours
Daily: 10:00 AM – 7:00 PM
Rates
General admission: $20
Special exhibition: $25
All-access pass: $30
Visual arts and architecture take center stage at the National Gallery—so fitting for an institution located at the heart of the Civic District.
It owns a stellar collection of modern Singapore and Southeast Asian art. Moreover, it is housed in the City Hall and the former Supreme Court, adding to the gallery's monumental quality.
Is admission to the National Gallery free?
The National Gallery in Singapore allows free admission to Singapore citizens, as well as the following visitors:
Gallery insiders
Children 6 years old and below
Local or locally-based students and teachers from qualifying institutions
Persons with disabilities and their caregivers
Meanwhile, a discount of $5 is granted to visitors who are
Children 7 to 12 years old
Seniors 60 years old and above
Full-time National Servicemen
Overseas students and teachers from qualifying institutions
2. Joo Chiat + Katong Tour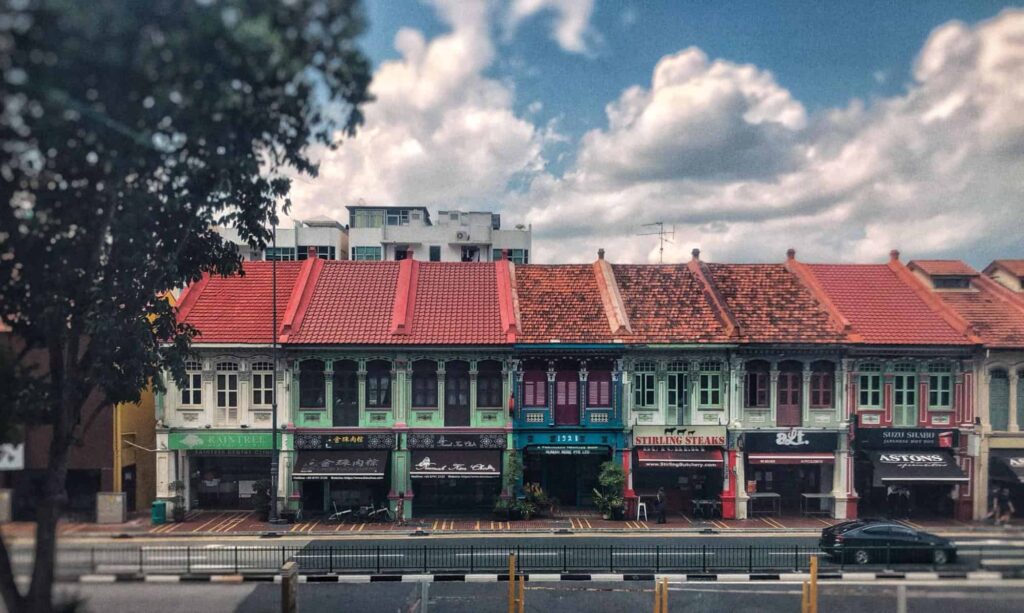 Meeting Point
Lotus Apartments, 11 Everitt Rd, Singapore 427806 (Opposite)
Duration
1-2 hours
Itinerary
Rustic lanes, Sri Senpaga Vinayagar, Street Art, Koon Seng Road Icons, shophouses, local kopi shops

*Additional Hawker Centre food experience and visit to the surrounding area for 2-hour itineraries
Operating Hours
Daily: 10:00 AM – 8:00 PM
Rates
$180 per person per hour
Touring around Joo Chiat/Katong allows you to continue reveling in Singapore's built heritage. Of particular note are the colorful 20th-century residential houses lining the district's streets.
Capturing the houses' facades in all their lovely details and finishes might just be the key to filling that missing pop of color in your Instagram posts!
What is Joo Chiat Road known for?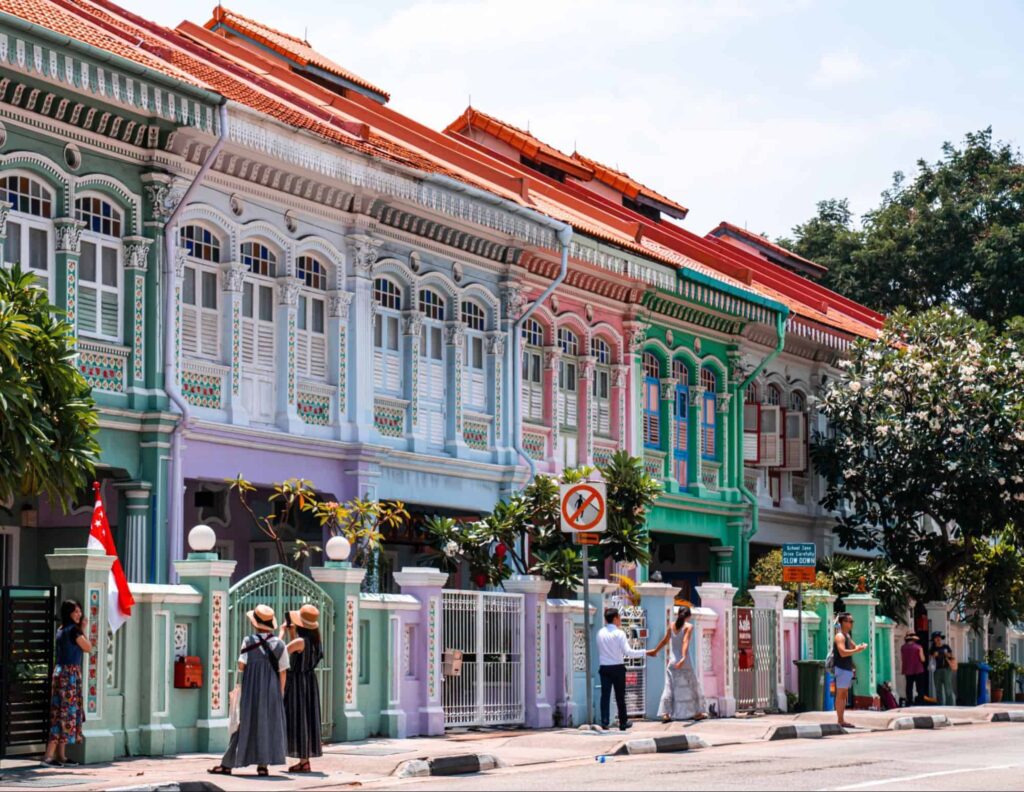 Joo Chiat Road is best known for its multicultural heritage, which is most evident in its architecture and dining scene.
If you look at the houses lining the street, you'll see a blend of architectural styles including Transitional, Late, and Art Deco.
Joo Chiat also offers diverse dining options. You can slurp on some belly-warming laksa, indulge in artisanal cheese and bread, or sample every dish in between.
Who is Joo Chiat Road named after?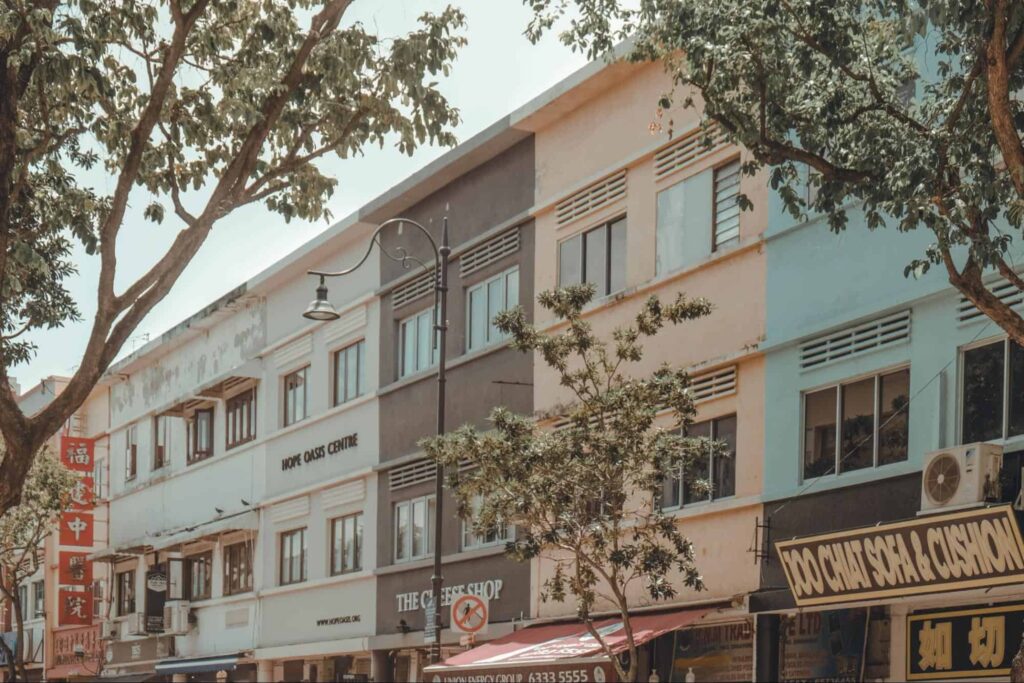 Joo Chiat Road is named after plantation owner and philanthropist Chew Joo Chiat. Several parts of the area also bear his name, including Joo Chiat Lane, Joo Chiat Terrace, and Joo Chiat Palace.
Chiat is a Chinese immigrant who first made his fortune as a trader before becoming a plantation owner. Given his status, he had managed to acquire massive land areas in the Katong/Joo Chiat area in the early 1900s.
Within his property is the Confederate Estate Road, which he agreed to open for public use in 1917. That road was later named in his honor and is now the Joo Chiat Road.
Which part of Singapore is Katong?
The neighborhood of Katong is located within Marine Parade, a planning area east of Singapore's Central Region.
Katong was once home to coconut plantations and a favored weekend retreat destination for Singapore's elite. It was transformed into a residential suburb in the 20th century, with its most visually striking feature being the shophouses lining its streets.
Highlights from the Joo Chiat + Katong Tour
See Singaporean architecture in its many forms at Joo Chiat and Katong!
Sri Senpaga Vinayagar Temple
| | |
| --- | --- |
| Address | 19 Ceylon Rd, Singapore 429613 |
| Contact Details | +65 6345-8176 | svvtmanager@gmail.com |
| Opening Hours | Daily: 6:30 AM – 12:00 PM, 6:30 PM – 9:00 PM |
| Rates | Free entry |
Aside from Chinese-Malay residents, Katong is also home to the Celoynese Hindus who immigrated to Singapore from Sri Lanka. The Sri Senpaga Vinayagar Temple was built to accommodate immigrants practicing the religion.
The temple is deemed iconic, as it was built in the ancient South Indian architectural style. The character of the buildings in this style is, in a nutshell, lofty and intricate.
One had to only look at the temple's 21-m tall tower entrance and the ornate carvings to know that the structure is no ordinary building. Fortunately, you can see this magnificence from your sidecar.
Of course, entering will reveal more exquisite details, from the imposing 4.5-m teakwood entrance door to the ceiling's breathtaking murals.
Koon Seng Road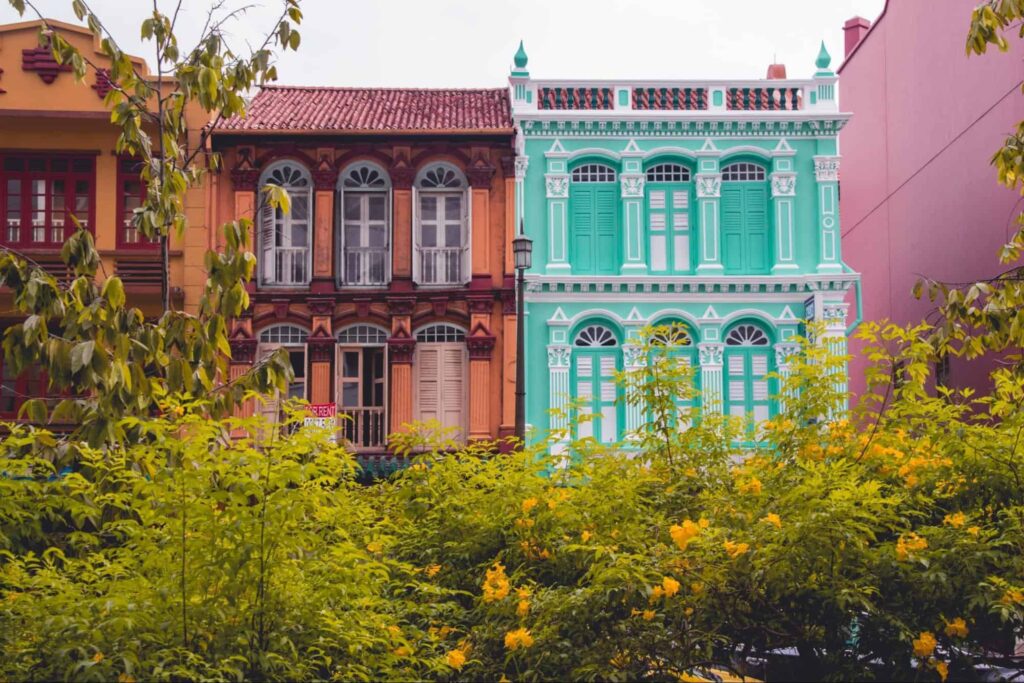 Koon Seng Road, which starts from the junction of Pennefather Road and Joo Chiat, is best known for its terrace of captivating shophouses. The structures are real head-turners for their distinct elaborate facades and popping colors.
Touring this lane on a sidecar will allow you to experience the beauty of the houses in a linear direction. If you have a phone and a stabilizer, that situation is ideal for recording a continuous video!
Apart from this array of lovely homes, you can also find the Malacca Hotel, Charis Methodist Church, and Sim Poh Seng Temple along Koon Seng Road.
3. Tiong Bahru & Heritage Mural Hunting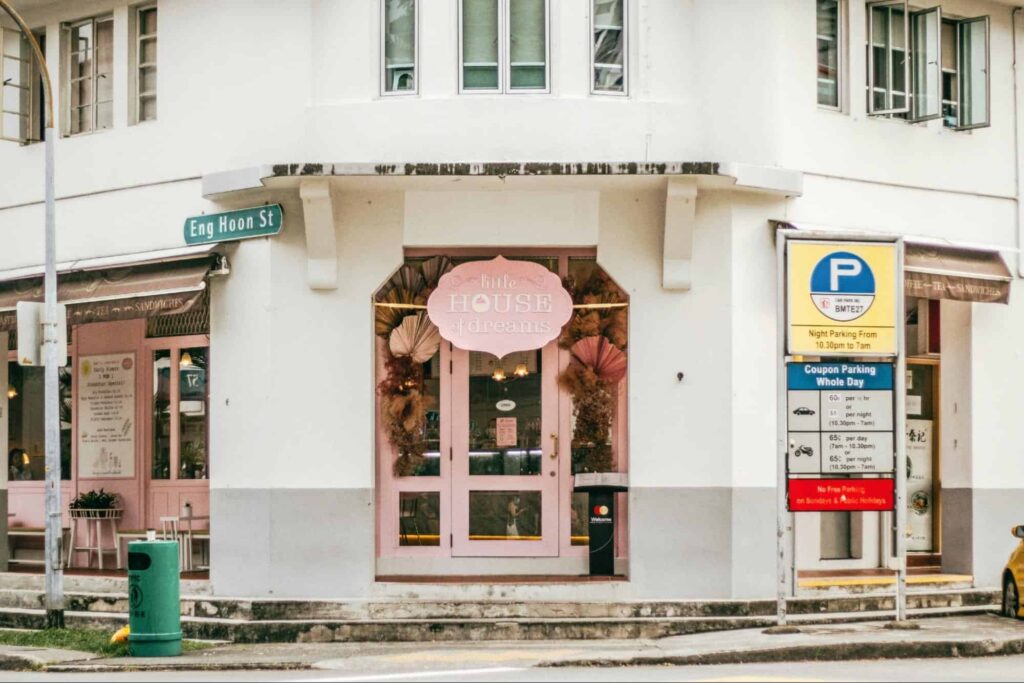 Meeting Point
Seng Poh Ln, Tiong Bahru, Singapore 160069
Duration
1-2 hours
Itinerary
Shophouse mural hunting at the nearby Everton Clave, art deco architecture, ride around Tiong Bahru Estate, drop off at local eatery or coffee shop

*Additional local market food tasting, street art, riding along Tanglin's tree-lined roads, and viewing of "Black & White" homes built in the colonial era for 2-hour itineraries
Operating Hours
Daily: 9:00 AM – 8:00 PM
Rates
$180 per person per hour
Touring the quaint neighborhood of Tiong Bahru will be a feast for the eyes thanks to its Streamline Moderne-inspired structures.
The estate's 1930s buildings are hard to miss with their distinctive curved forms and long horizontal lines. The motifs of the structures are also derived from familiar modern-day transport like planes, cars, and ships.
Your sidecar will also bring you to see the famous Tiong Bahru bakery up close and personal.
What is Tiong Bahru known for?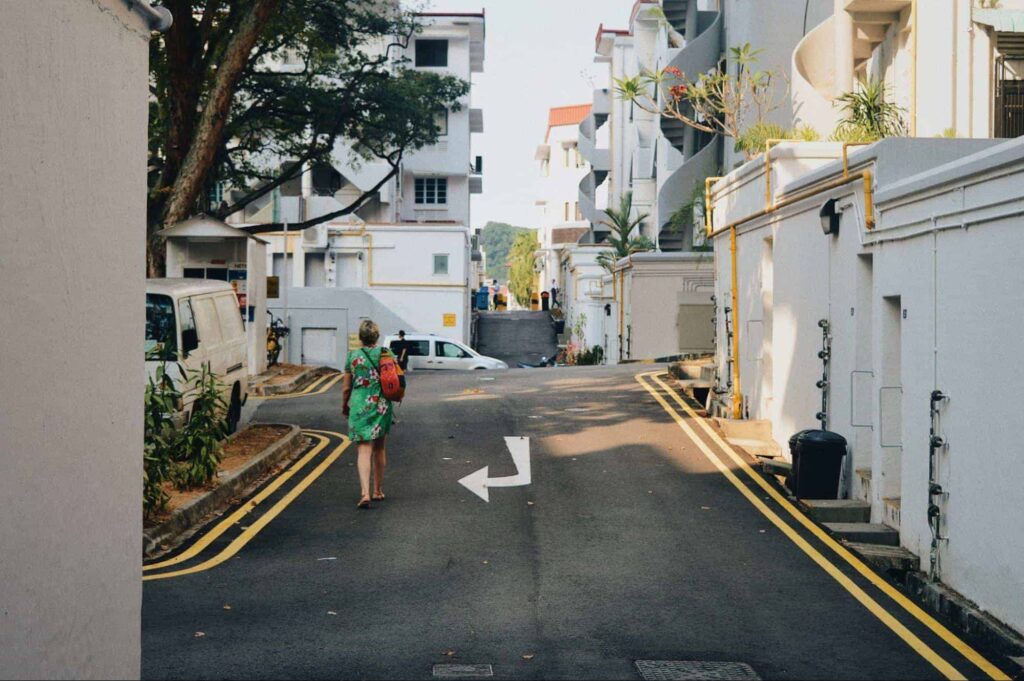 Tiong Bahru is widely known for its blend of old and new, visible in its architecture, food, and shops. It also holds the reputation of being the oldest housing estate in Singapore.
The neighborhood used to be a burial ground until its urban development in the 1920s. In fact, the name Tiong Bahru loosely translates as "new cemetery," with the Chinese word tiong meaning "end" and the Malay word bahru meaning "new."
Which part of Singapore is Tiong Bahru?
Tiong Bahru is located within the Bukit Merah planning area in Singapore's Central Region.
Roads providing access to the neighborhood include Henderson Road and Outram Road as well as several MRT stations surrounding the area.
Why is Tiong Bahru Bakery famous?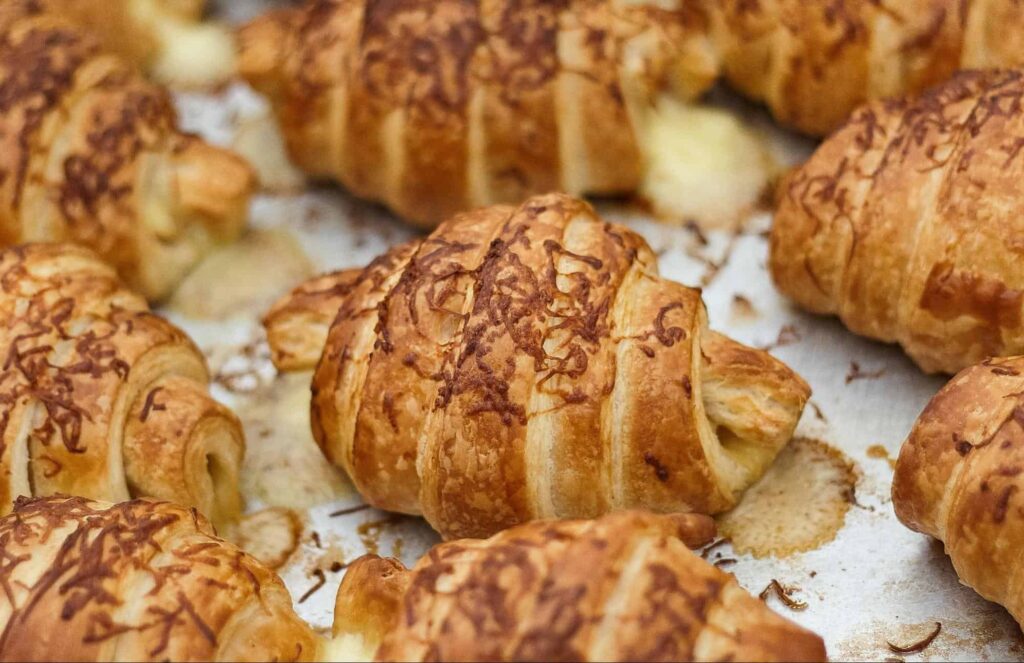 The Tiong Bahru Bakery is famous because its croissants were a Cannes Dessert Prize's 2022 Silver awardee. This flaky, crispy, and buttery bestseller uses French flour and butter.
The shop is also recognized by the aforementioned award-giving body as one of the first French bakeries in Singapore that revolutionized local consumption of high-quality bread.
Highlights from the Tiong Bahru & Heritage Mural Hunting Tour
Learn how much budget you need to sample dishes from Tiong Bahru's must-visit dining spots!
Tiong Bahru Bakery
Address
56 Eng Hoon St, #01-70, Singapore 160056
Contact Details
+65 6220-3430
Opening Hours
Daily: 7:30 AM – 8:00 PM
Menu
Viennoiserie (croissants, pain au chocolat): $4 – $6.70
Savoury (pulled pork bun, roast beef croissant): $9 – $14
Pastry: $4.20 – $11
Whole cakes: $37 – $38.50
Bread: $3.40 – $26
Coffee: $4.80 – $8
Tea: $5.20 – $7.20
Aside from Tiong Bahru Bakery's croissants, we also recommend its Kouign Amann. It might just be the key to satisfying your sweet cravings!
Tiong Bahru Bakery also serves hearty dishes like the best-selling Rainbow Rice (a blend of brown rice, kimchi, daikon, sweet potato chips, and add-ons roasted chicken or salmon) and the mouth-watering, juicy Kimcheese burger.
Tiong Bahru Market Food Centre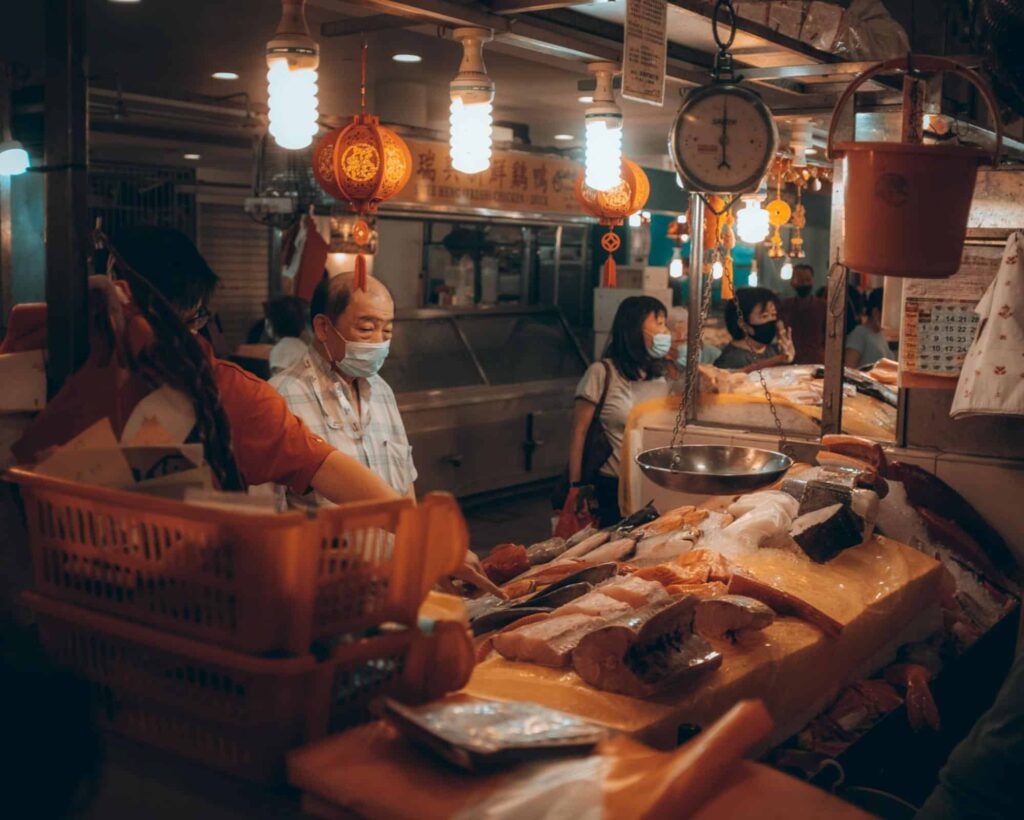 | | |
| --- | --- |
| Address | 30 Seng Poh Rd, Singapore 168898 |
Tiong Bahru Market's food center is a haven for tourists who want to sample as many hawker stalls as they can!
Notable stalls here include
Jian Bo Shu Kueh (stall #02-05) with its phenomenal chwee kueh (or water rice cake)
Loo's Hainanese Curry Rice (stall #02-67/68) for the hearty curry servings
and the Zhong Yu Yuan Wei Wanton Mee (stall #02-30) with its tender char siew.
If you're heading to Chinatown after your trip to Tiong Bahru, we also have a list of the best hawkers stalls we think you should try!
4. Night Rides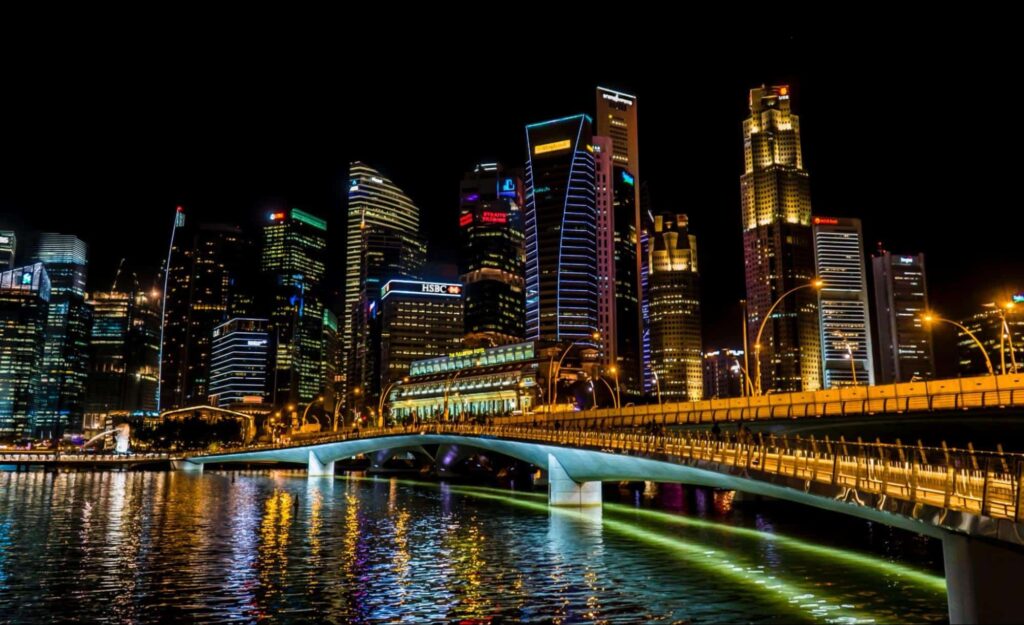 | | |
| --- | --- |
| Meeting Point | Capitol Singapore, 13 Stamford Rd, Singapore 178905 |
| Duration | 1-3 hours |
| Itinerary | Local shophouse heritage zone, ride across the Singapore skyline, stop by the Singapore River |
| Operating Hours | Daily: 6:00 PM – 10:00 PM |
| Rates | $180 per person per hour |
Singapore Sidecars make riding at night much more interesting by allowing you to grab a drink as you go completing your route across the city's skyline.
Of course, you'll be the one paying for your booze, while your driver provides the rides and sights. Let's hope your guide ensures you won't end up wasted too!
5. Other Singapore Sidecar Tours
Singapore Sidecars has a general tour allowing you to breeze through the city during either the day or night. It also has themed tours for art lovers and Crazy Rich Asian fans!
As for large groups of 10 to 30 people, the company offers bespoke sidecar rides, subject to booking rules.
Singapore in a Nutshell Tour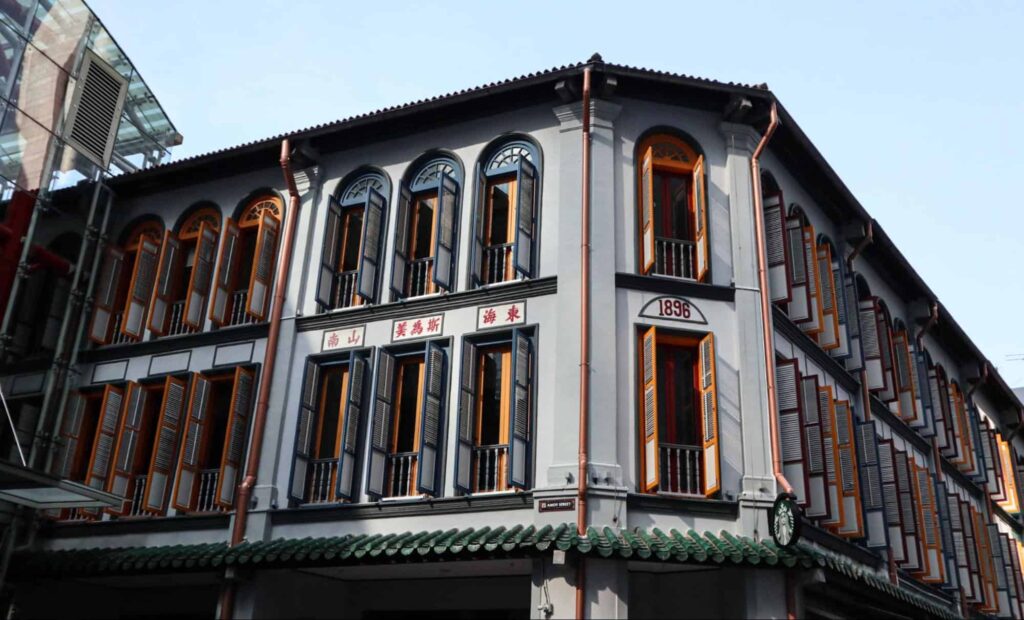 | | |
| --- | --- |
| Meeting Point | Capitol Singapore, 13 Stamford Rd, Singapore 178905 |
| Duration | 1-3 hours |
| Itinerary | Key heritage areas such as Kampong Glam, Telok Ayer, Little India, and Chinatown |
| Operating Hours | Daily: 9:00 AM – 11:00 PM |
| Rates | $180 per person per hour |
Crazy Rich Asian Tours with Cocktail Making Workshop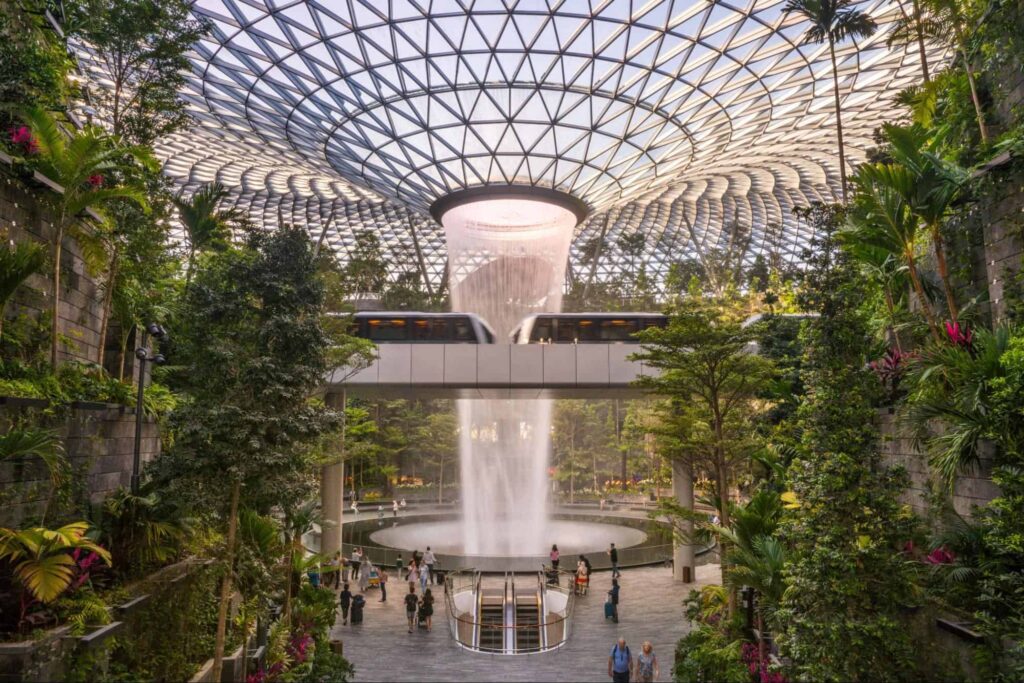 Meeting Point
Capitol Singapore, 13 Stamford Rd, Singapore 178905
Duration
2-3 hours
Itinerary
Movie's shooting locations, heritage areas

*Additional cocktail making workshop for 3-hour itineraries
Operating Hours
Daily: 9:00 AM – 11:00 PM
Rates
Without workshop: $360
With workshop: $400
Kampong Glam Hall of Fame Tour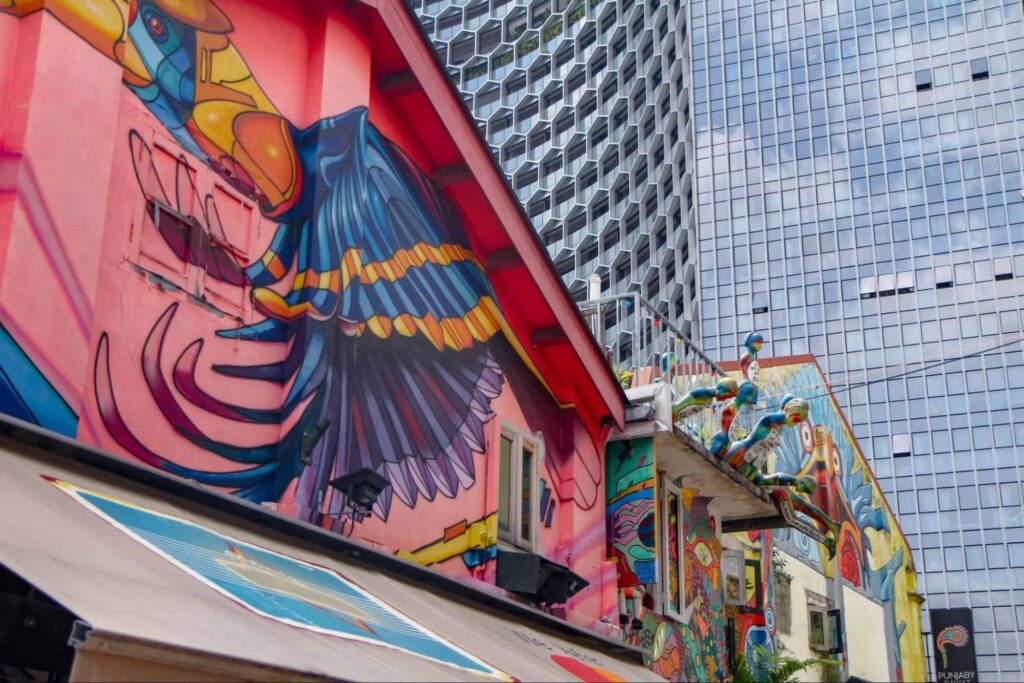 | | |
| --- | --- |
| Meeting Point | Capitol Singapore, 13 Stamford Rd, Singapore 178905 |
| Duration | 1-3 hours |
| Itinerary | Haji Lane and Gelam Gallery murals, Bali Lane, Hall of Fame |
| Operating Hours | Daily: 9:00 AM – 11:00 PM |
| Rates | $180 per person per hour |
Where to Book Your Sidecar Tours in Singapore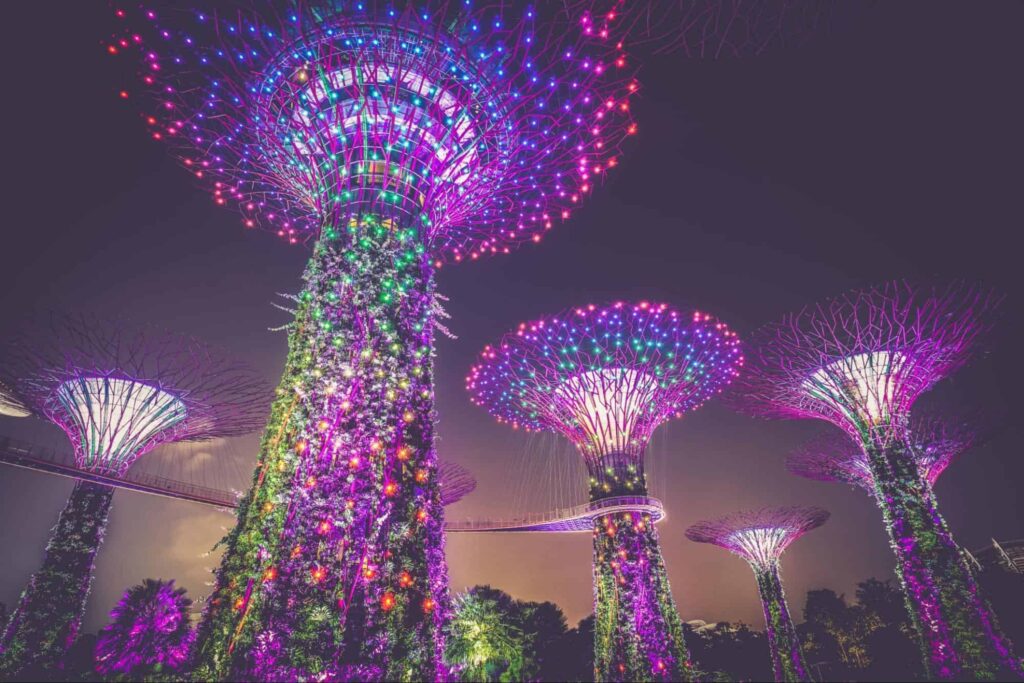 You can book your Vespa ride in Singapore directly with Singapore Sidecars. The tours are divided by timeslots, and each ride group will commence once a minimum of two participants reserve the slot.
Those who want to go solo can coordinate with the team so they can fit you in a ride group.
Contact Details
ride@singaporesidecars.sg
Payment
Online payment via PayPal
Cancellation Policy
Cancellation 44-30 days before the tour: 50% penalty
Cancellation 29-15 days before the tour: 80% penalty
Cancellation 14 days and later before the tour: 100% penalty
Minimum Participants per Ride Group
2 participants
Maximum Participants per Ride Group
25 participants

*Larger groups should book a bespoke riding tour
Minimum Age
10 years old

*For kids under 10, the company offers a jeep ride at half the price, provided that they are accompanied by a full fare paying adult
Special Needs
– Pregnant clients
– Clients with mobility issues
– Clients over 195 m
– Clients over 100 kg

*If you or a member of your group fit in any of these, communicate it with the company before the tour so the team can tailor the experience for the concerned client
Prohibitions
– No eating or drinking
– Self-driving is not allowed
Tour Inclusions
Sidecar, driver, helmet, poncho
Riding with Pets
Recommendation: Medium-sized pets (10 kg to 20 kg) should be on a leash

*Pets are not charged for the ride!
*A cleaning fee of $100 will be charged should there be a toilet accident
We recommend booking at least 48 hours before your desired tour schedule so you'll have enough time to complete your payment. Bookings made later and not paid in 24 hours will be granted to other guests on the waiting list.
The tour company highly encourages large groups to book at least two weeks in advance.
You can reschedule your booking at least two hours before your tour schedule. Later than that and you'll have to pay a rescheduling fee worth $50.
Where to Get Discounts for Singapore Sidecar Tours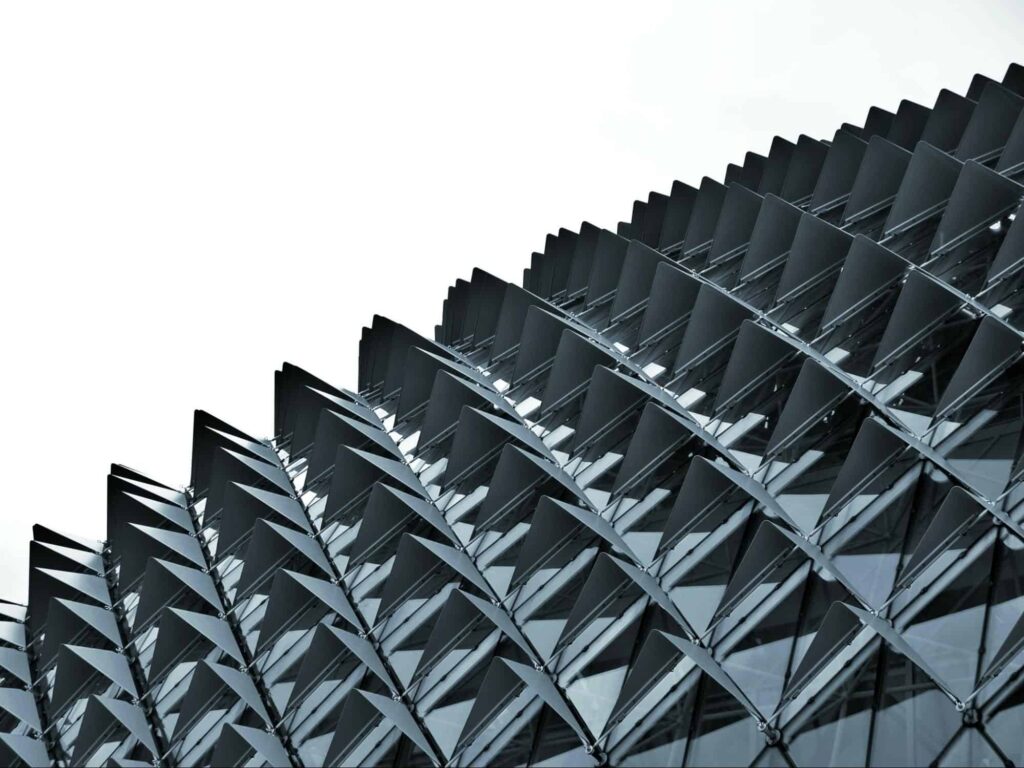 You can get discounts for Singapore sidecar tours at third-party booking sites that grant vouchers.
Check the following websites for periodic sales and discounts, usually appearing during peak travel seasons.
Headout. This is a travel booking site with deals available only on its dedicated mobile app. They own the Singapore Tickets website, which you can use to book your Vespa ride.
Pelago. This is a booking platform set up by Singapore Airlines. You can earn KrisFlyer miles when you book with the site.
Klook. This platform is an established brand in Southeast Asia since 2014 and offers one of the best value deals for tours and experiences.
Good-To-Know Facts about Singapore for Your Next Visit
Here are some helpful info tidbits to help get you ready for your Singapore escapade. Sidecar tours or not, a bit of knowledge will give you an edge and some confidence once you set foot on the Lion City!
Currency
Singapore Dollar
Denominations: $2, $5, $10, $50, $100, $1,000, and $10,000
Coins: 5, 10, 20, and 50 cents and $1
Language
English, Mandarin Chinese, Malay
Climate
– Tropical climate
– Hot and humid
– Maximum temperatures of over 30°C
– Frequent rains
Power Plug
220 to 240 volts AC (50 cycles)

*Plugs with 3-square prongs are usable
Drinking Water
You can drink water straight from the tap
Accessibility
– Train stations feature barrier-free routes, ramps, lifts, wide far gates, wheelchair-accessible toilets and carriages, Braille plates and tactile paving for the visually impaired, flashing red lights and plenty of arrivals and destination screens for the deaf
– 85% of buses are accessible by wheelchair and have priority seats for pregnant women and the elderly
– Many taxi drivers can assist travelers on wheelchairs
– Pedestrian walkways, taxi stands, and bus shelters are free from barriers to allow ease-of-access of wheelchair users
Tax Refund for Tourists
You are eligible for 7% Goods and Services Tax (GST) refund if you've spent more than $100 at shops participating in Singapore's Tourism Refund Scheme
Public Wi-Fi
Wireless@SGx is an app used to access free Wi-Fi in malls, museums, MRT stations, public libraries, etc.
Smoking Regulations
– Smoking is allowed in designated smoking areas only
– Smoking in air-conditioned places (e.g. malls, eateries) is prohibited
– A limit of 400 g of tobacco products per person is observed