Categories >
Guides and Tips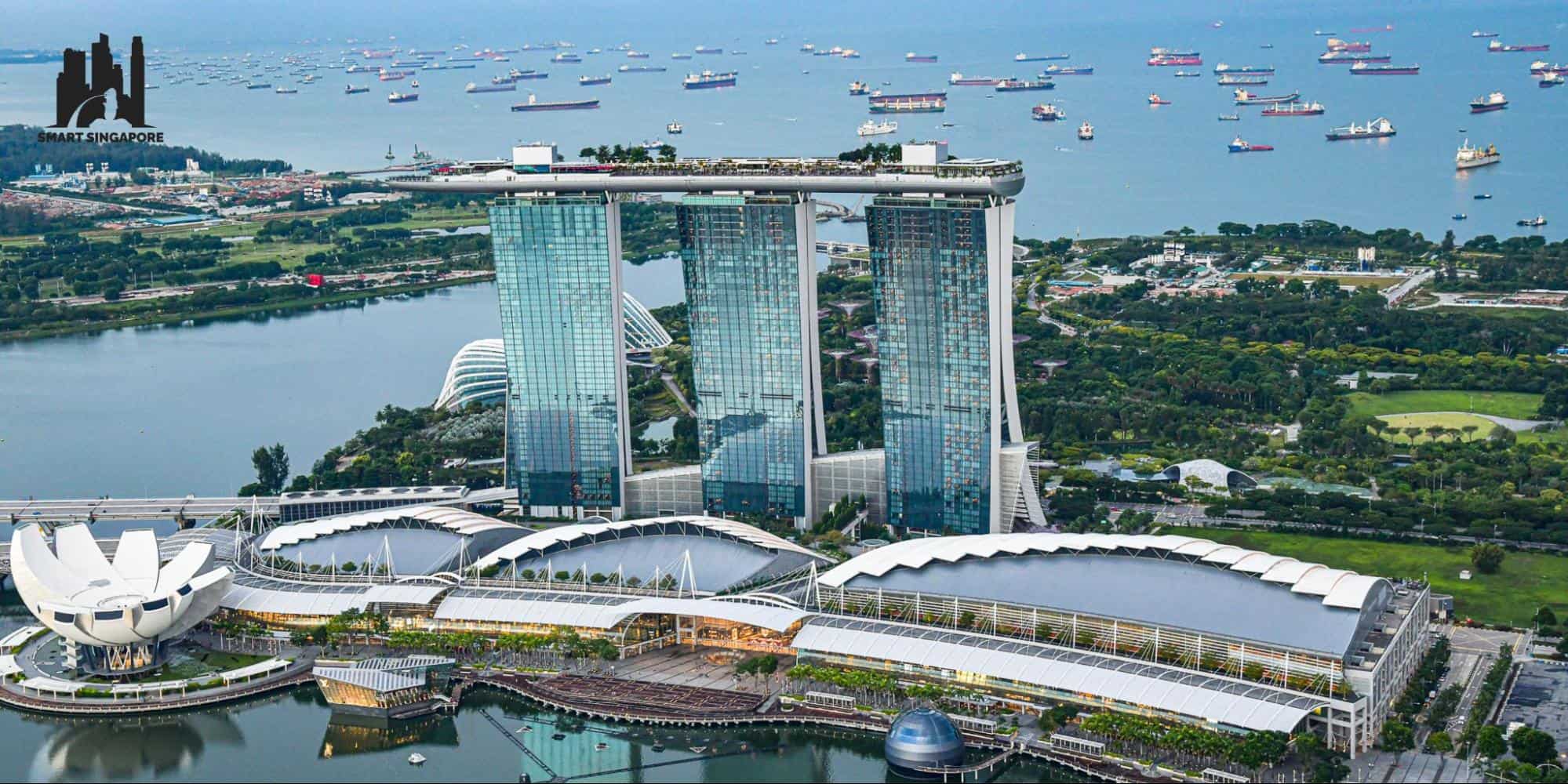 Wallet-Friendly Wanderlust: Free Spots to Visit in Singapor
Travelling to Singapore for the first time? If you've already spent a lot on hotels, fancy dinners, and getting around, don't worry!
You can still explore the best stuff on the island without spending more money.
This guide will show you parks, fun places, beaches, and even cool spots that won't charge you to get in. So, if you've got a few extra days on your travel itinerary, consider dropping by these places for a treat!
1. Supertree Grove at Gardens by the Bay
Address: 18 Marina Gardens Dr, Singapore 018953
Contact Details: +6564206848
Operating Hours: Monday to Sunday, 5:00 am to 2:00 am
Supertree Grove at Gardens by the Bay is one of the most iconic places to visit in Singapore, and the best part is it won't cost you a dime!
These Supertrees are not your typical trees. In fact, these are massive steel structures with panels that host a variety of plants.
Plus, seven of these Supertrees are designed to harness solar energy!
It's not just a local gem; tourists from all over the world come to see the Supertree Grove, and because admission is free, most visitors spend their afternoons exploring the garden complex, taking a leisurely break from the city life.
Pro Tip: Every night between 7:00 pm and 8:00 pm, the Supertree Grove lights up to showcase the Garden Rhapsody Show. It's completely free and runs for 15 minutes, so if you're thinking about visiting Gardens by the Bay, consider dropping by just after sunset!
2. Merlion Park
Address: 1 Fullerton Rd, Singapore 049213
Contact Details: +6565145959
Operating Hours: Open 24/7
Nothing is more iconic and uniquely Singaporean than Merlion Park. It's a bonus that it's located near the island's most popular spots to visit, and an even bigger bonus is seeing the 70-ton statue is completely free!
The statue's strategic location also gives spectators almost front-row seats to Spectra, a nightly water and light projection show that plays in Marina Bay Sands.
Of course, when you visit, don't forget to take the quintessential selfie with the Merlion before leaving. Take as many as you want, as the photos will serve as your ultimate souvenir from the Lion City!
Pro Tip: There's no perfect time to visit Merlion Park, but many suggest dropping by just before sunset to get postcard-worthy shots of the statue against the backdrop of the Marina Bay Sands and the orange hues of the sky!
3. Marina Barrage
Address: 8 Marina Gardens Dr, Singapore 018951
Contact Details: +6564206848
Operating Hours: Open 24/7
If you're into water sports or simply love to lounge on green spaces, you should keep Marina Barrage on your radar. There's a lot of green space here to host picnics or fly kites during the day.
The Marina Barrage is a dam that sits right across the Marina Channel, creating the largest reservoir in the country.
To promote sustainability, the government opened Marina Barrage as a hub for outdoor and water sports activities accessible to the public.
The main park itself sits on top of the Marina Barrage building, which houses the Sustainable Singapore Gallery.
Most people hang out here to chill and relax, but those who want to do a little more than just picnic can fish, kayak, or even fly drones around the area.
If you decide to spend a whole day out on the rooftop park, stay long enough to watch the sunset! You'll get awesome views of the cityscape from that viewpoint.
Pro Tip: For the optimal kite-flying experience at Marina Barrage, plan to go during the mid to late afternoon. During this time, you'll typically find the ideal wind conditions: not too weak yet not overly strong.
4. Keppel Hill Reservoir
Address: 11 Keppel Hill, Singapore 098686
Contact Details: N/A
Operating Hours: Open 24/7
Craving for adventure? Many brave hikers take up the challenge to explore the hidden Keppel Hill Reservoir despite its possibly haunted reputation.
The reservoir was closed off from the world for decades before paranormal investigators rediscovered the abandoned area in 2005.
Keppel Hill Reservoir may be shrouded with mystery and history, but exploring it is still worth a shot (it's completely free, anyway!). Around the Keppel Hill area are other equally mysterious sites that might pique your interest while you're there.
There's the Seah Im Bunker, Keppel Hill House, and the Japanese Tombstone within a few minutes away from the reservoir.
There are several ways you can hike around the whole reservoir complex, but many people like to start by visiting the Seah Im Bunker first.
Others prefer to visit the reservoir by hiking down from Mount Faber. It's really up to you, your energy, and your bravery!
Pro Tip: There are several ways to enter the Keppel Hill Reservoir, but the most popular route is to start from the Seah Im Bunker. The bunker itself can be accessed by a small hole in a fence in the Seah Im car park. Just find a large kapok tree and squeeze your way in through the fence at its base. The bunker is just right behind the tree!
5. Henderson Waves
Address: The Southern Ridges, Telok Blangah Hill Park, Singapore 109178
Contact Details: +6518004717300
Operating Hours: Open 24/7
Nestled within the Southern Ridges is the Henderson Waves. This 274-meter-long footbridge offers you sweeping vistas of abundant green landscapes and charming glimpses of city living.
Whether you're on a date, with friends, or with family, you can relax on the benches that dot this 36-meter-high footbridge. It's an ideal location for a leisurely and peaceful stroll.
Most people unwind at Henderson Waves after trekking through The Southern Ridges, but there's a handy shortcut. Just climb the staircase near Bef Telok Blangah Bus Stop.
Walking along the distinctive undulations of the bridge is an absolute delight, especially in the evening. Given that it remains accessible 24/7, numerous locals opt to catch the sunset from the bridge and traverse its entire length as it gradually lights up.
Pro Tip: The real magic happens around 7:00 pm when the footbridge lights up. We highly recommend hanging around until you've soaked in the breathtaking city views during sunset!
6. Kallang Riverside Park
Address: Cnr Kallang Road and Crawford St, Singapore 397732
Contact Details: +6518004717300
Operating Hours: Open 24/7
Kallang Riverside Park is a fantastic spot that appeals to both locals and visitors, offering a perfect blend of serenity and excitement.
For sports enthusiasts, this park is a favourite hangout because it boasts an array of fitness and water sports facilities.
If you're looking for a delightful morning activity that won't break the bank, a leisurely walk here is a top choice. You can even fit in a quick workout with various exercise equipment and jogging paths to keep your heart rate up.
Once you've completed your invigorating walk, check out the park's charming cafes and designated picnic spots, where you can take a well-deserved break.
For a truly unique experience, set your alarm early and visit the park in the early morning. This is the perfect time to catch the Dragon Boat teams putting their all into rowing on the Kallang River, adding an extra dash of excitement to your visit.
Pro Tip: Are you a big fan of birds? The best time to visit Kallang Riverside Park is between September and March, during the migratory season of grey herons and egrets.
7. Fort Canning Park
Address: 20 Raffles Avenue, Fort Canning Park, Singapore 039805
Contact Details: +65 1800 471 7300
Operating Hours: Open 24/7
If you appreciate learning about history, then your first stop in Singapore should be Fort Canning Park. The landmark saw many of Singapore's historical milestones, especially during the 14th century and the colonial era.
Today, Fort Canning Park serves as a popular location for concerts, among other outdoor recreational activities like walking, photography, and sightseeing.
There are still a number of surviving historical artefacts in the park, including the Gothic Gates, Fort Canning Lighthouse, a 19th-century cannon, and the final resting place of Singapore's last monarch, the Keramat Iskandar Shah.
If you're into nature, there are several gardens, collectively known as the Nine Gardens, around the park. All these gardens have historical ties to Fort Canning, and you can learn a thing or two thanks to the several informational plaques.
Pro Tip: Visit the Fort Canning Tree Tunnel for an underground adventure. It takes you below ground through a spiral staircase, and when the sun hits the tunnel, makes for a great photo opportunity!
8. Changi Point Coastal Walk
Address: 6 Changi Village Rd, Singapore 509907
Operating Hours: Open 24/7
Want endless sea views? Head over to Changi Point Coastal Walk, nestled conveniently between Changi International Airport and the Changi Village Hawker Centre.
Although it's smaller compared to other spots, it's an excellent choice for those who want to enjoy multiple rounds of walking without spending a cent.
What truly sets this spot apart is the spectacular view it offers. The boardwalk is divided into six distinct sections: Creek Walk, Beach Walk, Sailing Point Walk, Cliff Walk, Kelong Walk, and Sunset Walk.
As you explore the entire stretch, starting from Creek Walk and ending at Sunset Walk, each section reveals fascinating points of interest tied to the natural surroundings, including terrain, flora, and fauna.
You can complete the entire boardwalk in under an hour, and the best part is that you're welcome to go back and forth as many times as you like!
Pro Tips: Even though the calm waters may be tempting, don't try your luck at swimming here. There aren't a lot of shady areas in the boardwalk once you move past the main park, so consider dropping by here early in the morning or late in the afternoon to beat the heat.
9. TreeTop Walk
Address: 601 Island Club Rd, Singapore 578775
Contact Details: +6518004717300
Operating Hours: Tuesday to Friday, 9:00 am to 5:00 pm, Saturday and Sunday, 8:30 am to 5:00 pm
Nestled in the heart of the Central Catchment Nature Reserve, the TreeTop Walk offers a truly unique (and free!) experience above the forest floor. This suspended bridge spans over 250 metres, linking the peaks of Bukit Peirce and Bukit Kalang.
As you walk along the bridge, you're treated to a mesmerising aerial view of the lush greenery that surrounds the reserve. While the TreeTop Walk itself isn't very long, it offers a wealth of captivating natural sights from its elevated vantage point.
To reach the TreeTop Walk, you'll need to trek through parts of the MacRitchie Trails, which typically takes around one to two hours.
So, take your time relishing the bridge's distinctive perspective before making your way back down to the hiking trails within the reserve.
While pausing on the bridge, seize the opportunity to observe the unique plant and animal life that surrounds it.
Along the bridge's route, you'll find rest areas, providing comfortable spots to unwind and soak in the lush scenery around you before continuing.
Pro Tip: As mentioned earlier, it's quite a hike to get to TreeTop Walk, so bring enough water and trail snacks along with you.
10. HortPark
Address: 33 Hyderabad Rd, Singapore 119578
Operating Hours: Monday to Sunday, 6:00 am to 11:00 pm
If you love gardening, then you'll appreciate visiting the multiple gardens at HortPark. It's a 10-kilometre stretch of green space where you can learn or immerse yourself in all things gardening.
HortPark boasts an impressive collection of 21 themed gardens, with the majority of them situated within the Exploratory Zone.
Among the must-visit gardens are the Butterfly Garden, Balinese Garden, Native Garden, and My Backyard Kitchen.
These attractions are thoughtfully designed to educate aspiring gardeners about both local and exotic plants, sparking inspiration to cultivate these varieties at home.
The Espalier, Vertical Greenery, Edible Garden, and Allotment Garden showcase diverse methods of plant cultivation.
There, you can gain insights into how to grow your favourite vegetables, whether it's from a planter box or even the side of your own building!
Pro Tip: You can trek the whole of HortPark and its themed gardens within one day. You don't need to book a walking tour to get around, but if you have any questions about HortPark, you can always ask the staff members at the visitor centre.
11. East Coast Park
Address: E Coast Park Service Rd, Singapore
Operating Hours: Open 24/7
East Coast Park, the largest free park in Singapore spanning over 180 hectares, extends across three districts.
The standout attraction here is East Coast Beach, a perfect place to unwind by yourself, have a romantic outing, or meet up with friends.
Seize the opportunity to witness a breathtaking sunset at Bedok Jetty if you're planning an afternoon visit. This often-overlooked location is fantastic for relaxation or observing anglers, offering a quiet and cost-free space to hang out.
East Coast Park is open 24/7, and as the sun sets, it comes alive with numerous restaurants and food stalls.
We highly recommend enjoying an outdoor potluck with friends to round off an enjoyable evening. It's a fantastic way to fully enjoy this great spot without spending too much!
Pro Tip: If you want to skip the large crowds, come on a weekday morning and stay until sunrise. There are plenty of food stalls around in case you get hungry!
12. Singapore Botanic Gardens
Address: 1 Cluny Rd, Singapore 259569
Contact Details: +6564717138
Operating Hours: Monday to Sunday, 5:00 am to 12:00 am
The Singapore Botanic Gardens is a solid spot to visit if you want to get away from the island's bustling city life. With about 82 hectares of lush green spaces and gardens, the Singapore Botanic Gardens is lovingly nicknamed the "Green Lung" of Singapore.
It's also just a few minutes away from Orchard Road, one of the island's busiest districts. That said, the garden complex is very accessible, with entrances very close to MRT stations.
Given its expansive size, it's advisable to set aside a few hours of your day to fully immerse yourself in the beauty and wonder of this remarkable botanical oasis.
There are four main sections in the garden, namely Tanglin, Central, Bukit Timah, and Tysersall-Gallop.
For those with an avid interest in plants and their historical significance, visit Tanglin, the heritage core section.
For a proper introduction to Singapore's unique flora, visit the tourist belt at Central.
Bukit Timah is the discovery zone, and the Tyserall-Gallop is where you can find the garden's rainforest.
We also highly recommend taking a minute to enjoy the serene views around you by the Symphony and Eco Lakes.
Pro Tip: The Singapore Botanic Gardens encourages visitors to embrace tranquillity and maintain a peaceful atmosphere. Therefore, it's important to be mindful of noise levels, particularly when exploring any of the garden's themed attractions.
13. Palawan Beach
Address: 85A Palawan Beach Walk, Singapore 098521
Contact Details: +6564717138
Operating Hours: Open 24/7
Palawan Beach is a treasure trove in Singapore, famous for its unspoiled white sands, surrounded by swaying palm trees, and embraced by the crystal-clear waters.
This enchanting location provides the perfect backdrop for enjoying a picturesque sunset and unwinding beneath the refreshing shade of palm fronds.
This family-friendly beach is completely manmade and was once a coral reef that was transformed through land reclamation. The sand, carefully imported from neighbouring countries, boasts an exceptionally fine texture.
While there are numerous places to unwind along the beach, there's also a charming islet just offshore from Palawan Beach, accessible via a suspension bridge.
This inviting islet provides another fantastic spot to hang out, whether it's for a picnic with friends and family or simply to enjoy the surroundings.
Pro Tip: Palawan Beach is a great spot to relax and take a swim in the sea, but it's important to stay vigilant about the currents and tides during your visit. It's advisable to only venture into the water when the conditions are calm and safe.
14. Ritz-Carlton Millenia
Address: Marina Bay 7, Raffles Ave., Singapore 039799
Contact Details: +6563378888
Operating Hours: Open 24/7
Now, the Ritz-Carlton Millenia may be one of the swankiest hotels on the island, but you don't have to spend thousands of dollars to marvel at the renowned hotel's art installation.
The Ritz-Carlton boasts museum-quality art installations created by artists like Andy Warhol, David Hockney, Frank Stella, and Zhu Wei.
There are approximately 4,200 art pieces currently commissioned for the hotel, with 350 of them on loan from museums around the world.
Art enthusiasts will know that a free viewing of these stellar artworks shouldn't be slept on, and if you're one to appreciate them, we highly recommend visiting the hotel for a tour.
Aside from seeing the pieces in real life, you can also join in on an augmented reality self-guided art tour where you can use your phone to launch the tour via a QR code.
All photos and videos you take during the self-tour can be posted on social media!
Pro Tip: To make your art tour more immersive, read up on the artist profiles featured at Ritz-Carlton Millenia.
15. Changi Beach Park
Address: Nicoll Dr, Singapore 498991
Contact Details: +6518004717300
Opening Hours: Open 24/7
Just a stone's throw away from the northern tip of Singapore Changi Airport lies Changi Beach Park, a charming 3-kilometre beachfront park that offers captivating coastal vistas. If you're an aviation enthusiast, this spot is an absolute delight!
Why, you ask? Well, because you can watch aeroplanes landing and taking off from the airport right from there. It's a truly majestic experience as you unwind, especially when a plane approaches and soars right above you.
Changi Beach Park isn't just for plane enthusiasts; it's also a popular destination for picnics, nature hikes, and fishing. In addition to relaxing and aeroplane spotting, you can rent a bicycle and explore the park at your own pace.
For those seeking a more laid-back activity, trying your hand at fishing can be a wonderful way to enjoy the park's serene surroundings.
Pro Tip: The Changi Village Hawker Centre is conveniently located just a short stroll away from the park. There, you'll find a wide array of dining options, including cafes, tea houses, and restaurants to satisfy your cravings.
16. Waterfront Promenade
Address: 1 Esplanade Dr, #01-K5, Singapore 038981
Opening Hours: Open 24/7
The Waterfront Promenade in Singapore is a picturesque and enjoyable destination for locals and tourists alike. This beautifully designed promenade is located in the Marina Centre, a vibrant area known for its stunning skyline and numerous attractions.
During the day, visitors can take in breathtaking views of the cityscape and the serene bay, offering fantastic photo opportunities. It's a great place for a leisurely stroll or a jog along the waterfront, and the refreshing sea breeze adds to the charm.
As the sun sets, the Waterfront Promenade transforms into a romantic spot, with the city lights reflecting on the water, creating a magical atmosphere.
Many people flock here in the evening to enjoy a relaxing walk and watch the city come to life with its illuminated skyline.
Moreover, the promenade is conveniently located near various attractions, shopping centres, and dining options, making it a perfect starting point for exploring the Marina Centre.
Pro Tip: You can catch Spectra, the light and water projection show from the Waterfront Promenade. It runs for 15 minutes every night, between 7:00 pm and 8:00 pm.
17. Pasir Ris Beach and Park
Address: 169 Pasir Ris Rd, Singapore 519145
Opening Hours: Open 24/7
Pasir Ris Beach, situated within the Pasir Ris Park complex, is renowned as a hub for cycling and skating enthusiasts. It offers several open spaces for picnics, with the Kitchen Garden and butterfly garden being the most sought-after spots.
If picnicking isn't your cup of tea, you can opt for a leisurely stroll along the Mangrove Forest Boardwalk.
Moreover, Pasir Ris Beach is a paradise for kids, boasting a range of child-friendly attractions including a playground, rope climbing station, pony stable, and basketball courts.
The whole park and beach complex is a family-friendly destination, so you can expect to see plenty of kids enjoying themselves. However, if you're seeking a quieter experience, weekdays, especially in the morning until noon, tend to be more peaceful and less crowded.
Pasir Ris Beach has something to offer everyone, whether you're a fitness enthusiast, a nature lover, or just looking for a tranquil escape.
Pro Tip: Pasir Ris Beach doesn't have an extensive shoreline, so you're more likely to find yourself relaxing on grassy areas rather than sandy beaches. Set up a tent if you want more shade while you lounge in the park!
18. Ann Siang Hill Park
Address: 78 Club St, Singapore 069447
Contact Details: +6518004717300
Opening Hours: Open 24/7
Nestled within the rolling hills of Ann Siang Hill, Ann Siang Hill Park stands as a serene green oasis, providing a peaceful contrast to the vibrant energy of the surrounding historic neighbourhood.
This hidden gem is conveniently positioned close to Club Street, granting you the perfect vantage point to savour the picturesque views of this culturally rich enclave.
Located within the depths of Chinatown, Ann Siang Hill Park may require a bit of navigation, so consulting a digital map is a wise move once you disembark at Telok Ayer MRT Station.
This park not only offers tranquillity but also serves as a delightful intersection of nature and history, providing you with a unique perspective on the captivating Ann Siang Hill neighbourhood.
After shopping or dining within the area, take some time to explore this peaceful retreat. It's a serene haven waiting to be discovered.
Pro Tip: As you explore Ann Siang Hill Park, you'll come across informative plaques adorned with historical photographs, providing fascinating insights into the rich history of Ann Siang Hill. These visual markers serve as an engaging way to deepen your understanding of the area's heritage while enjoying a leisurely walk through the park.
19. Siloso Beach
Address: 10A Siloso Beach Walk, Singapore 099008
Opening Hours: Open 24/7
Situated on Sentosa Island, Siloso Beach is a fantastic destination for those seeking a free and enjoyable day out. It's a favourite spot for fun-loving individuals who want to relax with friends while basking in the sunshine.
In addition to lounging on the sandy beach, you can also indulge in activities like kayaking, swimming, or skin-boarding.
Moreover, the coast is lined with restaurants and bars, providing you with a multitude of dining options to satisfy your hunger.
If you're a night owl, you can even stay late for some stargazing. However, do keep in mind that the presence of bars and clubs along the coast can make the place quite bustling.
For a more tranquil experience, consider visiting on a weekday when the crowds are thinner.
Furthermore, just across from Siloso Beach's shoreline, you'll find a serene islet that offers a quieter and more private spot to unwind.
Pro Tip: It's crucial to apply sunscreen before venturing out into the sun. While Siloso Beach does offer some shaded areas, it's always a smart move to shield your skin from the sun's intense rays to prevent any potential harm.
20. Bukit Timah Reserve
Address: Hindhede Dr, Singapore 589318
Contact Details: +6518004717300
Opening Hours: Monday to Sunday, 7:00 am to 7:00 pm
If you like the idea of relaxing in a forest setting, Bukit Timah Nature Reserve offers an ideal destination for a full day of exploration at no cost.
This reserve is a true paradise for nature enthusiasts, thanks to its dense forests, a diverse array of plants, and the presence of rare animal species.
While you can certainly take it easy, there are some must-visit trails, including the Easy Walking Trails and the Scenic Quarries Trail.
These routes take you through the reserve's undulating terrain, caves, and historic landmarks that are spread across its vast 403-acre expanse.
Even if you're not an avid hiker, it's well worth taking in the scenic views and the lush natural surroundings.
The sheer beauty of the reserve makes every step worthwhile, and you're bound to have a memorable experience simply by immersing yourself in its tranquil ambience.
Pro Tip: For a more peaceful experience at Bukit Timah Nature Reserve, it's advisable to kickstart your visit early in the day to steer clear of the larger crowds. If you prefer an afternoon session, consider dropping by on a weekday!
21. Jurong Lake Gardens
Address: Yuan Ching Rd, Singapore
Opening Hours: Open 24/7
Need more ideas for a cost-free outdoor activity with your friends and family? Turn to Jurong Lake Gardens for a relaxed picnic session in the morning or afternoon.
If a picnic feels like too much effort, you can simply take a leisurely stroll through the park or unwind in the serene green spaces. You'll be enveloped by the natural beauty of lush landscaped greenery.
Jurong Lake Gardens is not just a place to unwind; it's also a hub for community activities, offering various amenities such as playgrounds, water play areas, and fitness corners.
Additionally, it hosts cultural events and performances, providing a vibrant and engaging atmosphere for visitors of all ages.
Pro Tip: To enhance your experience, consider bringing along a mat or blanket to make lounging on the grass more comfortable. Don't forget to pack a few snacks to complete your enjoyable afternoon!
22. Changi Jurassic Mile
Address: Yuan Ching Rd, Singapore
Opening Hours: Open 24/7
Who says dinosaurs are just for kids? At Changi Jurassic Mile, you'll encounter more than 20 life-sized dinosaur statues.
This kilometre-long cycling path offers a fantastic opportunity for adults and children alike to indulge in their fascination with the Jurassic period.
While strolling or cycling through this captivating path, challenge yourself to a thrilling scavenger hunt for hidden dinosaur eggs.
This engaging activity not only adds an element of fun but also helps educate visitors about these incredible creatures.
With over nine different dinosaur species presiding over the fenced trail, Changi Jurassic Mile becomes a mini-lesson in palaeontology. Feel free to bring along a palaeontology book to identify each species.
Pro Tip: You'll find the Changi Jurassic Mile within Singapore Changi Airport. While Terminal 2 is the closest entry point, you can also conveniently access it by walking or cycling from the Hub & Spoke area located just outside the terminal building.
23. Buddha Tooth Relic Temple and Museum
Address: 288 South Bridge Rd, Singapore 058840
Contact Details: +6562200220
Opening Hours: Monday to Sunday, 7:00 am to 5:00 pm
The Buddha Tooth Relic Temple and Museum is a Tang dynasty-style temple housing multiple Buddhist relics such as the sacred Buddha tooth relic.
Tourists and locals visit the temple to say their prayers, marvel at the architecture, or visit the rooftop garden for which the temple is also known.
If you find yourself in the Ann Siang Hill area, make some time to visit this majestic temple, even if you don't practice Buddhism.
You can learn more about Buddhist spirituality, heritage, and its strong ties to Singapore's minor communities.
The museum has Buddhist art and artefacts over a thousand years old, so history buffs and aspiring archaeologists might consider a visit to the temple a bucket list thing. Admission is free, and you're allowed to stay within the temple complex until it closes!
Pro Tip: Since the Buddha Tooth Relic Temple and Museum is a holy place, you'll be required to wear appropriate clothing that covers your knees before entering. If you are wearing shorts or skirts, you can request a sarong or covering before accessing the temple complex.
24. The National Library of Singapore
Address: 100 Victoria St, Singapore 188064
Contact Details: enquiry@nlb.gov.sg
Opening Hours: Monday to Sunday, 10:00 am to 9:00 pm
The National Library in Singapore is an iconic institution, boasting an extensive collection of over 600,000 items.
It serves as a crucial resource for scholars, and paying a visit here is worth it if you like to spend a few hours in peace and quiet with a good book.
Tourists can visit anytime during operating hours and have free use of the library's vast amenities and collections.
Immerse yourself in Singapore's history, learn about the island's most important written work, or enjoy reading about Asian literature and folktales.
The National Library also houses a theatre where performances are held. Make sure to check out the library's website for more info about upcoming events!
There's free Wi-Fi in case you need to stay connected for work or if you want to post about your day at the library on social media.
Pro Tip: You'll find a café conveniently located on Level 3 of the National Library if you need a caffeine fix. It's the perfect spot to grab a cup of coffee and refuel your brain!
25. Woodlands Waterfront Park
Address: Admiralty Rd W, Singapore 759956
Contact Details: +6518004717300
Operating Hours: Open 24 hours
Nestled at the northern edge of Singapore, Woodlands Waterfront Park offers a sprawling 27-acre expanse of pet-friendly and pedestrian-friendly spaces overlooking the scenic Straits of Johor.
The park boasts numerous dedicated running and cycling paths, making it an ideal location for a leisurely stroll, either by yourself or in the company of your furry companion.
When you reach the northernmost part of the park, explore the coastal promenade, where you can unwind while enjoying the serene waterfront views.
For those in search of a bit of excitement, venture off the beaten path and challenge yourself with a hike along the park's rolling terrain.
Just remember to bring a bottle of water along to stay hydrated, as you might work up a sweat during your adventure! Woodlands Waterfront Park is a wonderful and cost-free destination for nature enthusiasts and those looking for outdoor relaxation.
Pro Tip: Watch out for unexpected monkey sightings at Woodlands Waterfront! It's a wildlife sanctuary too, so encountering these creatures is common. Just remember to keep your distance and avoid sharing food with them to ensure everyone's safety.
---