Categories >
Guides and Tips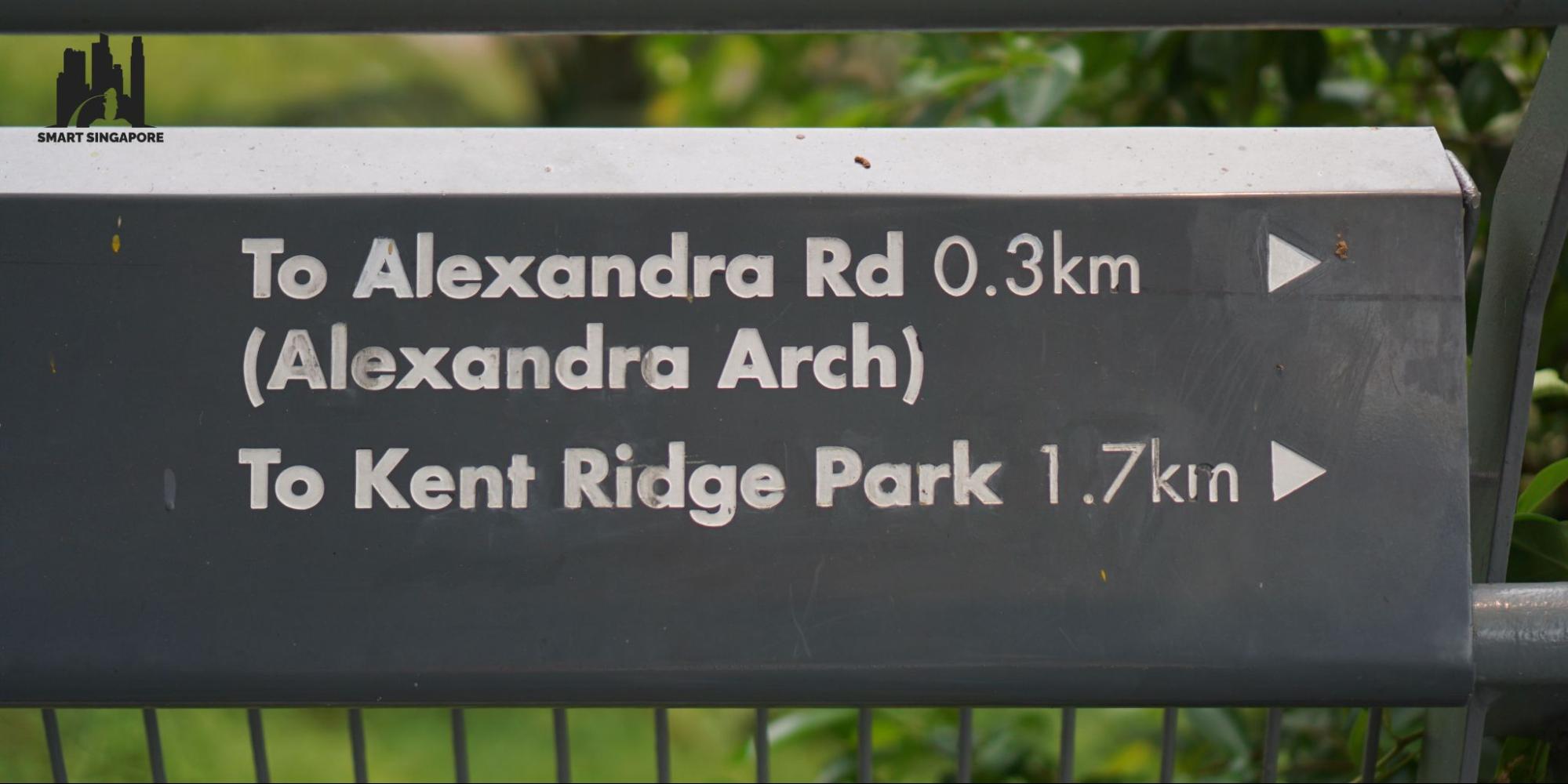 Go Green: A Guide to Visiting HortPark at Southern Ridges
The Southern Ridges are home to a plethora of natural attractions, and exploring its whole expanse could take you a whole day. There are five main parks within it, and if you're visiting for the first time, we recommend starting from HortPark.
HortPark is a 10-kilometre stretch of green space where you can learn all about gardening. If you have a green thumb (or need some gardening and landscaping inspo), a visit to HortPark is a must.
We've narrowed down all the essential details below like how to get there and what to see to get you started!
Things to Know
Address: 33 Hyderabad Rd, Singapore 119578
Operating Hours: Monday to Sunday, 6:00 am to 11:00 pm
Entrance Fee: Free
How to Get There
By Train: The nearest MRT stations to HortPark are Labrador Park Station, HarbourFront Station, Queenstown Station, and Commonwealth Station.
The closest station to the eastern side of HortPark is Labrador Park Station. Alighting from the other stations mentioned requires a short bus ride to the nearest bus station surrounding HortPark.
By Bus: The nearest bus routes to alight from are Bus Service Nos. 51, 61, 93, 97, 100, 120, 166, 175, and 963. These routes take you right by Hyderabad Road and Depot Road, which are close to Floral Walk.
By Car or Taxi: You can hail a taxi from any point in Singapore and have them drop you off at either Hyderabad Road or Alexandra Road.
If you're bringing a car, parking is available at the HortPark car park. Parking rates are at $0.60 per 30 minutes during regular operating hours.
Best Time to Go
The best time to visit HortPark is in the early morning or mid-afternoon. The park opens at 6:00 am and closes by 11:00 pm, so coming in at any point of the day is still doable.
However, we highly recommend visiting by sunrise and just before sunset, when the heat and crowd are bearable.
What are the Southern Ridges?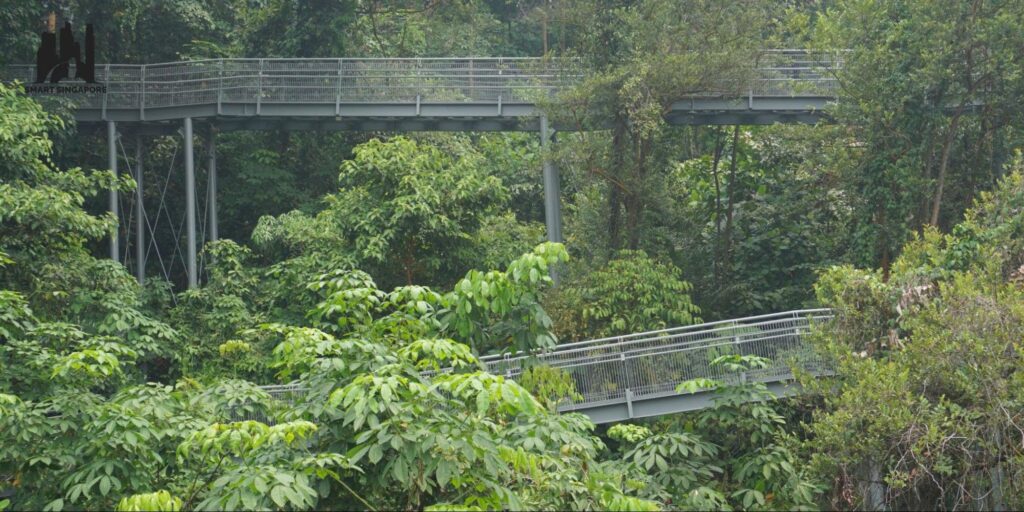 The Southern Ridges is a 10-kilometre stretch of forest and green spaces that are open to the public.
The whole lush area connects five green parks and spaces, namely, Hortpark Walk, Mount Faber Park, Telok Blangah Hill Park, Kent Ridge Park, and Labrador Nature Reserve.
Walking the whole Southern Ridges takes about 3 to 5 hours, and there are two main routes to take.
The whole expanse is packed with suspended bridges and elevated walkways, giving trekkers scenic views of the lush forest around them and the city below.
What is HortPark?
HortPark is a 10-kilometre green space within Southern Ridges that houses themed gardens, event spaces, nature playgrounds, and a visitor centre where visitors can learn about gardening and natural science.
Out of the five green spaces, HortPark is the perfect pitstop for avid gardeners and horticulturists. It spans roughly 9 hectares and features four main zones within its expanse, namely
The Tranquility Zone
The Exploratory Zone
The Community Gardening Zone
The Ornamental Zone
The Streets of Singapore
These four zones house multiple attractions that trekkers and visitors can visit and participate in ongoing nature-based activities held daily, weekly, or monthly.
Overall, 21 themed gardens inside HortPark are free to visit. There are also multiple play zones for children, and most of them are interactive.
You can explore HortPark by choosing a zone that houses attractions based on your interests. If you want to pick up new gardening tricks, check out the Community Gardening Zone, for example.
To give you a better idea of what to find in these particular zones, we share important details below:
The Tranquility Zone
The Tranquility Zone is where the Event Lawn, Hands-On House, Nature Playgarden, and Irrigation Pond are located. These areas are specifically designed to create a safe and relaxing open space for visitors to unwind with their friends and family.
This is one of the quieter areas of the park, and it features more open spaces than the other zones. For instance, visitors can sit back and enjoy a picnic on the Event Lawn.
The Event Lawn is also where most outdoor activities, workshops, and bazaars are held.
There's also the Nature Playgarden where your kids hang out and run around all day. The playground features themed play zones designed to make learning about natural science more fun.
The Irrigation Pond, on the other hand, serves as the park's main water source for its various gardens. It takes up almost half of the zone and is a serene spot to unwind before moving on to finish a trail!
The Exploratory Zone
The Exploratory Zone houses five major garden attractions, namely, the Butterfly Garden, Balinese Garden, My Backyard Kitchen, Espalier Garden, and the Native Garden.
These garden attractions feature various flora and fauna species, teaching visitors about the unique ecosystems that thrive in Singapore. The Native Garden, in particular, categorise the native flora by their use such as medicine, food, and timbre.
The Butterfly Garden is another popular attraction in HortPark and is known for housing nectar and host plants for various species of butterflies. You can walk through the lush garden and spot as many butterflies as you can!
My Backyard Kitchen is a unique spot that houses plants that are used in cooking. You can learn a thing or two about making healthy teatime snacks or beverages by reading the informational plaques spread across the garden.
The Community Gardening Zone
Designed for aspiring and professional gardeners, the Community Gardening Zone is where you can learn practical gardening tips and be inspired to start one on your own.
The zone has five major attractions, namely, the Therapeutic Garden, the Edible Garden, the Allotment Garden, the Pitter Patter Potter Garden, and the SG50 Community in Bloom Gardens.
The SG50 Community in Bloom Gardens was launched to commemorate Singapore's Golden Jubilee, and it houses mini gardens designed by over 250 community gardeners and volunteers.
It aims to inspire everyone to use gardening as a tool to bond with each other and create better and safe green spaces.
Each garden was made with the following themes: People and Plants, People and Spaces, and People and Landscape.
The Pitter Patter Potter Garden is specifically designed for children and houses green spaces for little ones to learn about seed dispersal and recycling. Think of it as an outdoor natural science classroom!
If you're curious about horticultural therapy, the Therapeutic Garden is a must-visit. The shaded attraction offers beautifully landscaped gardens that highlight the therapeutic wonders of nature and gardening.
Just like My Backyard Kitchen, the Allotment and Edible Gardens are designed to showcase edible plants and vegetables, both common and exotic, that you can use in cooking.
The Ornamental Zone
Just like the name suggests, the Ornamental Zone houses mainly lush floral blooms across the eastern half of HortPark.
Due to its close proximity to the car park, this zone is the entry point to the park. It's where you can find the HortCentre, Greenhouse, HortLawn, Vertical Greenery, Hort House, and the Floral Walk.
The HortCentre is the main visitor centre for all guests to get information about the park and its attractions.
The Greenhouse and Hort House are recreational and retail centres for guests to learn about plants and how the gardens are managed by volunteers.
The Vertical Greenery section is dedicated to green facade solutions for homes and buildings in Singapore.
Here, guests can take a closer look at how vertical gardening promotes better insulation and air filtration in the city—and it might inspire you to grow one on your own!
The Floral Walk is the easternmost trail of the park and is considered the entry gateway. Here, visitors can walk alongside various tropical flowers and ornamental plants lining the path.
The HortLawn, much like the Event Lawn, is an open space for families and friend groups to unwind and relax within the zone. The space is popular for hosting picnics, events, and outdoor activities.
The Streets of Singapore
Also called the Streets of Singapore Walk, this zone is lined with tall trees, all of which most streets and towns in Singapore are named after! The Streets of Singapore is the entry point to HortPark from Kent Ridge Park using the Canopy Walk.
Things to Do at HortPark
1. Visit the Nature Playgarden with your kids!
Operating Hours: Monday to Sunday, 6:00 am to 11:00 pm
The Nature Playgarden at HortPark is one of the biggest kid-friendly attractions within the Southern Ridges, particularly due to its design.
The whole playground features eight play zones with specific themes, catering to children with a thirst for learning and adventure.
Your kids can climb and run around large teepees at The Building Huts, create music using bamboo instruments at The Singing Seeds, play hide and seek at The Magical Woods, or play pretend chefs at The Kitchen.
All these zones cater to children of all ages and teach them how to connect and have fun with nature.
One of the largest sections of the Nature Playgarden is The Big Fig Adventure, which features a grove of fig trees and stepped logs where your children can chill, play, or socialise with other kids in the play zone.
2. Explore the themed gardens
Operating Hours: Monday to Sunday, 6:00 am to 11:00 pm
HortPark is home to a whopping 21 themed gardens. Most of the themed gardens are located within the Exploratory Zone.
Must-see gardens are the Butterfly Garden, Balinese Garden, Native Garden, and My Backyard Kitchen.
All these attractions are designed to teach aspiring gardeners about local and exotic plants and vegetation and perhaps inspire them to grow these at home.
The Espalier, Vertical Greenery, Edible Garden, and Allotment Garden feature different ways plants can be cultivated. There, you can learn a thing or two about growing your favourite vegetables out of a planter box or the side of your building!
3. Learn all you can about gardening at the Gardeners' Day Out
Operating Hours: Every third Saturday of the month
Located in the HortCentre, Gardeners' Day Out is a monthly event (every third Saturday of the month) dedicated to all things gardening for beginners and professionals.
The event offers talks, workshops, and guided tours around HortPark and its attractions, so it's a great way to learn about gardening and meet avid horticulturists.
The workshops and talks are mainly centred on gardening and urban farming tips.
The HortCentre also turns into a marketplace where visitors can purchase locally grown vegetables, plants, and gardening materials.
So mark your calendars, and don't forget to bring your own reusable shopping bag for goodies!
4. Learn about eco-living at the HortCentre
Operating Hours: Monday to Sunday, 6:00 am to 11:00 pm
The HortCentre is the main visitor service hall that houses gardening attractions like the Lifestyle Corner and the Green Roof. The Lifestyle Corner features plant-themed furniture meant to show gardeners interior landscaping and plant-based living.
The Green Roof, on the other hand, is specifically for aspiring gardeners to learn about the different roof planting systems they can implement in their homes.
5. Shop for gardening essentials at Arbour
Operating Hours: Monday to Sunday, 10:00 am to 7:00 pm
Want to bring a piece of HortPark to your home? Arbour is a retail store that sells different kinds of nature-based and gardening goodies like planters, plants, and fertiliser.
The plant selection mainly comprises plants that are easy to maintain and propagate. Planters range from ceramic to wooden and come in different shapes and sizes.
You can start your own mini garden by purchasing all the gardening essentials you'll need from Arbour.
From time to time, Arbour also conducts gardening workshops centred on teaching budding horticulturists how to care for indoor plants.
6. Take the serene Floral Walk
Operating Hours: Open 24/7
Considered as the gateway to HortPark, the Floral Walk is one of the major attractions of the park. It sits right between Alexandra Road and Hyderabad Road, and you can access it via the Alexandra Arch or the car park.
The Floral Walk is relatively short, but it serves as a great introduction to the flora of Singapore. Along the path, there are plaques marking plant species.
Common flora you'll find there are banana plants, ginger, heliconia, and ornamental flowers popularly used in flower arrangements.
7. Immerse yourself in horticulture at the Hort House
Operating Hours: Monday to Sunday, 6:00 am to 11:00 pm
The Hort House is a historic building located in the easternmost side of HortPark. Once the primary staff residence of the Federated Malayan States Railway, the Hort House now serves as the main training centre for the Centre for Urban Greenery and Ecology.
The Hort House hosts courses on botany and horticulture and provides useful resources on gardening and landscaping.
The Hort House is a must-visit for those looking to break into the horticulture industry.
8. Book a guided tour at the HortCentre
Tour Fee: Around $7 per person
You don't have to wait for Gardeners' Day Out to join tours around HortPark. If it's your first time visiting the place, booking a guided tour is a must-do to maximise your time and learning at HortPark.
There are several guided tours you can book, each with a specific zone to explore. A tour guide will conduct thorough explanations of each attraction to help you gain a better appreciation for Singapore's flora.
Slots for tours must be confirmed in advance and are non-refundable. If you've got the whole day to spare, we highly recommend booking more than one tour around the park since tours usually last for an hour each.
Best Guided Tours at HortPark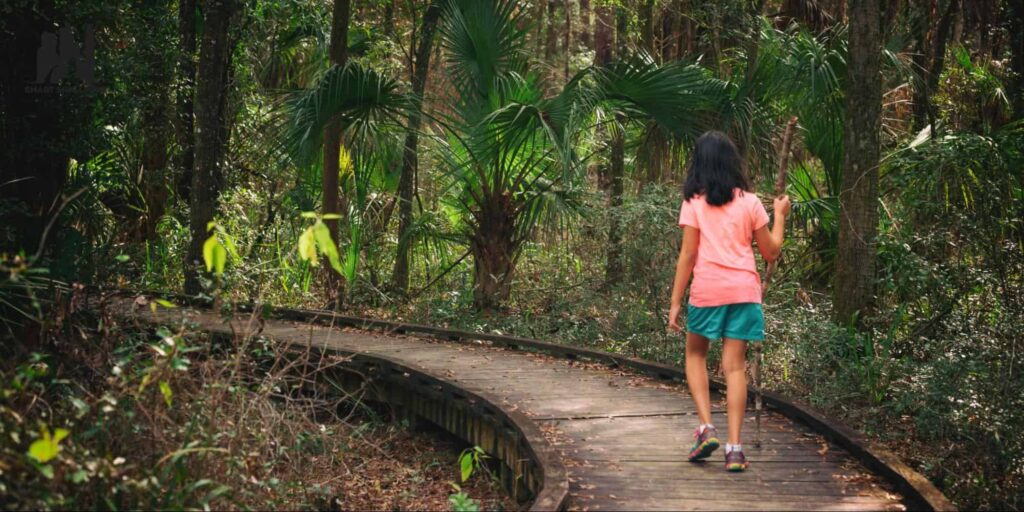 HortPark's main walking trails are the Bee Trail, the Butterfly Garden Trail, the Streets of Singapore Walk, the Edibles Discovery Trail, the Native Garden Walk, and the Pitter Patter Potter Trail.
Visitors have the option of following the trails on their own or with a tour guide. Bookings are subject to availability and capacity, but we highly recommend that first-time visitors book a guided tour first.
Each tour costs roughly $7 per person and lasts for an hour. You can register for a slot by emailing nparks_hortpark@nparks.gov.sg. Note that some tours may have a maximum capacity of 20 people, so book your slots before they run out!
1. The Bee Trail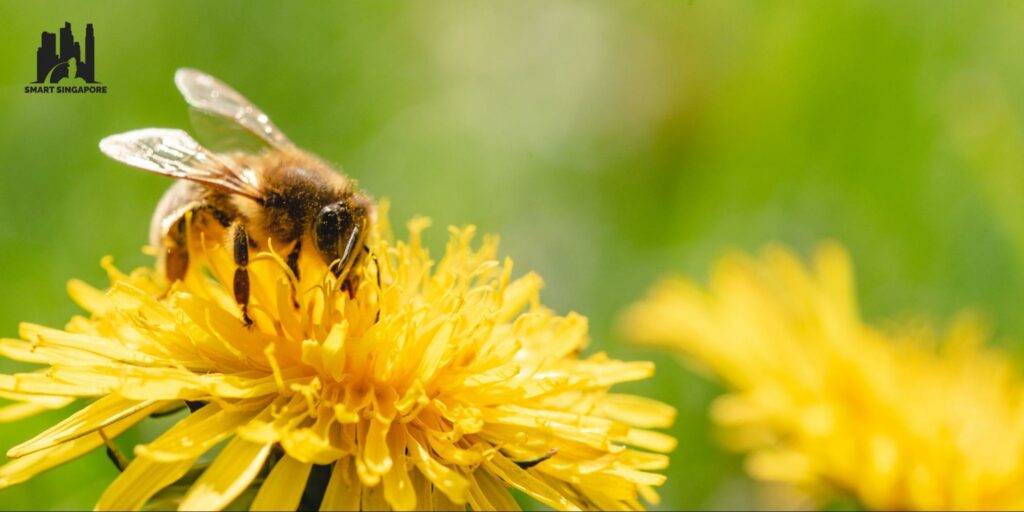 | | |
| --- | --- |
| Difficulty | Easy ● |
| Time needed | 60 minutes |
The Bee Trail takes you through three different gardens that are inhabited by bees in HortPark. The trail will start from the HortCentre and will pass through the Exploratory Zone where the themed gardens are located.
In this tour, trekkers will learn about bee habitats and behaviours as well as the types of flowers and plants they use for food and shelter. There are roughly over 20 species of bees in HortPark, so try to spot as many as you can!
2. The Butterfly Garden Trail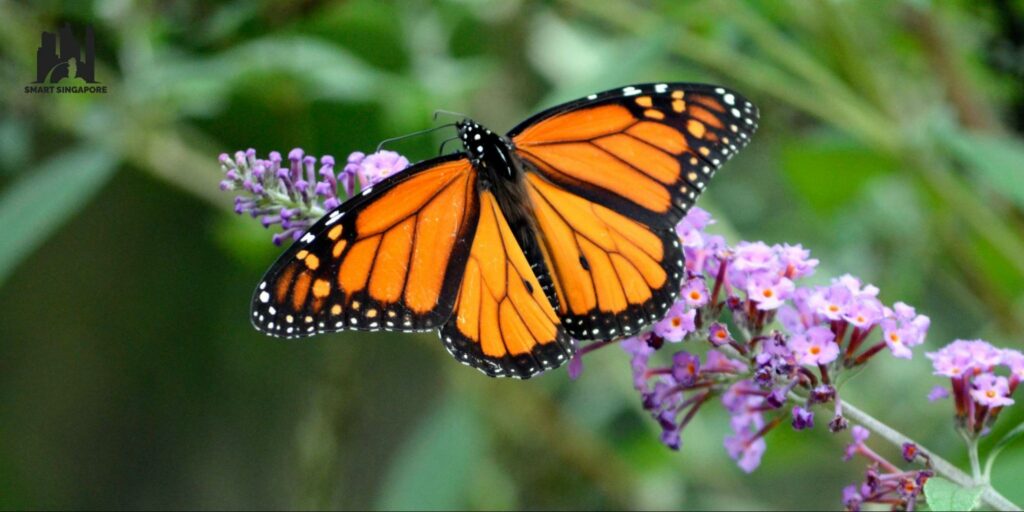 | | |
| --- | --- |
| Difficulty | Medium ●●● |
| Time needed | 60 minutes |
The Butterfly Garden Trail is pretty straightforward—it takes you through the Butterfly Garden at the Exploratory Zone. The whole garden is home to dozens of butterfly species and visitors can get close and personal with them!
The tour is interactive, so you can touch or wait for butterflies to land on you as you walk through the garden. You'll also find different plants and flowers that butterflies are attracted to here!
3. The Streets of Singapore Walk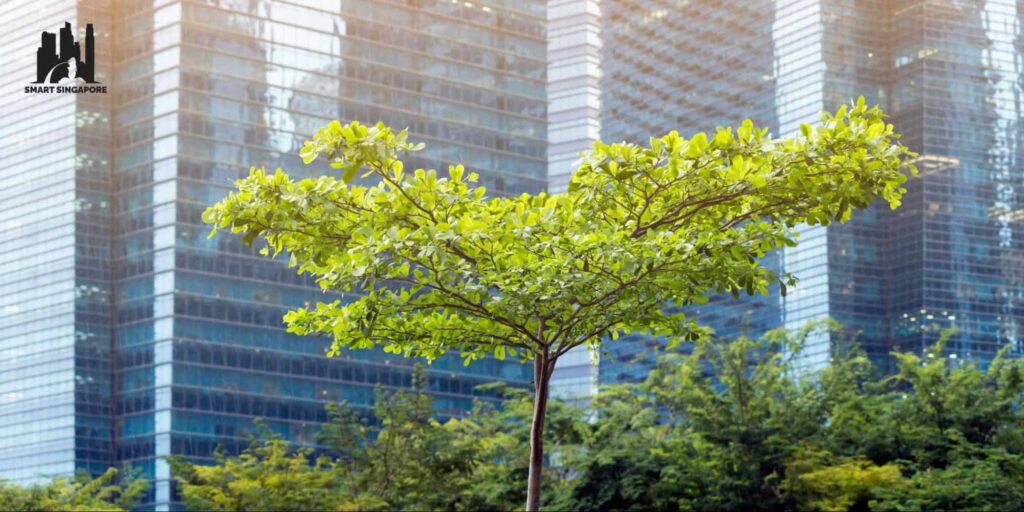 | | |
| --- | --- |
| Difficulty | Medium ●●● |
| Time needed | 60 minutes |
The Streets of Singapore Walk is one of the most iconic zones in HortPark, and there's good a reason for it. During the tour, you'll walk through the westernmost side of the park, leading to a path lined with tall trees.
Most of Singapore's streets and towns are named after these trees, hence the name of this section. The whole stretch is 1 kilometre long and showcases 15 different tree species from Katong to Sembawang.
4. The Edibles Discovery Trail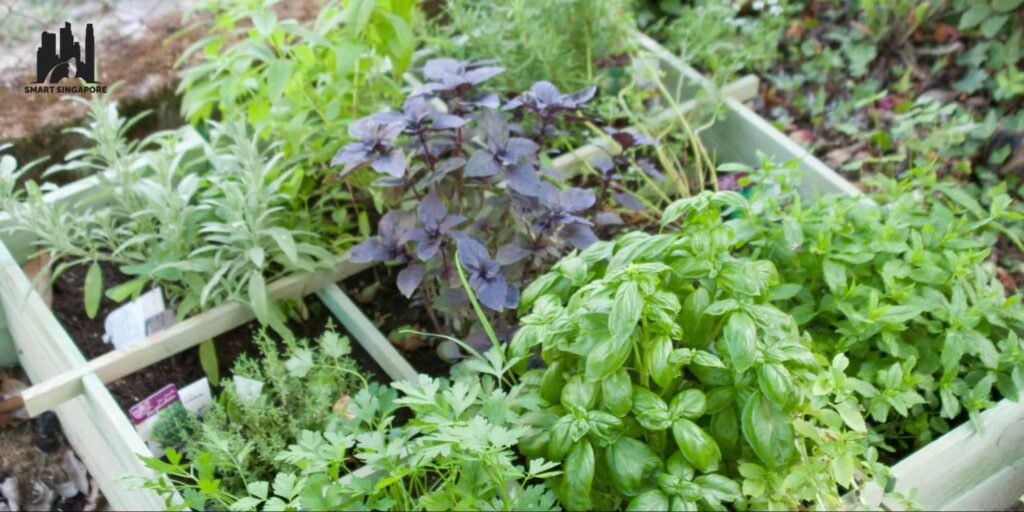 | | |
| --- | --- |
| Difficulty | Easy ● |
| Time needed | 60 minutes |
The Edibles Discovery Trail takes you to the Edible Garden and Kitchen Garden where you can learn about the fruits, vegetables, and herbs that are locally grown in HortPark.
It's a pretty jampacked tour that expounds on the plethora of plants that you grow for consumption. You'll learn about what herbs look like before they're placed in jars or some exotic fruit and vegetables that are endemic to the tropics.
5. The Native Garden Walk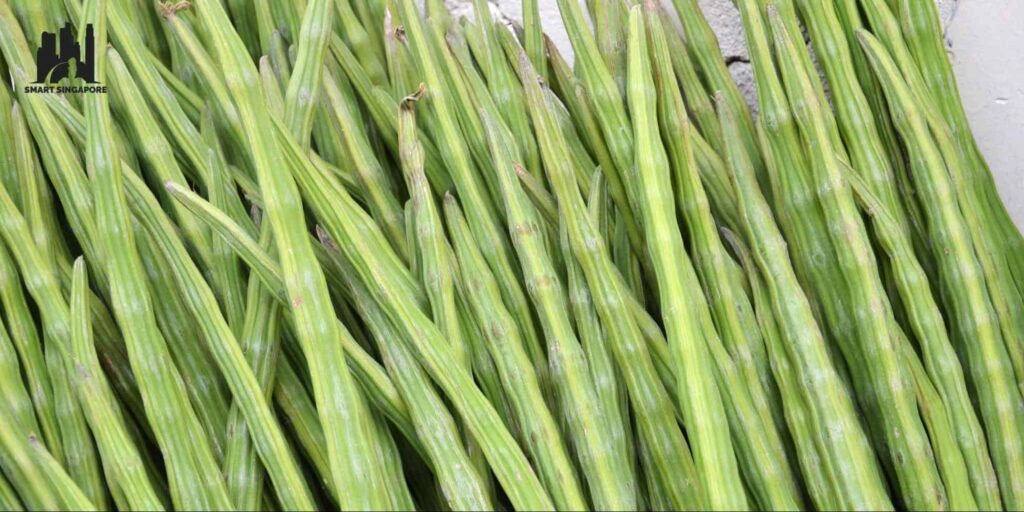 | | |
| --- | --- |
| Difficulty | Medium ●●● |
| Time needed | 60 minutes |
The Native Garden Walk takes you through the Native Garden, which focuses on local vegetation. There are five zones in the Native Garden, namely, the Medicine Zone, the Food Zone, the Timber Zone, the Bird Zone, and the Butterfly Zone.
You'll find local plants that are used for different purposes, such as medicine and construction, so warm up your feet and knees because there's lots to take in here!
6. The Pitter Patter Potter Trail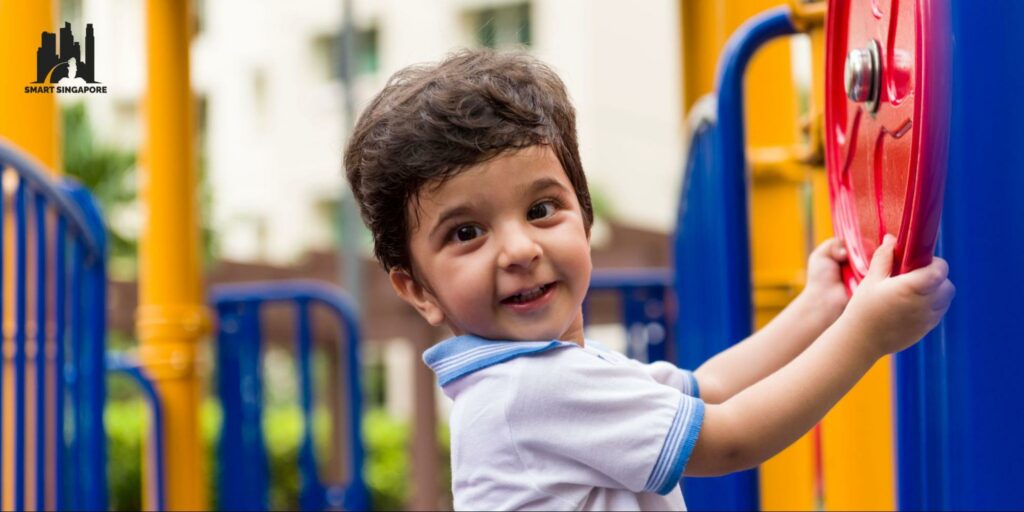 | | |
| --- | --- |
| Difficulty | Easy ● |
| Time needed | 60 minutes |
Also called the Classroom in a Garden, the Pitter Potter Potter Garden is a kid-friendly area designed to teach young and old gardeners about the wonders of natural science. The tour is suitable for kids aged 5 to 8, so bring your whole family for a tour!
You can learn about recycling and practical gardening tips with your whole family during this tour. Take as many notes as you can from the tour guide!
Where to Eat
1. Canopy Cafe
Operating Hours: Monday to Friday, 8:00 am to 10:00 pm, Saturday and Sunday, 8:00 am to 10:00 pm
Contact Details: +6565561533
Offering a biophilic dining experience, the Canopy Cafe lets customers gather for breakfast, brunch, lunch, or dinner with family, friends, and their furry ones amidst nature.
It's a popular brunch spot in Singapore, serving egg croissants, chicken burgers, and fish and chips for hungry trekkers.
The HortPark branch sits just by the HortCentre, so it's an ideal spot to refresh and refuel before moving on to the next part of the Southern Ridges.
2. Vineyard
Operating Hours: Monday to Friday, 11:30 am to 3:00 pm, 6:00 pm to 10:00 pm, Saturday and Sunday, 10:30 am to 10:00 pm
Contact Details: +6564797977
Looking for a spot to chow on French cuisine after a tour around HortPark? Vineyard is a quaint restaurant near HortCentre that serves farm-to-table meals.
They boast freshness in every bite because they grow their own herbs and vegetables.
If you learned a thing or two from the Kitchen and Edible Gardens at HortPark, then you'll be a pro at choosing any dish from their signature French menu. You might even recognise some herbs on your plate!
Whether it's to cap off your nature-based date or to refuel for your next walking trail, Vineyard is an ideal dining spot to chow on dishes that are hearty, delicious, and healthy!
---