Categories >
Guides and Tips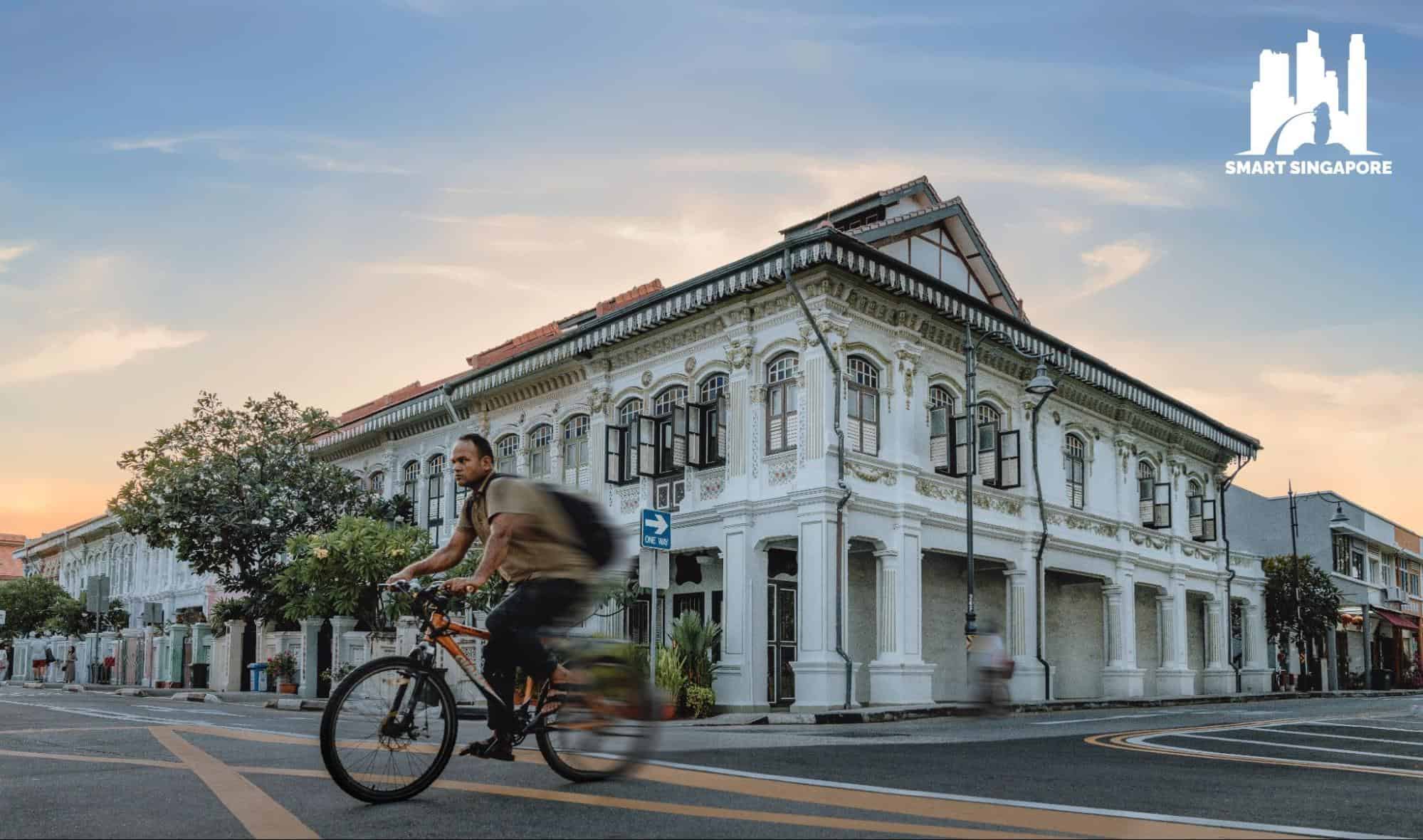 Top Scenic Cycling Routes in Singapore
If you love traveling with your trusty bicycle, you might want to try riding your way through Singapore's cycling routes.
The biking paths in the city are likely to keep your ride exciting and energizing, as you'd be treated to breathtaking views of both the skyline and the surrounding greenery at every slope and turn.
To spare you the search, here's a list of the top cycling routes and trails with scenic views in The Lion City you can check out on your next ride!
Is Singapore good for cycling?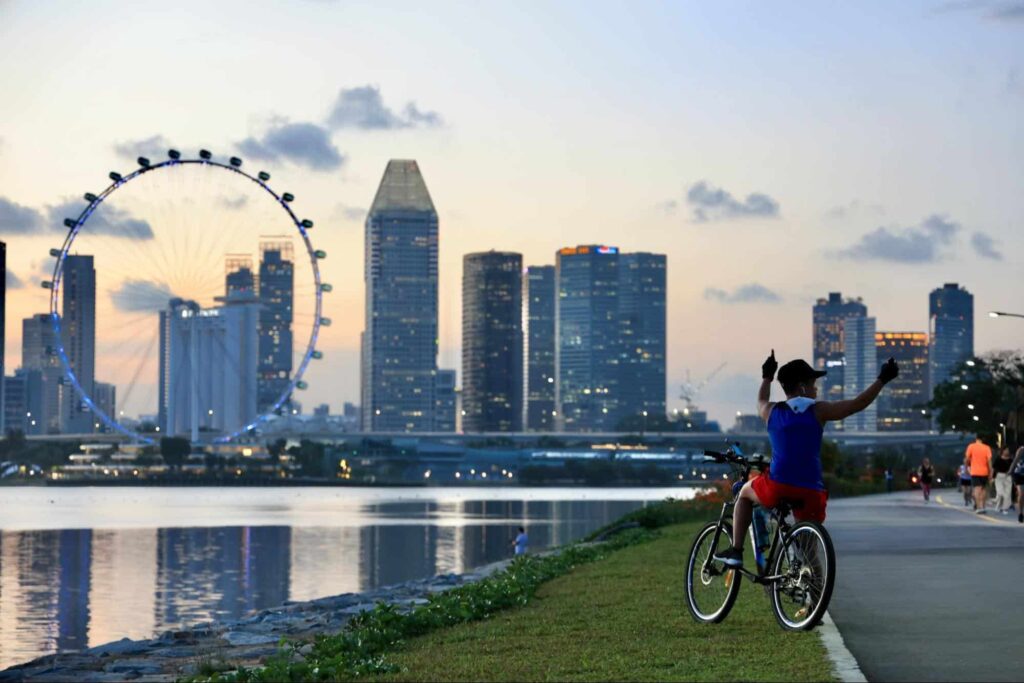 Singapore is good for cycling thanks to the island nation's Cycling Path Networks (CPN).
Now established in nine towns, the CPNs connect bike commuters to MRT stations, bus stops, schools, and shopping malls.
Bikers also enjoy wide pathways, plenty of parking areas, and wheeling ramps on stairs, making Singapore a bike-friendly destination.
This map by the Land Transport Authority shows the current bike paths around the city.
Top Scenic Cycling Routes in Singapore
Here are the best scenic cycling routes in Singapore you should check out.
Read on to know more about what to expect at each route and plan your itinerary!
1. Ang Mo Kio – Lornie Route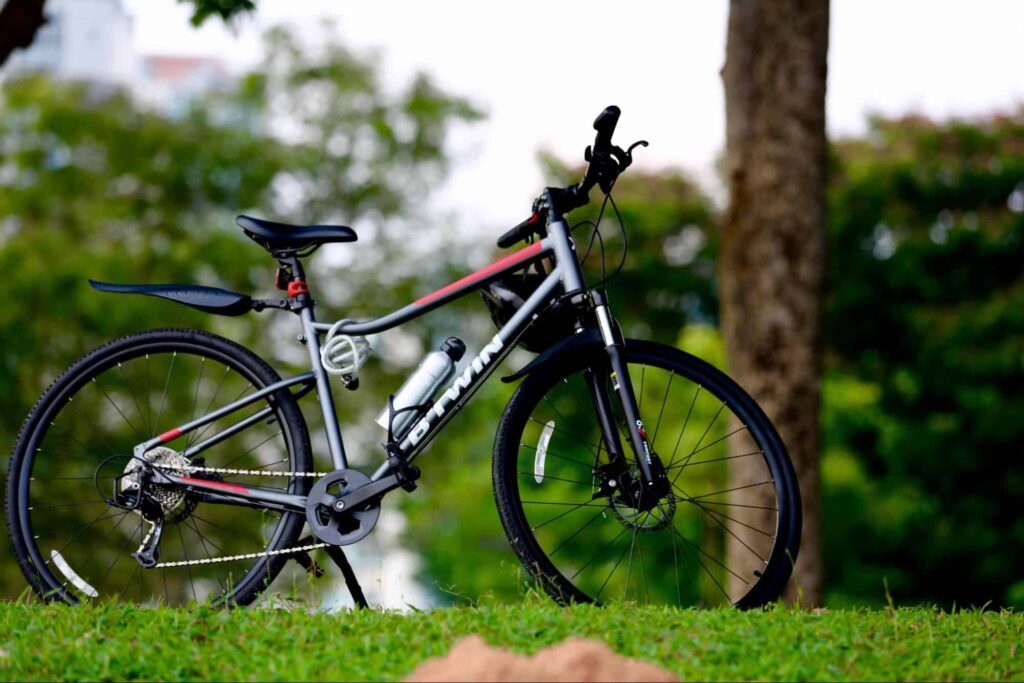 | | |
| --- | --- |
| Nearby MRT Stations | Ang Mo Kio, Bishan, Marymount |
If you're anywhere near Ang Mo Kio MRT station, taking a ride to explore the town's streets will bring you to some urban attractions in the area.
The closest to your starting point is the AMK Indoor Terrarium along Ang Mo Kio Avenue 8. You can then turn to Avenue 1 to take a whiff of the trees at Bishan-Ang Mo Kio Park and revel in the tranquility of the Lotus Garden just up ahead.
If you prefer a more challenging ride, continue cycling the stretch of Avenue 8 to reach Bishan Road, then look for Recycle Hill.
The cycling path network from Ang Mo Kio MRT station continues at Marymount Road, then Westlake Avenue, until you reach MacRitchie Reservoir Park.
Can I take the MRT with a bicycle in tow?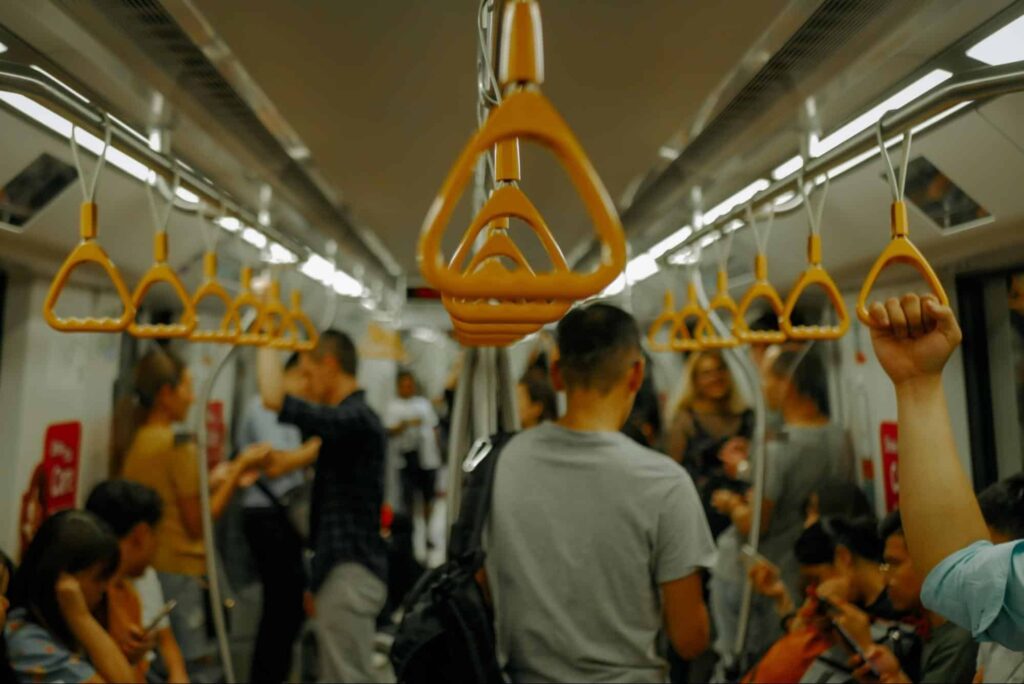 Singapore's MRT stations allow commuters to bring in their bicycles when riding the train, provided that they're carrying foldable bikes.
Some specific rules you should keep in mind include
Bicycles when folded should not exceed 120cm x 70cm x 40cm
Bicycles must be folded at all times in the station and during the ride as well as in bus terminals and interchanges
Bike wheels should be wrapped if they are dirty or wet
Cover the bike's protruding parts and take care not to cause injury or property damage
2. Marina Bay – Rochor Route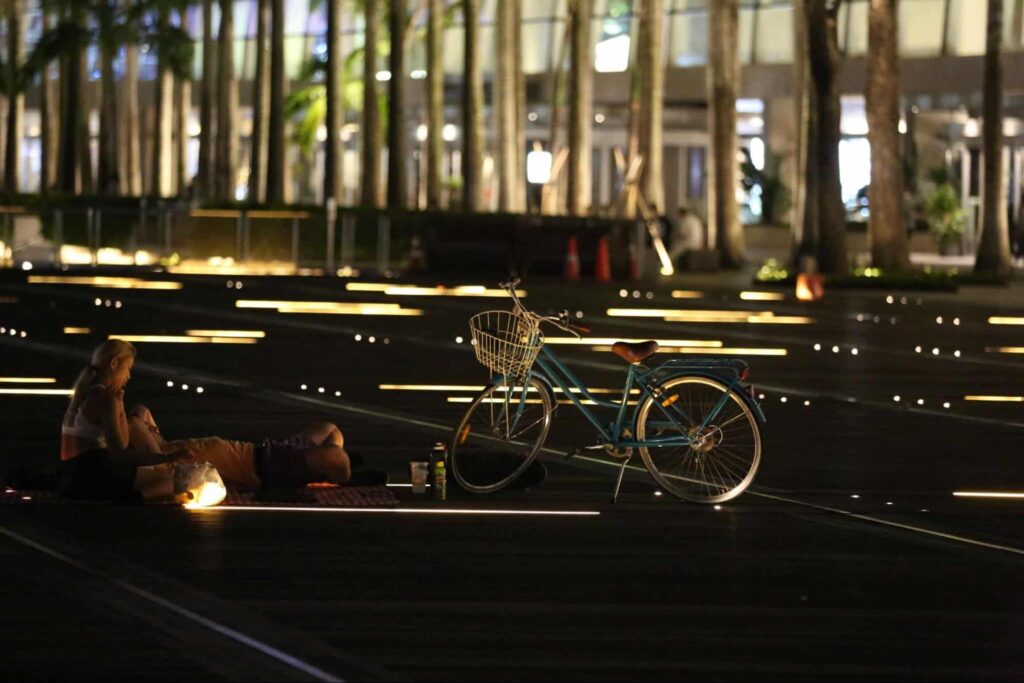 | | |
| --- | --- |
| Nearby MRT Stations | Bencoolen, Bras Basah, City Hall, Esplanade, Promenade, Bayfront, Dhoby Gaut, Rochor, Bugis, Jalan Besar, Lavender, Nicoll Highway |
The Marina Bay to Rochor 10-kilometer bike route has plenty of highlights to look forward to, including passing through the charming streets of Bencoolen and Armenian and biking while overlooking the Singapore River (and the National Gallery opposite it).
Moreover, breezing along Marina Boulevard will give you picturesque views of the Merlion, the Esplanade, and the Marina Bay Sands.
If you haven't considered it yet, we recommend cycling through this route both during the day and the night so you get two stunning views of the city from a cyclist's unique perspective!
Is it a law to wear a helmet while cycling in Singapore?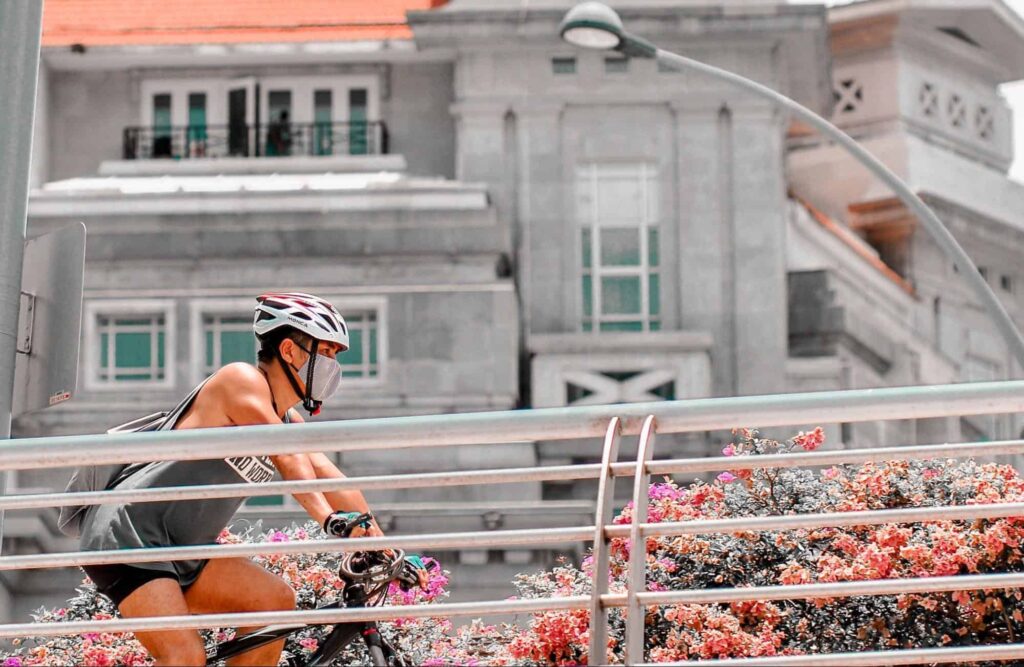 It is mandatory to wear a helmet while cycling in Singapore if you are taking the public road. The rule applies to bicycle and power-assisted bicycle (PAB) riders.
That said, you should always wear a helmet whether you're riding on the road or passing through the cycling path networks (CPN) to ensure safety.
For people using mobility devices apart from bikes and PABs, here is a table of locations where you're allowed to ride.
| | | |
| --- | --- | --- |
| Mobility Device | Allowed On | Not Allowed On |
| Bicycle | Footpath, cycling path, road | Expressway, road tunnel, selected viaducts |
| Power-assisted bicycle (PAB) | Cycling path, road | Expressway, road tunnel, selected viaducts |
| Motorized personal mobility device (PMD) | Cycling path | All other paths or roads |
| Non-motorized PMD | Footpath, cycling path | All other paths or roads |
| Personal mobility aid (PMA) e.g. mobility scooter or wheelchair | Footpath, cycling path | All other paths or roads |
3. Jurong Route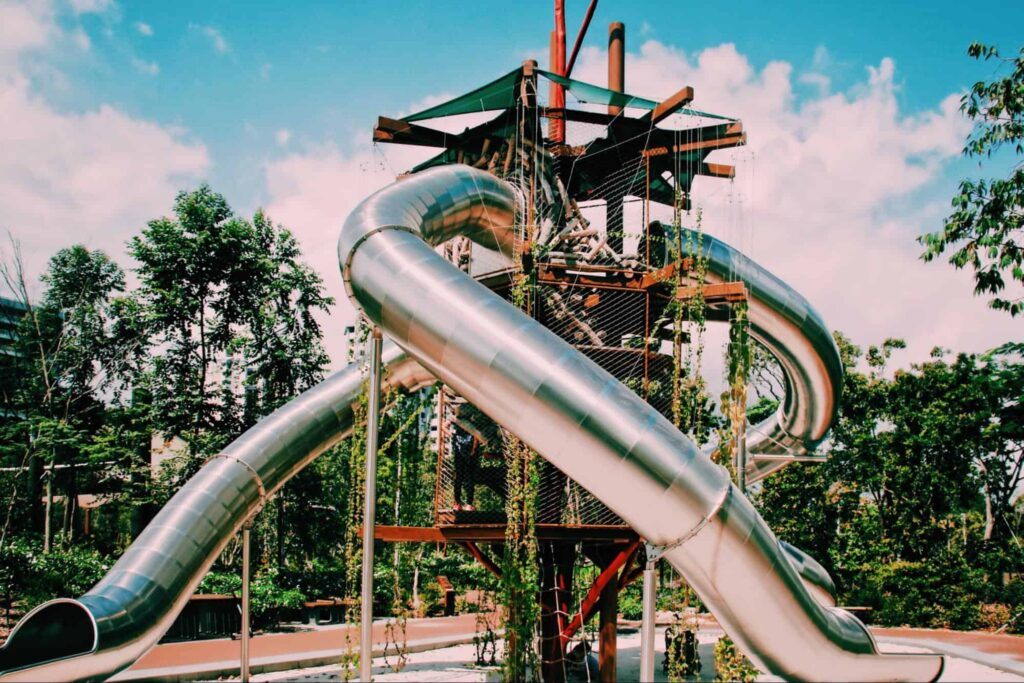 | | |
| --- | --- |
| Nearby MRT Stations | Lakeside, Chinese Garden, Jurong East |
Exploring the streets of Jurong by bike is a treat to the soul thanks to the lush greenery and lake views that will accompany you along the way.
If you don't mind pausing once in a while, do swing by the popular stops here including the nature play garden Forest Ramble and the intriguing tree sculpture made of recycled rebars called The Lone Tree.
You can also visit the Japanse and Chinese Gardens in the Jurong Lake Gardens for a more intimate experience of the area.
What speed can you cycle in Singapore?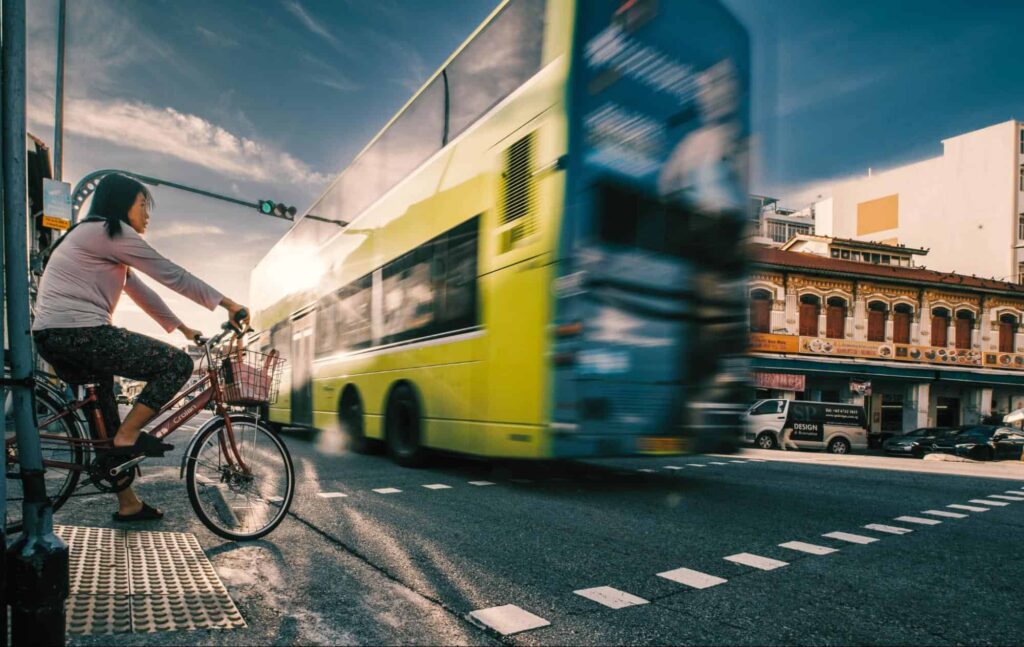 Cyclists in Singapore can go from 10 km/hr to 50 km/hr depending on where they're riding.
If you're taking the footpath, you must not exceed 10 km/hr for safety and to match the pedestrian traffic in the area. You can go faster on cycling paths which allow up to 25 km/h.
The fastest speed (50 km/hr) is reserved for cycling on public roads, subject to Singapore's rules and regulations for motorists.
4. Mount Faber Loop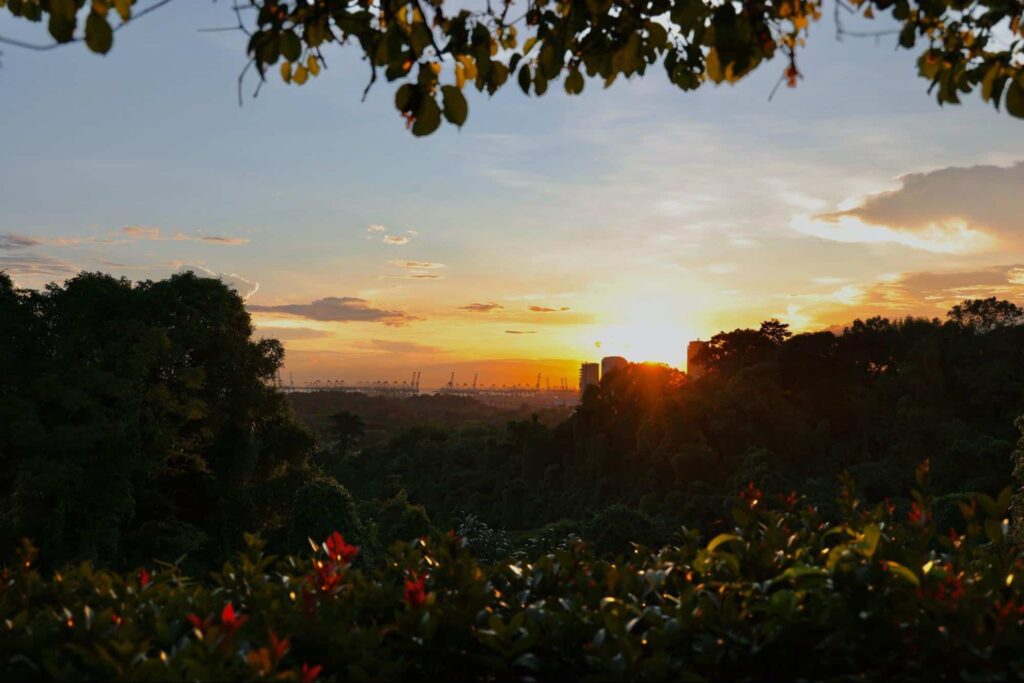 The 1.5-kilometer ascent to Mount Faber can be a challenging route.
Thankfully, you'll be rewarded by nature views and the distant skyline as you conquer the path, while sweeping views await you over at the route's highest point.
Although a bit difficult, the Mount Faber Loop is still suitable for beginners, albeit at a slower pace than how more experienced cyclists do it.
Do remember that Mount Faber is a popular destination, so we recommend biking here early in the morning during non-peak seasons to avoid sharing the road with cars.
What is the average gradient of Mount Faber?
Mount Faber in Singapore has an average gradient of 5.9%, which is most felt when you reach the middle section of the loop.
Meanwhile, the location's elevation gain is 74 meters, and the highest elevation is 113 meters.
5. Bedok – Tampines Route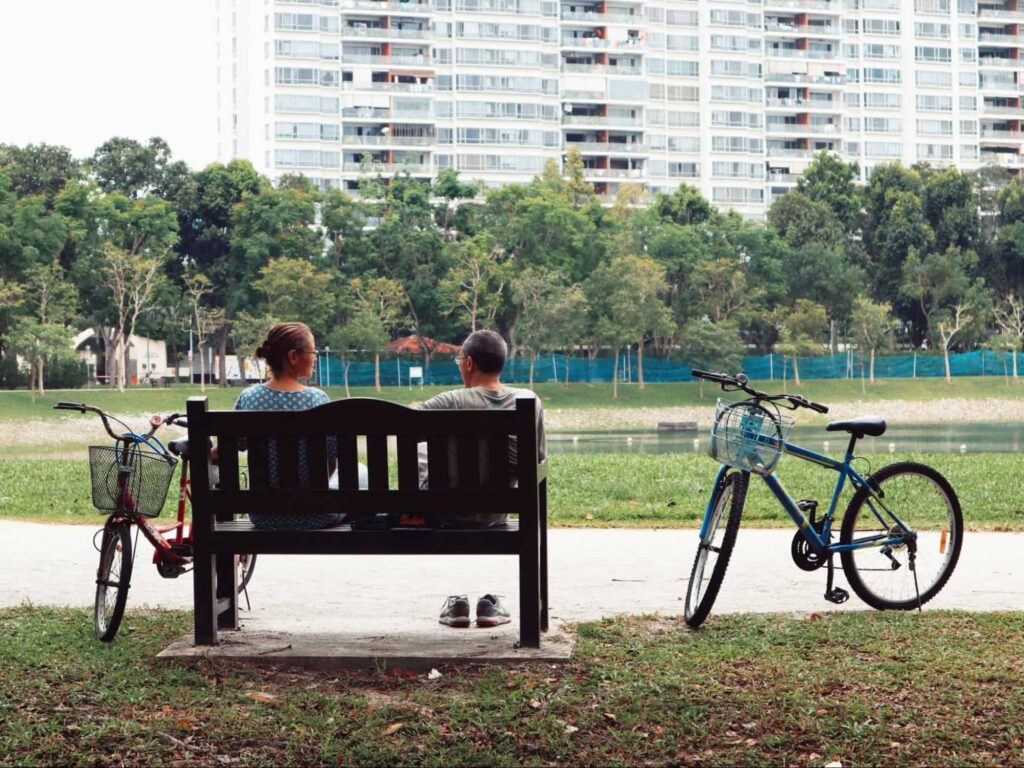 | | |
| --- | --- |
| Nearby MRT Stations | Bedok, Kembangan, Bedok Reservoir, Tampines, Simei, Expo, Tanah Merah |
Those near East Singapore who want long rides can delight in the cycling path networks that start at Bedok and stretches toward Tampines.
The biking route covers a distance of 10 to 21 kilometers, with a lot to see along the way including the Bedok Reservoir and Play Corridor.
The intermediate-level route starts at the beautiful Bedok Reservoir and ends at the screen mural at Tampines. The latter is close to Tampines Eco Green Park, so you can get some rest while being surrounded by nature.
The advanced route, meanwhile, includes the Play Corridor, which is close to the Bedok MRT station.
Can you cycle in Bedok Reservoir?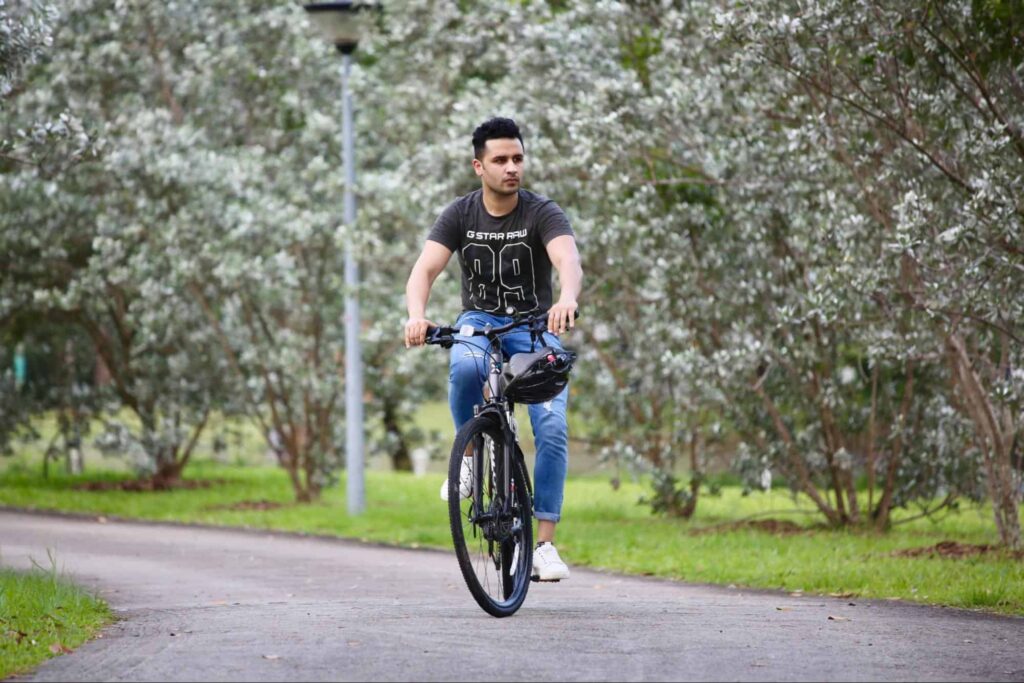 Cycling is definitely allowed at Bedok Reservoir and its trail is one that riders must try!
The 4.5-kilometer path offers stunning views of the waters and birds and a breathtaking vista of trees, making for a refreshing ride.
Other activities that you can do at Bedok Reservoir include kayaking, riding a dragon boat, jogging, and fishing.
6. Pasir Ris – Changi Route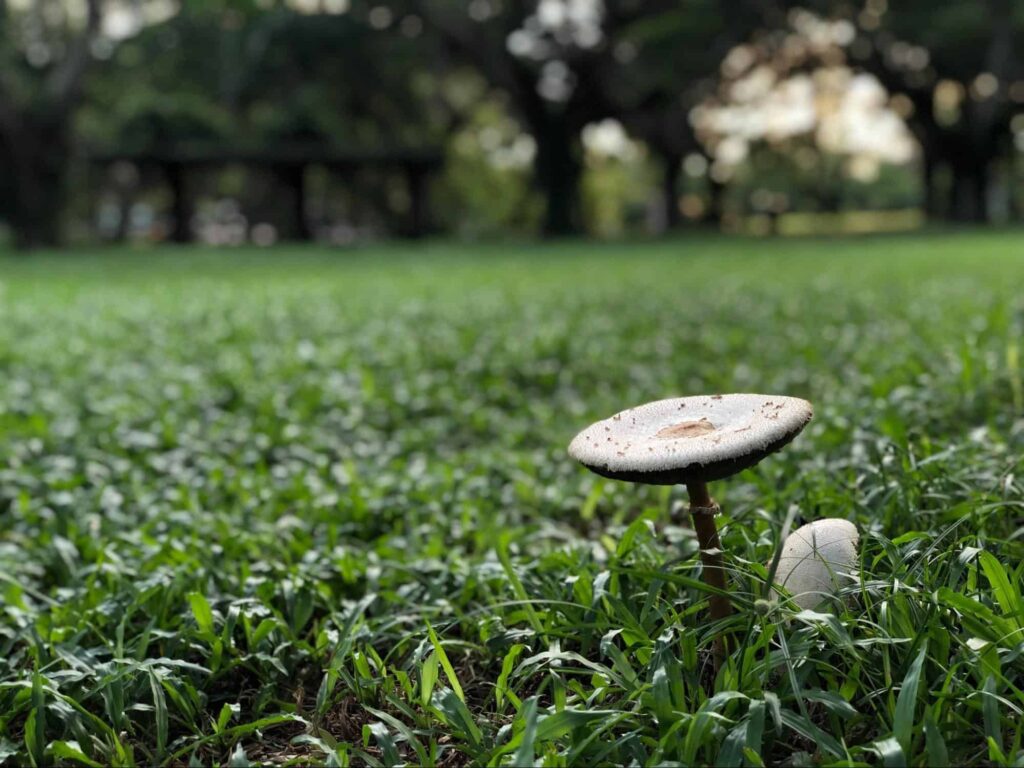 | | |
| --- | --- |
| Nearby MRT Stations | Pasir Ris |
Another fun ride off the east of Singapore is the Pasir Ris loop, where you can pass by the lovely Pasir Ris Park, the area's hawker center, and the White Sands shopping mall.
The best part of the ride is the path overlooking the Sungei Tampines River, where the water reflects the greenery and the sunlight, providing views that will relieve your exhaustion.
If you're looking for a more challenging ride, take the advanced route and pedal your way to Loyang Avenue until you reach the Old Changi Hospital. Cap off the tour at the Inscription of the Island while overlooking the city's coastal waters.
7. Eastern Coastal Park Connector Network Trail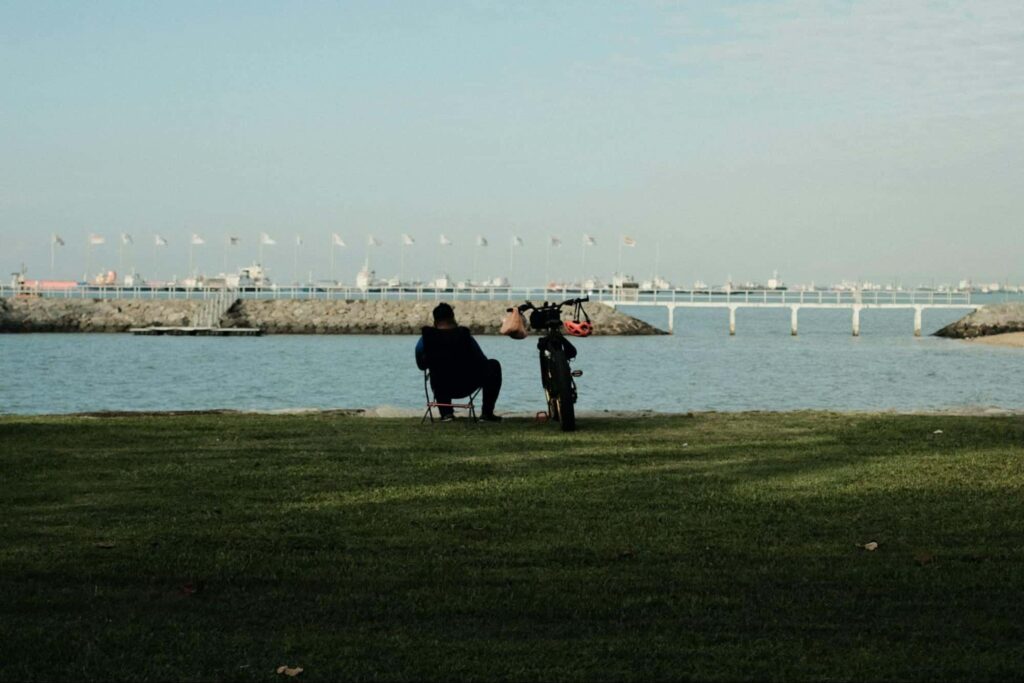 | | |
| --- | --- |
| Nearby MRT Stations | Kembangan, Bedok, Tanah Merah, Expo, Tampines, Pasir Ris, Changi Airport |
Those who love the lush greenery and coastline of East Singapore are in for a treat with the region's 42-kilometer cycling route.
The Eastern Coastal Park Connector Network Trail (ECPCN) starts at Sun Plaza Park in Tampines and ends at Tampines Park Connector (the one that links Bedok Reservoir Park and Paris Ris Park).
The advantage of taking ECPCN is that you get lots of shade and plenty of facilities, toilets, and eateries. You'll also get a bigger picture of East Singapore.
That said, ample preparation is needed to conquer this lengthy bike ride. Thankfully, you'd be rewarded with scenic views as you ride on.
Do I need to wear a helmet on PCNs?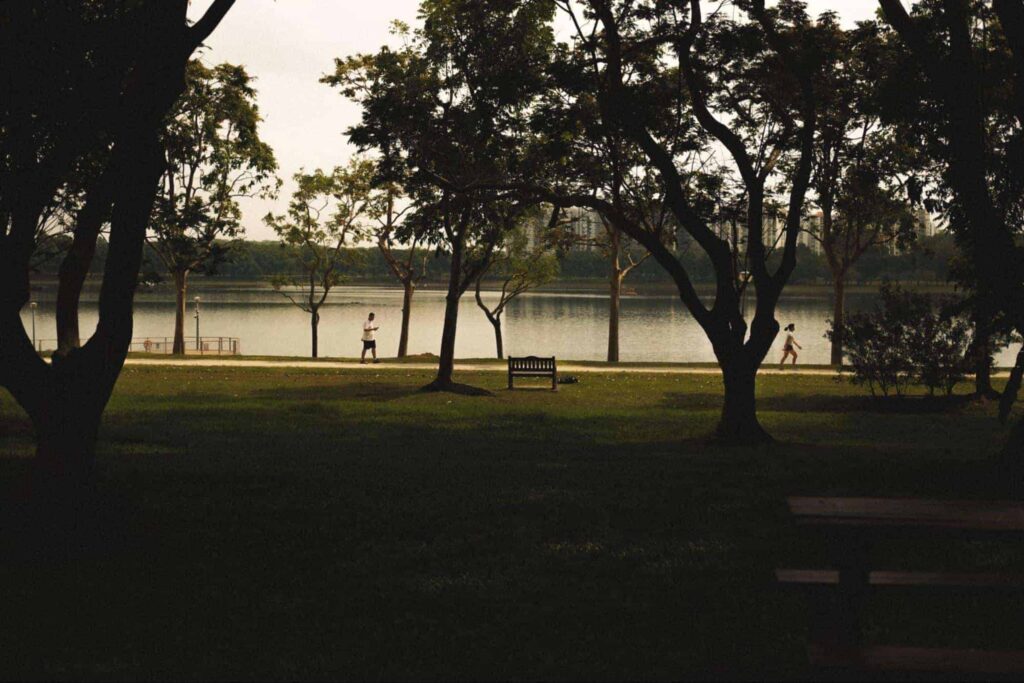 The National Parks Board in Singapore advises bikers using the Park Connector Networks (PCN) to wear helmets to ensure their safety.
Moreover, a code of conduct should be observed by riders, especially since they'd be sharing the PCN with pedestrians. Some of the points to keep in mind include
Riding in a single file and maintaining a safe distance from other riders and pedestrians
Keeping both hands firm on the handlebars (unless signaling)
Not weaving along the track
Not overtaking when near crossings, corners, and bends
Not cycling in prohibited areas
Also, remember that speeding, using phones while riding, and non-compliance with other rules as prescribed by the Active Mobility Act are subject to fines. If you don't want to pay a considerable amount, it's better to follow the rules to the letter!
And here's a helpful fun fact: Singapore observes left-hand traffic, so keep to your left when you're cycling along the PCNs (just as you would on the road by car).
8. Western Adventure Loop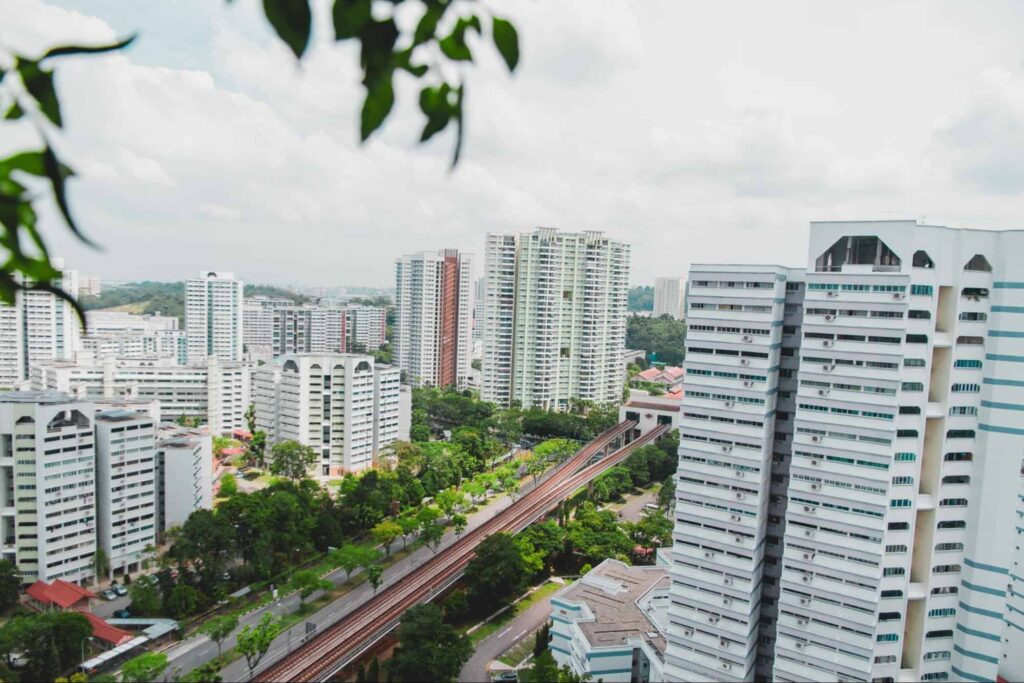 | | |
| --- | --- |
| Nearby MRT Stations | Bukit Batok, Bukit Gombak, Choa Chu Kang, Yew Tee |
| Nearby LRT Stations | Choa Chu Kang, South View, Keat Hong, Teck Whye, Phoenix, Bukit Panjang, Petir, Pending, Bangkit, Fajar, Senja, Jelapang, Segar |
West Singapore has its own Park Connector Network dotted with the region's rich nature parks and reserves.
Those who love the great outdoors will find this 20+-kilometer PCN loop enriching, thanks to its dense vegetation and undulating terrains.
Highlights of the route include Bukit Batok Town Park (the start point), Bukit Batok Nature Park, Bukit Timah Nature Reserve, Dairy Farm Nature Park, and Zhenghua Park.
The park connectors are equally captivating too! The Ulu Pandan Park Connector offers wildlife sightings, while the Pang Sua Park Connector features two butterfly gardens.
How long is the Pang Sua Park Connector?
The Pang Sua Park Connector stretches for 6 kilometers. The path starts at Bukit Panjang Road and ends at Choa Chu Kang Way.
The PCN runs along the Pang Sua canal, providing exhilarating views of abundant greenery and wildlife.
9. Northern Explorer Loop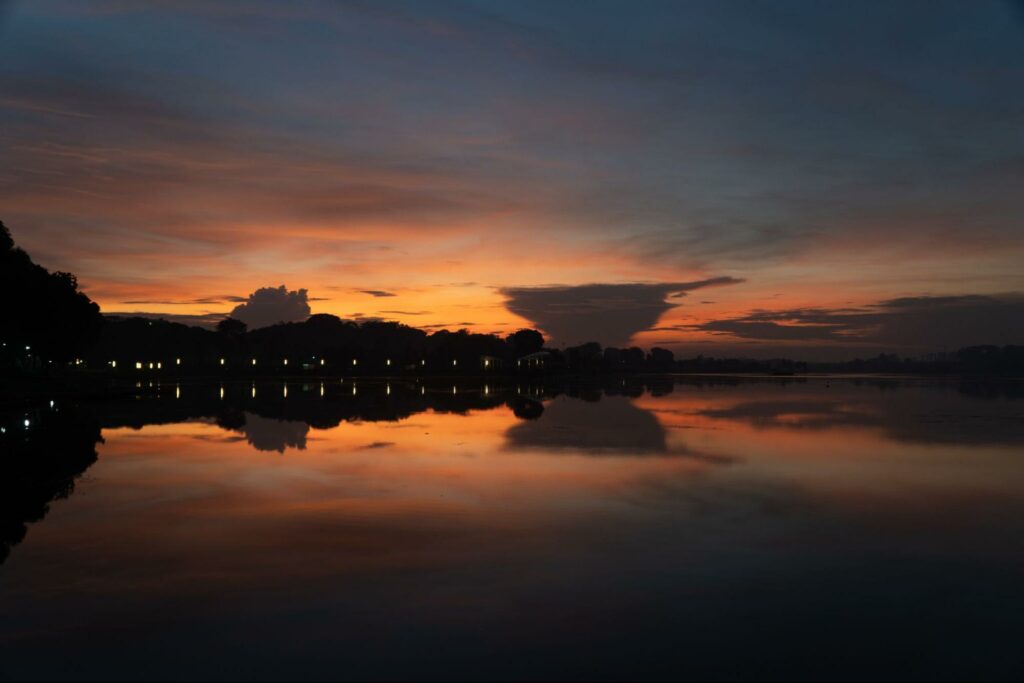 | | |
| --- | --- |
| Nearby MRT Stations | Khatib, Yishun, Sembawang, Admiralty, Woodlands, Marsiling |
The 11-kilometer Northern Explorer Loop is part of Singapore's several Park Connector Networks, which makes distance cycling, walking, and jogging more convenient, accessible, and safe for locals and tourists.
This biking route is characterized by a wealth of quiet waters, shady trees, and hilly terrains that will make bikers who love a challenge swoon.
The loop starts at Lower Seletar Reservoir Park.
It then passes through the Mandai Park Connector (where a detour can lead you to the ever-popular Singapore Zoo), Ulu Sembawang Park Connector, and Woodlands Park Connector and ends at Woodlands Waterfront.
A detailed map from the National Parks Board shows popular stops along the route including Yishun Park and Admiralty Park.
How long is Ulu Sembawang Park Connector?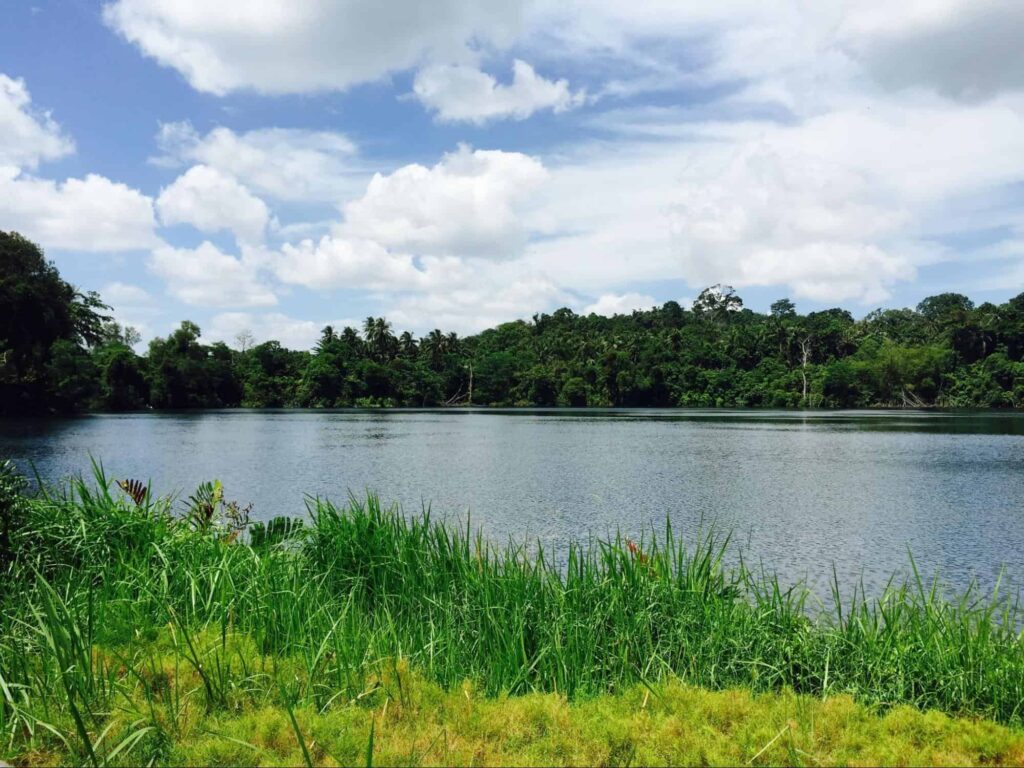 The Ulu Sembawang Park Connector has a distance of 1.3 kilometers, with the trail starting at Seletar Expressway and ending at Mandai Road.
This rustic park connector passes through a nature reserve to link the Mandai Park Connector to the Woodlands Park Connector up ahead.
The Ulu Sembawang connector features a sunrise viewing point, so we encourage bikers to conquer the trail early in the morning!
Note that there are no lamp posts in the area, as the biking path is close to the nature reserve.
Can you walk around Lower Seletar Reservoir?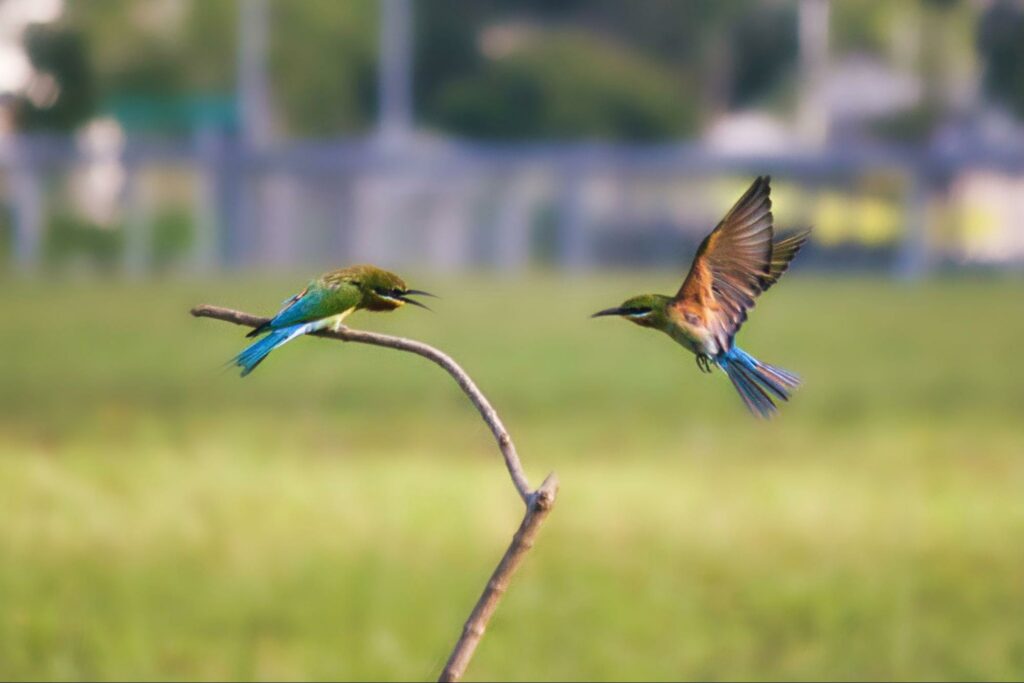 You can walk around the Lower Seletar Reservoir through the cycling paths/footpaths provided within the park section.
The paths border the reservoir, bringing you close to the edge of the water to see birds and other wildlife glide and frolic about.
The park's Heritage Bridge, meanwhile, offers great views of the sunrise and sunset.
Can you swim in Singapore reservoirs?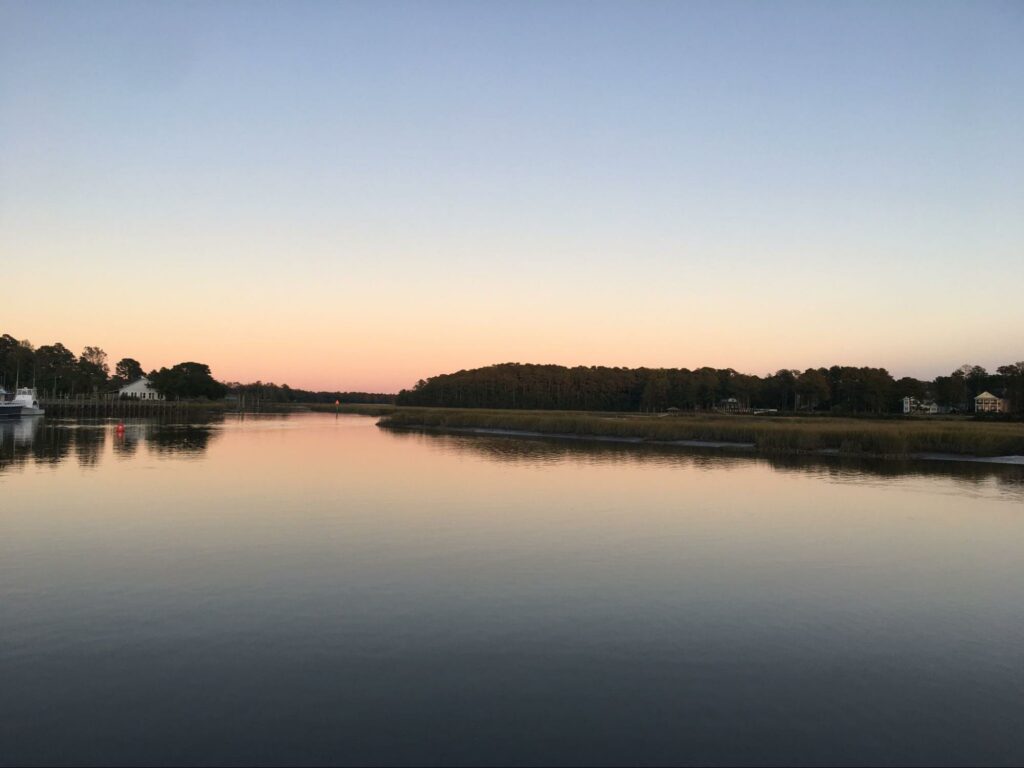 Swimming in Singapore reservoirs is not allowed, and so is frolicking and washing, according to guidelines published by the Public Utilities Board.
The catchment area is one of the sources of the city's water supply, after all.
That said, personnel is allowed to immerse themselves in the reservoir in case of a person falling or the vessels capsizing during permitted water activities.
10. Southern Ridges Loop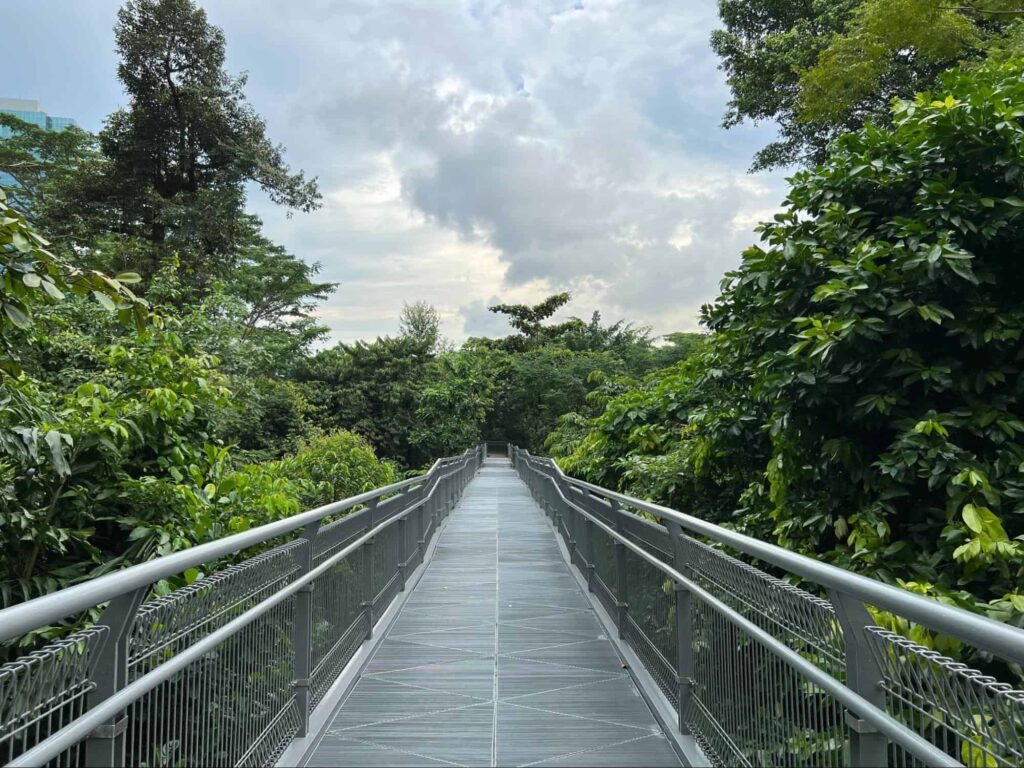 | | |
| --- | --- |
| Nearby MRT Stations | Kent Ridge, Pasir Panjang, Labrador Park, Harbourfront |
The elevated wavy paths of the Southern Ridges are perfect for overlooking the thick forest down below. And it's vital that cyclists are treated to such views, as the route has a challenging steep terrain.
You'll be covering a distance of 10 kilometers that starts at South Buona Vista Road and ends at Mount Faber.
A popular middle highlight of the path is the Henderson Waves, where you need to dismount and push your bike forward. It's an ideal set-up, as you'll be able to fully enjoy the awe-inspiring greenery.
11. Central Urban Loop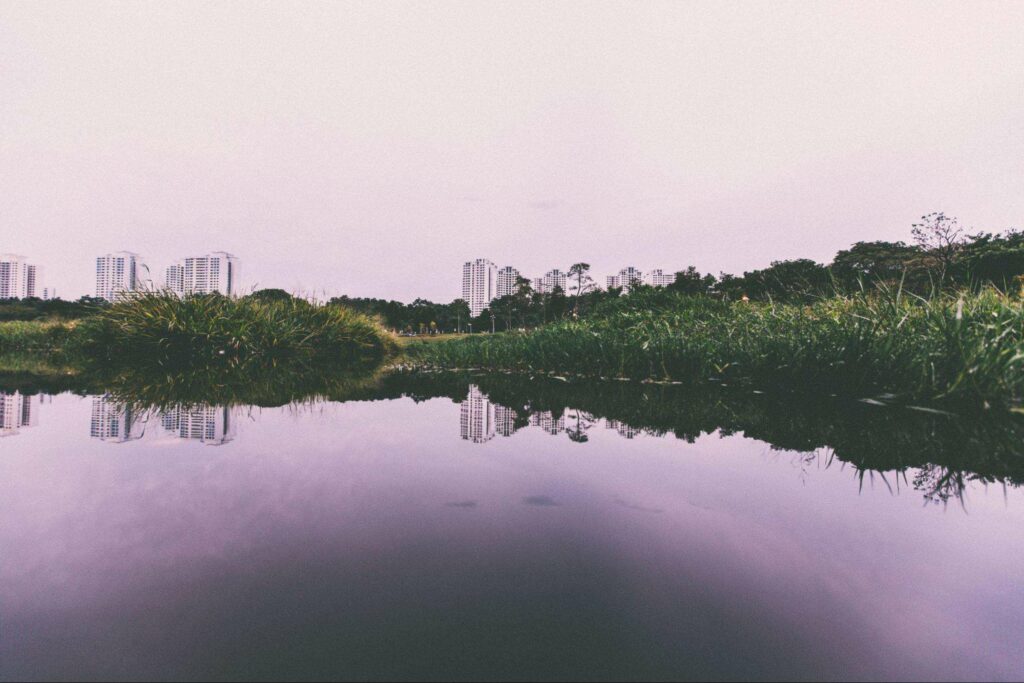 | | |
| --- | --- |
| Nearby MRT Stations | Toa Payoh, Kallang, Potong Pasir, Tai Seng, Buangkok, Yio Chu Kang, Ang Mo Kio, Bishan |
Taking the Central Urban Loop will allow you to enjoy the Heartlands' charms, including residential estates, thriving foliage, and diverse wildlife.
The route starts at Toa Payoh Town Park and passes through the Whampoa Park Connector (with its hawker fare) and Kallang Park Connector (with its mature residential estates).
The highlights near the end, meanwhile, include the lovely parks of Bishan-Ang Mo Kio and Punggol.
How long is the Central Urban Loop?
The Central Urban Loop stretches for 36 kilometers, hugging within its perimeter Singapore's housing estates, lush parks, and hawker centers.
This urban PCN provides an escape from the city center without going too far, ideal for tourists and locals who are staying in CBD.
How long is the PCN in Singapore?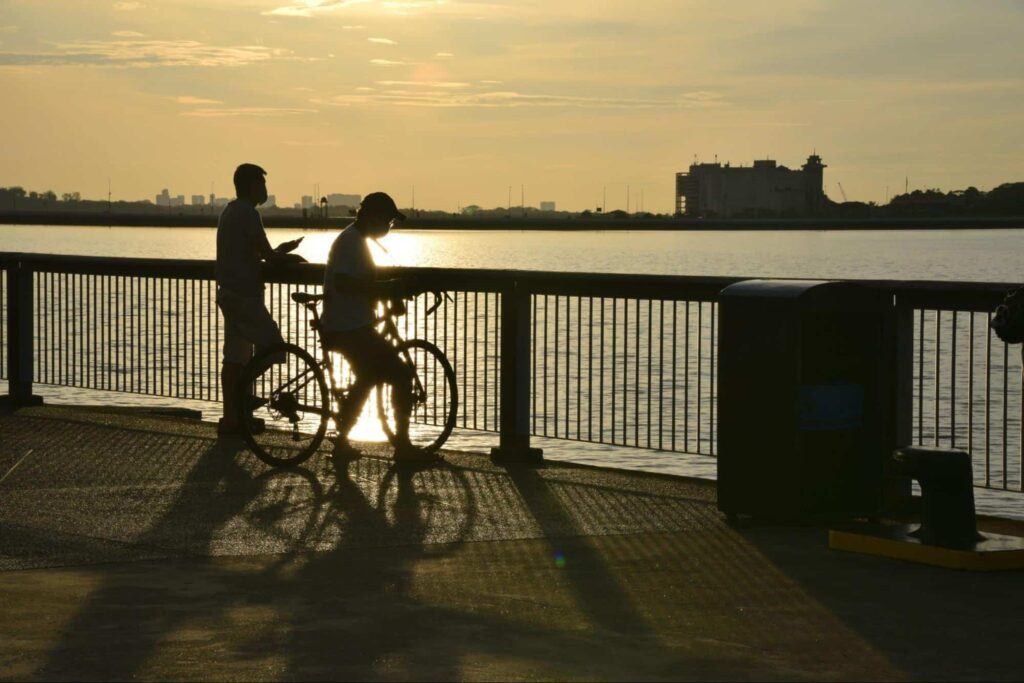 The Park Connector Network in Singapore has a combined distance of 300 kilometers across six loops.
The PCN loops include the Central Urban Loop, Eastern Coastal Loop, North Eastern Riverine Loop, Northern Explorer Loop, Southern Ridges Loop, and Western Adventure Loop.
The loops provide green corridors that link the many parks and nature reserves around Singapore, providing easy access for cyclists, joggers, and anyone who wants to go active.
Where should I cycle in Singapore for beginners?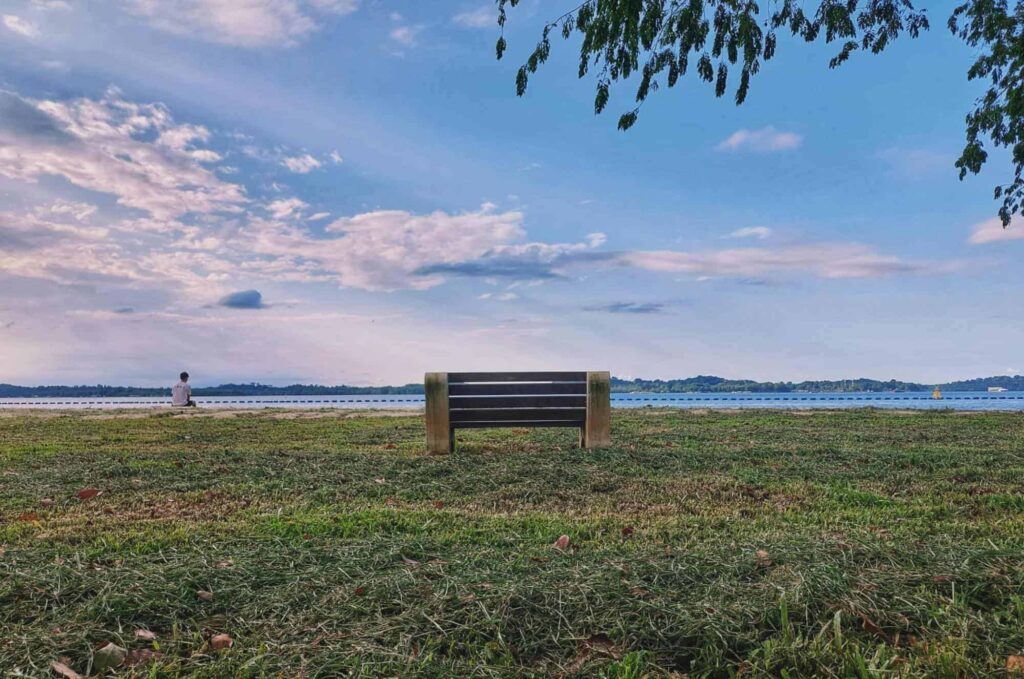 The cycling routes in Singapore ideal for beginners include paths that are generally flat and short.
Such cycling paths are found in parks that are included within the larger cycling loops across the country.
Parks that have beginner-friendly tracks include
Pasir Ris Park
East Coast Park
Bedok Reservoir Park
Upper Seletar Reservoir Park
West Coast Park
Do I need to register my bicycle in Singapore?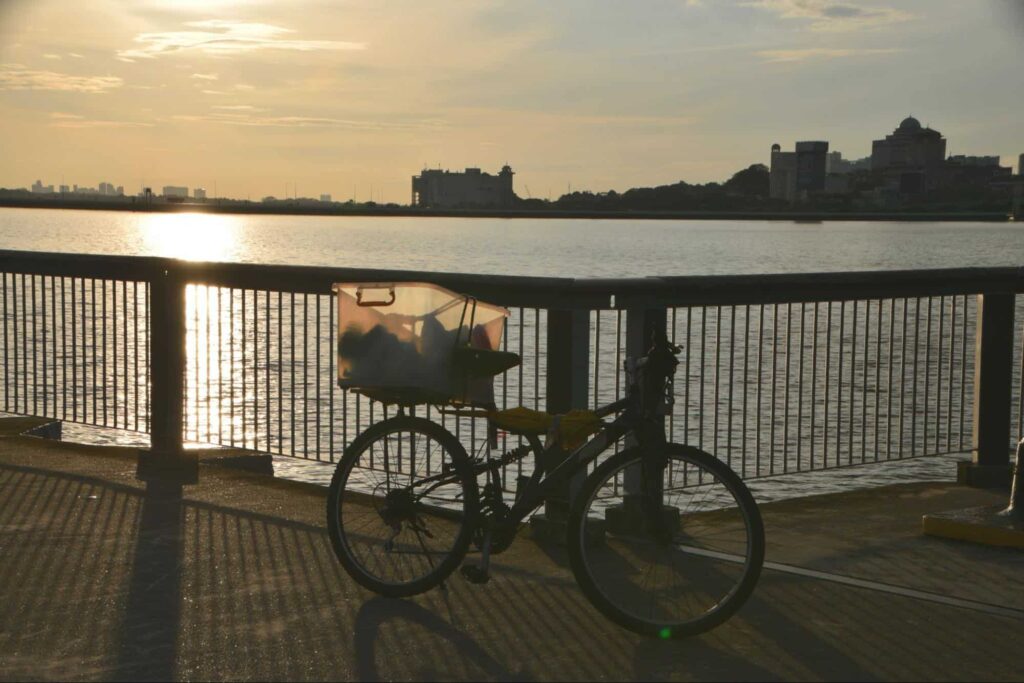 You are not required to register your bicycle in Singapore, provided that it's not a Power-Assisted Bicycle (PAB).
The latter, meanwhile, should be registered with the Land Transport Authority.
If you're buying from a registered dealer, you need to get the retailer to transfer the PAB's registration to your name.
Those who are importing a PAB will need to bring the bicycle for type approval, sealing, and registration.
How much does it cost to rent a bike in Singapore?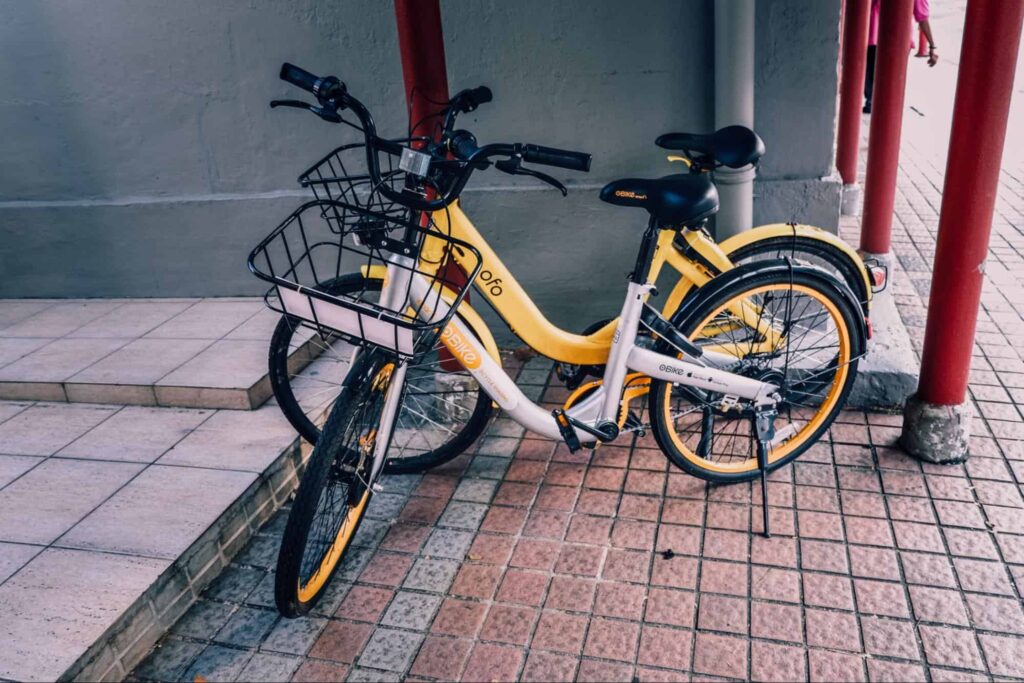 Renting a bike in Singapore can cost you anywhere from $1 every 30 minutes to $15 per hour.
The exact price will depend on the rental stops available in your area, the type of bike you want to rent, and the number of hours or days of usage.
Here are some bike rentals in Singapore and their rates.
The Bicycle Hut
– Kids bike: $12 for 2 hours
– Foldable urban bike: $20 for 3 hours
– Urban hybrid: $20 for 3 hours, $35 for a whole day
– City bike: $25 for a whole day
– 2-seater bike: $30 for 3 hours
City Scoot
– First hour: $10 – $15
– Daily rate: $35 ($25 the next day)
GoCycling
– Adult single bike: $10 per hour
– Kids bike: $8 per hour
– Childseat bike: $16 per hour
– Tandem bike: $20 per hour
– Family bike: $40 per hour
Biking Singapore
– Foldable bike: $30 – $65 for 3 hours, $60 – $89 for a whole day
– Vintage bike: $120 for 4 hours, $180 for a whole day