Categories >
Guides and Tips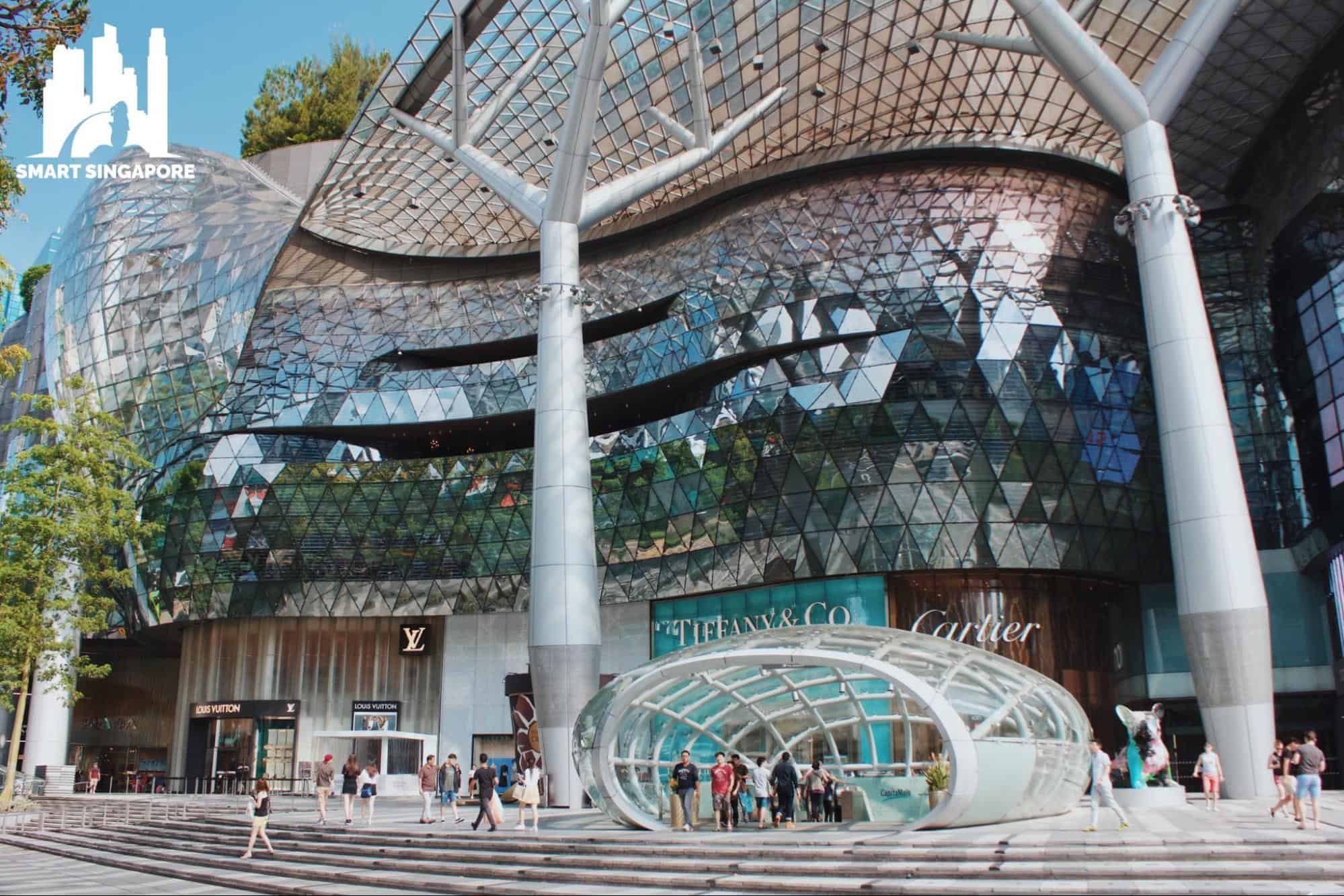 Your Ultimate Food Guide to Orchard Road
Wondering what to eat at Orchard Road before or after your shopping spree? 
We've scoured the two-kilometer strip and its nearby roads to sample the wide-ranging food selection the shopping district has to offer. 
We've also kept in mind your various palates and appetites, so we've tried several stops from cozy cafes to Michelin-starred restaurants to best-value diners.
Dive into our guide to spare yourself the endless search and hunger pangs!
What is Orchard Road famous for?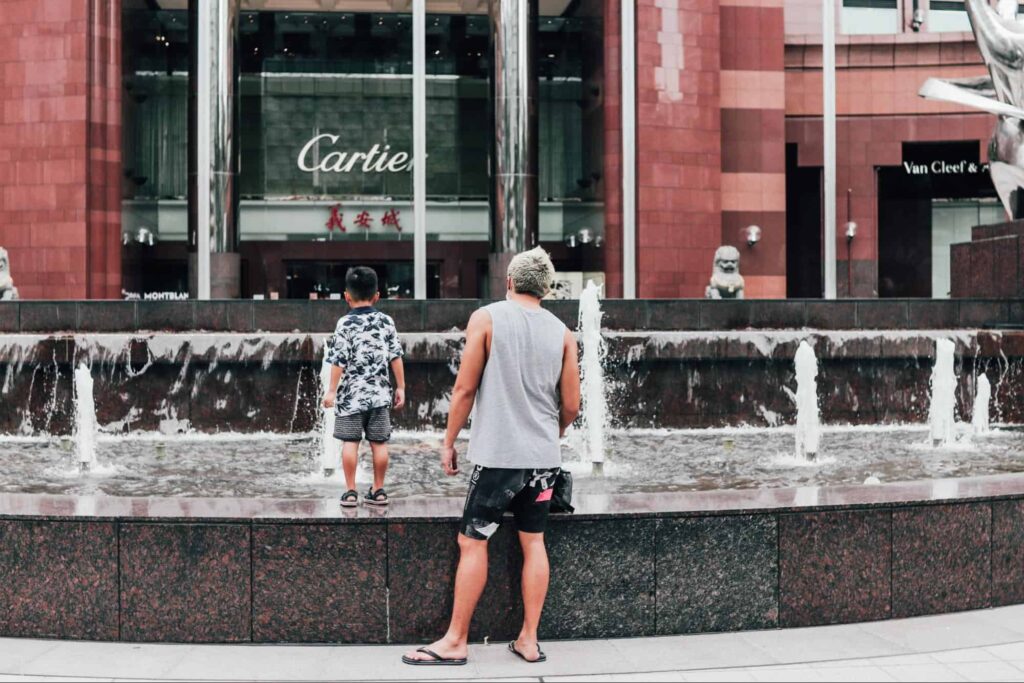 Orchard Road in Singapore is famous for its large selection of world-class shopping malls and award-winning luxury hotels. 
Moreover, it boasts a vibrant dining scene, merging local, international, and fusion cuisine to create a food haven for visitors.
Some of the most recognizable retail icons on Orchard Road are the ION Orchard with its futuristic and shimmery architecture and the Ngee Ann City for its iconic oriental facade.
Five and four-star hotels also dot the boulevard, including the acclaimed Four Seasons Hotel and Orchard Hotel.
Dining options in Orchard Road range from fusion dishes crafted by Michelin-star restaurants like Béni and Les Amis to Chinese hot pots to Western burgers, plus plenty of coffee, tea, and champagne goodness.
Inside this Guide
What to Eat at Orchard Road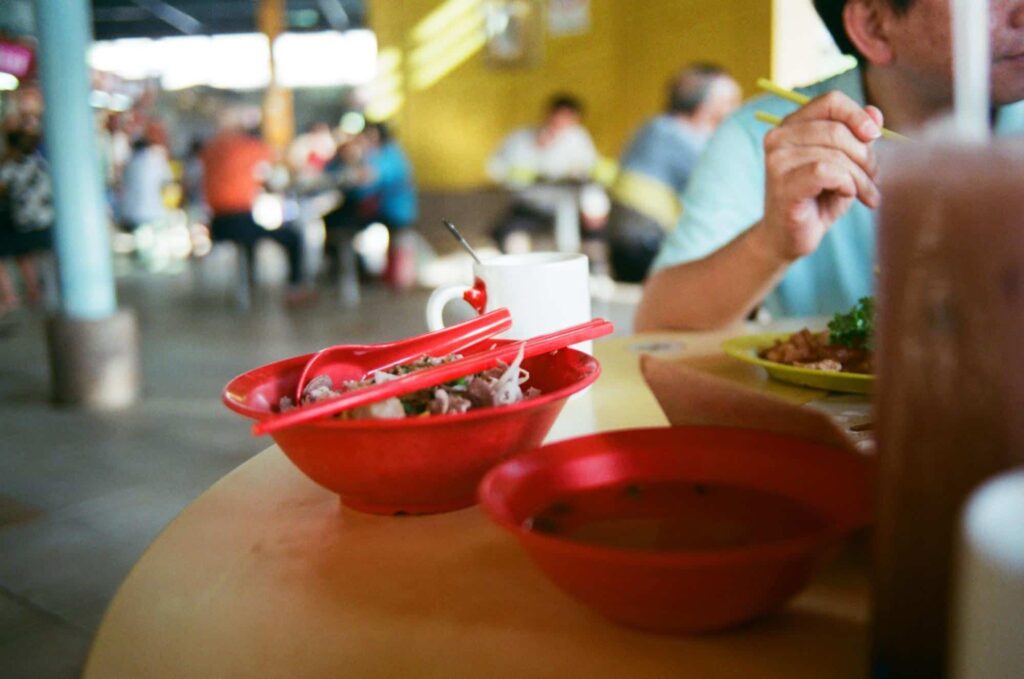 Choosing what to eat at Orchard Road can be overwhelming due to the extensive choices available.
To get you started, we recommend digging into local flavors first. Look for dining spots serving the well-loved chili crab, chicken rice, laksa, and char kway teow (stir-fried noodles).
These dishes are the most sought-after by locals for their homey taste and reasonable prices.
Next is to check out cafes and order their best-selling menu items, usually pasta and mains such as rib steaks.
It's ideal to visit such establishments for breakfast or brunch to kickstart your day before you go exploring the strip.
If you're looking to feed a group of people, Orchard Road's casual dining and buffet options should be enough to cater to your folks' cravings.
For dinner dates, nothing is as special as taking your loved one to a fine-dining restaurant (preferably a Michelin-star one) to experience a rich culinary journey.
When night falls and you still have the energy, Orchard Road's award-winning bars with their inventive mixes should be there waiting to keep you company.
Best Cafes on Orchard Road
Start your day with a cup of coffee or tea and a hearty brunch from the best cafes on Orchard Road.
1. Dig into flavorful pasta and pizza at Merci Marcel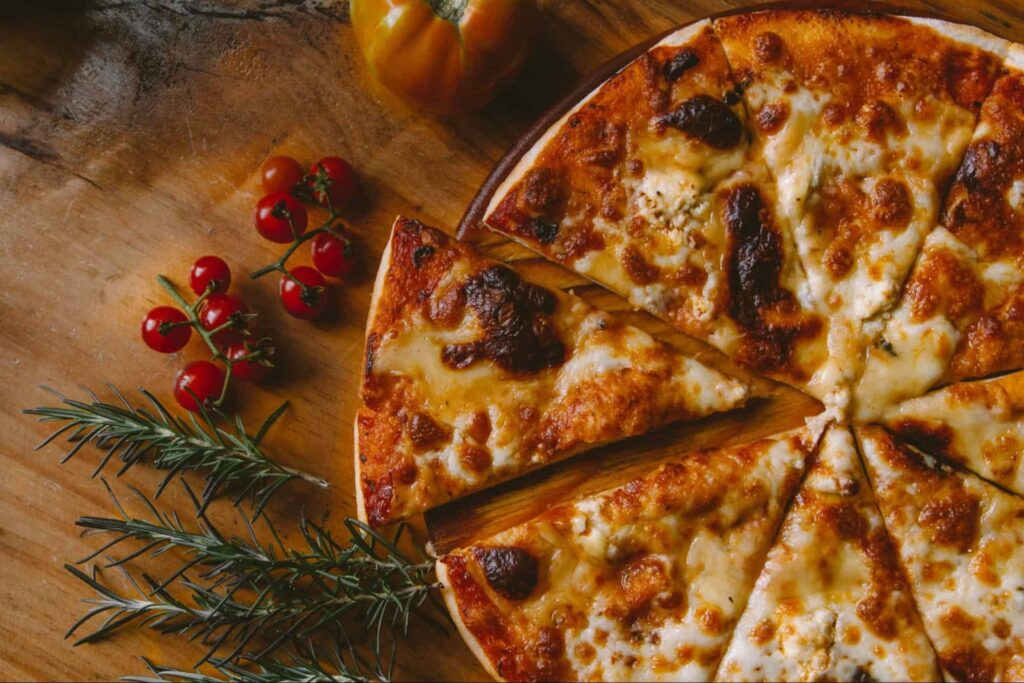 Address
390 Orchard Rd, #01-03 to 04, Palais Renaissance, Singapore 238871
Contact Details
+65 6735-2608
Opening Hours
Monday, Sunday: 8:00 AM – 11:00 PM
Tuesday to Saturday: 8:00 AM – 12:00 AM
Menu
Latte: $6.50
Chocolate: $6
Croissant: $4
Benedict eggs: $24
Ravoiles de Royans: $20 – $32
Impossible Marcel Burger: $29
Tarte flambée: $27
Brunching on pasta and pizza is a regular occurrence in Merci Marcel, so you'll never feel guilty of big orders like the unforgettable ravioli and delightful tarte flambée.
The croissant is another winner with its crispy exterior and buttery goodness that you can smell upon serving.
It's also a good idea to recharge in the cafe because of the cozy yet chic interiors and outdoor green views.
The staff is friendly and accommodating, too, and it's not impossible that some of the cheerful vibes will rub off on you.
2. Start with flavorful fries and end with indulgent cakes at PS.Cafe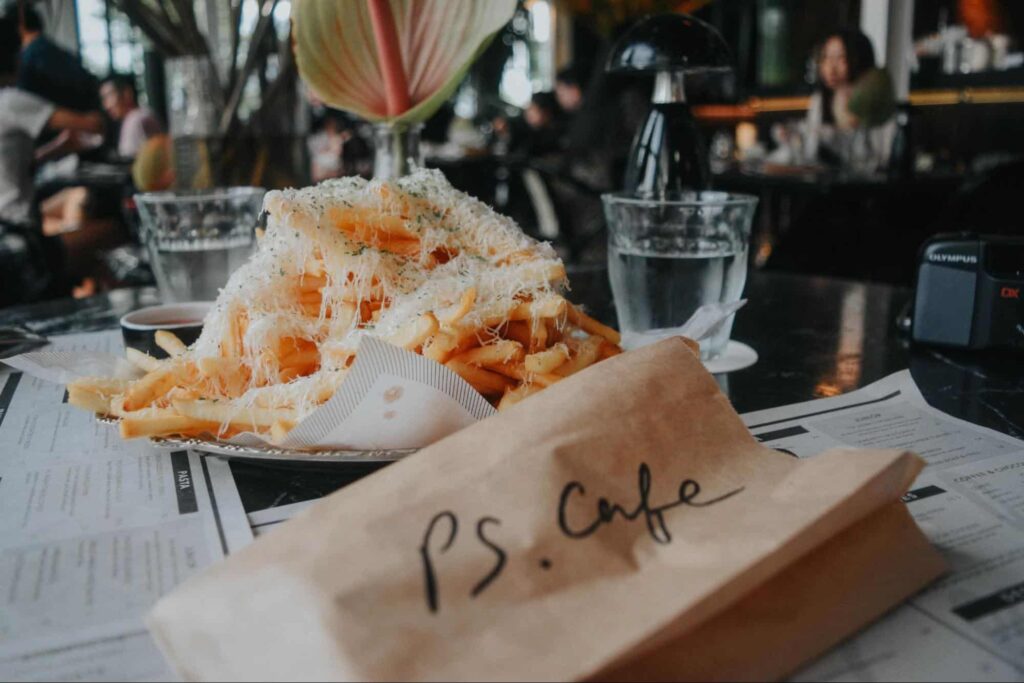 Address
390 Orchard Rd, #02-09A, Singapore 238871
Contact Details
+65 6708-9288
Opening Hours
Daily: 11:00 AM – 10:00 PM
Menu
Coffee: $7 – $8
Tea: $7 – $9
PS. truffle shoestring fries: $19.50
PS. burger: $33.50
Chicken rossa penne: $30.50
Sticky date pudding: $17.50
PS.Cafe's signature truffle fries are tagged as starters, but the generous serving might as well be your whole brunch.
We recommend sharing it with your buddies or ordering a half serving, as the dish is addictive (especially if you live for fries). Also, do it so you can order more food.
Any of the pasta dishes (we love the chicken rossa penne) or the signature PS. Burger is great for big meals following the fries.
But the real highlight is the desserts. The sticky date pudding's toffee sauce sensation will stick in your mind for a long time.
The most important is the PS.Cafe's ambiance. High ceilings make for an airy space and the modern interior is welcoming.
You might want to book ahead of time, though, because the place tends to be packed.
What does PS in PS.Cafe stand for?
The PS in PS.Cafe is derived from the company's previous label Projectshop.
Before it became the beloved F&B outlet it is today, PS.Cafe was once a clothing line specializing in menswear, bags, and accessories.
The founders, Peter Teo, Philip Chin, and Richard Chamberlain, decided to make the full switch from fashion to food in 2005 with the opening of PS.Cafe at Harding.
3. Delight in a cup (or two) of black coffee at Little Grain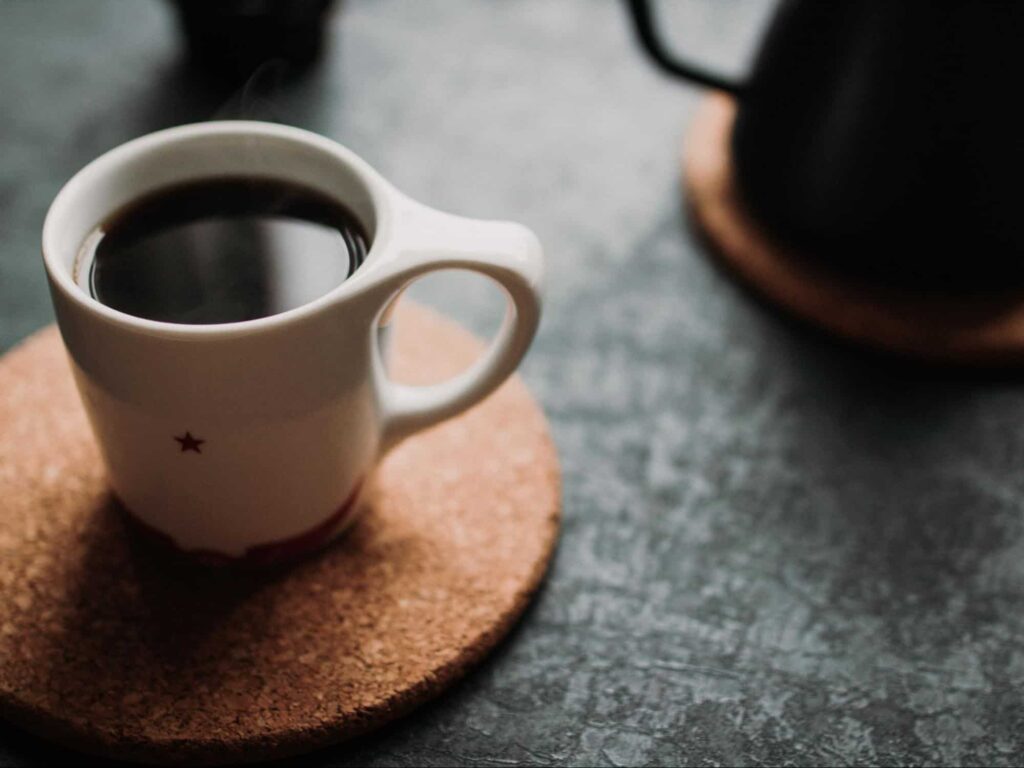 Address
304 Orchard Rd, Singapore 228863
Contact Details
+65 8625-5894
Opening Hours
Daily: 8:00 AM – 7:00 PM
Menu
Coffee: $3.80 – $6.80
Specialty tea: $4.80 – $5.80
French chocolate: $5.80
Croissant: $3.80
Red velvet cake: $8.80
The self-proclaimed "Asia's smallest cafe" Little Grain is a definite charmer with its space-saving kiosk and two lovely small chairs for customers.
It's got some real pull, especially after so much walking around Orchard Road.
Though tiny, the coffee selection here does hit the right buttons. Meanwhile, the straightforward menu of bread and cake is ideal for quick bites for busy people.
The cafe is located in a shaded location. If the seats are available, you can do as we did and sit there watching people while sipping your joe.
4. Cap off your brunch with fluffy pancakes at Walking on Sunshine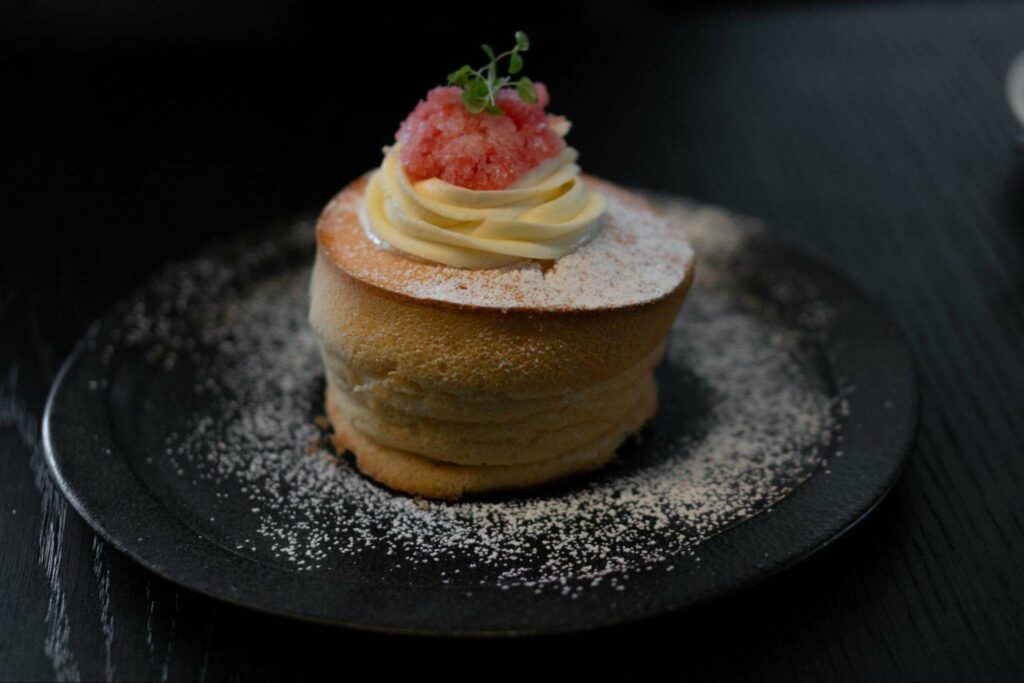 Address
181 Orchard Rd, #03-07, Orchard Central, Singapore 238896
Contact Details
+65 8877-0088 | hello@walkingonsunshine.sg
Opening Hours
Monday to Thursday, Sunday: 9:00 AM – 10:00 PM
Friday to Saturday: 9:00 AM – 11:00 PM
Menu
Ginseng coffee: $7.50 – $8.50
Coconut smoothie coffee: $8
Dalgona coffee: $8
Luke's Favorite: $25
Bulgogi beef cream fettuccine: $24
Signature souffle pancake: $22
Walking on Sunshine serves healthy brunches with a Korean-Western twist, effectively debunking the myth that eating healthily is boring to the palate.
Luke's Favorite, which is a mix of salmon, poached egg, rice, sesame dressing, quinoa, and avocado, lives up to the cafe's fusion cuisine branding.
Also, the ingredients are rich in fiber and antioxidants, allowing for (mostly) guilt-free eating.
The ginseng and coconut smoothie coffee is a must-try, too, even if only for the novelty of it.
For dessert, know that it will take about 20 minutes before they can serve you the most-raved-about souffle pancake. Thankfully, the taste is worth the wait.
5. Perk yourself up with a cup of cold brew at Oriole Coffee + Bar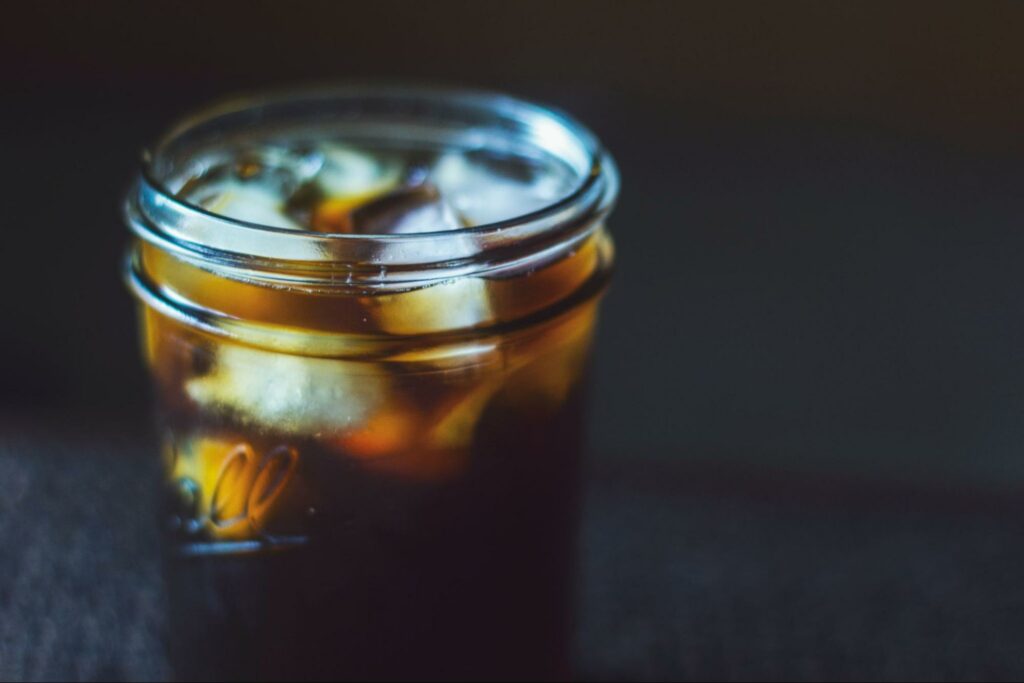 Address
96 Somerset Rd, #01-01, Pan Pacific Serviced Suites Orchard, Singapore 238163
Contact Details
+65 6238-8348 | enquiry.pp@oriole.com.sg
Opening Hours
Monday to Thursday: 11:00 AM – 10:30 PM
Friday: 11:00 AM – 11:30 PM
Saturday: 10:00 AM – 11:30 PM
Sunday: 10:00 AM – 9:30 PM
Menu
Taisho coffee (cold brew): $7.50 – $10.50
M.A.D. milk: $11.50
Death cream: $13.50
Matcha latte: $12.50
Sweet soy pork ribs: $32
Spicy crabmeat capellini: $28
Smoked salmon pizza: $28
Juicy Lucy Quarter Pounder: $28
Oriole Coffee's signature cold brews have got to be the best thing ever for coffee aficionados partly because the cafe added some twist to them.
For instance, nut milk instead of dairy milk is used for white Taisho coffee, which we believe is the healthier option (unless you're allergic).
Meanwhile, the mains are perfect for big brunches meant for sharing. The cafe's ribs and crabmeat are particularly phenomenal with their wealth of spices.
The interiors are rather simple, but the wooden flooring and tables make the space pop with a classic, familiar cafe vibe.
Best Michelin-Star Restaurants on Orchard Road
Orchard Road has several restaurants donning the highly coveted Michelin star. Here are the ones worth checking out.
6. Taste exquisite roasted dishes at Les Amis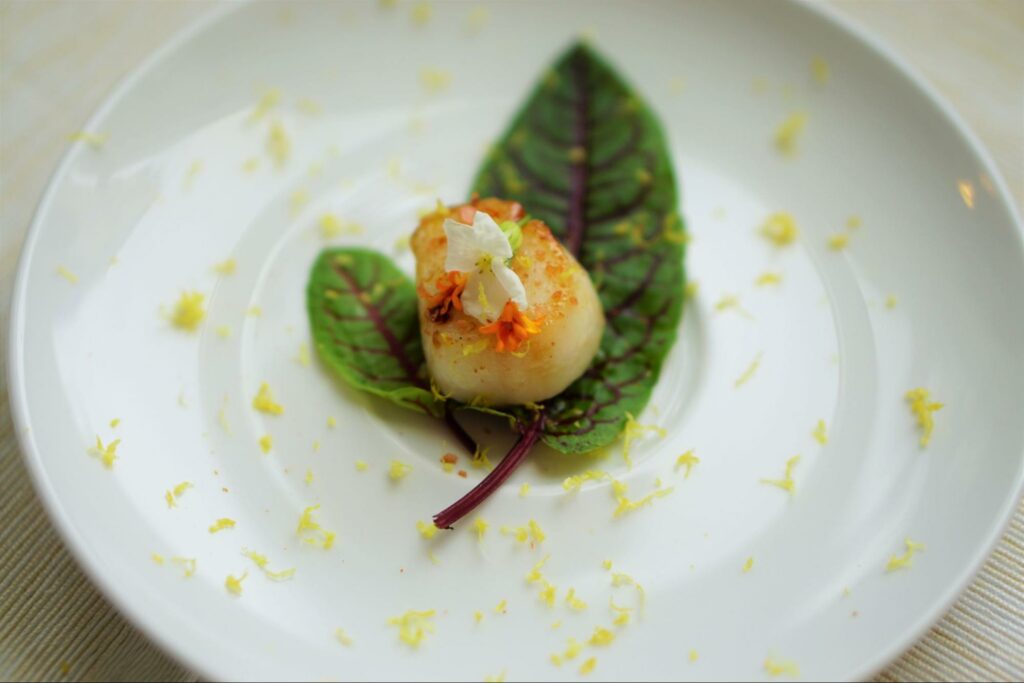 | | |
| --- | --- |
| Address | 1 Scotts Rd, #01-16 Shaw Centre, Singapore 228208 |
| Contact Details | +65 6733-2225 |
| Opening Hours | Daily: 12:00 PM – 2:00 PM, 7:00 PM – 9:00 PM |
| Menu | Courses start at $355 |
Les Amis has three Michelin stars and one of Asia's finest wine selections, making it a sort of a must-try if you're looking for a fine-dining experience in Orchard Road.
We particularly love the restaurant's roasted scallops and duck breast. The presentation and taste of these dishes are exquisite.
The bread and artisanal cheese pulled no punches, too. It might even inspire you to try out authentic French bakeries!
It's best to ask the sommelier for a matching wine beyond the usual recommendations.
7. Fill your tummy with deftly prepared Peking duck at Shisen Hanten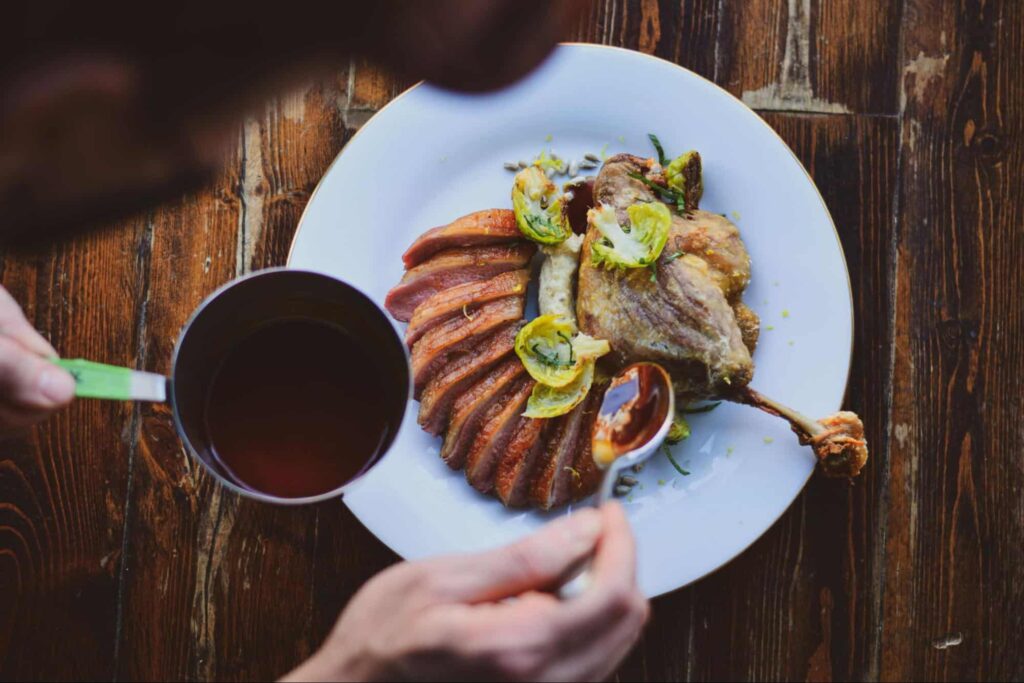 Address
Level 35, 333 Orchard Rd, Hilton Singapore Orchard, Singapore 238867
Contact Details
+65 6831-6262
Opening Hours
Monday to Friday: 12:00 PM – 3:00 PM, 6:00 PM – 10:00 PM
Menu
Chilled spicy steamed chicken: $26
Szechwan hot and sour soup: $15
Deep-fried diced chicken with chili peppers: $34
Classic Peking duck: $42 – $80
Mapo doufu: $26
Coconut fantasy: $38
Shisen Hanten marries the spicy richness of Szechwan cuisine with the gentle umami of Japanese fare, making it a palatable option for locals and foreigners that love innovative dishes.
The chili options here are not as tongue-numbing as pure, unadulterated Szechwan dishes, and that's the point. The goal is to make customers enjoy the food in all its seven flavors.
The steamed chicken and mapo doufu are delightful, and the Peking duck (which is extremely popular) is delicious in a familiar, homey way.
Shisen Hanten is one of the few Michelin-star restaurants in Singapore with more accessible prices. The fact that it has two stars is reason enough to sample the dishes without worrying much about your budget.
8. Pop in some tasty sushi pieces at Shinji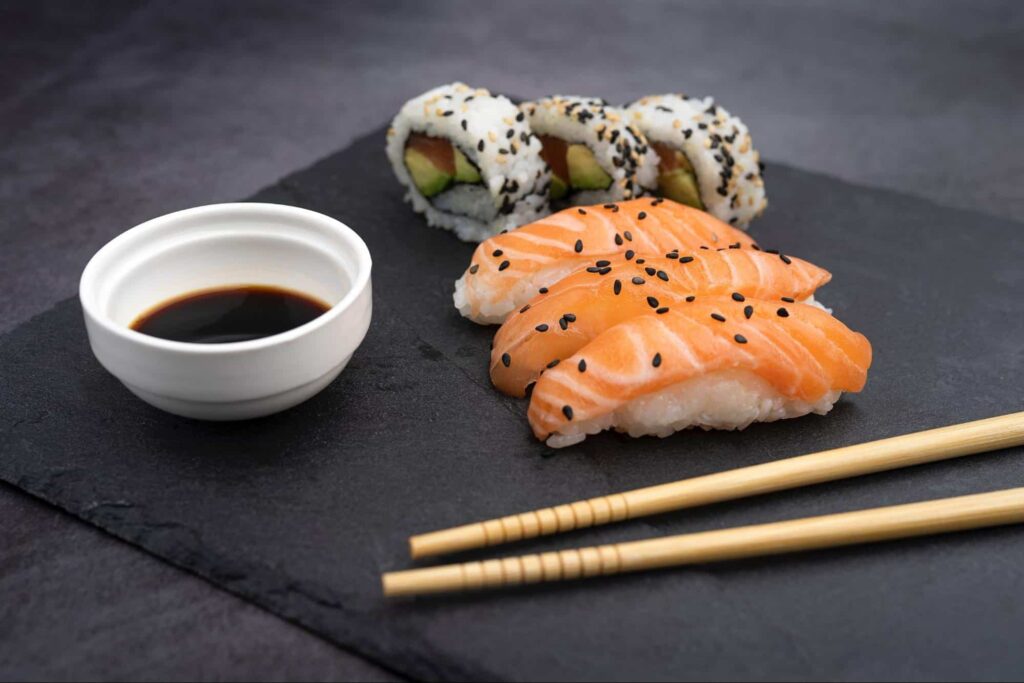 Address
29 Tanglin Rd, Lobby Floor, The St. Regis, Singapore 247911
Contact Details
+65 6884-8239 | reservations@shinjibykanesaka.com
Opening Hours
Monday to Saturday: 12:00 PM – 3:00 PM, 6:00 PM – 10:30 PM
Menu
Omakase starts at $280
Sushi sets start at $100
Shinji is the place to go if you're planning to splurge on high-quality sushi.
The restaurant has a wide array of tasty, balanced pieces and umami dishes to satisfy your cravings for everything Japanese.
You can either opt for the omakase option (a full-course meal, with recommendations from the chef) or savor your sushi with the nine to 15-piece servings.
The taste of the food aside, it's the chefs who complete the dining experience. We got out of the restaurant knowing more about sushi and Japanese hospitality.
Booking your visit is imperative in Shinji, so plan ahead.
9. Delight in every bite of Wagyu and lobster at Iggy's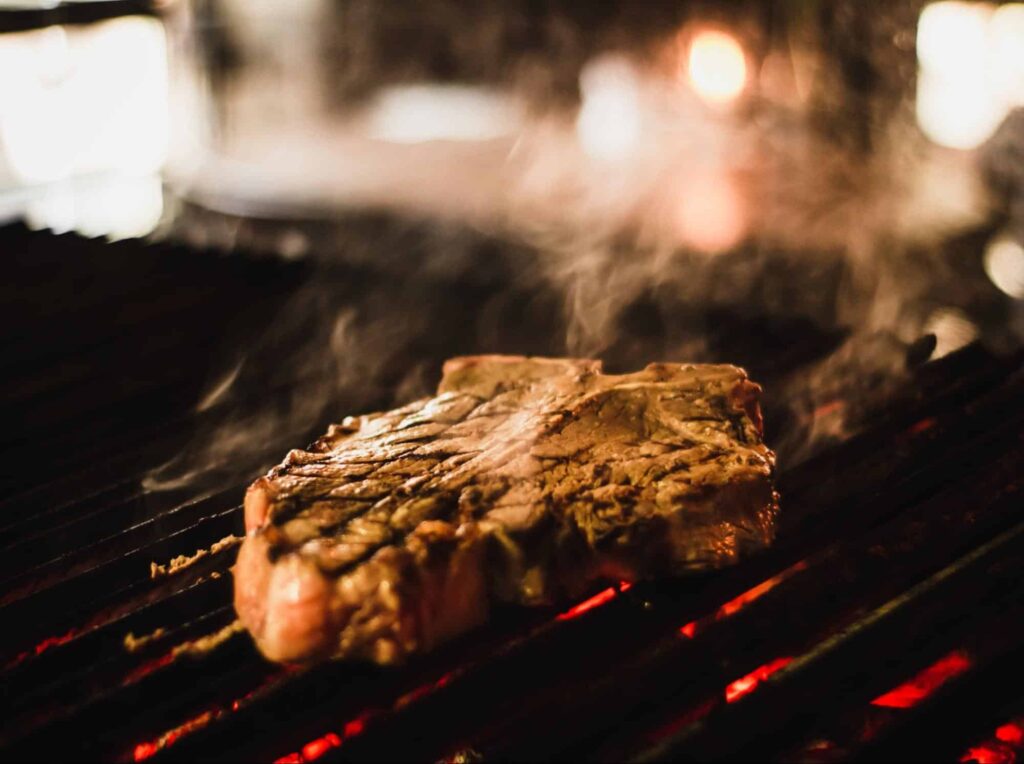 Address
581 Orchard Rd, Voco Orchard Singapore, Singapore 238883
Contact Details
+65 8188-3200
Opening Hours
Tuesday to Saturday: 12:00 PM – 1:30 PM, 6:00 PM – 8:30 PM
Menu
Lunch tasting: $150 
Gastronomic: $295 – $325
Iggy's deserves your attention if you want to know what European cooking infused with the local flavor tastes like.
We are particularly in awe of the care the restaurant has when choosing ingredients, ensuring that each element of the dish is fresh and high-quality. Our favorites are the Wagyu and lobster masterpieces!
It's also exciting to see the chefs in action thanks to the open-kitchen concept.
The place is small and has few tables, making it ideal for intimate meals. Just ensure to book early to get a seat.
The restaurant also has an impressive selection of Burgundy vintages that will make wine lovers swoon.
10. Dig into savory scallops at Béni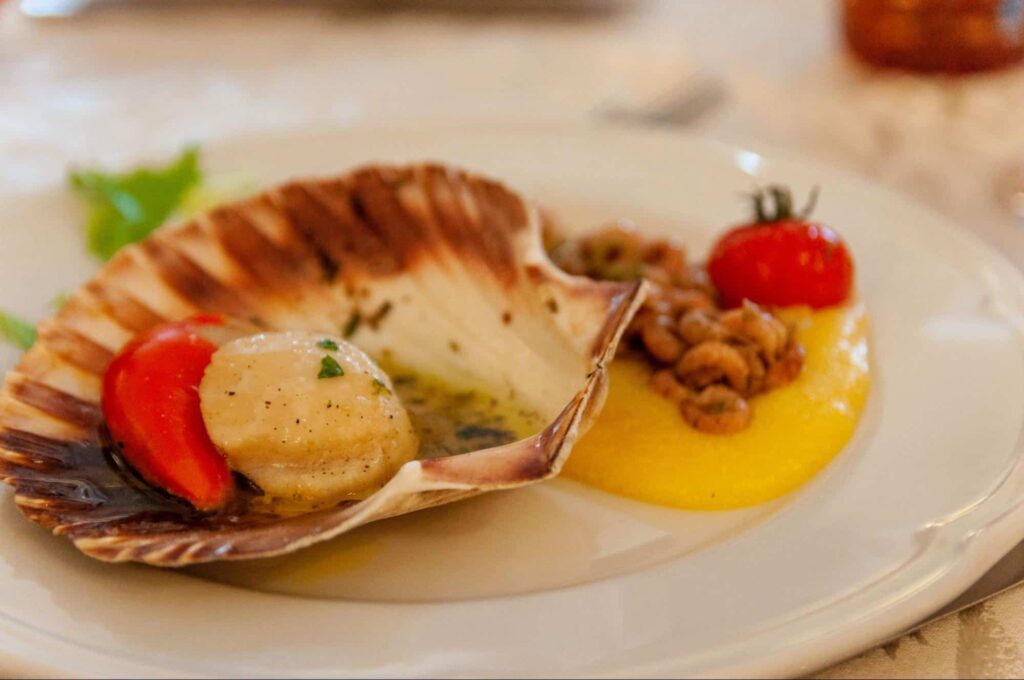 Address
333A Orchard Rd, #02-37, Mandarin Gallery, Singapore 238897
Contact Details
+65 9159-3177 | enquiry@beni-sg.com
Opening Hours
Monday to Saturday: 12:00 PM – 3:00 PM, 7:00 PM – 10:30 PM
Menu
Lunch courses: From $118
Dinner courses: From $268
You'll find Béni's courses extra exciting if you love French and Japanese cuisine.
Particularly, the mushroom soup and scallops here are some of the best embodiments of said culinary fusion!
It also features an open-kitchen concept, adding an element of entertainment to the dining experience.
Moreover, the food presentation here is tastefully artistic. The dishes look like art pieces but not so overdone that they come off as inedible.
Best Asian Restaurants on Orchard Road
Orchard Road is a treasure trove of Asian fare. We picked the best restaurants to let you taste the region's most distinct flavors.
11. Eat your fill of savory grilled fish at TANYU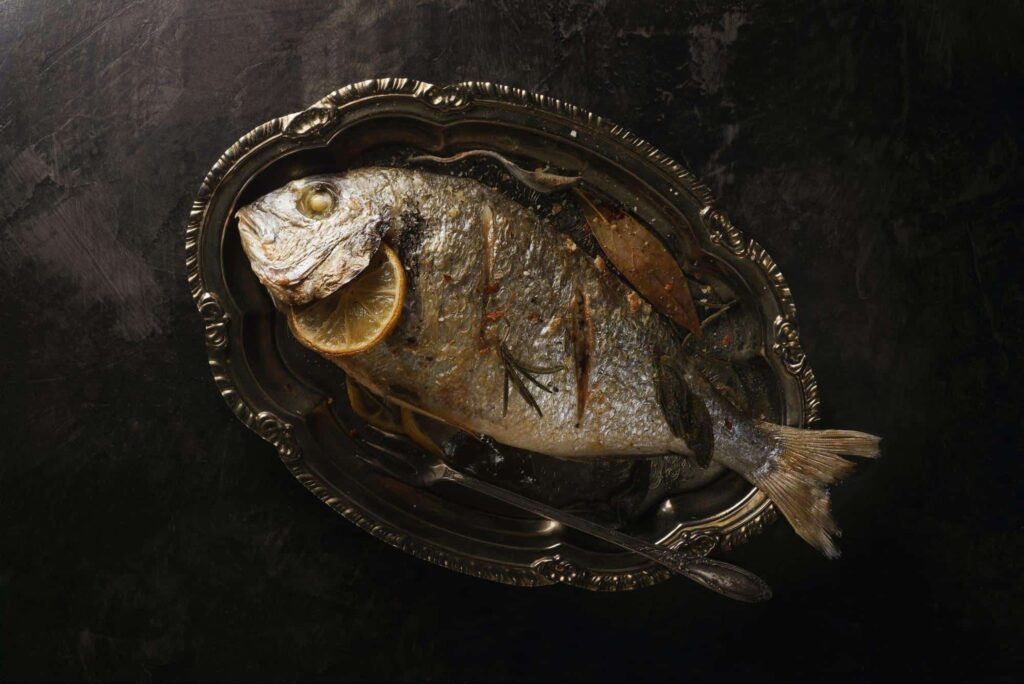 Address
313 Orchard Rd, B3-30/31/32, Singapore 238895
Contact Details
+65 6509-8887
Opening Hours
Daily: 11:30 AM – 10:00 PM
Menu
Grilled fish: $51.90 – $54.90
Baby lobster: $33.90
Green pepper bullfrog: $62.90
Grilled lamb: $9.80
Roasted scallop: $4.90
Clear noodles with chili sauce: $9.90
TANYU is best known for its grilled fish, and for good reason.
Whether it's QingJiang, limbo, or sea bass, expect the fish to be swimming in a party of flavors from good ol' soy sauce to beancurd to pepper.
We love the grilled fish in soy sauce flavor, as it's tasty and not too salty.
If you want another variant for balance and don't mind the tongue-numbing, go for the green pepper (or the much spicier hot spicy flavor) to keep you and your folks interested.
There's usually a long queue here during dinner time, so we recommend booking or arriving early to secure a seat, or opt for lunch on a weekday instead.
Why is TANYU so popular?
TANYU is popular in Singapore in part because of its old reputation that goes back to Shenzhen, China.
It was launched 10 years ago there in 2013 and became popular overnight due to its phenomenal grilled fish. The restaurant cemented itself as a total hit with over 100 operating outlets in China today.
Singaporeans seeing this popularity understandably went for it when TANYU launched here in 2017. The restaurant, with four outlets across Singapore, has received rave reviews consistently since expanding here.
12. Stuff yourself with flavorful eel at Uya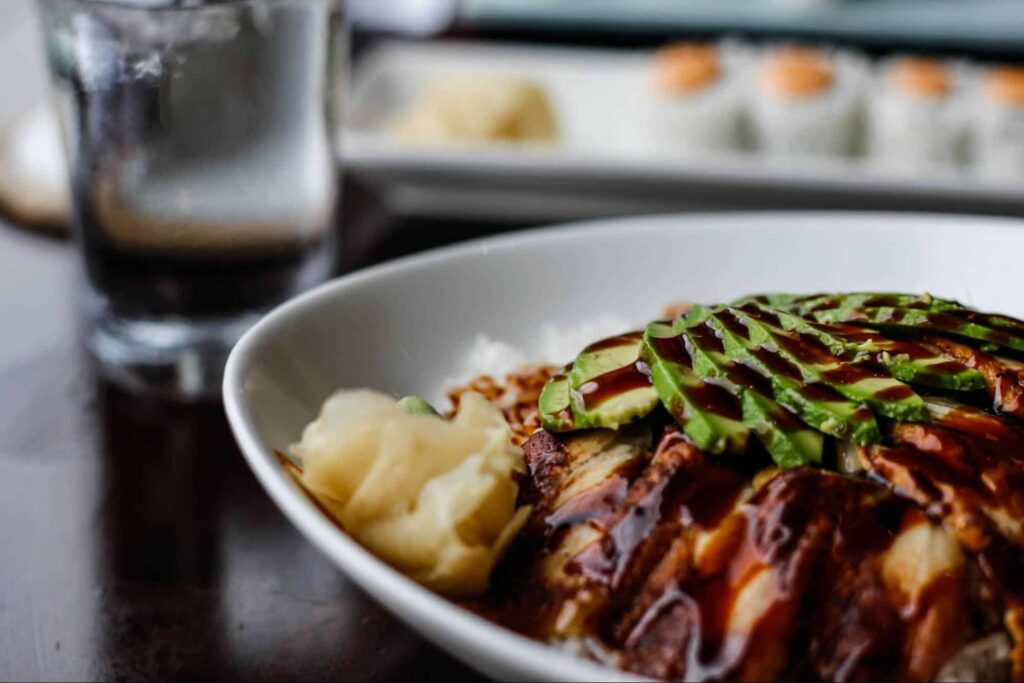 Address
501 Orchard Rd, Wheelock Place #02-15/16, Singapore 238880
Contact Details
+65 6732-1096
Opening Hours
Monday to Thursday, Sunday: 12:00 PM – 3:00 PM, 6:00 PM – 9:30 PM
Friday to Saturday: 12:00 PM – 3:00 PM, 6:00 PM – 10:00 PM
Menu
Hitsumabushi (chopped-up eel): $35 – $48
Sashimi rice bowl: $27
Unagi rice box: $46
Healthy unagi rice bowl: $29
Unagi (or eel) cuisine is certainly a must-try for fans of Japanese food. Thankfully, Uya in Orchard Road makes the dish accessible with its middle-range prices and easy-to-reach location.
The restaurant's signature dish Hitsumabushi (chopped-up eel served with condiments, broth, soup, and pickles) does not disappoint.
The flavor of the eel comes through, and the tare (sauce) is savory without being overpowering.
Uya's sashimi also deserves a shout-out for its nice presentation, gentle flavors, and generous portions.
13. Enjoy modern Peranakan beef rendang at Bonding Kitchen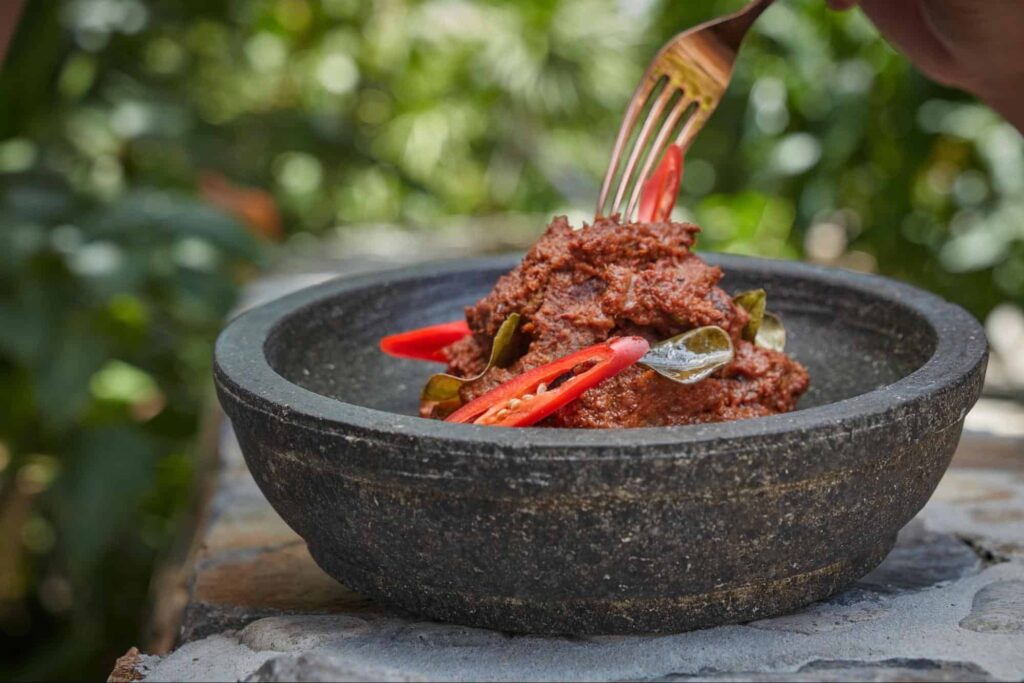 Address
277 Orchard Rd, #02-18. Orchard Gateway, Singapore 238858
Contact Details
+65 8860-9087
Opening Hours
Daily: 11:30 AM – 3:00 PM, 5:00 PM – 9:30 PM
Menu
Kueh pie tee: $12
Wagyu beef rendang: $32
Ayam buah keluak: $22
Barramundi fish assam pedas: $26
Nyonya chap chye: $15
Bonding Kitchen is often considered by many Singaporeans one of the better Peranakan restaurants in the city.
After tasting the hyped wagyu beef rendang, we agree with that claim to some extent. The beef is tender, the spices give off a subtle kick, and the whole dish has a distinct, homey Peranakan flavor.
The tangy and spicy ayam buah keluak and barramundi fish assam pedas are also satisfying to the palate and comforting to the soul.
The whole place has a warm vibe to it, perfect for families.
14. Bite into delicious butter chicken at The Curry Culture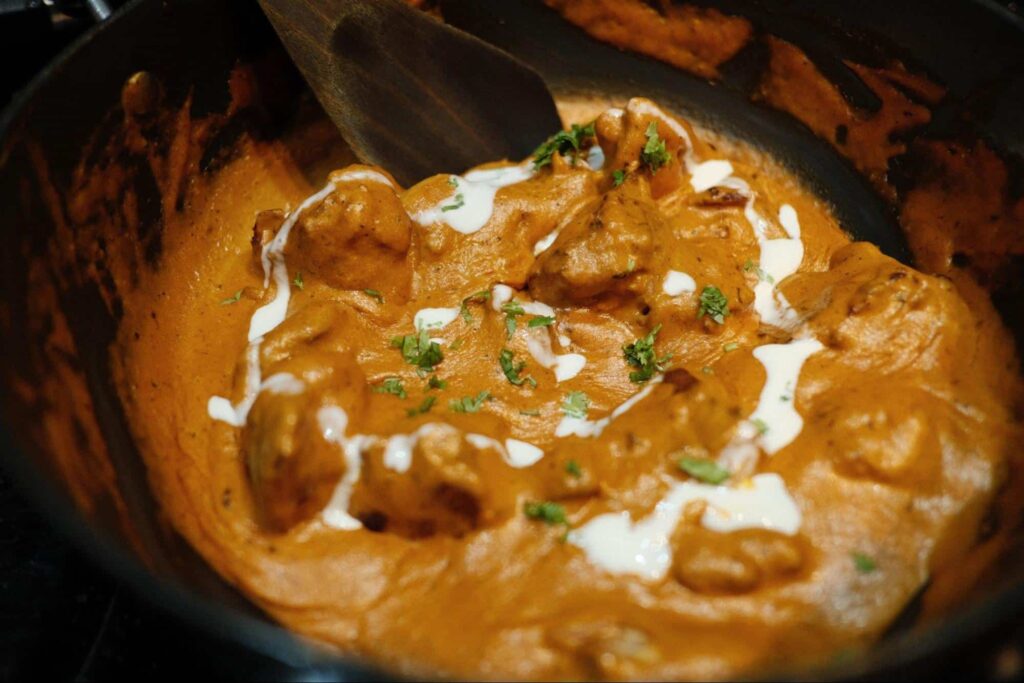 Address
31 Cuppage Rd, Cuppage Terrace, Singapore 229457
Contact Details
+65 6235-6133
Opening Hours
Daily: 12:00 PM – 2:30 PM, 5:30 PM – 10:30 PM
Menu
Chili cheese kebab: $22
Adraki panje: $28
Goan fish curry: $21
Butter chicken: $22
Dal makhani: $17
Palak paneer: $22
The Curry Culture with its friendly restaurant vibe makes eating authentic Indian food here more satisfying.
To get the most out of the cuisine, we recommend the kebab, fish curry, and butter chicken. The smell wafting in the air alone when these are served is already appetizing.
The restaurant also offers vegetarian dishes, which is a great plus!
The best part is that there are plenty of seats here for al fresco dining. This setup contributes a lot to the vibrancy of the place!
15. Cap off your meal with excellent wine at Jade Palace Seafood Restaurant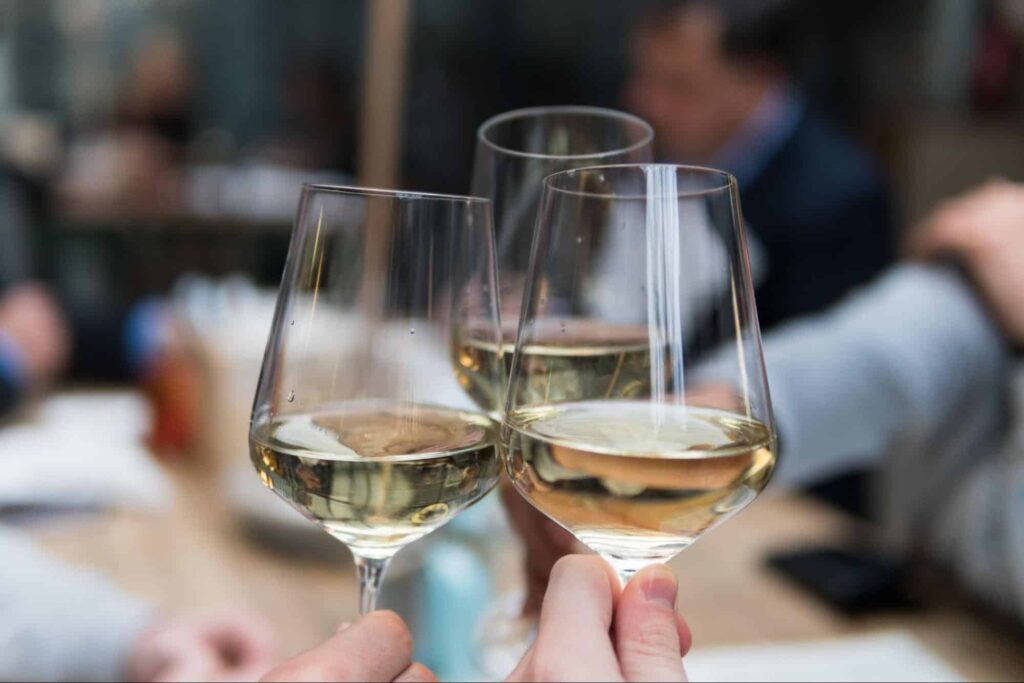 Address
583 Orchard Rd, B1-13, Forum The Shopping Mall, Singapore 238884
Contact Details
+65 6732-6628
Opening Hours
Daily: 11:00 AM – 2:30 PM, 6:00 PM – 10:00 PM
Menu
Clay pot rice: $68 – $118
Peking duck: $45 – $88
Stewed beef brisket: $36 – $54
Deep fried eel fillet: $44
Dim sum set: $38
Jade Palace's Cantonese dishes are a bliss to the taste buds and a feast to the tummy. Moreover, the trace of nostalgia from its old-style restaurant contributes to our food enjoyment.
The diner's rich clay pot rice, crispy Peking duck, and savory char siu are must-tries. Also, the xiao long bao here is one of the best in Orchard Road as far as our preferences are concerned.
Cap off your meal with a bottle of wine from the restaurant or bring your own. You are certain to enjoy the experience as the wine service here is superb!
Best Western Restaurants on Orchard Road
Orchard Road has a long list of local and international restaurants specializing in western cuisine. Here are the ones we believe deserve a visit!
16. Take a bite of nicely done steaks at Bedrock Bar & Grill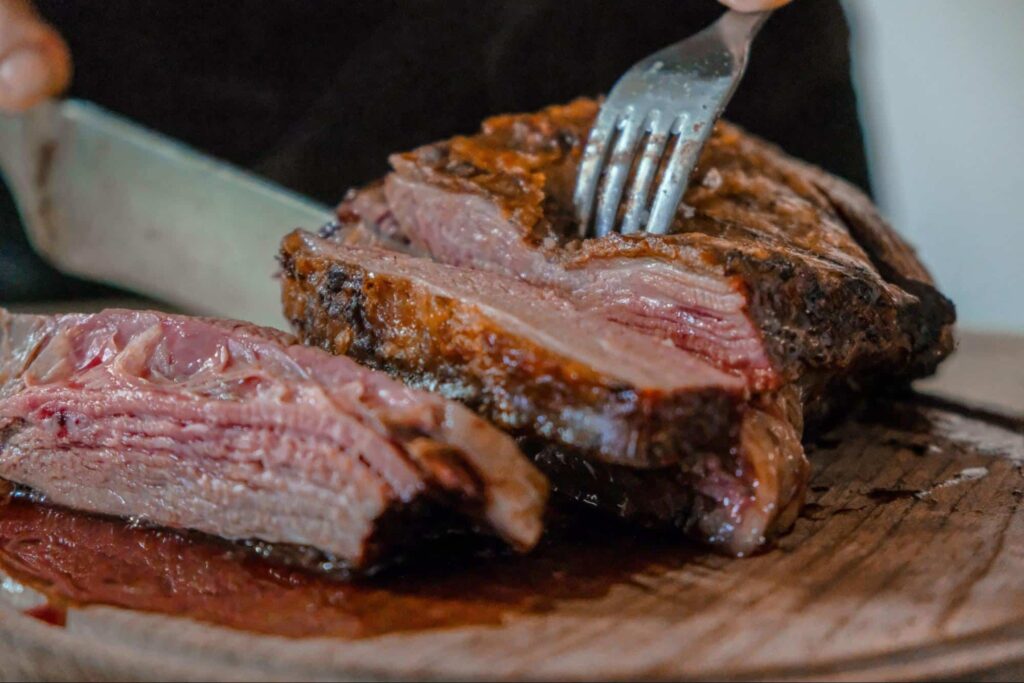 Address
96 Somerset Rd, #01-05, Pan Pacific Serviced Suites Orchard, Singapore 238163
Contact Details
+65 6238-0054 | enquiry@bedrock.com.sg
Opening Hours
Monday to Thursday, Sunday: 12:00 PM – 3:00 PM, 6:00 PM – 10:30 PM
Friday to Saturday: 12:00 PM – 3:00 PM, 6:00 PM – 11:00 PM
Menu
Roasted bone marrow: $29
Steak Diane: $32
Bedrock pepper steak: $118
Soy-cured wagyu beef carpaccio: $48
USDA prime grain-fed beef: $99
Whole rack of lamb: $158
Bombe Alaska: $24
Bedrock Bar & Grill has a wide selection of steak masterpieces, made better as the restaurant sources its beef from the US, Australia, and Japan.
We particularly love that we have yet to taste any steak that is not grilled to perfection here. Moreover, the seasoning is just right and the portions are certain to stuff you.
The mac and cheese and creamed spinach sides are also worth a mention for their rich, creamy flavors!
17. Enjoy all-meatless dining at Joie Restaurant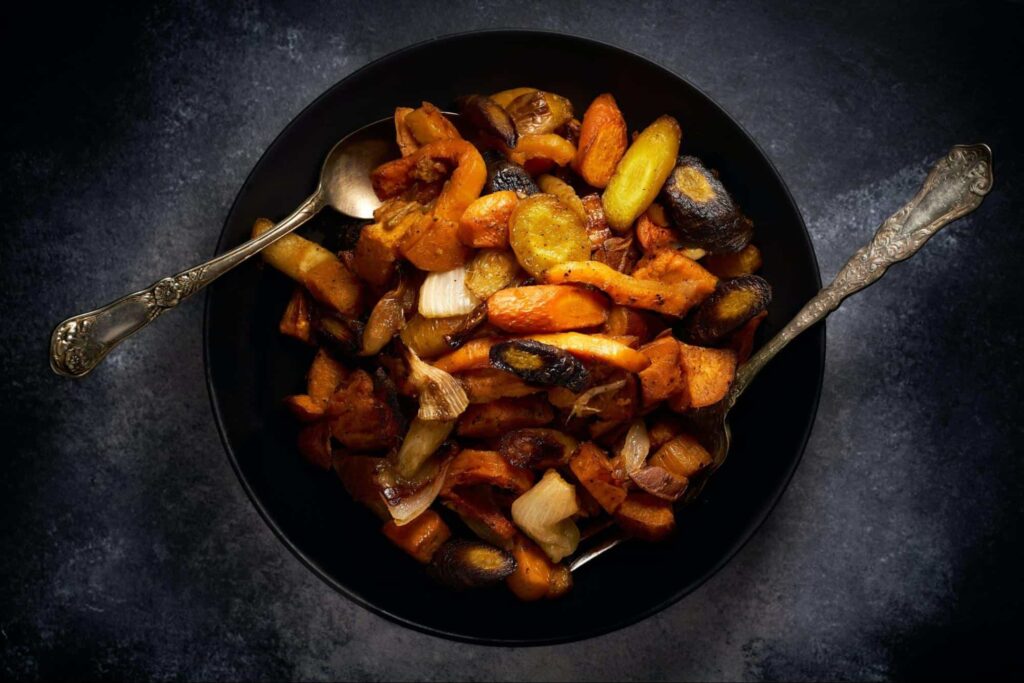 Address
181 Orchard Rd, #12-01 Orchard Central, Singapore 238896
Contact Details
+65 9663-0901 | contact@joie.sg
Opening Hours
Daily: 12:00 PM – 3:00 PM, 6:00 PM – 10:00 PM
Menu
Lunch courses: From $38
Dinner courses: From $58
We gave Joie Restaurant a try, as we were looking for a meatless fine-dining experience without breaking the bank. We're thrilled to say that we weren't disappointed!
All the food here is vegan-friendly, so you don't have to request to remove a lot of ingredients from your order.
One of our favorites from the long list of dishes is the vegetable sashimi for its creative presentation.
We also love Joie's rooftop location as it's far removed from the hustle and bustle of Orchard Road down below, making it a perfect location for mindful eating and quality time with loved ones.
18. Get your hands on Cajun seafood at Dancing Crab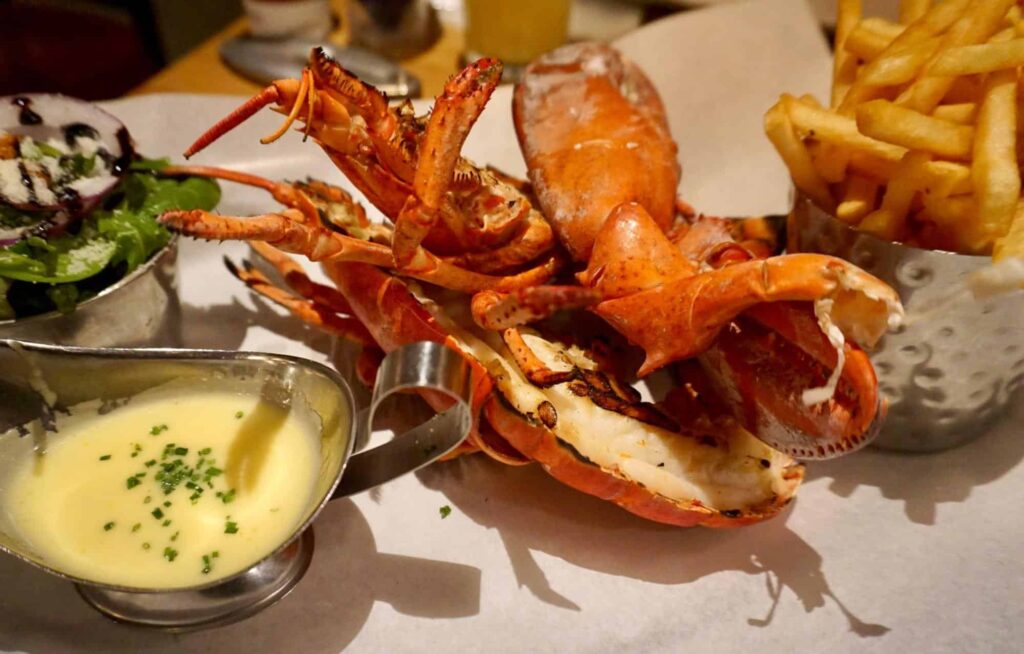 Address
181 Orchard Rd, #07-14/15, Singapore 238896
Contact Details
+65 6509-1878
Opening Hours
Daily: 11:30 AM – 3:00 PM, 5:30 PM – 10:00 PM
Menu
Black pepper crab: $128
Chili crab bread bowl: $128
Live lobster roll: $56.80
Crab cake: $23.80
Laksa grilled fish: $26.50
Dancing Crab has plenty of crab dishes that can accommodate many palates, whether you're ready for the distinct spices of Cajun sauces or the local flavors of Singaporean seafood.
The crabs are a bit pricey, but that's because the restaurant ensures to cook only the freshest sea creature available.
Our favorites include the black pepper crab, crab cake, and live lobster roll. The spicy richness of these dishes is simply unforgettable!
Those who want to go the adventurous route can opt for the build-a-combo option. That said, we suggest you go with the Dungeness crab, Boston lobster, prawns, and steamed corn.
19. Enjoy good ol' fish n' chips and beer at The Drunken Poet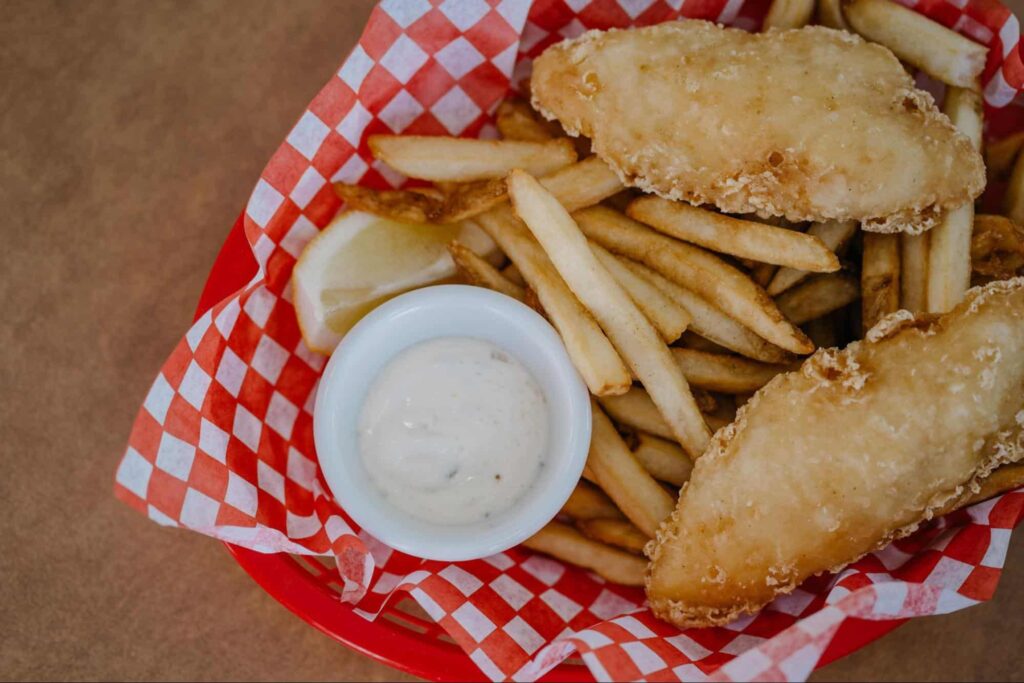 Address
400 Orchard Rd, #01-29, Singapore 238875
Contact Details
+65 6734-2924 | hello@strumms.com
Opening Hours
Tuesday to Saturday: 3:00 PM – 2:00 AM
Sunday: 12:00 PM – 11:00 PM
Menu
Ol' skoll fish n' chips: $28
Drunken Poet's Roast Beef: $28
Ultimate roast meat platter: $88
Pub style beef and onion pie: $28
Cookie monster: $15
Irish pub grubs are few and far in between in Singapore, so having The Drunken Poet right at the heart of Orchard Road is certainly great news.
The food items here are fewer than their drinks selection. But what the restaurant lacks in variety, it makes up for by perfecting the pub meals.
We particularly love the consistent taste and texture of the pub's fish and chips. The ones here are probably the best in Orchard Road for their no-soggy track record.
Most importantly, the vibe of the place makes for fun catch-ups with friends and family, punctuated by Drunken Poet's smooth and tasty beer.
20. Feel safe with Italian comfort food at Il Cielo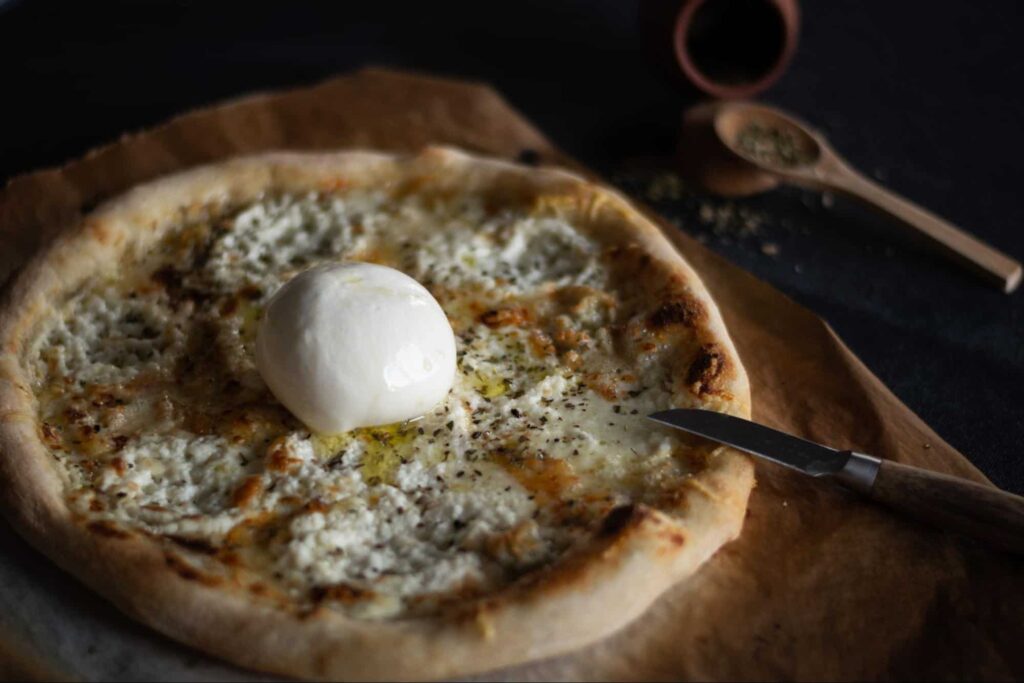 Address
581 Orchard Rd, Level 24, voco Orchard Singapore, Singapore 238883
Contact Details
+65 6737-2233 | sinor.dining@ihg.com
Opening Hours
Monday to Friday: 12:00 PM – 3:00 PM, 5:00 PM – 10:00 PM
Menu
Fritto misto: $26
Burrata e tarfufo: $34
Pollo al tarfufo: $42
Manzo and tarfufo: $40
Cheesecake: $20
We love Italian cuisine for its freshness and simplicity, and Il Cielo serves just the comfort dishes that we'd love to dig into time and again.
Our favorite comfort food of all is the burrata e tarfufo for all its cheese and truffles. It's easy to eat and a joy to the senses!
We can't choose among the restaurant's pasta selection because all of them are good. If you have diet preferences, know that Il Cielo has gluten-free pasta available for you.
One option to get the most value out of your money is by trying the lunch set. Though, ensure to book ahead of time, as this set is hugely popular.
Best Affordable Restaurants on Orchard Road
With extra searching, you can find great food for half a price in Orchard Road. Here are some of the affordable restaurants and food outlets to check out across the strip!
21. Drink affordable tom yum soup at Thai Tantric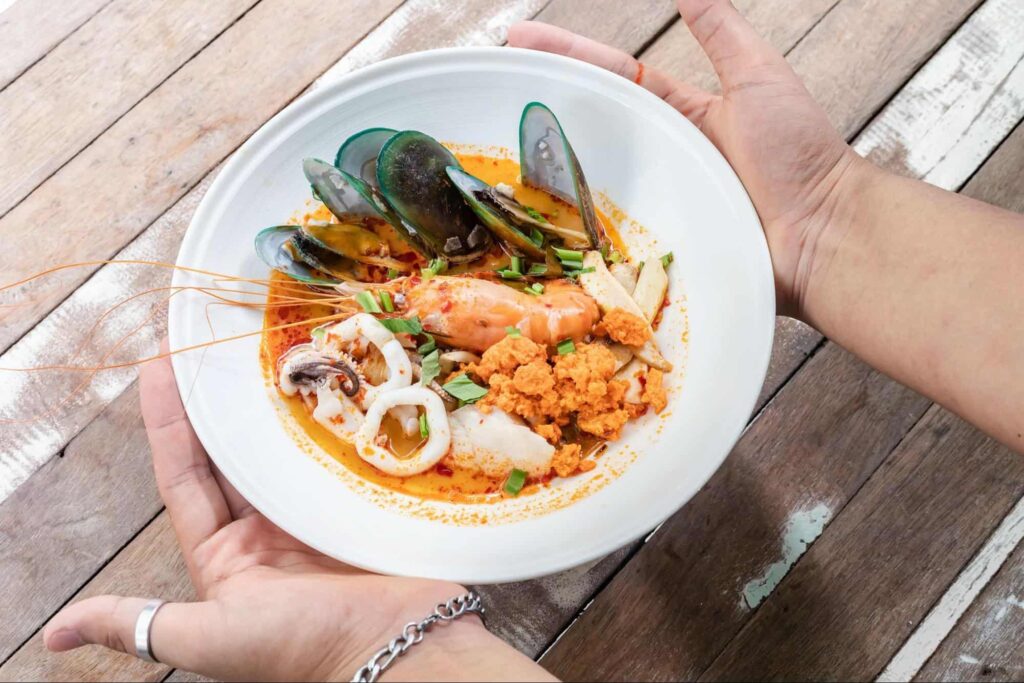 | | |
| --- | --- |
| Address | 400 Orchard Rd, #03-44 Orchard Tower, Singapore 238875 |
| Contact Details | +65 9625-7523 |
| Opening Hours | Monday to Saturday: 11:30 AM – 10:30 PM |
| Price Range | About $15 per person |
Those who are looking for affordable Thai food without burning the pocket can count on Thai Tantric's casual, no-frills menu.
There are about 40 dishes to choose from including classics pad thai and tom yum. We love the restaurant's shareable thom ka gai, which is not overly spicy and kept warm throughout the meal.
The restaurant is often packed, especially during the weekends, making it the practical choice only if you're looking for a quick, budget-friendly meal with the signature Thai flavor.
22. Grab an ayam curry at Minang House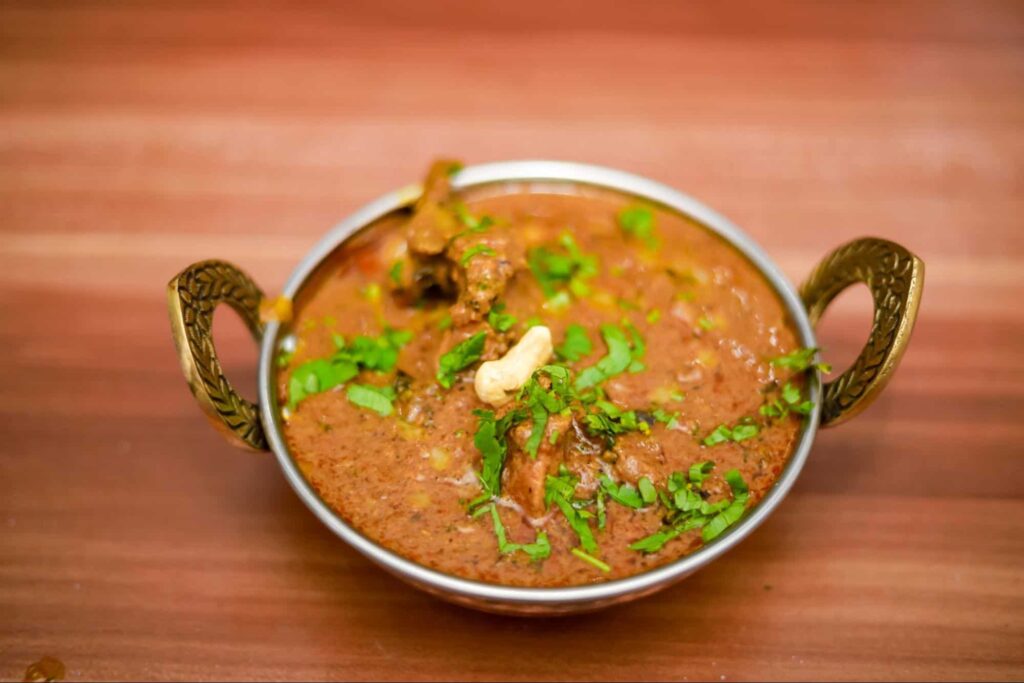 | | |
| --- | --- |
| Address | 304 Orchard Rd, #02-66/67 Lucky Plaza, Singapore 238863 |
| Contact Details | +65 6887-4702 | magminanghouse@gmail.com |
| Opening Hours | Daily: 10:00 AM – 6:00 PM |
| Price Range | About $15 per person |
Homemade Indonesian food is easily accessible in Orchard Road thanks to the Minang House.
The humble restaurant serves Indonesian favorites such as curry (chicken and fish), rendang, pekedil, and chendol.
We love that the diner's chicken is consistently crispy and tender, which makes for a good combination with the spicy curry sauce.
The set meals are equally tasty and filling as all of them come with rice.
Most of the menu items are spicy. Do request the non-spicy variation if you think you can't handle the other.
23. Order a comforting bowl of pork ribs soup at Song Fa Bak Kut Teh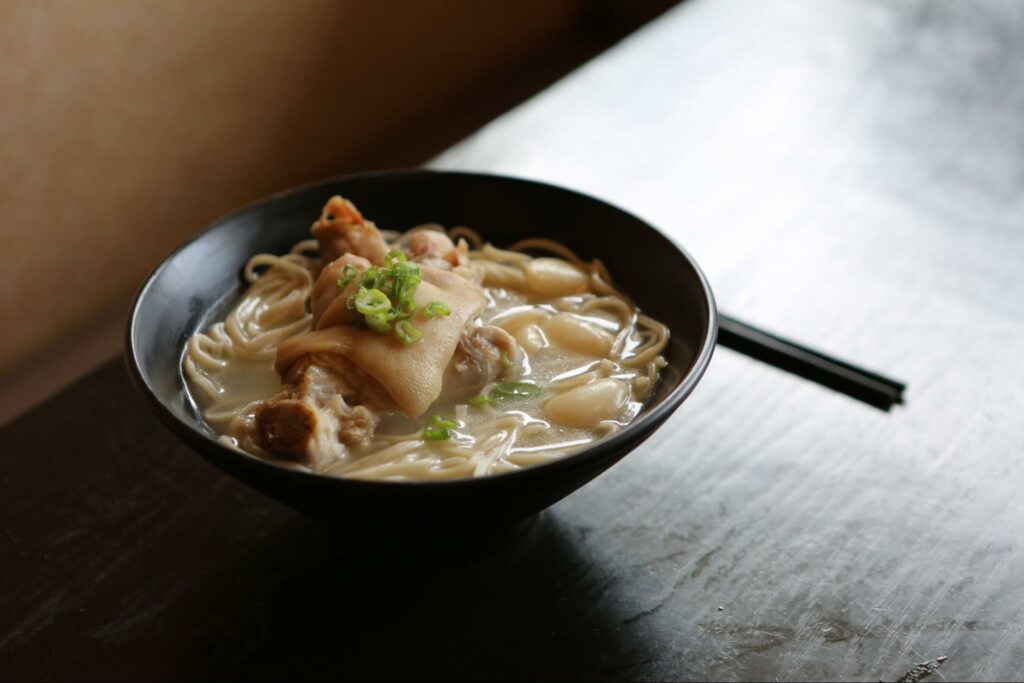 | | |
| --- | --- |
| Address | 176 Orchard Rd, #02-29/30, The Centrepoint, Singapore 238843 |
| Opening Hours | Daily: 11:00 AM – 9:00 PM |
| Price Range | About $15 per person |
You can get your bak kut teh fix without spending much by visiting Song Fa at Centrepoint. The pork ribs soup here is so comforting you might end up ordering seconds.
Aside from ribs, you can order a different meat part for your soup (we're fans of the tenderloin). There is also a fish option for health-conscious customers.
Pair your soup with the braised pig's trotter for a savory and aromatic meal at half the price!
24. Stuff yourself with budget-friendly tacos at Guzman y Gomez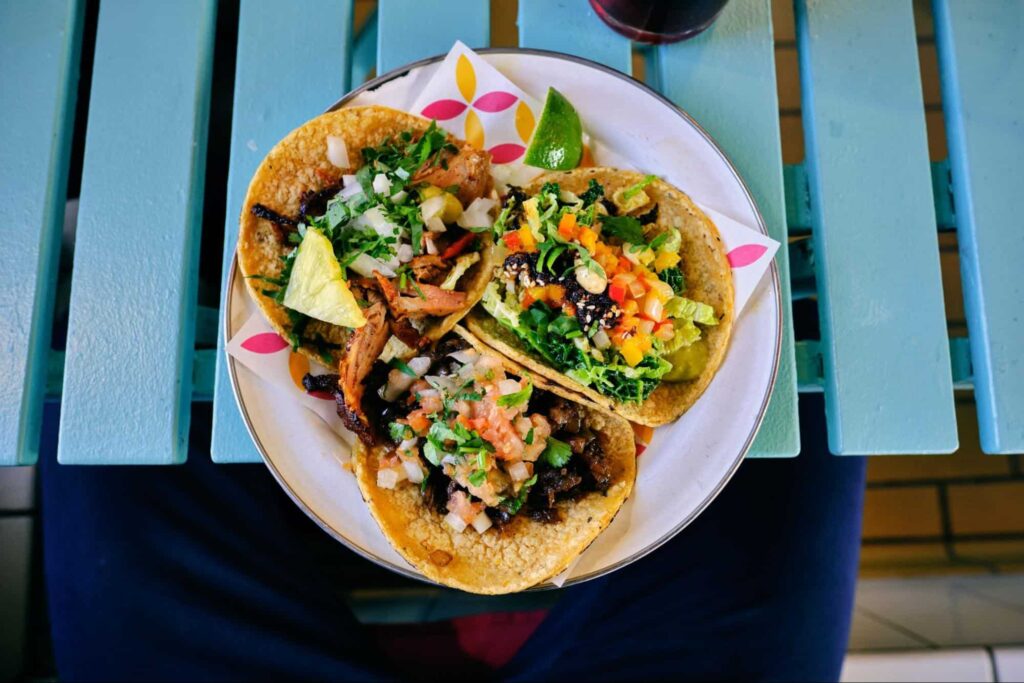 | | |
| --- | --- |
| Address | 277 Orchard Rd, #01-03 Orchard Gateway, Singapore 238858 |
| Contact Details | +65 8499-3010 | ogw@gyg.com.sg |
| Opening Hours | Daily: 10:30 AM – 10:30 PM |
| Price Range | About $20 per person |
Guzman y Gomez is more like a counter service than a restaurant, but we can't help but include it here for its delightful selection of Mexican favorites.
The classic $3 taco is yummy and worth returning to, though you might be put off by the long lines on Fridays and Saturdays. Try visiting during the first days of the week to avoid queueing.
We also love the burritos and appreciate the lighter burrito bowl (because sometimes, you might want to opt out of the tortilla). The house-blend salsa for this dish is perfection.
25. Feast in refreshing soup sets at Rabbit Brand Seafood Delicacies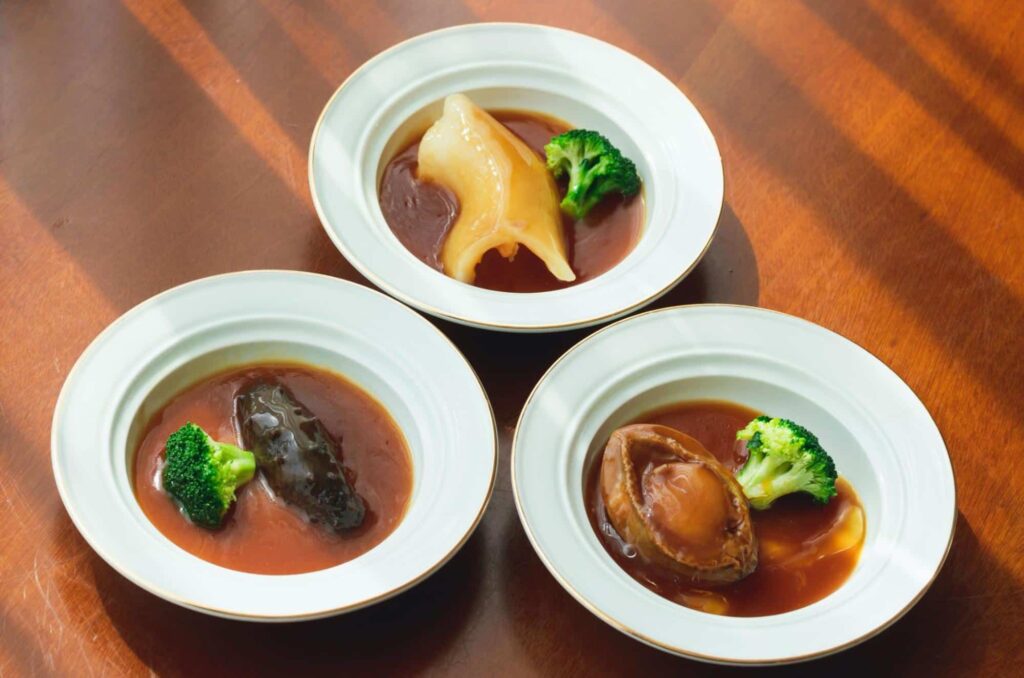 | | |
| --- | --- |
| Address | 304 Orchard Rd, #02-114 Lucky Plaza, Singapore 238863 |
| Contact Details | +65 6737-9722 |
| Opening Hours | Monday to Saturday: 11:00 AM – 9:00 PM |
| Rates | About $10 per person |
Aside from being budget-friendly, Rabbit Brand's straightforward set menu reduces the hassle associated with choosing what to eat.
The small restaurant offers sets labeled from A to X and a few bird's nest options, with prices ranging from only $6.50 to $14.
We love Set A with its refreshing Buddha Jump Over the Wall soup paired with bean sprouts and rice and Set J with the tasty sharks' fin and scallops.
We also like that most of the sets come with soothing Chinese tea!
What is there to eat at Orchard Road after 9 PM?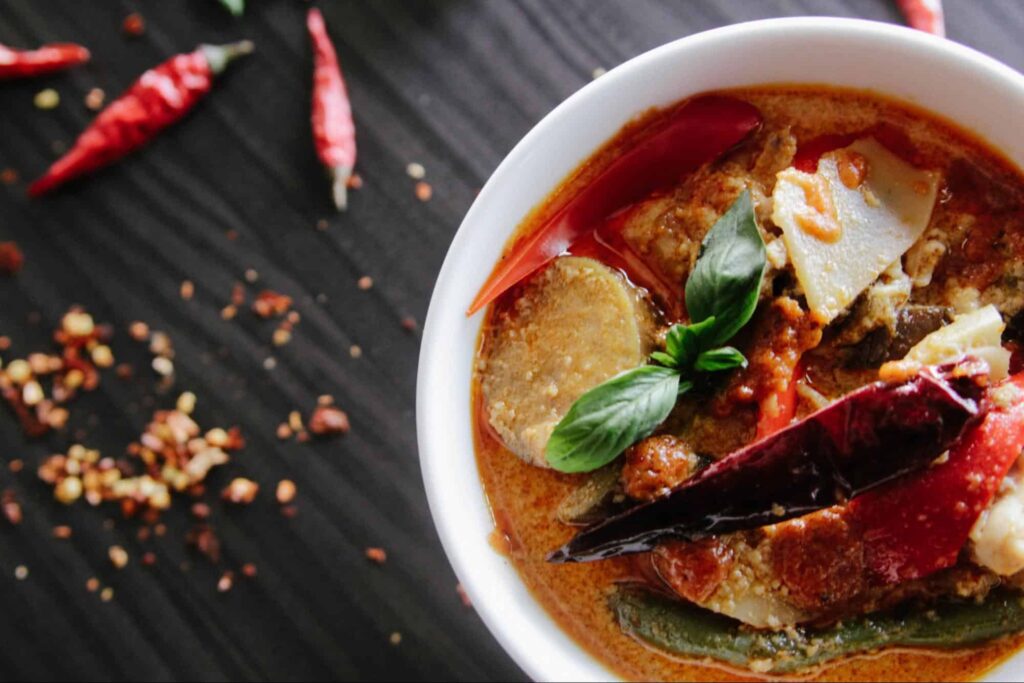 Some of the dishes you can eat at Orchard Road after 9:00 in the evening include spicy Thai fare by Siam Thai and 49 Seats, flavorful Sichuan hot pot by Haidilao, and homey Japanese gyoza sets by Gyoza no Osho.
These restaurants are open until the early morning, offering a haven for nocturnal foodies.
You can also eat typical bar bites at Orchard Road bars (along with a cocktail or two). Some of the best places to taste the most creative mixes include Astor Bar, The Other Room, and No. 5 Emerald Hill.
Best Late-Night Restaurants on Orchard Road
Orchard Road has a number of restaurants that serve hungry night owls until the wee hours.
Pop into one of these diners in case you find yourself unable to sleep and craving some grub!
26. Dig into some delish Thai chicken wings at Siam Thai Kitchen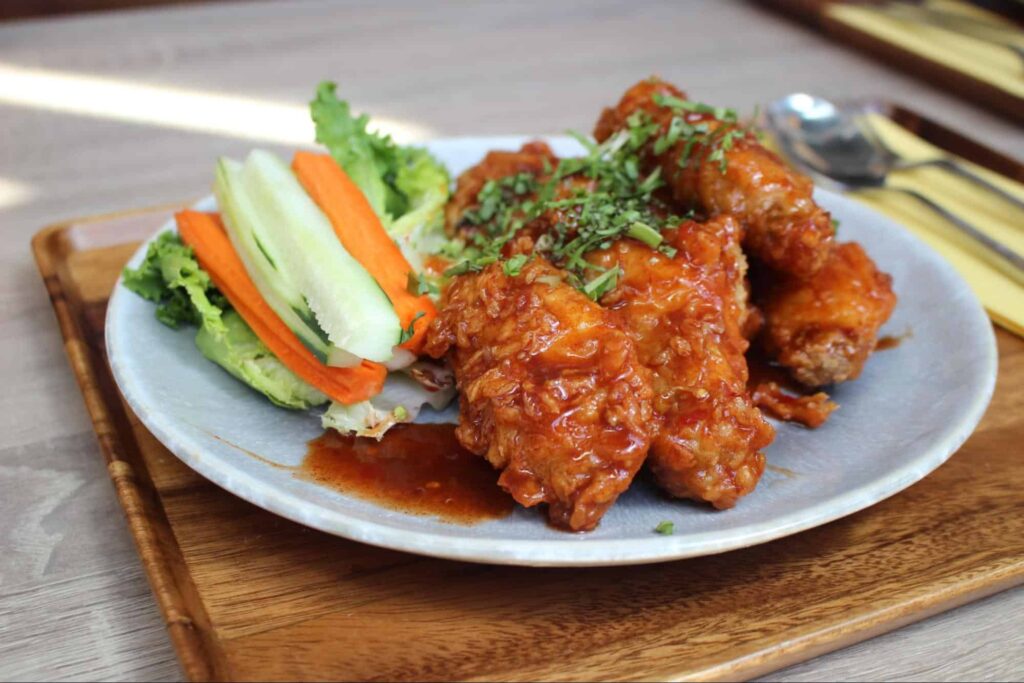 | | |
| --- | --- |
| Address | 150 Orchard Rd, #04-20 Orchard Plaza, Singapore 238841 |
| Contact Details | +65 8882-3959 |
| Opening Hours | Daily: 10:00 AM – 7:00 AM |
| Price Range | About $15 per person |
Affordable and open until late, Siam Thai Kitchen is a beacon to hungry all-nighters who love spicy Asian food.
The casual restaurant serves several Thai favorites such as pad thai, tom yum, kang kong, and pork garlic which are all delectable.
Aside from that, we highly recommend ordering the restaurant's chicken wings.
The crispiness, tenderness, and spiciness are well-balanced. You won't feel like eating a fresh chili like other overly spicy variants.
There are also many types of chili condiments to keep your meal interesting!
27. Experience Thai cuisine with a western twist at 49 Seats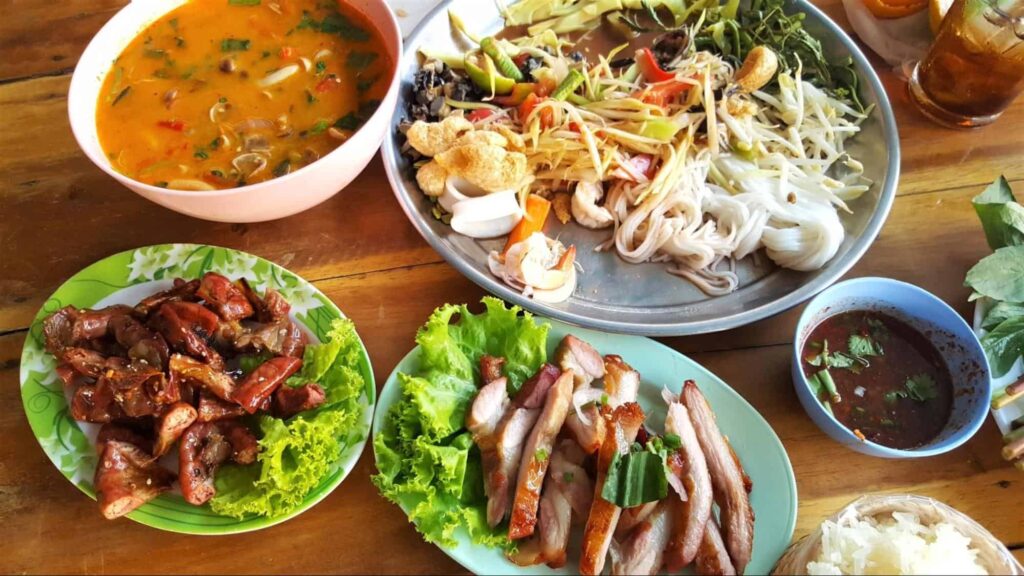 Address
176 Orchard Rd, #01-49, Singapore 238843
Contact Details
+65 6225-4332 | contact@49seats.com
Opening Hours
Monday to Saturday: 11:30 AM – 2:30 AM
Sunday: 11:30 AM – 11:00 PM
Price Range
About $15 per person
We love Thai cuisine (obviously), and 49 Seats keeps things interesting when it decided to fuse the homey tom yum goodness and age-old pasta into a creamy, appetizing top dish.
You should not reduce the late-night diner to its popular tom yum pasta, though.
Perhaps even more than its bestseller, we really love the fish and chips with tom yum sauce and the smoked duck aglio olio.
The menu might be too heavy for late-night meals, but we think you can manage if you walk around Orchard Road after dining.
28. Warm your soul with exquisite soup bases at Haidilao Hot Pot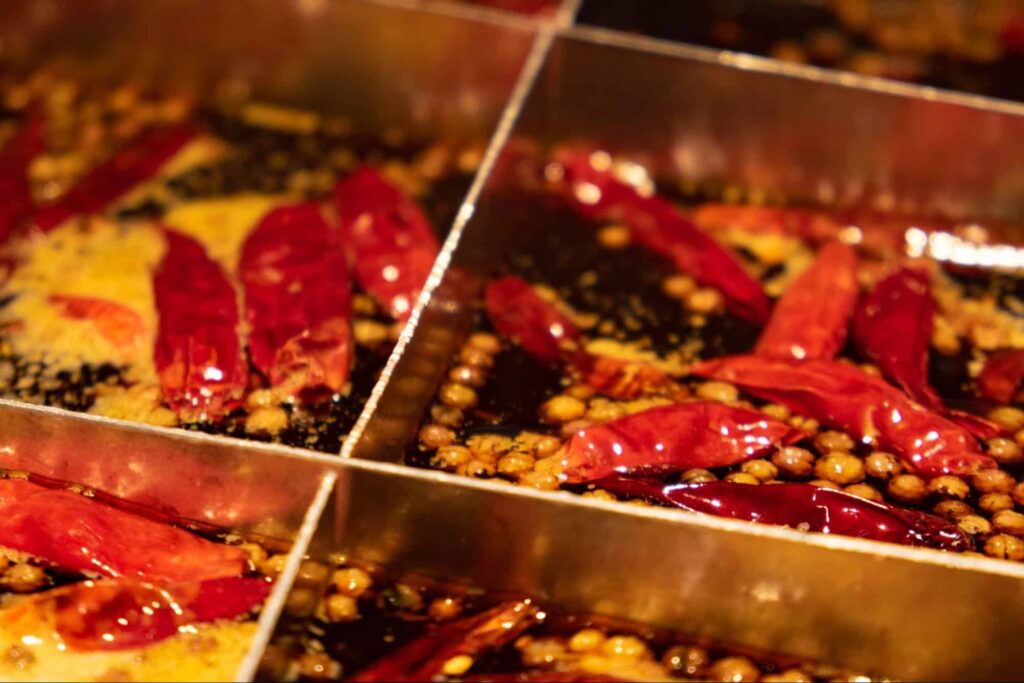 | | |
| --- | --- |
| Address | 313 Orchard Rd, #04-23/24, 313@somerset, Singapore 238895 |
| Contact Details | +65 6835-7227 |
| Opening Hours | Daily: 10:30 AM – 6:00 AM |
| Price Range | About $45 per person |
The staggering price and usually long queues aside, Haidilao Hot Pot is worth the try at least once if only for its phenomenal soup bases.
Thankfully, you'll find plenty of outlets of this beloved hot pot restaurant on Orchard Road. Also, most of them serve customers until late.
While you can choose four broths for the hot pot. We recommend two that you should not miss.
First is the signature mushroom soup base because we want you to get the most out of the Haidilao experience. Second is the Sichuan spicy soup base to keep you awake (if you need to).
The two other flavors are all up to you.
As the queue is long, expect free-flowing snacks as complimentary items to customers.
29. Indulge in Japanese comfort food at Gyoza no Ohsho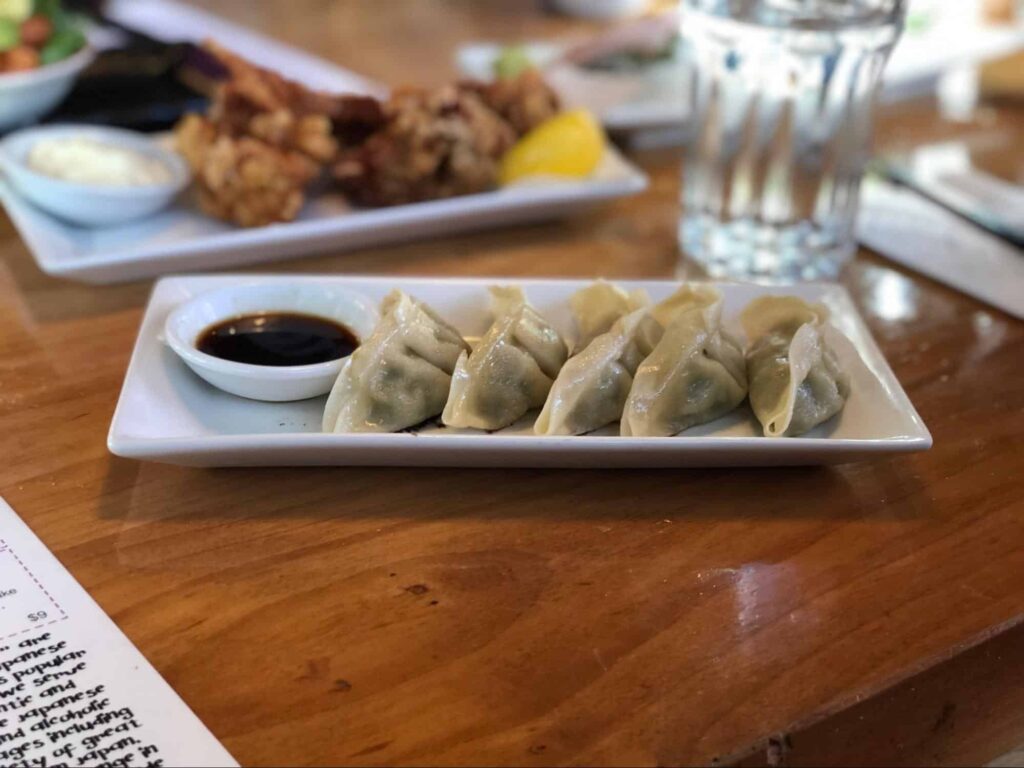 Address
5 Koek Rd, Singapore 228796
Contact Details
+65 6735-7068 | info@sential.com.sg
Opening Hours
Monday to Thursday, Sunday: 11:30 AM – 11:00 PM
Friday to Saturday: 11:30 AM – 1:30 AM
Price Range
About $25 per person
Gyoza no Ohsho is easy to love because it serves our favorite Japanese comfort food in sets and at reasonable prices. Most importantly, we can visit the restaurant at later hours.
We love that aside from gyoza, this late-night diner also has ramen, curry rice, and chasyu, all familiar Japanese dishes oozing with subtle flavors and textures that are easy on the palate.
Apart from the restaurant's primary dish, we recommend the tonkotsu ramen and omelette rice.
30. Sample the raved-about pork cubes at KPO Cafe Bar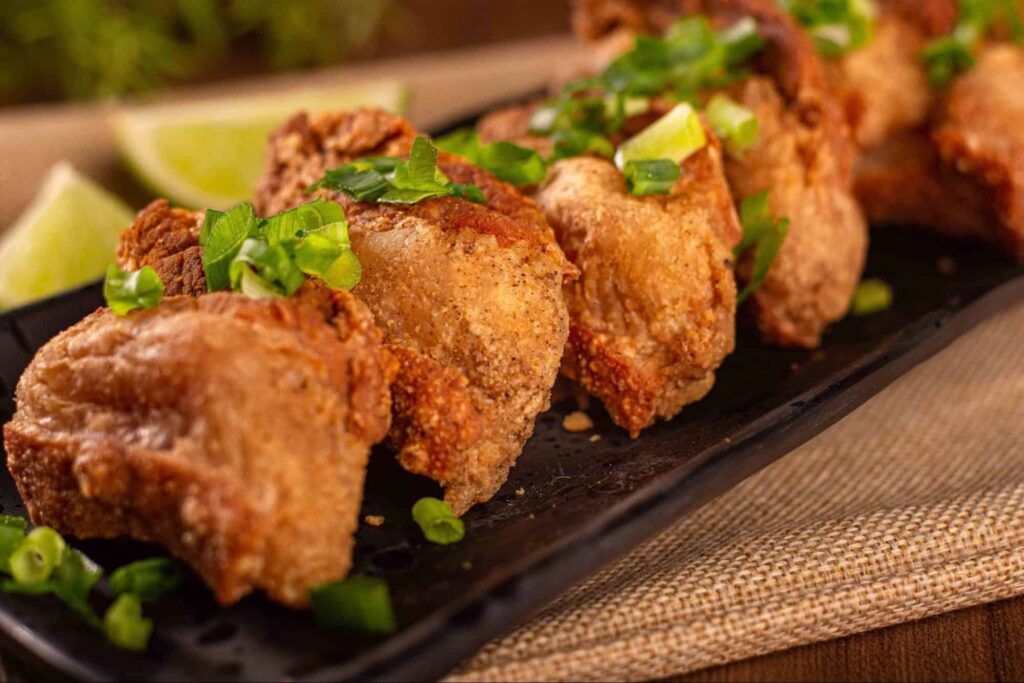 Address
1 Killiney Rd, Singapore 239518
Contact Details
+65 6733-3648
Opening Hours
Monday to Friday: 2:00 PM – 12:00 AM,
Saturday: 4:00 PM – 12:00 AM
Price Range
About $30 per person
KPO Cafe Bar has a wide selection of dishes great for sharing with company. The gastropub fare is reasonably priced, too, which makes the restaurant a popular hang-out place.
Note that it's usually busy during the weeknights as people flock in after work hours. Saturday is the best time for avoiding the crowd.
If you find a seat, make sure to order the pork cubes, chicken wings, and nasi lemak. There's a good selection of beer including Carlsberg and Asahi to wash all that food down.
Best Bars on Orchard Road
If you want more than late-night grub, venture into the world of cocktails by visiting these top bars on Orchard Road.
31. Sip cocktails with a stronger punch at The Other Room
| | |
| --- | --- |
| Address | 320 Orchard Rd, #01-05, Marriott Tang Plaza Hotel, Singapore 238865 |
| Contact Details | +65 8300-6085 |
| Opening Hours | Tuesday to Saturday: 6:30 PM – 2:30 AM |
The Other Room has made it to the list of Asia's 50 best bars in recent years, and you'll understand why when you enter the secret nook and take a sip of the cocktails yourself.
We like that many of the drinks pack a good punch yet retain the classy, vintage taste that wine connoisseurs are sure to look out for.
The bar's tapas selection is also sufficient, and the best part is that the dishes are available all night long.
32. Drink Singapore's version of Bloody Mary at Astor Bar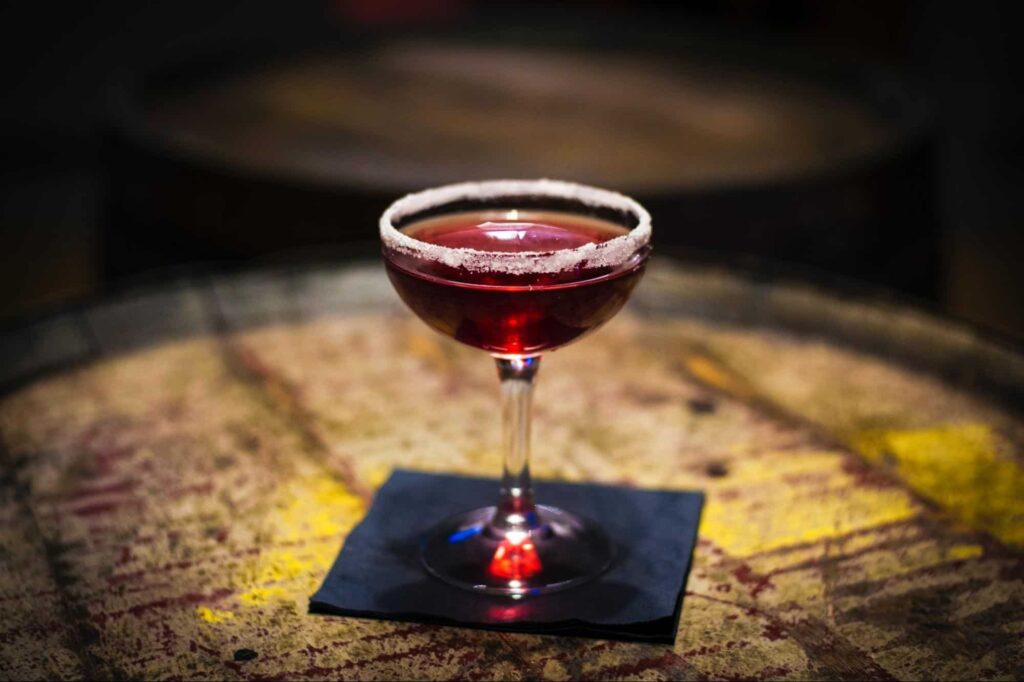 | | |
| --- | --- |
| Address | 29 Tanglin Rd, The St. Regis Singapore, Lobby Level, Singapore 247912 |
| Contact Details | +65 6506-6859 |
| Opening Hours | Daily: 3:00 PM – 12:00 AM |
Astor Bar's liberal use of red hues in its interior is certainly not an accident, as it ties well with the bespoke cocktail ritual each St. Regis Hotel observes for the signature Bloody Mary.
The Singapore version is called Chili Padi Mary, inspired by the country's love for spicy cuisine. It's worth the price, we promise.
And as if the sophistication is not enough, you also get to bask in lovely live jazz performances thrice a week here and see some Pablo Picasso lithographs decorating the bar's walls.
33. Down a martini (or two) at No. 5 Emerald Hill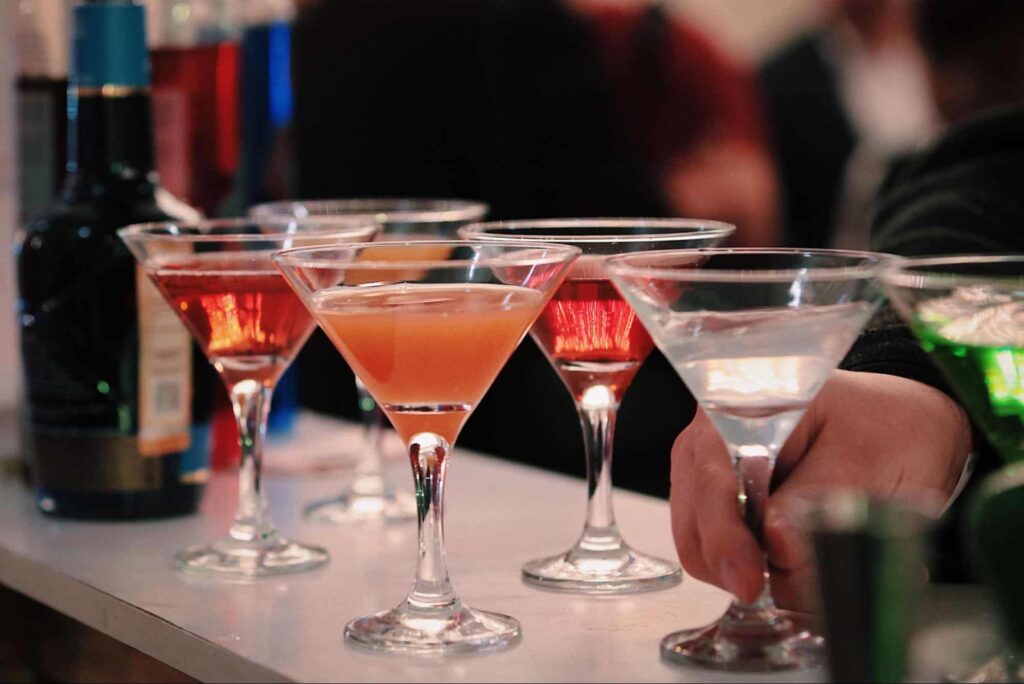 Address
5 Emerald Hill Rd, Singapore 229829
Contact Details
+65 6732-0818 | info@emerald-hill.com
Opening Hours
Monday to Thursday, Sunday: 12:00 PM – 2:00 AM
Friday to Saturday: 12:00 PM – 3:00 AM
If you want a stronger drink, you're in for some treat at No. 5 Emerald Hill for its wide selection of martinis. The bar also has plenty of bar snacks and pizzas to pair with your glasses.
For creative mixes, go straight for the bar's No. 5 Cocktail.
The No. 5 Emerald Hill's interiors is not your typical western bar, as it pays homage to Peranakan architecture. Consequently, the place and the people can easily make you feel at home.
FAQs about Orchard Road
If you're planning to go on a dining adventure at Orchard Road, it will help to learn some important information about this shopping strip.
Know what's worth visiting, its time of operations, and how to get around Singapore's most popular retail destination.