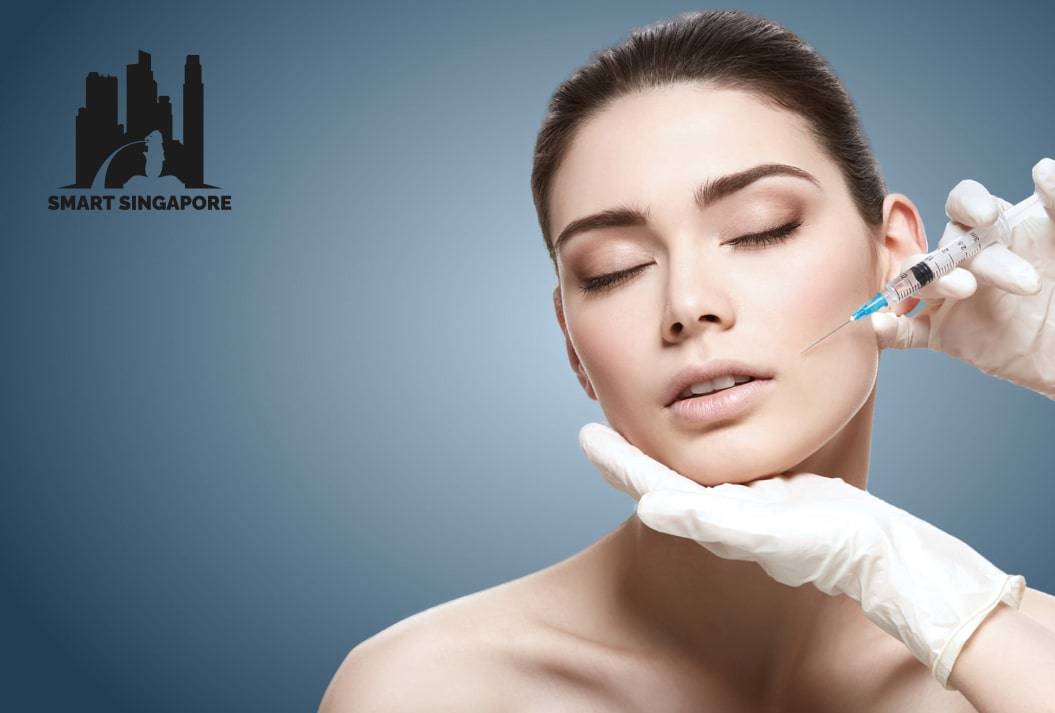 The 5 Best Providers of Dermal Fillers in Singapore
How We Picked
How we picked
Credentials
Although dermal fillers are non-surgical, we only listed clinics that have a board-certified plastic surgeon and are popular for dermal fillers in Singapore.
Services Offered
We also considered the services offered by the clinics. Like us, we are sure you want options even when you're dead set on getting dermal fillers.
Client Satisfaction
We reached out to clients through surveys and availed third-party sources, such as Google Reviews, to measure client satisfaction. 
Cost
Cost can be a deciding factor seeing that many clinics offer dermal fillers in Singapore.
1. The Artisan Clinic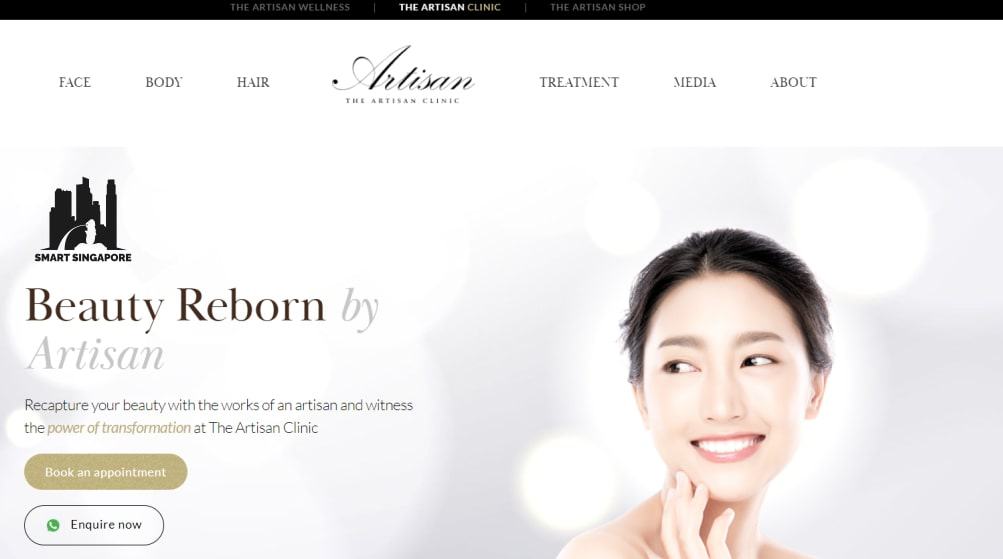 Services: Teosyal® Dermal Fillers, Skinboosters, Sunekos, Rejuran, Profhilo, Potenza, Polycaprolactone Collagen Biostimuator, PicoSure Pro, Picosure Laser, Mole Removal, HIFU, Fillers, Ellanse, Botox Wrinkles Removal, Artisan Threadlift, Artisan Hair Regrowth, Active Acne Treatment, Acne Scar Removal, Cynosure Elite IQ™ 5D Laser Lifting
Website: https://artisanclinic.sg/

Address: 290 Orchard Road, Paragon Medical Suites #07-01, Singapore
Contact Information: +65 8879 7887
Operating Hours: Monday to Friday, 9:00 am to 7:00 pm; Saturday, 9:00 am to 3:00 pm
| | |
| --- | --- |
| Google Reviews Score | 4.8/5 |
| Total Reviews | 4.7/5 |
| Score Consistency | 4.5/5 |
| | |
| --- | --- |
| Credentials | 5/5 |
| Services Offered | 5/5 |
| Client Satisfaction | 4.5/5 |
| Cost | 5/5 |

Dr Isaac Wong is well-loved by clients; they describe him as an artist. And with clients leaving his clinic looking beautiful, we can't help but nod in agreement.
It is only apt that his clinic is called The Artisan Clinic. But, of course, Dr Wong achieves such stunning results with the help of science.
He is a man of medicine to the core, and one skilled in various aesthetic treatments. His interests are in rejuvenation with injectables (including fillers), facial contouring and lifting.
He definitely knows all about fillers. He even reviewed dermal fillers in Singapore on his website.
One of which uses polycaprolactone (Ellanse). Speaking of, Dr Wong is the first Singaporean International Ellanse Trainer.
Think of the benefits of Ellanse. It is a safe absorbable filler whose staying power is around 4 years, yet the results are immediate.
Then combine these advantages with the know-how and skills of Dr Wong. Yes, we arrived at the same conclusion: we cannot go wrong with choosing Dr Wong.
Many clients who went to The Artisan Clinic were satisfied with the outcomes. Some shared they were so happy that they refused to get aesthetic treatments done in other places.
The modern equipment in the clinic deserves a mention, too. Clients praised the friendly and professional staff as well.
The price for dermal fillers is $600 per syringe. Seeing that the price really depends on the filler type and client preference, we like that clients can have a free consultation through WhatsApp.
Clients can then get a better idea of how much the treatment will cost them. We are especially pleased that clients are not required to push through the treatment should they decide against it.
Offers different types of dermal fillers
Founder doctor is an Ellanse trainer
Immediate results
Tailored treatments
Transparent pricing
2. Tiffiny Yang Aesthetics Clinic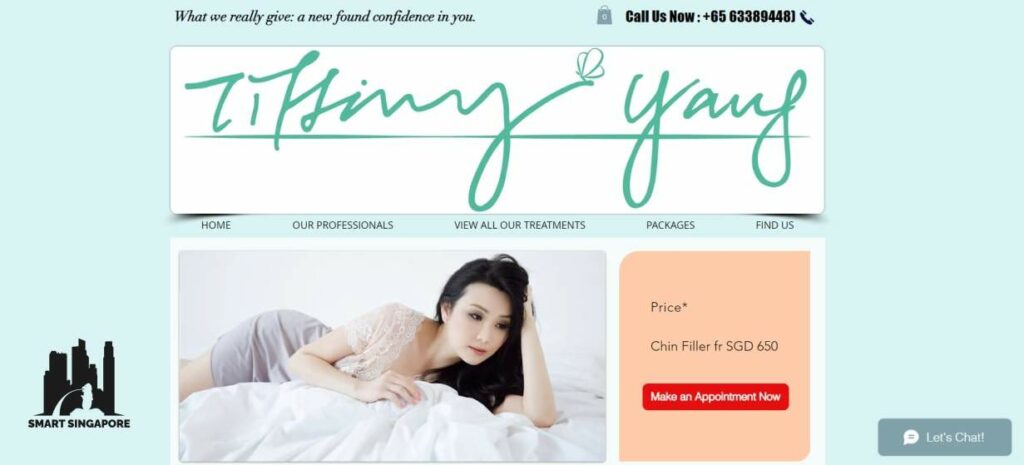 Services: Acne Scar Removal, Acne & Pimple Treatment, Pores Removal, Pigmentation Removal, Botox, Ulthera, Thermage, Skin Booster, Rejuran, Profhilo, Stretch Mark Removal, Tattoo Removal, Keloid Scars, Face/Jaw Slimming, Face/Brow Threadlift, Chin Filler, Double Chin Removal, Cheek Filler, Laugh Line Filler, Forehead Filler, Temple Filler, Lip Filler, Neck Line Removal, Undereye Filler, Undereye Laser, Nose Filler, Nose Threadlift, Fat Freezing, Vaginal Tightening, Breast Firming Underarm Whitening, Cellulite, Leg Slimming, Hands Rejuvenation, Medifacials
Website: https://www.tiffinyyangaesthetics.com/chin-dermal-filler-augmentation

Address: 1 Grange Road, Orchard Building #12-02, Singapore
Contact Information: +65 6338 9448
Operating Hours: Monday to Friday, 11:00 am to 8:00 pm; Saturday, 10:00 am to 4:00 pm
| | |
| --- | --- |
| Google Reviews Score | 4.3/5 |
| Total Reviews | 4.1/5 |
| Score Consistency | 4/5 |
| | |
| --- | --- |
| Credentials | 5/5 |
| Services Offered | 5/5 |
| Client Satisfaction | 4/5 |
| Cost | 5/5 |
You know how you immediately feel reassured when your dermatologist has beautiful skin? Well, what more if she is a beauty queen?
Meet Dr Tiffiny Yang, 'Ms. Singapore Universe 2010', founder of Tiffiny Yang Aesthetics Clinic. She's a firm believer that 'beauty empowers', and you can tell that she speaks from experience.
We are not at all surprised that the clinic has many regular clients. Dr Yang prides herself in performing procedures that are safe, proven and, most importantly, effective.
The visible results from the dermal fillers lead to returning customers. Another thing that brings them back is Dr Yang's gentleness.
Yes, dermal fillers require no downtime as they are non-surgical. Still, the injection can hurt a bit and cause temporary swelling.
One patient shared that even though she bruises easily, she wasn't bruised under Dr Yang's gentle hands.
The doctor is also praised for her patience during consultations. She takes time in exploring treatment options and in explaining each to the clients.
In addition, Dr Yang is fluent in English, Mandarin and Japanese. This makes her appear more friendly to foreign clients.
We are happy to note that several clients mentioned that Dr Yang only sticks to the services needed by the clients. This principle of no upselling is followed by the nurses and staff, too.
When it comes to cost, the base price of lip, forehead and laugh line fillers is $400. Temple, cheek and chin fillers start at $500.
The clinic opens nearly at noon on weekdays, which may not work for some. They close later though, accommodating those working a 9 to 5 schedule.
HSA-approved fillers
Offers fillers on different parts of the face
Reasonable pricing
Fluent in three languages
Relatively late opening hours on weekdays
Closed on Sundays
3. Sozo Aesthetic Clinic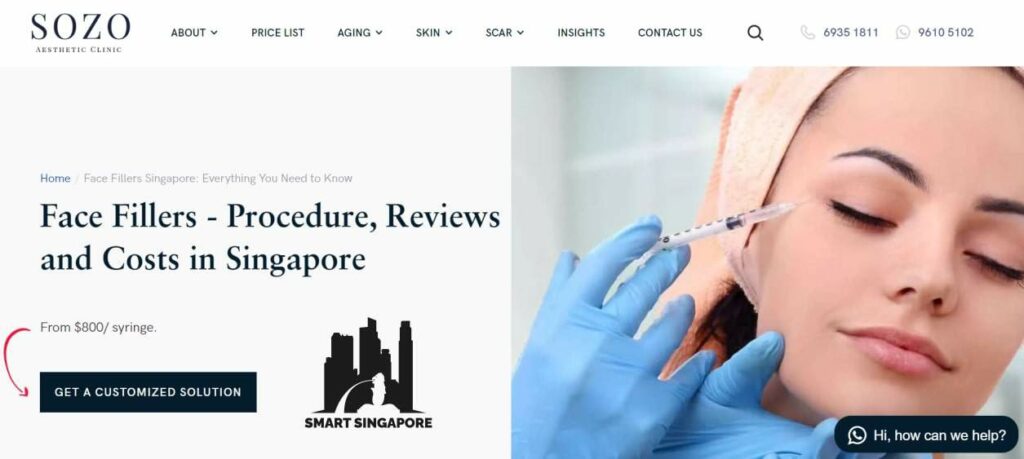 Services: Anti-ageing, Botox, Nose Filler, Restylane and Juvederm Face Fillers, Acne Scar Removal, Wrinkle Removal, Laser Tattoo Removal, Hair Loss Treatment, Pigmentation
Website: https://sozoclinic.sg/face-fillers-singapore/

Address: 1 Raffles Place, #05-12/13, Singapore
Contact Information: +65 6935 1811
Operating Hours: Monday to Friday, 10:00 am to 8:00 pm; Saturday, 10:00 am to 3:00 pm
| | |
| --- | --- |
| Google Reviews Score | 4.7/5 |
| Total Reviews | 4.7/5 |
| Score Consistency | 4.7/5 |
| | |
| --- | --- |
| Credentials | 5/5 |
| Services Offered | 5/5 |
| Client Satisfaction | 4.5/5 |
| Cost | 5/5 |

Whoever thought of Sozo Aesthetic Clinic' tagline deserves a raise or applause. 'You. Only Better' piqued our interest and, surely, many others'.
To hold up their end of the bargain, the team of doctors in Sozo Aesthetic Clinic advise against drastic changes. Initial consultations take a while as they spend much time talking with clients.
In particular, Dr Justin Boey is appreciated by clients because he tailors a treatment plan that truly addresses their concerns. His explanations about the procedures are detailed, too.
The customised solution offered by the clinic is carried out with state-of-the-art technology and by an experienced and qualified provider. We like that Sozo Aesthetic Clinic goes out of its way to deliver amazing results.
After all, the results of most aesthetic procedures largely depend on the technique and device used, the doctor's skills and the patients' condition.
When it comes to non-invasive treatments, Sozo Aesthetic Clinic is among the top service providers. Dermal filler injections are included in the clinic's bestsellers.
The clinic keeps its promise of natural-looking enhancements that take around 30 minutes tops. Clients gushed about the instant results for their skin and confidence problems that they seemed to be burdened with for a long time.
Some of the clinic's positive online reviews are also about the staff's efficiency and professionalism. Clients thank the staff for making them feel comfortable during their sessions.
As Sozo Aesthetic Clinic uses the best kinds of fillers and FDA-approved technology, you may assume that their dermal fillers cost an arm and leg. Actually, that's the best part of all.
The costs of Juvederm and Restylane fillers in Singapore are from $600 to $1000 per syringe. The price of Restylane fillers in Sozo Aesthetic Clinic starts at $800 which is pretty reasonable.
You can be a better you without breaking the bank. And, may we add, without worrying about reused syringe filler or any other risks that come with very cheap prices.
HSA-approved products
Hyaluronic acid-based fillers
Customised treatment plans
FDA-approved technology
Affordable services
4. Illumia Medical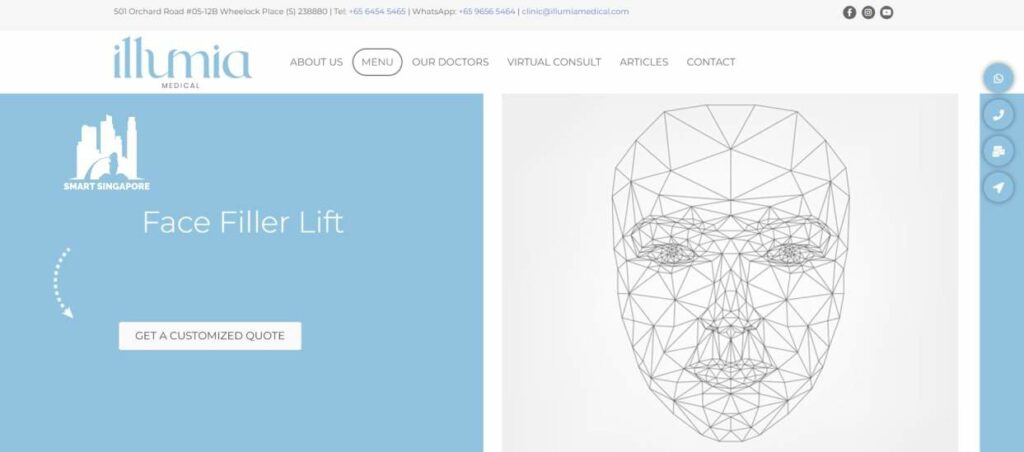 Services: Aesthetic Services: Dynamic Skin Brite, Illumia Face Design, Profhilo, Filler Lift, Nose Slimming, Lip Enhancement Filler, Feminine Health Rejuvenation, Hair Loss and Regrowth, Illumia Body Sculpt, Conditions; Plastic Surgery: Upper Eyelid, Lower Eyelid, Face, Body
Website: https://www.illumiamedical.com/face-fillers-singapore
Address: 501 Orchard Road, #05-12 Wheelock Place, Singapore
Contact Information: +65 6454 5465
Operating Hours: Monday to Friday, 10:30 am to 8:30 pm; Saturday, 10:30 am to 3:00 pm
| | |
| --- | --- |
| Google Reviews Score | 4.7/5 |
| Total Reviews | 4.6/5 |
| Score Consistency | 4.6/5 |
| | |
| --- | --- |
| Credentials | 5/5 |
| Services Offered | 5/5 |
| Client Satisfaction | 5/5 |
| Cost | 4/5 |
We are in awe with how Illumia Medical manages to fully utilise science and medicine to deliver exceptional results. The clinic is on our radar thanks to a number of clients we reached out to.
Many clients recommend Illumia Medical for almost any aesthetic need, dermal fillers included. The reasons somewhat vary, but there are key factors that we find consistent in testimonials.
First off is the ambience. You know how intimidating it is to go into some clinics because they scream high-end? Well, Illumia Medical looks the expensive part, with its clean and large space.
At the same time, the clinic appears inviting. The design of the place is pleasing to the eye. Clients already feel comfortable upon setting their feet inside.
Secondly is the techniques and technologies employed to address clients' aesthetic concerns. Founder Kim Lim is in tune with the latest trends to provide cutting-edge solutions.
Thirdly is the doctors and staff. People with skin or beauty problems likely feel discomfort when sharing their concerns or, in a way, exposing their insecurities.
Clients shared how pleasant their experience in Illumia Medical was because of the friendly and caring team. Some nurses were specifically mentioned for gentle reminders regarding aftercare.
For us, we like that Illumia Medical has virtual consultations that include 3D simulations. Clients can check the possible outcomes before actually visiting the clinic.
Through such a consultation, clients can also get a more precise quote on the service they want. This is important seeing that the price of dermal fillers depends on two things.
These are how many syringes and treatment sessions are necessary to achieve optimal results.
Illumia Medical offers different types of hyaluronic-based fillers. The prices range from $1000 to $1200. It is a bit steep, but bear in mind that the price includes follow-ups and medication.
Inviting ambience
Latest proven technologies from all over the world
Virtual consultation with 3D simulations
Offers various types of face fillers
Slightly pricier dermal fillers
5. Aesthetics & Plastic Surgery

Services: Hymenoplasty, Liposuction, Fat Transfer, Breast Augmentation, Breast Enhancement, Breast Implants, Breast Reduction, Double Eyelid Surgery, Ptosis Surgery, Love Band Surgery, Rhinoplasty, Fillers
Website: https://www.colinthamplasticsurgery.sg/fillers.html
Address: 304 Orchard Rd, #05-06 Lucky Plaza, Singapore
Contact Information: +65 6235 8411
Operating Hours: Monday to Saturday, 9:30 am to 6:30 pm
| | |
| --- | --- |
| Google Reviews Score | 4.2/5 |
| Facebook Reviews Score | 5/5 |
| Total Reviews | 4.4/5 |
| Score Consistency | 4/5 |
| | |
| --- | --- |
| Credentials | 5/5 |
| Services Offered | 5/5 |
| Client Satisfaction | 4/5 |
| Cost | 4/5 |
Aesthetics & Plastic Surgery is the private practice of Dr Colin Tham. We recommend this place if you do want to look like a mass-produced Barbie (or Ken).
Dr Tham places much emphasis on individuality. So he aims to customise services to suit clients.
The idea that 'no single technique is suited to all cases' is Dr Tham's guiding principle. And several clients claim that he, along with his staff, really follows this.
He bases his procedures/treatment plans on clients' conditions, not on what's popular. To be able to cater to all kinds of patients, the clinic offers surgical and non-surgical procedures.
One of the non-surgical treatments in the clinic is fillers. Not everyone is willing to undergo surgery to rejuvenate their face.
This is where fillers come in. Knowing full well that clients have their own preferences, Dr Tham takes time to address their concerns.
Many clients shared how the doctor maintained his professionalism by not compromising medical standards. In some cases, he had to put his foot down, leading to better results.
We are pleased that he is honest when setting clients' expectations. Say, for fillers, the effect can last for six months to five years.
The period depends on the type of filler used and the clients' initial condition, and clients are briefed about this. As filler procedures are non-surgical, there is no downtime.
The base price of dermal fillers in Aesthetics & Plastic Surgery is $981. This number is slightly higher than what other clinics offer, but it is still within the expected price range for this service.
Personalised service
No downtime
Slightly pricey
Closed on Sundays