Categories >
Other Services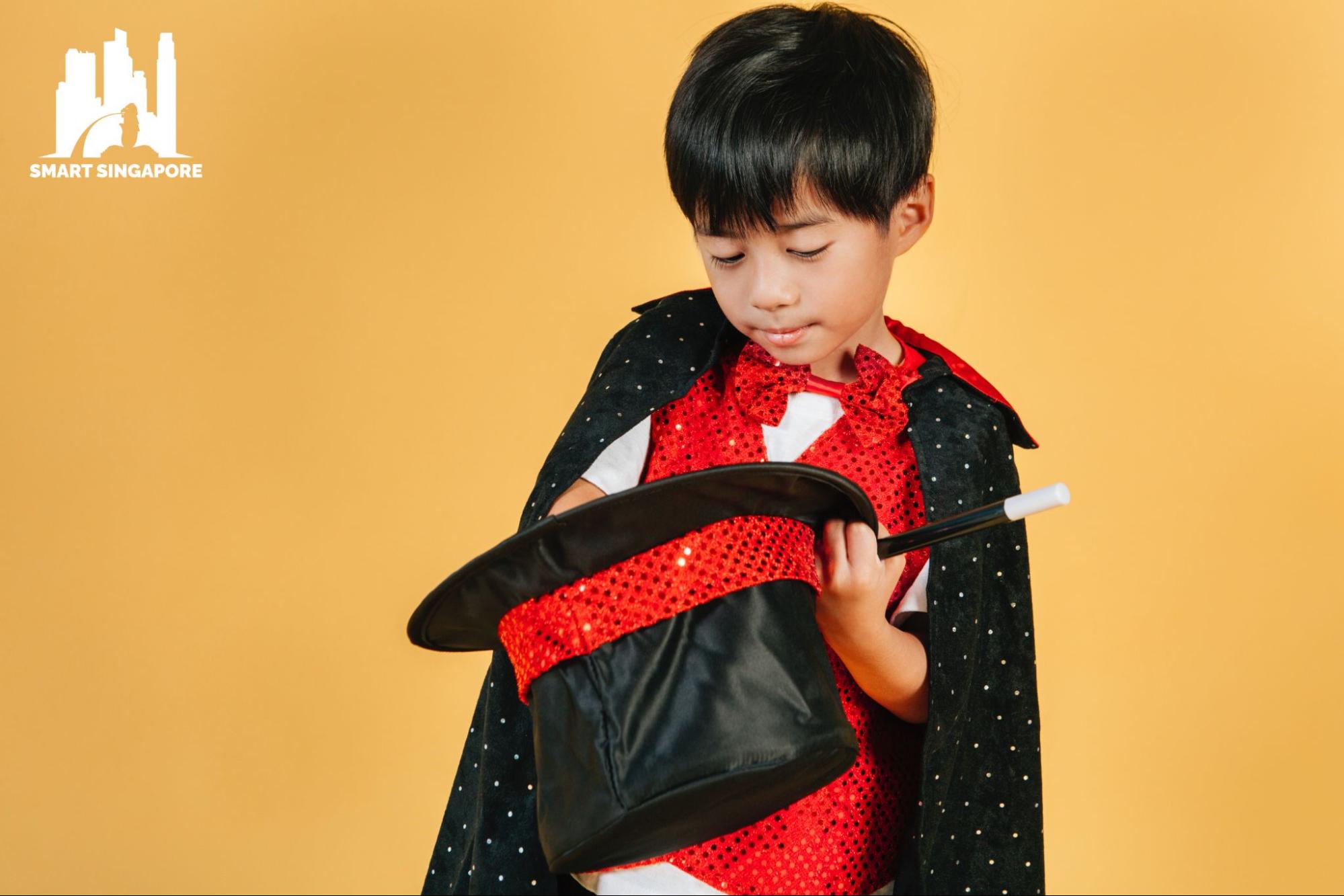 Abracadabra! Top 5 Magicians You Should Hire in Singapore
1. Derek Magic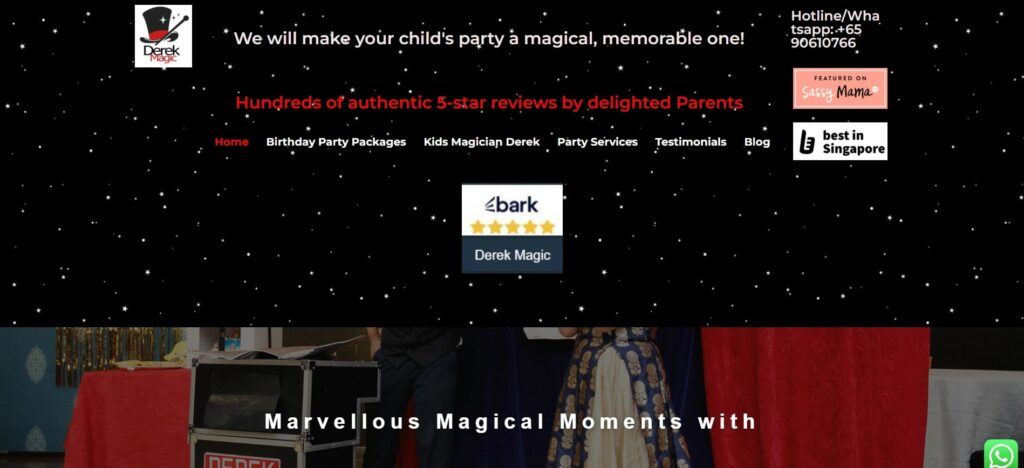 Services: Kids magic show, close-up magic, balloon sculpting, face painting, magic workshop
Website: https://www.derekmagic.com/
Contact Details: +65 9061-0766 | derek@derekmagic.com
Operating Hours: Open 24 hours daily
| | |
| --- | --- |
| Google Reviews | 5/5 |
| Facebook | 5/5 |
| Total reviews | 5/5 |
| Score consistency | 5/5 |
| | |
| --- | --- |
| Industry experience | 5/5 |
| Package options | 5/5 |
| Value for money | 4.9/5 |
| Entertainment quality | 5/5 |
Diverse magic show package options
With 10 years of industry experience
Funny, friendly, and engaging performer
Popularity might make him hard to book at times
Stand-in magician might not live up to Derek's reputation
Parents wondering what type of magic show to put up for their kid's party will find Derek Magic's extensive packages a good starting point.
The seasoned magician offers magic shows in three themes: interactive, live animals, and science magic. First-time clients said these options gave them an idea of how to execute their children's parties.
Some even shared they anchored the party theme on the magic show for cohesiveness. One mother decided her birthday girl should dress in a rabbit costume and her guests in their favorite animals to match Derek's live animal magic show.
Meanwhile, repeat clients found the wide range of options favorable, as it meant their children would witness a different show each time they hired Derek.
One client who invited him three times in three years loved that the magician managed to surprise his young son every time.
He added that Derek is funny, friendly, and proactive, so his magic shows always ended with zero hitches and smiles plastered on his young audience's faces.
Clients also said that Derek is easily reachable via WhatsApp, making him incredibly reliable.
However, despite being easy to contact, Derek might not always be available due to his many engagements (he's one of the most popular kid magic show performers in the city).
Fortunately, if he isn't bookable on your preferred date, he would recommend a magician to perform in his place. That said, you risk the possibility that the stand-in might not live up to expectations.
Also, older kids (9 to 10 years) might not be as entertained, as Derek's performances are designed for younger children (4 to 8 years).
2. Tricky Patrick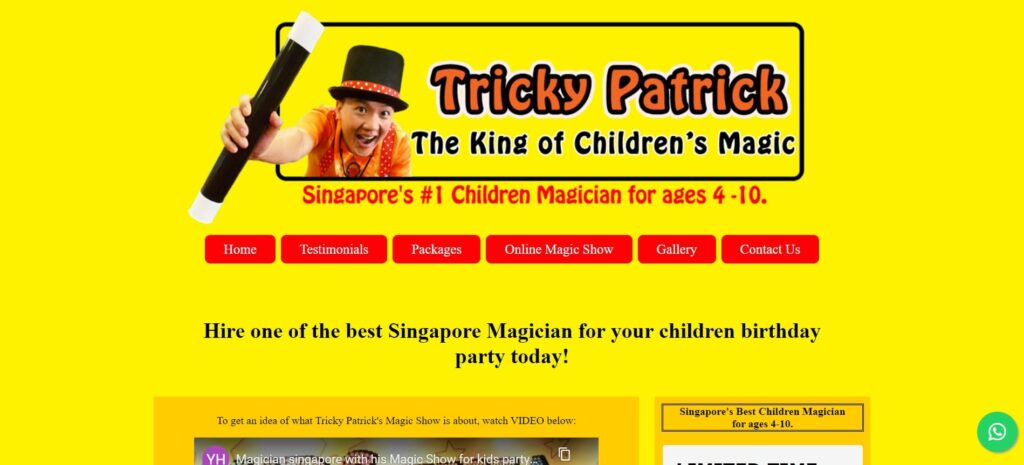 Services: Magic show, balloon sculpting, face painting, virtual magic show
Website: https://www.trickypatrick.com/
Contact Details: +65 9846-6609
Operating Hours: Open 24 hours daily
| | |
| --- | --- |
| Google Reviews | 5/5 |
| Facebook | 5/5 |
| Total reviews | 4.9/5 |
| Score consistency | 5/5 |
| | |
| --- | --- |
| Industry experience | 5/5 |
| Package options | 4.5/5 |
| Value for money | 4.8/5 |
| Entertainment quality | 5/5 |
Funny and sincerely friendly with kids
Highly responsive customer service
Has 15 years of experience
A bit pricey
Limited magic show package options
Tricky Patrick's charisma and sense of humor are well-received by both children and adults, making him your best bet to engage young and excitable party guests.
Clients who hired Patrick said he was a big hit with their kids, saying the youngsters were enthralled and cheerful throughout his performance.
Moreover, one client observed that the magician's appeal to children lasted after the magic show. She said her daughter approached him to "pester" him more (as most kids do to people they like), to which he responded with sincere friendliness.
Clients also said they love the magician's talent manager for their promptness and attentiveness. They shared that Justin was thorough, making communications between the client and the magician smooth throughout.
That said, we feel disappointed that Patrick's packages are fewer than what other magicians offer. He only has a three-tier package option with the usual inclusions such as cake cutting, balloon sculpting, and face painting.
We also think his fees lean on the pricier side of what's average in Singapore (going as high as $760).
Fortunately, the magician offers limited-time offers and discounts, with price slashes reaching $100.
Be quick to book him, though. Patrick does around 300 magic shows in a year (he sometimes performs five shows a day), so the later you call him, the less likely you secure a slot.
3. Magic of Markson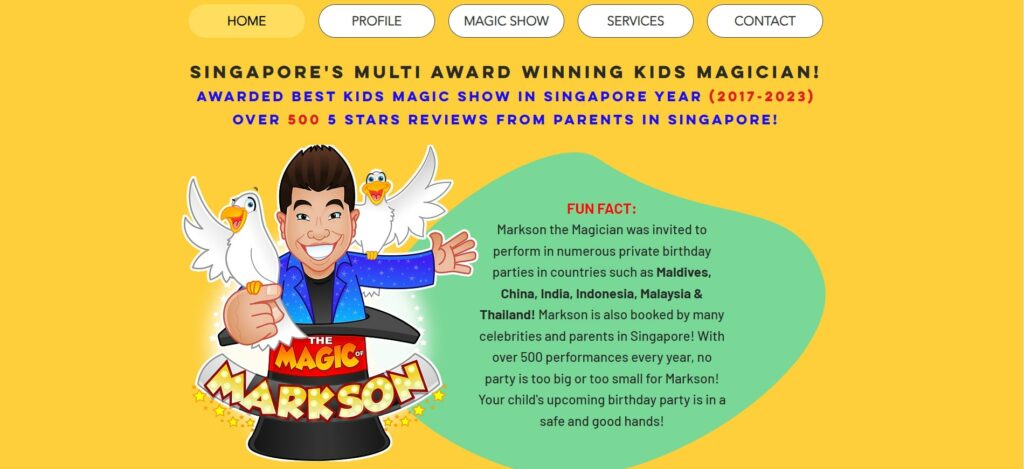 Services: Magic show, carnival games, caricature, balloon sculpting, face painting
Website: https://www.magicofmarkson.com/
Address: 520 Miltonia Close, Singapore 768122
Contact Details: +65 9369-4164 | info@MagicOfMarkson.com
Operating Hours: Open 24 hours daily
| | |
| --- | --- |
| Google Reviews | 5/5 |
| FacebookConsumer Rating: B+ | 5/5 |
| Total reviews | 4.9/5 |
| Score consistency | 5/5 |
| | |
| --- | --- |
| Industry experience | 5/5 |
| Package options | 4.5/5 |
| Value for money | 4.7/5 |
| Entertainment quality | 5/5 |
Highly entertaining magician
Sense of humor a big hit to children
Allows birthday kid to take part in the show
Might be a bit pricey
Limited magic show packages
The highlight of Magic of Markson's shows is the live animal appearances, making him the ideal hire if your little birthday celebrant adores animals.
Clients told us that Markson's style is popular with children, as he's spontaneous and energetic and has natural comedic timing.
They also observed that he's excellent at building anticipation in his young audience, making the rabbit or dove appearing out of thin air most impactful.
Many parents also love that their kids got to perform alongside the magician, specifically in helping make the bunny rabbit appear.
One client shared that the experience gave his son a lovely thing to remember and helped boost his confidence.
Also, the client praised Markson's production setup, particularly his dance music choice and sparkly coat. They said his stance and smile were already a performance in itself.
However, due to the relative difficulty of his magic tricks, Markson's show package isn't the cheapest out there.
Moreover, you might spend more than your budget because of his tempting additional services such as carnival games and caricature activities.
It also bums us out that his magic show packages are fewer than other magicians for hire (animal and non-animal packages only).
4. E Magical Moment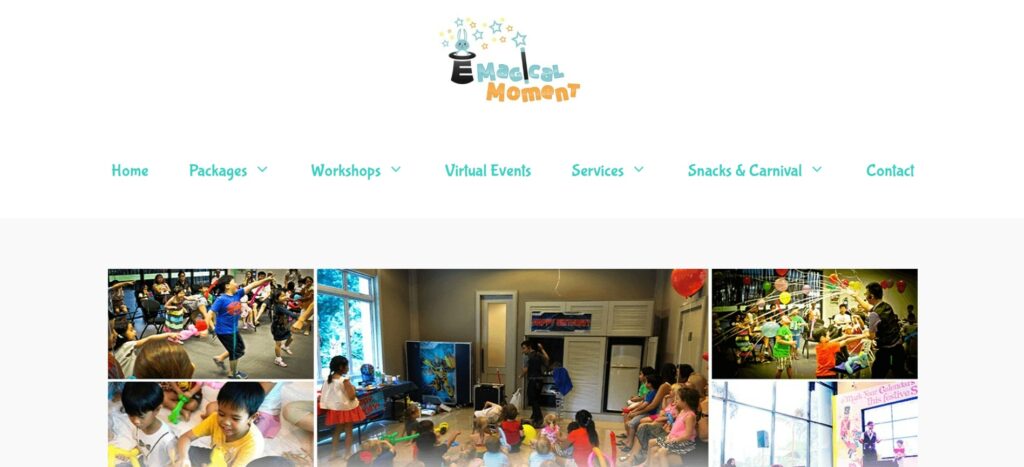 Services: Magic show, birthday packages, magic workshop
Website: https://emagicalmoment.com/
Address: Anson Rd, Singapore 079903
Contact Details: +65 8235-1615 | enquiry@emagicalmoment.com
Operating Hours: Daily: 9:00 AM – 9:00 PM
| | |
| --- | --- |
| Google Reviews | 4.9/5 |
| Facebook | 5/5 |
| Total reviews | 4.5/5 |
| Score consistency | 5/5 |
| | |
| --- | --- |
| Industry experience | 5/5 |
| Package options | 5/5 |
| Value for money | 4.8/5 |
| Entertainment quality | 4.9/5 |
Multiple magicians for hire
Wide range of magic show packages
Engaging and charming performers
Magic shows do not include live animals 
Communication hiccups possible
E Magical Moment is your best option if you want to book a kids' party magician without hassle.
The company has multiple magicians for hire, so one should be available for your party. Moreover, they have extensive professional experience; they have performed in carnivals, parties, and corporate events.
Another notable thing is that most clients found the performers engaging and charming, and the young audience loved them.
Many repeat clients also said that the show's quality was consistent despite them getting a different performer every time.
Parents also appreciate the wide range of party packages the company offers. E Magical Moment has four magic show bundles!
A few clients also opted for customized packages to suit their kids' preferences. They said they appreciated the company accommodating their requests.
However, magic shows from E Magical Moment do not include live animals. You might need to book another magician if your child expects a dove to appear out of the performer's hat.
Also, note that communication misses might happen. One client shared that his hired magician arrived late due to a misunderstanding with the front desk about the party date and arrangements.
5. Jellybean Party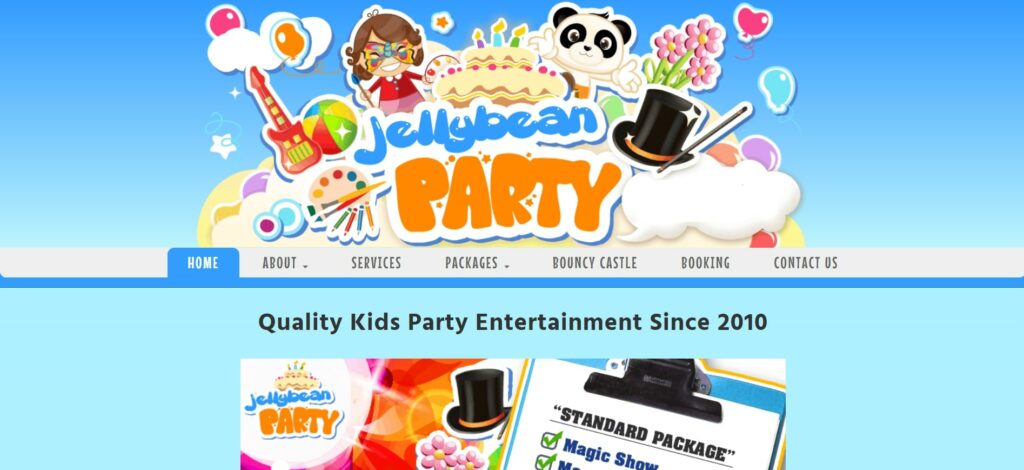 Services: Magic show, interactive games, pool party
Website: https://www.jellybeanparty.sg/
Address: 300 Tiong Bahru Rd, Singapore 168731
Operating Hours: Daily: 10:00 AM – 6:00 PM
| | |
| --- | --- |
| Google Reviews | 5/5 |
| Facebook | 5/5 |
| Total reviews | 5/5 |
| Score consistency | 5/5 |
| | |
| --- | --- |
| Industry experience | 5/5 |
| Package options | 5/5 |
| Value for money | 4.8/5 |
| Entertainment quality | 5/5 |
Plenty of magic show packages
Highly skilled magicians
Magic-only package is affordable
Clients can't choose their magician
Some packages are pricey
Many parents love Jellybean Party, as it has a team of magicians for hire and a wide variety of magic shows.
Moreover, the three magic show types (standard, live animal, and bubble) come in various packages at different prices, allowing parents to choose what best fits their budgets.
One parent quipped that she plans to book all the options in the three years leading up to her son's 9th birthday!
Meanwhile, a mom observed that her hired magician made her kid the star of the show, but not too much as to bore the guests. She said the performance was interactive, and even the adults were enthralled!
One couple, meanwhile, favors the magic-show-only option, as it's more affordable. They said having the choice to hire just the magician is convenient (as they can do the extra party fluff themselves).
Of course, some clients may want to opt for packages so they won't have to do anything else. However, note that the side activities (balloon sculpting and games) only last 30 minutes, which may be too short.
Also, prepare your wallet if you want to opt for the live animal and bubble magic shows, as their prices can go over $1,000.
Note that you can't choose the magicians coming to your party, as the company observes a first-come, first-served system.
Also, you might want to book two weeks ahead or risk not securing a magician for your child's party.
FAQs about Magicians for Hire and Magic Shows
---