Categories >
Other Services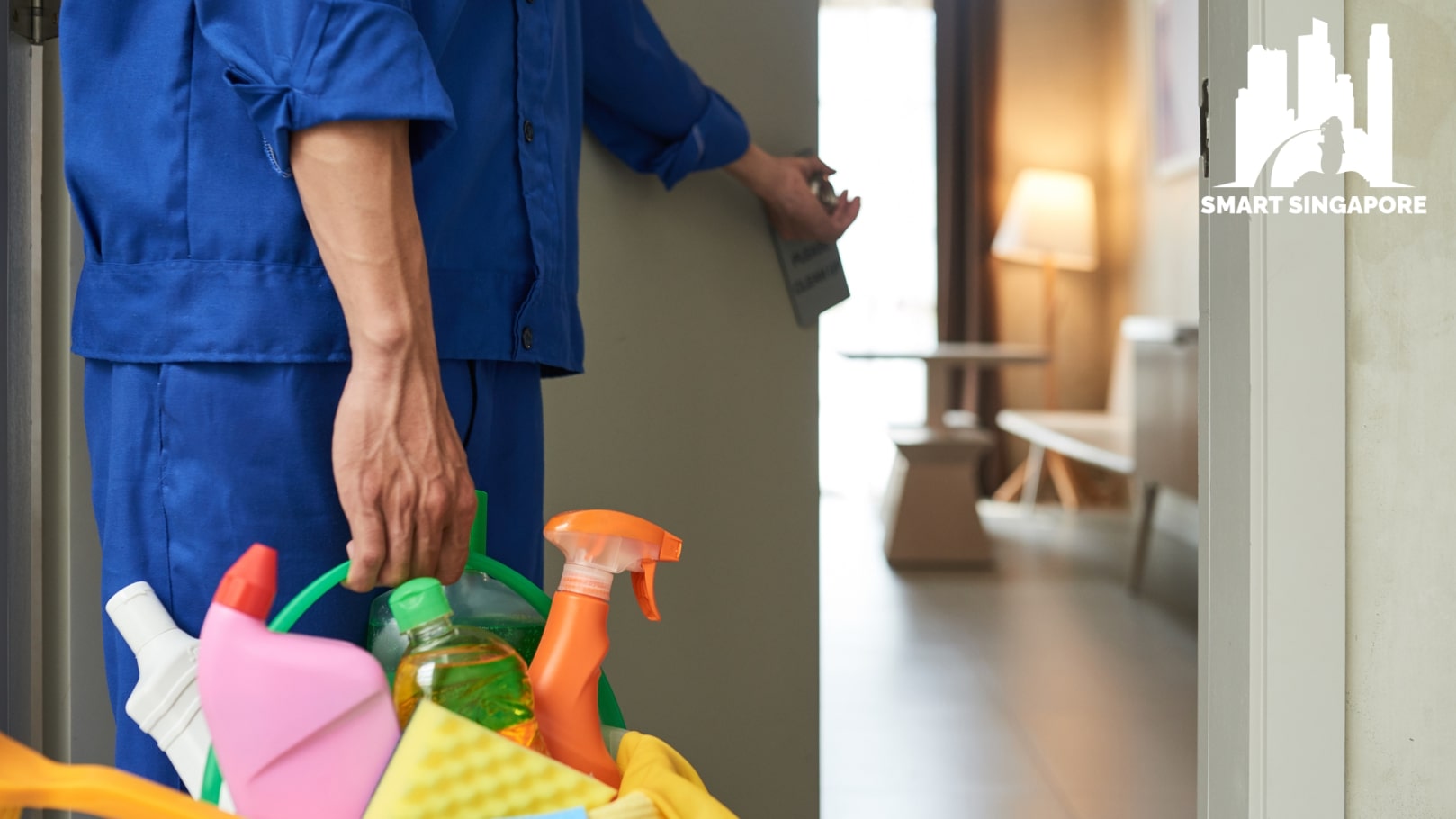 The Top 20 Cleaning Services in Singapore
How We Picked Reliable Cleaning Services in Singapore
Experience
A cleaning service company must have proper credentials and certificates that prove their expertise in the industry.
Range of Services
It is always a plus if a cleaning service company offers a range of services that are compatible with your needs.
Trustworthiness
Hiring a cleaning service basically means letting strangers into your home. It is important that a cleaning service company sends professional and trustworthy cleaners to your home.
Quality of Work
A house or any establishment for that matter should be tidy and spotless by the end of the cleaner's service.  
ECO Clean Office distinguishes itself by incorporating sustainable and environmentally friendly practices into its carpet cleaning procedures. The commitment to being tough on stains while remaining gentle on the planet reflects a forward-thinking approach that aligns with contemporary standards of corporate responsibility.
They pride themselves on staying abreast of cutting-edge technologies and employing efficient, eco-friendly cleaning methods. The use of advanced equipment ensures that carpets receive a thorough cleaning, leaving them not only visually appealing but also free from deep-seated dirt, allergens, and contaminants.
Furthermore, ECO Clean Office's team of certified cleaning specialists adds another layer of assurance to their carpet cleaning service. The expertise and training of their cleaning professionals contribute to the overall quality and effectiveness of the carpet cleaning process.
While ECO Clean Office emphasizes transparent pricing, some businesses, particularly smaller enterprises, may find the cost of premium carpet cleaning services relatively higher compared to alternatives.
In conclusion, ECO Clean Office's carpet cleaning service stands as a commendable choice for businesses seeking a blend of sustainability and effectiveness. The company's commitment to eco-friendly practices, personalized cleaning approaches, advanced equipment, and transparent pricing make it an attractive option.
1. ECO Clean Office
Services: Office Cleaning, Carpet Cleaning, Disinfection, One-Time Cleaning
Website: https://ecocleanoffice.com
Address: 24 Sin Ming Ln, #08-92, Singapore 573970
Contact Details: +65 8204 3689
Operating Hours: Monday – Friday: 9 AM – 6 PM
2. Procare
Services: Cleaning, Steaming, Floor Polishing, Air Sanitation/Fogging, Mattress Cleaning,
Website: PROCARE – Your Preferred Cleaning Partner (procarecleaning.com.sg)
Address: 33 Ubi Avenue 3, #05-23 Vertex Tower B, Singapore 408868
Contact Details: +65 6910 8533 / info.procarecleaning@gmailc.com
Operating Hours:
(Office)
Monday to Friday: 9:00 am – 6:00 pm
Saturday and Sunday: Closed
(Cleaning)
Monday to Sunday: 9:00 am – 6:00 pm
3. Sureclean
Services: Professional Home Cleaning, Home & Commercial Disinfection, Concierge Class Housekeeping Service, Wet or Dry Mattress Cleaning
Website: SureClean – Professional Home Cleaning Services in Singapore
Address: 10 Bukit Batok Crescent, The Spire, #14-02, Singapore 658079
Contact Details: +65 6983 9523
Operating Hours:
Monday to Saturday: 9:00 am – 7:00 pm
Sunday: Closed
4. A1 Facility Services
Services: One-time Cleaning, Weekly Cleaning, Pest Control, Spring Cleaning, Ironing
Website: A1 Cleaning Services – Website for A1 Cleaning Services (a1-cleaningservices.com)
Address: 101A Upper Cross Street, #09-08, People's Park Centre, Singapore 058358
Contact Details: +65 9116 8889 / bryan@a1-cleaningservices.com
Operating Hours:
Monday to Friday: 9:00 am – 6:00 pm
Saturday and Sunday: Closed
5. Meide Services
Services: Cleaning Services, Babysitting Service
Website: https://meide.sg/
Address: Contact for more infomation
Contact Details: WhatsApp Us +65 8595 8579 | Email: meide@meide.sg
Operating Hours: Contact for more information
6. Helpling Singapore
Services: General Cleaning, Move-in/out Cleaning, Post-renovation Cleaning, Spring Cleaning, Sofa Cleaning
Website: Helpling Singapore™ (Official) – $20 Off First Booking | Helpling
Address: 179B Telok Ayer Street, Level 3, Singapore 068627
Contact Details: +65 3158 3871 / contact@helpling.sg
Operating Hours: Monday to Sunday: 10:00 am – 5:00 pm
7. Helperoo
Services: Recurring Cleans, One-off Clean, Move-in/out Clean
Website: Home – Welcome to Helperoo!
Address: 16 Boon Lay Way Tradehub 21, #01-55, Singapore 609965
Contact Details: +65 8407 8407 / sales@helperoo.com.sg
Operating Hours: Monday to Friday: 8:00 am – 9:00 pm
8. Mattress Cleaning Singapore Company
Services: Sofa Cleaning, Mattress Cleaning, Carpet Cleaning, End of Tenancy Cleaning, Office Cleaning, Disinfection Cleaning
Website: https://www.mattresscleaningsingaporecompany.com/
Address: 212 Jln Eunos, #01-78, Singapore 419550
Contact Details: +65 9362 9200
Operating Hours: 24/7
9. Art of Cleaning Pte Ltd
Services: Services
Website: http://www.artofcleaning.com.sg/
Address: BLK 51 UBI AVE 1 #05-02 PAYA UBI INDUSTRIAL PARK SINGAPORE 408933
Contact Details:
Operating Hours: MONDAY TO SATURDAY 9:00-19:00
10. Carpet Cleaning Singapore
Services: http://cleaningcarpetsingapore.com/services/
Website: http://cleaningcarpetsingapore.com/
Address: 51 Ubi Avenue 1, #05-18, 408933
Contact Details:
(65) 84183248
sales@cleaningcarpetsingapore.com
Operating Hours: Mon-Sat: 9:00 – 21:00
11. Singapore Carpet Cleaning
Services: https://singaporecarpetcleaning.com.sg/services/
Website: https://singaporecarpetcleaning.com.sg/
Address: Blk 1 Defu Lane 10 #01-563 Singapore 539182
Contact Details:
Email: sales@singaporecarpetcleaning.com.sg
Mobile: +65 82475558
Operating Hours: Contact for more information
12. Art of Carpet Cleaning
Services: Residential, commercial and contract carpet cleaning services
Website: https://artofcarpetcleaning.com.sg/
Address: 130 Lorong K Telok Kurau, S425769
Contact Details:
sales@artofcarpetcleaning.com.sg
+65 8788 2788
Operating Hours:
9:00 AM – 6:00 PM
6 Days a Week
13. Be Mitey Clean
Services: Furniture Cleaning, House Cleaning, Disinfection
Website: https://bemiteyclean.com/
Address: 47 Holland Dr, Singapore 270047
Contact Details:
Operating Hours:
Monday – Sunday: 9am – 6pm
14. Apex Hygienic Pte Ltd
Services: House Cleaning, Fabric Upholstery Cleaning, Leather Upholstery Cleaning, Curtain Dry Cleaning, Mobile Car Wash, COVID-19 Disinfection
Website: https://apexhygienic.sg/
Address: Contact for more information
Contact Details:
Operating Hours:
Monday to Sunday: 9AM-6PM
15. AlphaKleen
Services: Curtain Cleaning, Sofa Cleaning, Mattress Cleaning, Rug Cleaning, Carpet Cleaning, Car Interior Cleaning
Website: https://alphakleen.sg/
Address: 50 Serangoon North Ave 4, #06-07 First Centre, Singapore 555856
Contact Details: 8143 3000 / support@alphakleen.sg
Operating Hours: Monday to Saturday: 9:00 am – 6:00 pm
16. Sendhelper Home Services
Services:
Cleaning
Deep Cleaning
Laundry
Air Condition
Handyman
Elderly Care
Cooking
Pest Control
Tasks And Errands
Website: https://www.sendhelper.com/
Address: 1 Paya Lebar Link, #12-01/04, Paya Lebar Quarter, PLQ, #1, Singapore 408533
Contact Details: +65-9387-5891 / INFO@SENDHELPER.COM
Operating Hours: 24/7
17. AFM
Services:
Part Time Maid
Moving In/Out Cleaning
Office Cleaning
Post Renovation Cleaning
Fabric Sofa Cleaning
Marble Polishing
Website: https://www.afmsg.net
Address: 2 Yishun Industrial Street 1, #05-22 Northpoint Bizhub, Singapore 768159
Contact Details: +65 8660 9297
Operating Hours: Monday to Saturday: 8:30 am – 8:30 pm
18. PartTimeMaid
Services: https://part-time-maid.com/services-rate/
Website: https://part-time-maid.com/
Address: 61 Kakit Bukit Ave 1, #04-39G Shun Li Industrial Park, 417943 Singapore
Contact Details: +65 8609 3600
Operating Hours: Contact for more information
19. @bsolute Cleaning
Services: https://www.absolutecleaning.com.sg/services.html
Website: https://www.absolutecleaning.com.sg/
Address: 61 Kaki Bukit Ave 1 #03-05 Singapore 417943
Contact Details: Phone: +65 9186 9762
Operating Hours: Contact for more information
20. Auntie Cleaner
Services: https://www.auntiecleaner.com.sg/services.html
Website: https://www.auntiecleaner.com.sg/
Address: 5 Ang Mo Kio Industrial Park 2A, Singapore 567760
Contact Details: +65 8609 3601
Operating Hours: Contact for more information
FAQs about the Best Cleaning Services in Singapore