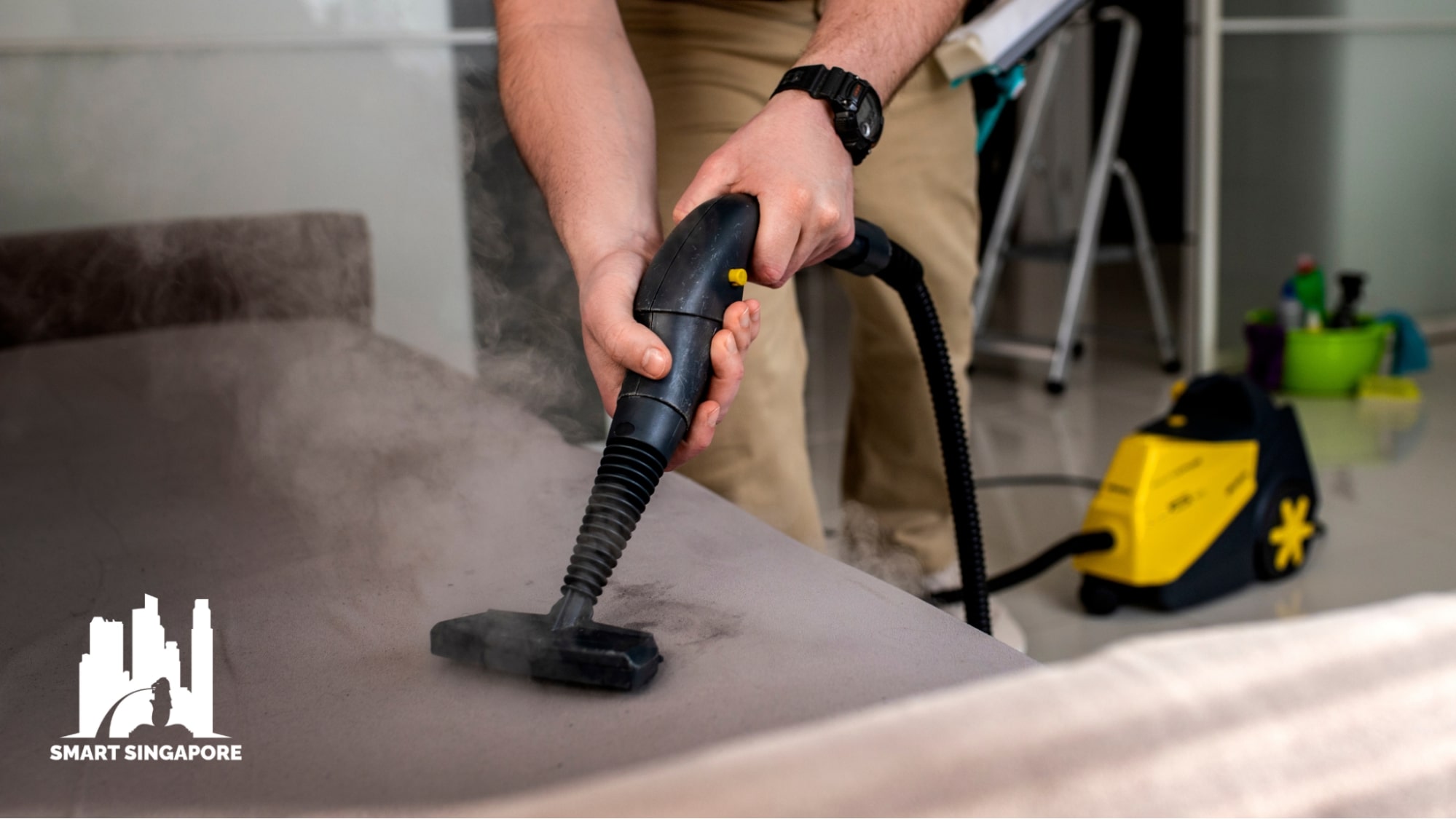 Top 5 Upholstery Cleaning Services in Singapore – Reviewed
1. Clean Lab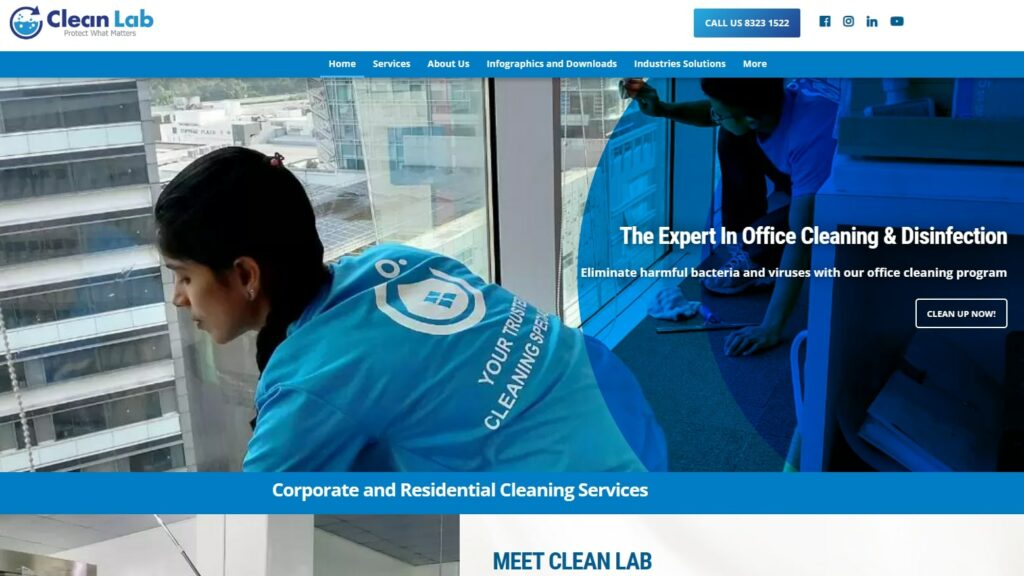 Services: Upholstery Cleaning, Carpet Cleaning, Office Cleaning, Floor Cleaning, Mattress Cleaning
Website: https://cleanlab.com.sg/
Address: 25 Kaki Bukit Pl., Singapore 416203
Contact Details: +65 6741 1522, +65 86861522 / hello@cleanlab.com.sg
Operating Hours:
Monday to Friday: 8:30 am – 6:00 pm
Saturday: 8:30 am – 1:00 pm
Sunday: Closed
| | |
| --- | --- |
| Google Reviews | 5/5 |
| Total Reviews | 4.7/5 |
| Score Consistency | 5/5 |
| | |
| --- | --- |
| Range of Services | 4.6/5 |
| Expertise | 4.6/5 |
| Quality of Work | 4.7/5 |
| Customer Service | 4.4/5 |
Uses environmentally friendly and EPA-approved cleaning solutions 
Removes coffee stains completely 
The cleaning solution has an overpowering smell 
Relatively pricey 
Clean Lab has environmentally friendly and Environment Protection Agency-approved cleaning solutions.
Using their deep upholstery method, the cleaners removed all traces of coffee stains from our team member's couch.
She had been putting off getting it cleaned for six months, so we weren't too confident that the stains were going to be scrubbed clear. We were gladly proven wrong!
Do note though that the chemicals they use for deep cleaning smell pretty strong even after a few hours since the furniture has been cleaned.
Our coworker wasn't really miffed about the scent, but if you stand closer to the freshly cleaned couch, the smell is off-putting.
Overall, she was satisfied with their service and wasn't too bothered by its relatively steep cost.
That said, we encourage you to contact Clean Lab's consultants before hiring them since they compute their pricing according to your furniture's condition.
2. WS Upholstery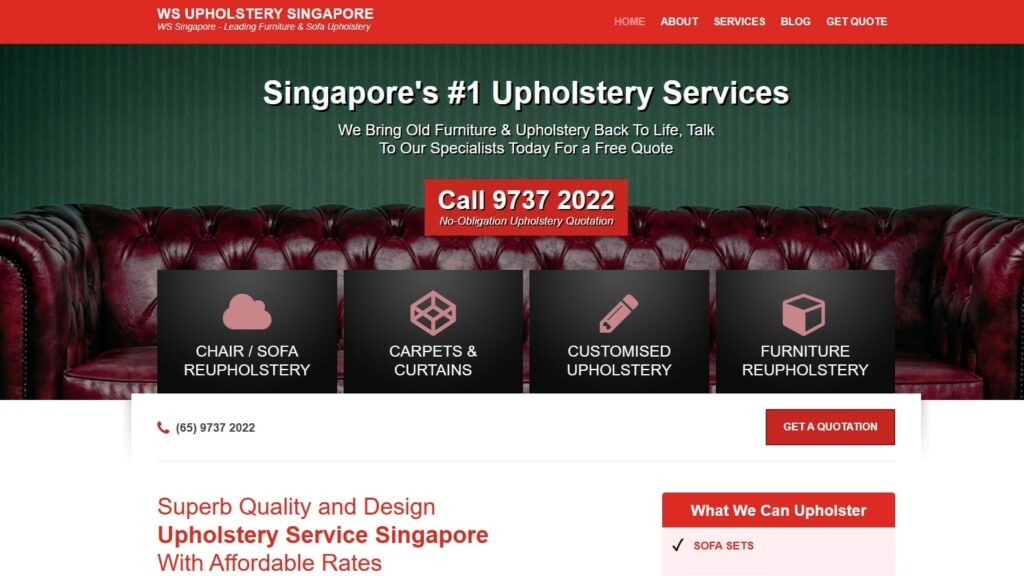 Services: Upholstery Services, Commercial Upholstery, Customer Curtains, Furniture Cushions, Wall Panel/Headboard
Website: https://upholsterysingapore.com/
Contact Details: +65 9737 2022
Operating Hours: Always open
| | |
| --- | --- |
| Google Reviews | 4.4/5 |
| Total Reviews | 4.3/5 |
| Score Consistency | 4.3/5 |
| | |
| --- | --- |
| Range of Services | 4.4/5 |
| Expertise | 4.5/5 |
| Quality of Work | 4.5/5 |
| Customer Service | 4.1/5 |
Uses hot water extraction to remove dirt and grime
Affordable
Might cause fraying on the mesh fabric 
Slow response to quotation requests 
If you wish to revive your upholstered furniture to its former glory, WS Upholstery can help. Upholstery cleaning is one of their expertise, and we just had the perfect (and very worn-out) office chair to work their magic on.
Since high-quality ergonomic office chairs are quite expensive these days, we thought it economical to replace the padding and have the mesh fabric professionally cleaned instead.
Not only was their service affordable, but we were also pleasantly surprised at how much more comfortable the office chair was after the service.
The mesh fabric looked fresh thanks to the hot water extraction method that they used to remove the dirt and grime. In addition to that, the solvent they use didn't have a chemical smell at all!
We did notice, however, that some areas had slight fraying, which wasn't there before we had it cleaned.
We also want to note that WS Upholstery wasn't quick to respond to our request for a free quote.
After waiting for two days and losing some of our patience, finding out that their service was affordable had certainly been a reprieve.
3. Clean Worthy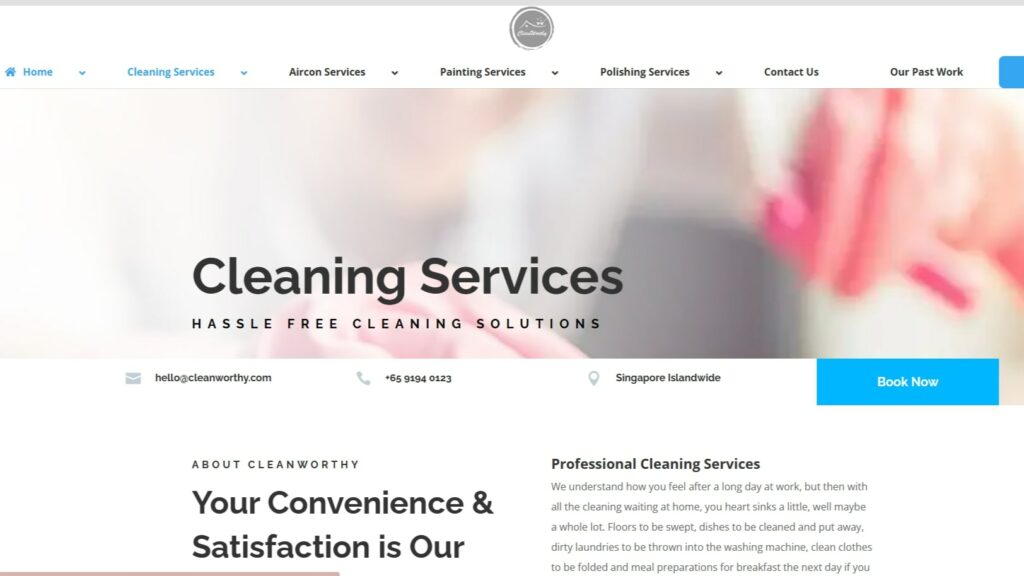 Services: Cleaning Services, Aircon Services, Painting Services, Polishing Services
Website: https://www.cleanworthy.com/
Address: 296B Bukit Batok St. 22, Singapore 652296
Contact Details: +65 9194 0123 / hello@cleanworthy.com
Operating Hours: Always open
| | |
| --- | --- |
| Google Reviews | 4.5/5 |
| Total Reviews | 4.5/5 |
| Score Consistency | 4.3/5 |
| | |
| --- | --- |
| Range of Services | 4.9/5 |
| Expertise | 4.7/5 |
| Quality of Work | 4.6/5 |
| Customer Service | 4.6/5 |
Professional and efficient cleaning team
Adds leather conditioner as a final touch to the cleaning process 
Pricey 
Sofa feels sticky and tacky after the service 
Leather is a pretty tricky fabric as it is but even more so when it's in sofa form.
Our coworker's leather sofa that he had inherited from his parents needed some TLC, so he called Clean Worthy.
Clean Worthy's team was very professional. They arrived ten minutes before the scheduled cleaning and thoroughly assessed the sofa's condition before diving straight into the cleaning.
He liked that they were very efficient and was particularly impressed at how gentle and meticulous they were with vacuuming his three-year-old leather sofa.
After they vacuumed the surface and scrubbed off the remaining dust build-up with a soft brush, the sofa ended up looking fresh and polished. It smelled pretty good too!
But it did feel a little tacky to the touch since the leather cleaning agents they used included a conditioner to shine the leather.
Now, if you're in possession of a leather sofa as well, note that it should cost more than your average upholstery cleaning.
Since our coworker's sofa was a 3-seater, the service fee ended up costing $208.
It was admittedly a hefty price, but Clean Worthy did everything he asked for and more.
4. DKS International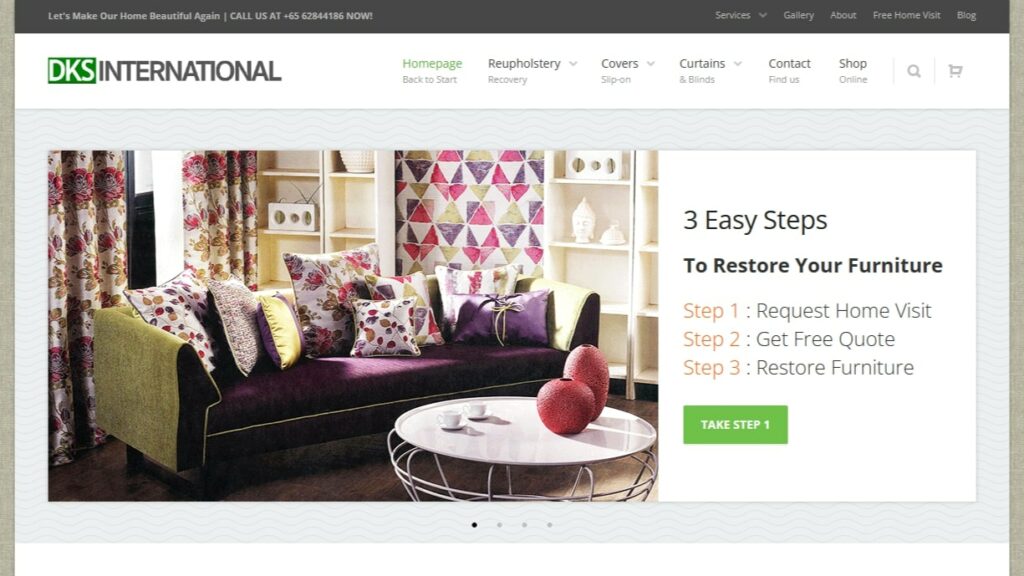 Services: Upholstery Cleaning, Reupholstery, Curtains Service, Blinds Service
Website: https://dksinternational.com/
Address: 37 Defu Lane 10, #01-41, Singapore 539214
Contact Details: +65 6284 4186, +65 9838 5685 / dks.int@live.com
Operating Hours:
Monday to Friday: 9:00 am – 6:00 pm
Saturday: 9:00 am – 2:00 pm
Sunday: Closed
| | |
| --- | --- |
| Google Reviews | 4.3/5 |
| Total Reviews | 4.4/5 |
| Score Consistency | 4.4/5 |
| | |
| --- | --- |
| Range of Services | 4.3/5 |
| Expertise | 4.4/5 |
| Quality of Work | 4.3/5 |
| Customer Service | 4.5/5 |
Affordable 
Efficient workers
Uses a high-tech vacuum
Can't completely remove some stains (faint marks)
Not responsive to text and email 
We were stunned at how affordable DKS International is.
One of our coworkers had a massage chair that was in dire need of a scrub, so we took our chance at hiring them.
We appreciated how efficiently they worked and were particularly impressed at the high-tech vacuum with a special angled-tipped attachment that they used to lighten up the fabric.
The end result was admittedly not perfect since there were still some stains that you can see if you're close enough. So if you're someone who wants your upholstered furniture to look brand new, this company may not be the best fit for you.
But if you ask us, DKS International's upholstery cleaning services are definitely worth looking into, especially if you have several pieces of furniture that you want to be cleaned but don't want to break the bank in doing so.
If you want to book them though, we suggest that you contact them through their hotline since they weren't responsive to both our texts and email.
5. Helpling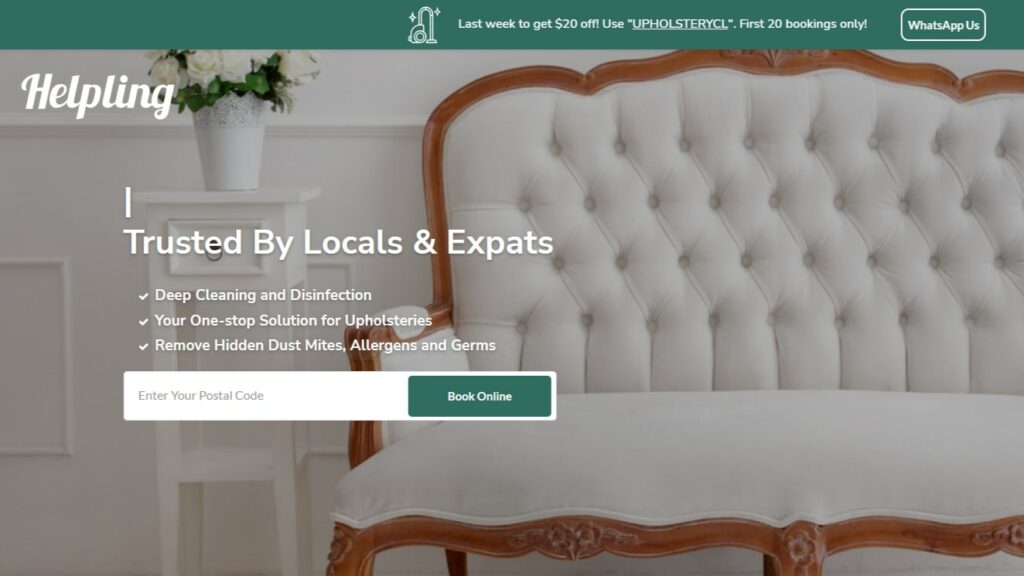 Services: Steam Cleaning, Leather Cleaning, Extraction, Dry Cleaning
Website: https://www.helpling.com.sg/upholstery-cleaning
Address: 179B Telok Ayer St., Level 3, Singapore 068627
Contact Details: +65 3158 3871 / contact@helpling.sg
Operating Hours: Monday to Sunday: 9:00 am – 6:00 pm
| | |
| --- | --- |
| Google Reviews | 4.7/5 |
| Total Reviews | 4.5/5 |
| Score Consistency | 4.8/5 |
| | |
| --- | --- |
| Range of Services | 5/5 |
| Expertise | 4.8/5 |
| Quality of Work | 4.8/5 |
| Customer Service | 4.6/5 |
Has a wide array of upholstery cleaning methods 
The steam cleaning method is effective in removing furs from the sofa 
Expensive 
Not always available due to the high demand 
If you're looking for a one-stop shop for cleaning-related services, Helpling definitely has something for your specific needs!
In our case, we wanted to see if their upholstery cleaning service can help salvage our team member's fur-infested one-seater sofa.
We all know that sofas seem to be the best napping spot for pets, and cats seem to love them the most.
Our coworker's cat's partiality to it resulted in her furs burrowing deep into the fabric of the sofa.
Since the fabric is chenille, a blend of polyester and special tufted yarns, it's very difficult to remove the furs using just a vacuum alone.
Fortunately, Helpling has a wide array of cleaning methods ranging from regular vacuum cleaning and steam cleaning to deep extraction.
In our coworker's case, the cleaners at Helpling decided to do a steam cleaning since this particular method helps loosen up her sofa's fabric, which made it easier to brush off the furs.
The hot vapour released by the steam also helped removed other surface dirt, and by the end of their service, the sofa looked clean and very much fur-less.
One thing about Helpling though is that this company's services are relatively pricey. For us, the cost is justified, but if you're on a budget, we believe there are other alternatives for you.
It's also worth noting that Helpling's services are highly in demand. So should you decide to hire this company's cleaners, there's no guarantee that they will be available at your preferred date.
FAQs about Upholstery Cleaning
---