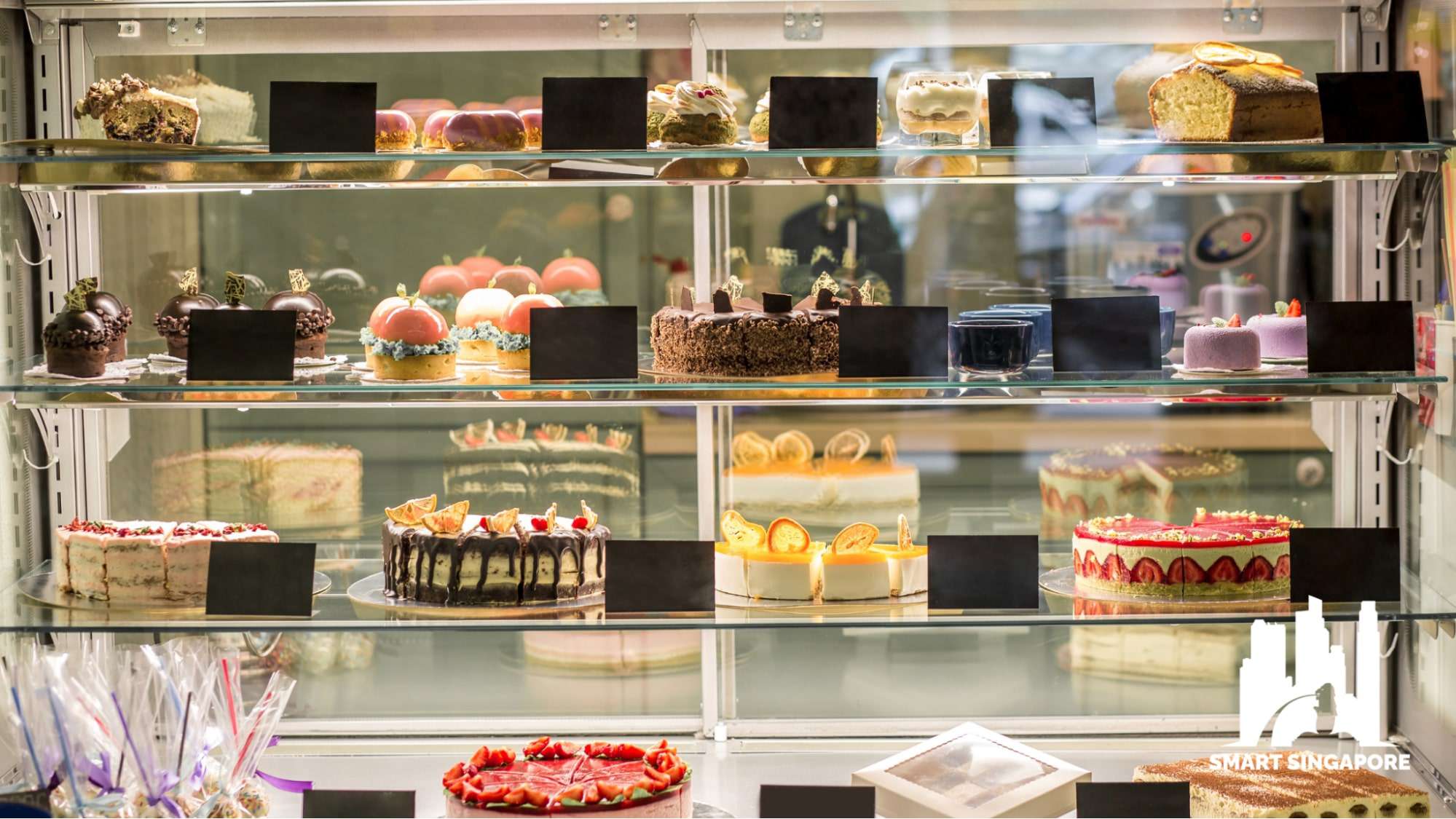 Heaven for Sweet Tooths: 10 Best Cake Shops in Singapore 
1. Nesuto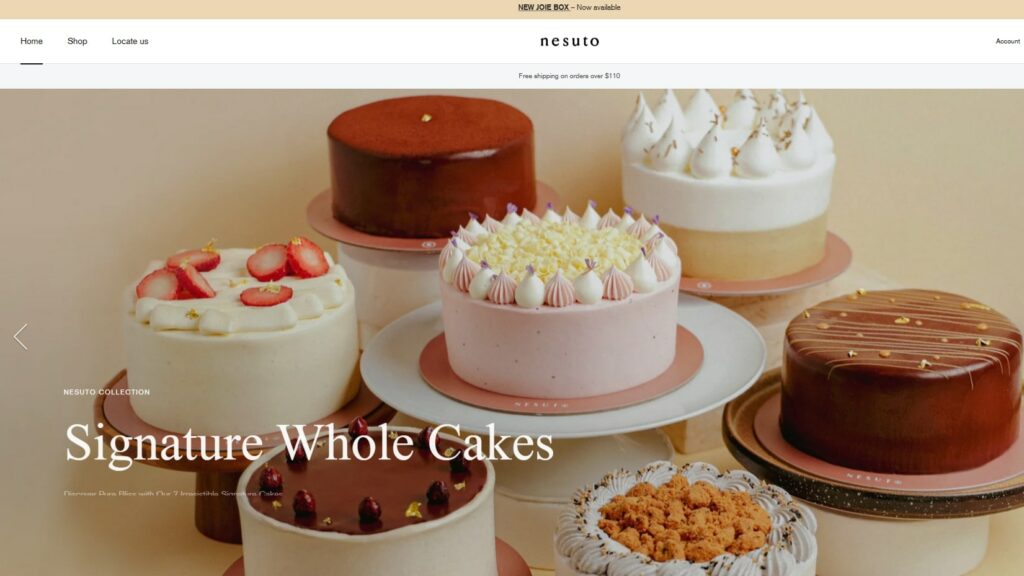 Website: dear-nesuto.com
Address: 53 Tras St, #01-01, Singapore 078992
Contact Details: +65 8952 1577 (Text only) / Hello@dear-nesuto.com
Operating Hours:
Monday to Saturday: 12:00 pm – 10:00 pm
Sunday: 12:00 pm – 6:00 pm
| | |
| --- | --- |
| Google Reviews | 4.3/5 |
| Total Reviews | 4.5/5 |
| Score Consistency | 4.3/5 |
| | |
| --- | --- |
| Cake Selection | 4.6/5 |
| Ambiance | 4.5/5 |
| Serving Speed | 4.7/5 |
| Cost (A higher score means a better value, not higher fees) | 4.4/5 |
Uses high quality and innovative ingredients, such as Baileys Irish Cream, for their cakes 
The staff was accommodating and offered recommendations 
Dim interior and small tables 
Cakes are quite pricey 
It took a lot of us some convincing to take a bite of the carousel cake bundle that we ordered at Nesuto out of fear of ruining the artfully decorated toppings.
We're glad though that we did because apart from paying a steep price for the cake bundle, each cake slice was packed with out-of-this-world flavours of fresh fruits, rich chocolate, and even liqueur!
The carousel cake bundle is a mish-mash of their cakes praline noisette gateau, Japanese goma, yuzu raspberry, decadent dark chocolate, Konichiwa Hojicha, and Baileys Coffee Opera.
Baileys Coffee Opera, in particular, is something to look out for. It has a creamy and slightly bitter but not at all unpleasant aftertaste courtesy of the teeny bit of Irish whiskey mixed in the cake.
As adults, we all appreciated this cake since it wasn't too sweet and had a slight oomph to it that the other cake flavours didn't achieve.
However, since it has a hint of liquor, this cake will obviously not be favoured by those that don't like the taste of spirits or any alcohol.
The staff that recommended the cakes to us was quick to serve us our drinks, and on top of that, he patiently waited at our table even when we couldn't decide what to get at first.
We were also quite delighted by Nesuto's interior, but it was pretty dim inside and the tables were quite small for big groups.
Fortunately, their cake display shelf was well-lit, and you can clearly see their wide array of scrumptious-looking cakes and pastries in all their glory.
We will definitely go back here again once we get our paychecks for a guilt-free indulgence.
2. Plain Vanilla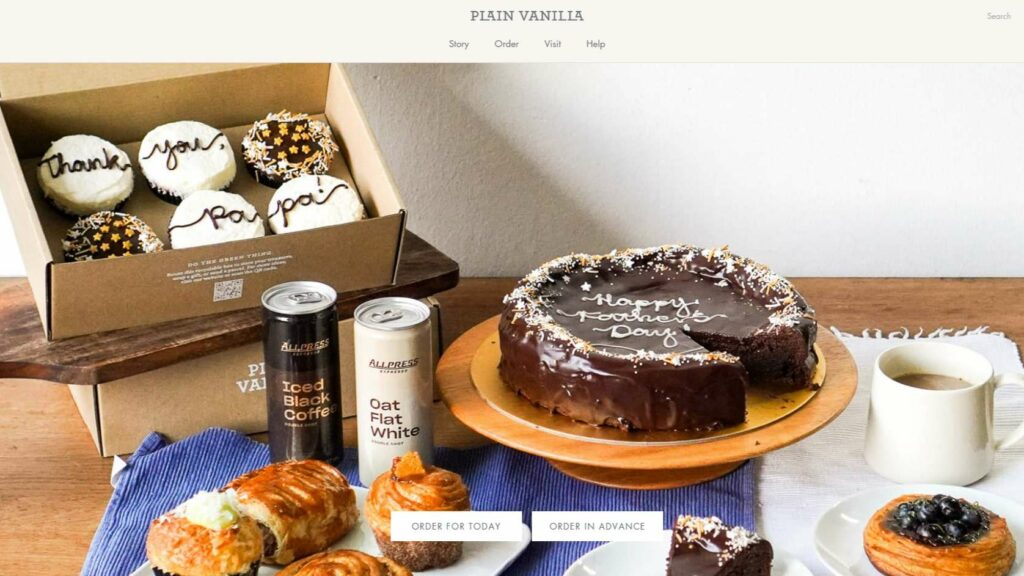 Website: plainvanilla.com.sg
Address: 1D Yong Siak St., Tiong Bahru Estate, Singapore 168641
Contact Details: +65 8363 7614 (For same-day orders), +65 6465 5942 (For advanced orders
Operating Hours: Monday to Sunday: 7:30 am – 7:00 pm
| | |
| --- | --- |
| Google Reviews | 4.7/5 |
| Total Reviews | 4.4/5 |
| Score Consistency | 4.7/5 |
| | |
| --- | --- |
| Cake Selection | 4.5/5 |
| Ambiance | 4.7/5 |
| Serving Speed | 4.3/5 |
| Cost(A higher score means a better value, not higher fees) | 4.4/5 |
Cozy, warmly-lit interior 
Uses locally-sourced fresh ingredients, such as flour and eggs
Does not use artificial preservatives 
Cakes and other baked goods are pricey 
Small interior and can get cramped 
Serving speed was relatively slow 
Contrary to its name, Plain Vanilla's cakes are far from plain!
I admit that their cakes aren't the best-looking cakes in the game, but they're probably one of the tastiest treats I have ever eaten.
I ordered a slice of their sweet and decadent butterscotch banana cake and lemon chia seed loaf, and one bite of each made me want to come back for more.
The lemon chia seed loaf, in particular, was a standout not just for its taste but because of its interesting texture. The loaf itself was fluffy, but the chia seeds added a layer of crunch that made eating it more exciting.
When I asked one of the servers where they bake their goods, she told me they do everything in-house using fresh ingredients. She also emphasized that they don't use artificial preservatives.
Although it hurt my wallet to pay $40 for a loaf of bread, I just had to buy the lemon chia seed one to take home.
The shop's interior also helped boost my appetite because I felt like I was dining in a cosy bed and breakfast located in the countryside.
And while the shop was pretty small and got cramped at some point, I didn't mind it one bit because the warm lighting and soft background music felt comforting.
The only downside I would like to point out is that the serving speed was relatively slower than I would have liked. After waiting for 15 minutes, I took it upon myself to follow up on my order at the counter.
3. Bob the Baker Boy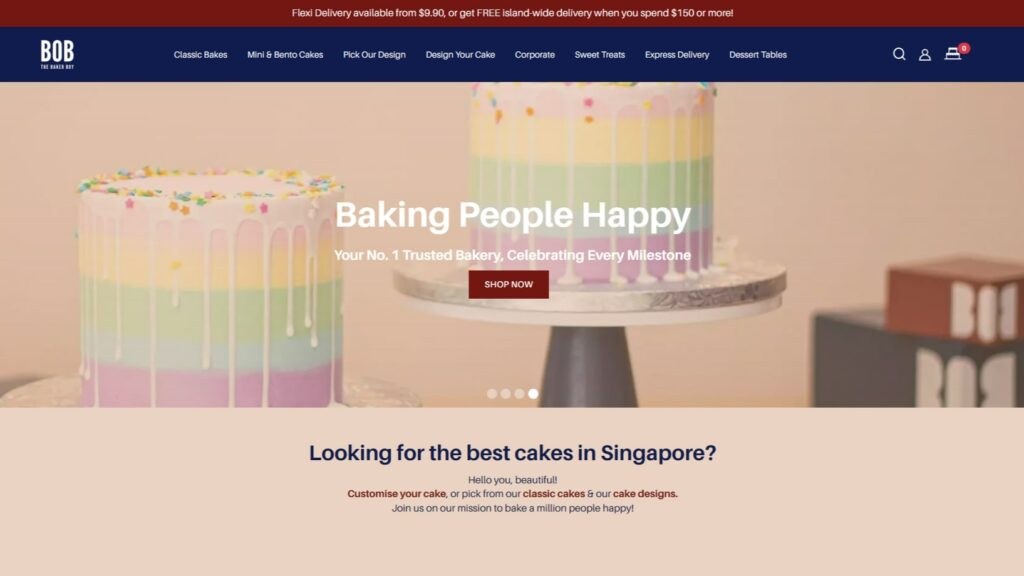 Website: bobthebakerboy.com
Address: 218 Pandan Loop #05-06 Singapore 128408
Contact Details: +65 9499 4015, +65 6015 0950 (For self-collection orders) / hello@bobthebakerboy.com
Operating Hours: Monday to Sunday: 10:00 am – 5:00 pm
| | |
| --- | --- |
| Google Reviews | 4.8/5 |
| Total Reviews | 4.3/5 |
| Score Consistency | 4.6/5 |
| | |
| --- | --- |
| Cake Selection | 4.5/5 |
| Ambiance | 4.2/5 |
| Serving Speed | 4.4/5 |
| Cost(A higher score means a better value, not higher fees) | 4.5/5 |
Staff is amiable 
Chocolate cake is moist and decadent but not overly sweet 
Sparse and small interior 
The staff was heavy-handed while packing our order 
Bob the Baker Boy is most Singaporeans' go-to for classic baked goods, and we think we know why.
We ordered their sea salt caramel chocolate cake and were amazed at how moist every bite was.
As you may know, chocolate cakes tend to taste flat-out sweet especially when mixed with caramel. But with the pleasant addition of sea salt, the cake was decadent enough without making you tap out only after a few bites.
If you want to cut the sweetness further, we found that this cake also really pairs well with the coffee. Our coffee of choice is the one we brew at work.
Unfortunately, coffee isn't served at the actual shop, so you may have to order or make one yourself. Here's a tip though: make sure your coffee is plain black.
Now, considering the physical shop, we feel like you're not missing anything if you don't dine at Bob the Baker Boy.
In fact, our team preferred to just bring our order back to the office since we all felt like the cake shop's interior wasn't ideal to lounge in for a long period.
The space was too sparse for our liking and not to mention, a little small. The only thing that was brightening up the space was the actual cakes inside the display case.
If the beautifully decorated cakes, cheesecakes, cupcakes, and brownies weren't on display, the place would be lacklustre.
The staff who took our order was a pleasure to transact with and even offered us water, but when it came to packing the cake in a box, he was quite clumsy with it.
4. Lady M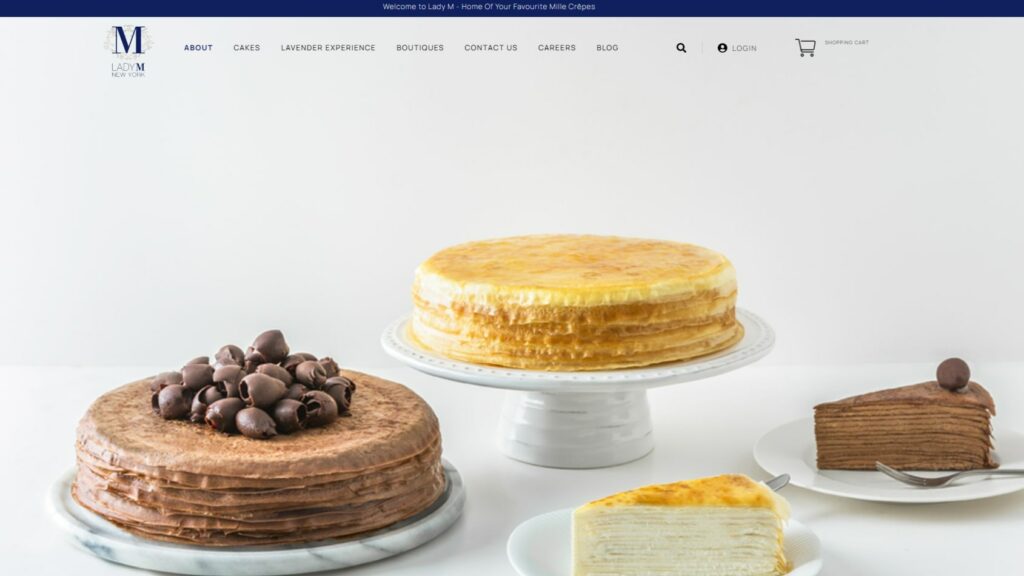 Website: ladym.com.sg
Address: 181 Orchard Road, #01-27/#02-07 Singapore 238896
Contact Details: +65 6509 3673 / cs@ladym.com.sg
Operating Hours: Monday to Sunday: 11:00 am – 10:00 pm
| | |
| --- | --- |
| Google Reviews | 4.5/5 |
| Total Reviews | 4.3/5 |
| Score Consistency | 4.3/5 |
| | |
| --- | --- |
| Cake Selection | 4.4/5 |
| Ambiance | 4.6/5 |
| Serving Speed | 4.3/5 |
| Cost(A higher score means a better value, not higher fees) | 4.3/5 |
Shop is spacious 
Uses high-quality ingredients, such as vegan chocolate 
The interior needs a splash of colour 
Products are pricey 
Beautiful, decadent, and mouth-watering are the perfect adjectives to describe Lady M's cakes.
My friend and I had planned to order their strawberry shortcake, but since we were feeling indulgent at that time, we also ordered a vegan chocolate tart and a slice of their pistachio mille crepe.
Now, when I say we were indulgent, I'm not lying. Our dining experience at Lady M nearly drained our pockets since each slice cost above $30 except the chocolate tart.
Their products were delish though, and we would have regretted it more if we missed out on the unique, nutty, and creamy flavours of the pistachio mille crepe and the luscious richness of their vegan chocolate tart.
In fact, I would even rate their vegan chocolate tart a point higher than their pretty standard strawberry shortcake.
Not only was the tart delectable, but the vegan chocolate used glided smoothly through our tongues, which is usually not the case for its cheaper counterparts.
My friend and I agreed that the shop could use some splashes of colour here and there. If not for the spacious interior and the warm overhead lights, the shop could have passed for an IKEA showroom.
5. Dolc Patisserie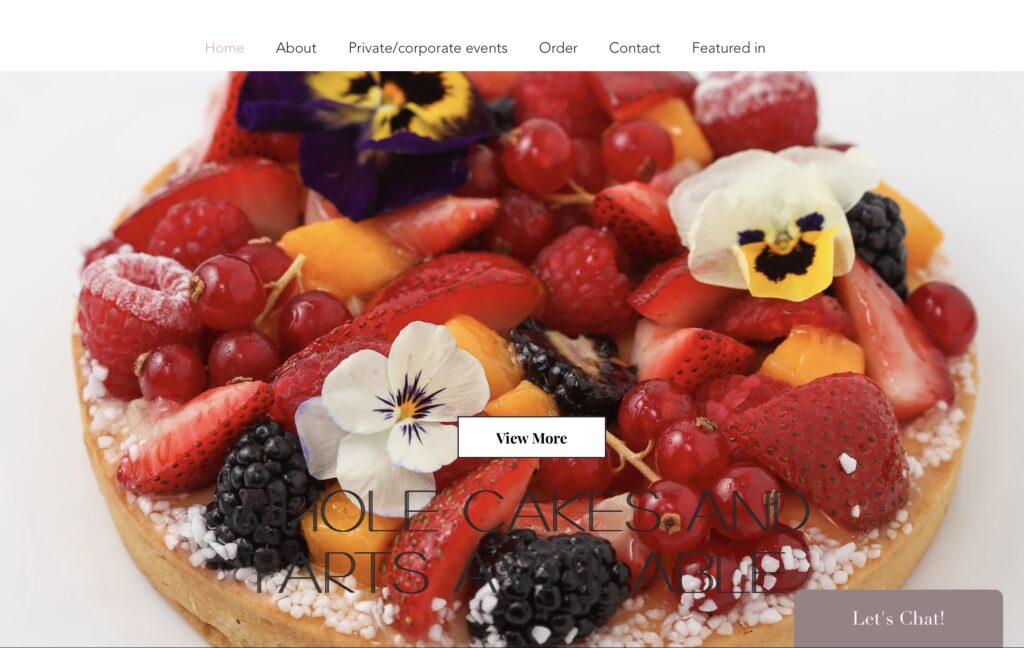 Website: https://www.dolcpatisserie.com/
Address: 67 Kampong Bahru Road #01-00 Singapore 169371
Contact Details: dolcpatisserie@gmail.com
Operating Hours: Mondays to Fridays: 10am to 6pm; Saturdays: 9am to 6pm; Sundays and public holidays: 10.30am to 5pm; and Closed on Tuesdays
| | |
| --- | --- |
| Google Reviews | 4/5 |
| Total Reviews | 4.5/5 |
| Score Consistency | 4.3/5 |
| | |
| --- | --- |
| Cake Selection | 5/5 |
| Ambiance | 5/5 |
| Serving Speed | 4.5/5 |
| Cost(A higher score means a better value, not higher fees) | 4/5 |
Exceptional flavor variety
Impeccable customer service
Affordable pricing
Wide range of cake options
Our journey into the delectable world of Dolc Patisserie left us enchanted, as we savored not just cakes, but an exquisite experience. From service to flavor, options, and cost, Dolc delivers on all fronts.
From the moment we stepped in, the red carpet of service was laid out before us. The staff's attentiveness and warmth made us feel like royalty on a cake quest. It's rare to find a place where service isn't just an obligation but a genuine art, and Dolc Patisserie has mastered this art to perfection.
As for flavor, Dolc's creations are nothing short of enchanting. Our taste buds embarked on a mesmerizing journey with each bite. The balance of sweetness in their cakes is like a well-composed symphony, leaving you craving for more. It's not just dessert; it's a sensory delight that lingers on your palate long after the last crumb has disappeared.
The variety of cake options at Dolc is like a treasure trove for dessert enthusiasts. From classic chocolate decadence to exotic fruit-infused delights, they offer a spectrum of choices to cater to diverse preferences. It's a place where vanilla meets adventure, and every slice tells a unique tale.
Despite the premium experience and divine flavors, Dolc Patisserie remains surprisingly affordable. It's a testament to their commitment to making exceptional cakes accessible to all without breaking the bank.
Sadly, they don't offer discounts on their cakes. We advise checking in with them for other affordable selections.
6 Fieldnotes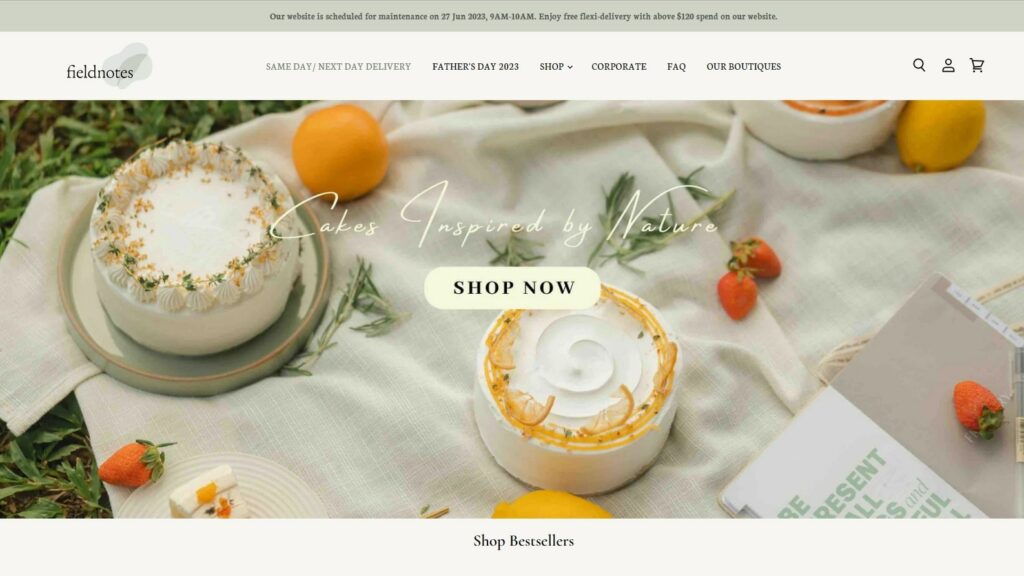 Website: fieldnotes.com.sg
Address: 41 Neil Road Singapore 088824
Contact Details: +65 6741 4514
Operating Hours:
Sun-Thurs 11.30AM-9PM (Last dine-in order: 8:30pm)
Fri & Sat 11AM-11PM (Last dine-in order: 10:30pm)
| | |
| --- | --- |
| Google Reviews | 4.7/5 |
| Total Reviews | 4.1/5 |
| Score Consistency | 4.3/5 |
| | |
| --- | --- |
| Cake Selection | 4.6/5 |
| Ambiance | 4.3/5 |
| Serving Speed | 4.4/5 |
| Cost(A higher score means a better value, not higher fees) | 4.8/5 |
Visually appealing cakes 
Cakes are affordable
The shop interior is sparse 
The shop seems to be understaffed 
Imagine if the flowers in an English countryside during springtime were confectionaries, and voila, you have Fieldnotes' beautiful cakes.
Their grapefruit lychee and mascarpone black forest cakes particularly looked magical courtesy of the fresh herbs and dried flower decor. They were also rich and flavoursome!
The grapefruit lychee cake had a freshness to it which was heightened by the combination of the lychee-flavoured chantilly cream and guava-infused sponge.
The mascarpone black forest, on the other hand, surprised us with the tangy kick from the sour cherry toppings that neutralized the rich, sweet flavour of the mascarpone and chocolate buttercream.
In fact, I'm planning on pre-ordering a cake from the same shop for my birthday since they're pretty affordable. Not to mention, they have a lot of designs and flavours to choose from.
The cakes were also tasty and more importantly, they were fresh and light.
It's just kind of a bummer that there wasn't anything to write home about the shop's interior considering how all their cakes are visually pleasing.
The shop seemed to be understaffed as well, and I only saw about two of them manning the counter and waiting for some tables.
7. LR boulangerie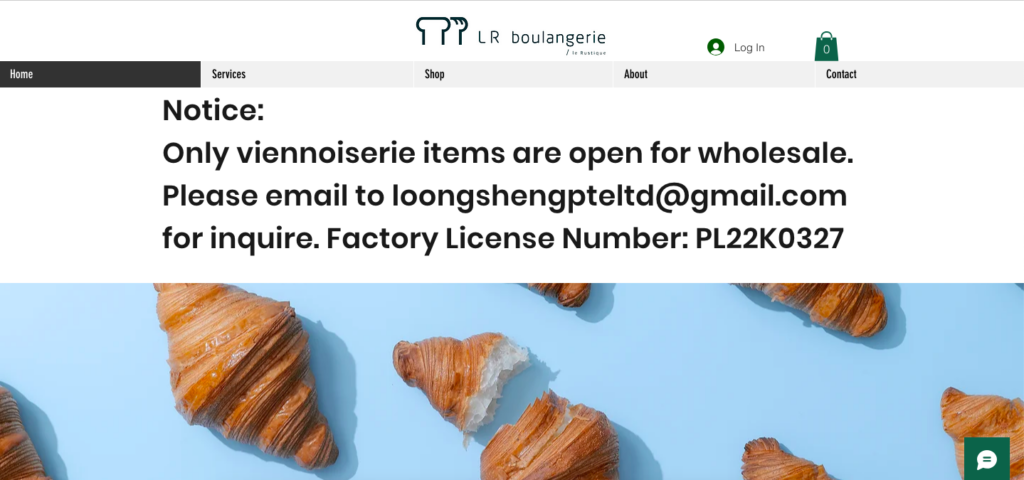 Website: https://www.lrboulangerie.com/
Address:
491 River Valley Road, #01-02, Valley Point Shopping Center, 248371
8 Empress Road, #01-31A, 260008
Contact Details:
Operating Hours: Mon – Sun: 8:30am – 17:00pm
| | |
| --- | --- |
| Google Reviews | 4.4/5 |
| Total Reviews | 4/5 |
| Score Consistency | 4/5 |
| | |
| --- | --- |
| Cake Selection | 4/5 |
| Ambiance | 4.5/5 |
| Serving Speed | 4.5/5 |
| Cost(A higher score means a better value, not higher fees) | 4.5/5 |
Artisan cakes
Diverse offerings
Friendly staff
High quality products
We think LR Boulangerie excels in creating pastries that leave a lasting impression.
They have delicious offerings like chocolate almond croissants, kouign amann, and burnt cheesecake. We think this indicates a strong commitment to taste and quality in their pastry products.
The emphasis on using fresh, high-quality ingredients is a significant pro for us. We think it shows their commitment to delivering pastries made with the finest components, which can greatly enhance the overall experience.
They staff provides friendly service and makes customers feel valued.
We like the range of offerings they have, which includes coffee, ice cream, cake, and more! This variety allows customers to enjoy a well-rounded experience and choose from different options to suit their preferences.
We also like that their chef highlights the attention to detail and the artistry that goes into creating cakes. The fact that every accessory on a cake is handmade shows a commitment to providing elegant and customized celebratory cakes.
One thing is that they sell out quickly and while suggests their popularity, it can be a drawback for customers who miss out on their favorite treats due to limited availability.
8. Monice Bakes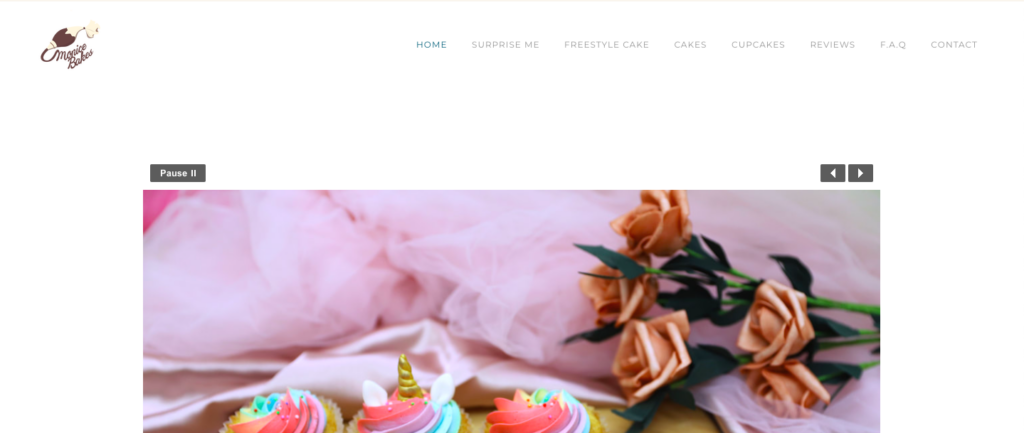 Website: https://www.monicebakes.com/
Address: Bedok Reservoir View (self-collection)
Contact Details: monice.bakes@gmail.com | Contact via whatsapp/text: ​+65 98150022 (No calls)
Operating Hours: Mon – Sun: 8:30am – 17:00pm
| | |
| --- | --- |
| Google Reviews | 4.9/5 |
| Total Reviews | 5/5 |
| Score Consistency | 5/5 |
| | |
| --- | --- |
| Cake Selection | 5/5 |
| Ambiance | 4.5/5 |
| Serving Speed | 4.5/5 |
| Cost(A higher score means a better value, not higher fees) | 5/5 |
Seamless Customization
Delicious Taste
Memorable Designs
Monice Bakes is praised for its seamless and responsive customization process.
We like the the prompt response to inquiries, and the ability to share their preferences, including event details and design ideas. This allows for personalized cake creations tailored to individual needs.
What we like best is how they also provide helpful suggestions, which we think demonstrates a commitment to enhancing the customer's experience and ensuring that the cake aligns with the event's theme and requirements.
The taste of their cakes is impeccable! We think the availability of various flavors, such as matcha, and the use of fresh ingredients like strawberries, contribute to a delightful and flavorful cake experience.
We commend them for creative and visually appealing cake designs. This adds an extra layer of excitement to special occasions, making them memorable and enjoyable.
Despite limited communication options (no calls), we find their customer service to be excellent. The amount of positive experiences clients mention indicate a customer-centric approach and a commitment to making special occasions memorable.
One review from another customer mentions a minor issue where the cake's shape did not exactly match the customer's expectation. While this is a relatively minor concern, we think it highlights the importance of clear communication and alignment between customer preferences and the final product.
9. Honeypeachsg Bakery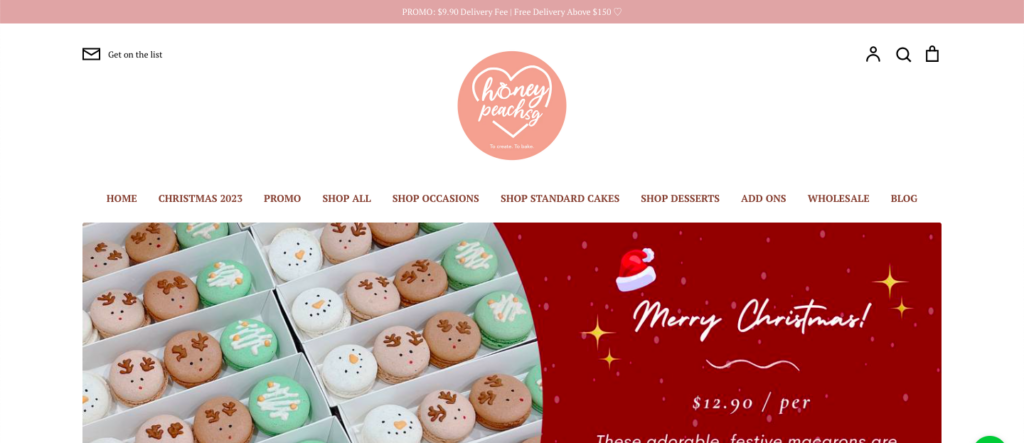 Website: https://www.honeypeachsg.com/
Address: Taiseng Point
11 Irving Place, #01-01
Singapore 369551
Contact Details: Email | info@honeypeachsg.com
Whatsapp | +6590884932
Operating Hours: Monday: 9am – 5pm
Tuesday: 9am – 3pm
Wednesday – Saturday: 9am – 5pm
Sunday: 9am- 11am
(by appointment only)
| | |
| --- | --- |
| Google Reviews | 4.8/5 |
| Total Reviews | 5/5 |
| Score Consistency | 5/5 |
| | |
| --- | --- |
| Cake Selection | 5/5 |
| Ambiance | 4.5/5 |
| Serving Speed | 5/5 |
| Cost(A higher score means a better value, not higher fees) | 5/5 |
High-Quality Ingredients
Customization Available
Affordable Delivery
Accepts Last-Minute Orders
Variety of Cake Flavors
There are a variety of reasons why we've added Honeypeachsg Bakery to this list.
We highly commend them for using high-quality cake ingredients and ensuring that all custom cakes are freshly made. We like their commitment to quality which is evident in the taste and freshness of their cakes.
One of our favourite things is how they allow customisation of cakes. Customers can request cakes that match the theme of their parties and include their favorite cake flavor.
They also provide affordable cake delivery in Singapore. This makes their service accessible to a wider audience and adds to the convenience of ordering cakes.
Their team accommodates last-minute cake orders with a minimum lead time of 1-2 days is a significant advantage in our opinion. This flexibility ensures that customers can get cakes even with short notice, making them suitable for spontaneous celebrations.
We love how they have a variety of flavors that customers can choose from, so they can cater to different flavour and taste preferences.
They're also highly praised for their creative and visually appealing cake designs!
Many customers love that their cakes are less sweet, moist, and soft. This characteristic appeals to those who prefer cakes that are not overly sugary, providing a delightful and enjoyable cake experience.
One thing we've heard some customers complain about is their delays in delivery. Some customers received their cakes later than expected, leading to disruptions and disappointment at special events.
10. LadyLeFlour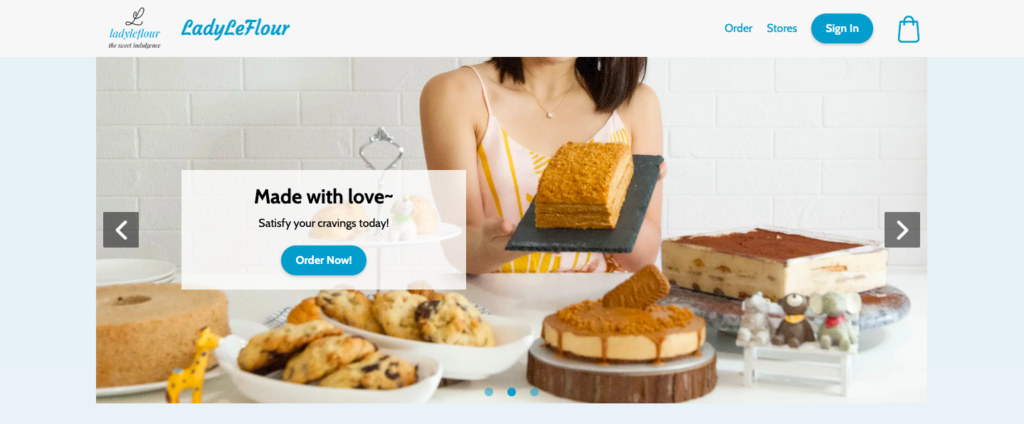 Website: https://ladyleflour.oddle.me/en_SG/
Address: 183 Jalan Pelikat, #01-58, Singapore, 537643
Contact Details: Phone: +65 9850 4669
Operating Hours:
Pickup
Mon: 09:00 AM – 11:30 AM
Tue – Fri: 10:00 AM – 03:00 PM
Sun: 11:00 AM – 01:00 PM
Sat: 10:00 AM – 02:30 PM
Delivery
Sun: 12:00 PM – 04:00 PM
Mon – Sat: 10:30 AM – 03:00 PM
| | |
| --- | --- |
| Google Reviews | 5/5 |
| Total Reviews | 5/5 |
| Score Consistency | 5/5 |
| | |
| --- | --- |
| Cake Selection | 5/5 |
| Ambiance | 5/5 |
| Serving Speed | 5/5 |
| Cost(A higher score means a better value, not higher fees) | 5/5 |
Creative and Attractive Cake Presentation
On-Time and Friendly Delivery
Customized Cake Design
Flavor Variety and Moisture
Lady LeFlour offers the advantage of customized cake designs. Customers praise the flexibility and creativity in the cake design process.
Even with last-minute orders, the bakery is known for delivering cakes that meet customer expectations. The ability to trust the baker's creative process and still receive a satisfying cake is a significant benefit.
We like the variety of flavors available for cakes. Flavors like strawberry shortcake, lychee, black sesame, and others have received positive reviews!
We also like the moisture and quality of the cakes—they're very moist and delicious!
Their delivery service receives praise from us for being on time and conducted by a friendly and helpful delivery person. The timely delivery contributes to the overall positive experience for customers.
We appreciate the creativity and attractiveness of Lady LeFlour's cake presentations. Their cakes have appealing designs, color contrasts, and overall visual aesthetics.
FAQs about Cake Shops
---