Categories >
Other Services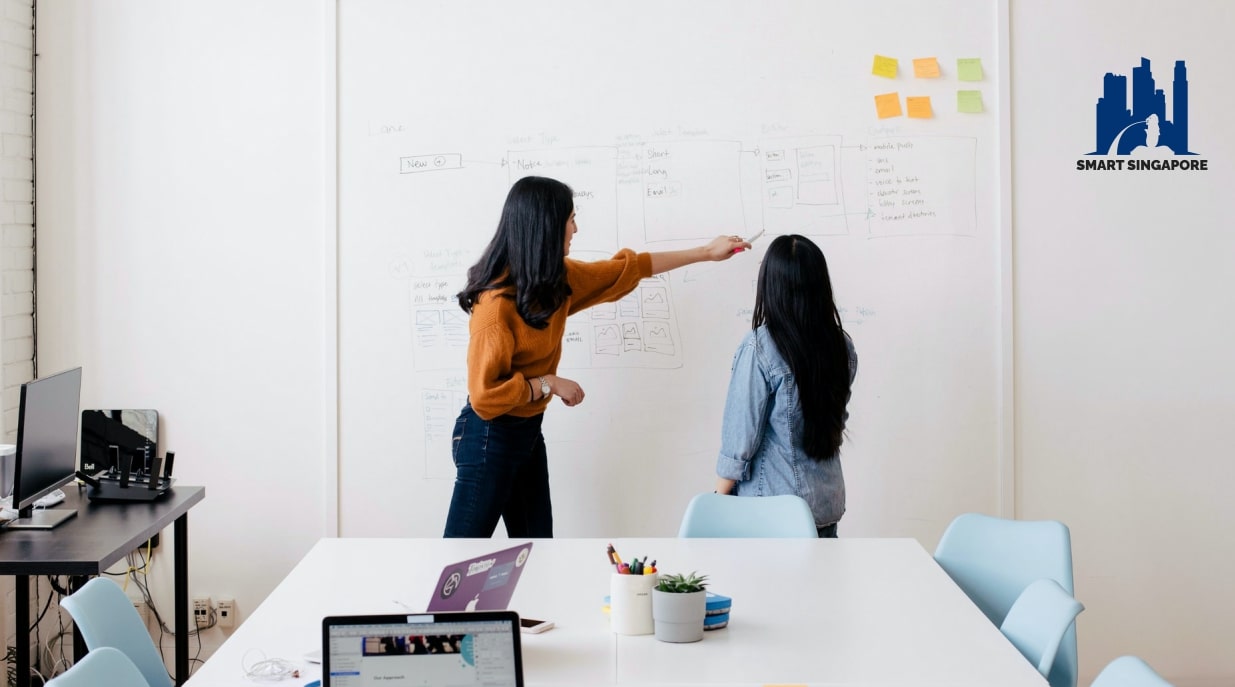 The Top 6 Translation Services in Singapore
How We Picked
Services Offered
We took into account the range of services offered by professional translation services in Singapore and chose those that offer a variety.
Exactness
We want to lessen your chances of being lost in translation. This is why we give importance to accuracy.
Turnaround Time
We are aware that some deadlines are deadlier than others. Hence, we made sure to include this in our criteria.
Quality
Quality is crucial for customers. We didn't forget to check the quality of work of the translation services in Singapore when we came up with this list.
1. Lyric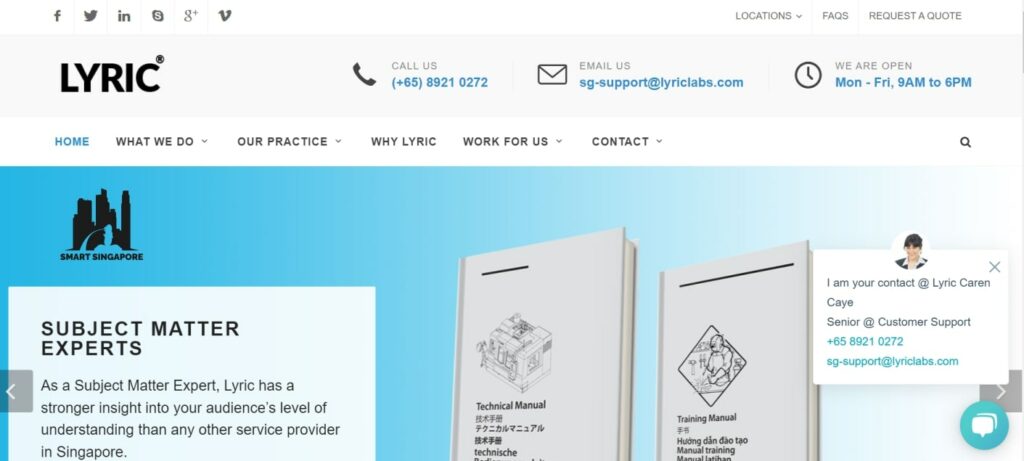 Services: Translation Services, Audio and Video Translation, Multilingual Desktop Publishing, Telephone and Onsite Interpretation, Website Translation
Website: https://www.translators.com.sg/
Address: Level 19, Singapore Land Tower, 50 Raffles Place, Singapore
Contact Information: +65 8921 0272 | Email: sg-support@lyriclabs.com
Operating Hours: Monday to Friday, 9:00 am to 6:00 pm
| | |
| --- | --- |
| Google Reviews Score | 4.8/5 |
| Total Reviews | 4.5/5 |
| Score Consistency | 4.6/5 |
| | |
| --- | --- |
| Services Offered | 4/5 |
| Exactness | 5/5 |
| Turnaround Time | 5/5 |
| Quality | 5/5 |
ISO 9001-certified
Can translate to more than 100 languages 
Quick response and turnaround times
Competitive pricing
With more than a decade in operation, Lyric has already gained a reputation in the industry. We heard all about its quality services that are also reasonably priced.
Lyric employs native speakers from all over the world. To paint a more exact picture: it has about 1,500 translators who are collectively proficient in roughly 100 languages.
Imagine having that kind of manpower available to you whenever you need something translated. Surely you can see why we believe they are a solid choice.
More importantly, Lyric is ISO 9001 certified. You don't have to worry about the quality of their output at all.
Now you may think quality work takes time. Well, actually, we like how speedy they are. From what we know, Lyric is quick, from replying to client questions to actual translating.
By quick here, we mean same day delivery. Of course, to set your expectations straight, this depends on the length of the original document.
For a single page, the usual turnaround time is 24 hours. But like we said, for something approximately 500 words, you may get your translated document within the same day.
You just have to contact them before the weekend because they are closed then. We don't like this, either.
If you need translation on a Sunday ASAP, you may want to check other translation services in Singapore.
We think there's a slight chance you can be accommodated by Lyric given the company's thousand translators. At least even in a rush job, you can be assured of the accuracy.
2. TranslatedRight
Services: Translation Services, Document Translation Service, Website Translation, Proofreading Transcription, Language Translation, Localisation, Desktop Publishing, ICA Translation Service, Notary Public Translation
Website: https://www.translatedright.com/
Address: 5 Peck Hay Road, Singapore
Contact Information: +65 6977 9646 / +65 8725 9055 (WhatsApp) | Email: hello@translatedright.com
Operating Hours: Monday to Friday, 9:00 am to 6:00 pm
| | |
| --- | --- |
| Google Reviews Score | 5/5 |
| Total Reviews | 5/5 |
| Score Consistency | 5/5 |
| | |
| --- | --- |
| Services Offered | 4/5 |
| Exactness | 5/5 |
| Turnaround Time | 4.5/5 |
| Quality | 5/5 |
Wide range of services
Can translate to over 50 languages
Fast turnaround time
Excellent customer service
Accepts urgent orders
Closed on weekends
Lack of interpreting services
We just love it when a business is named so aptly. It's like taking out the guesswork; just from the name alone, you know what you are getting.
Compared with other translation services in Singapore we considered for this list, TranslatedRight is somewhat a newcomer. Nevertheless, they were able to gain traction fast.
We bet that clients saw the name of the company and trusted it to live up to it. More importantly, they didn't regret; this judging from the reviews we came across.
Many customers confirmed the accuracy of the translations from the company. They used 'high standard', 'impressive' and 'detailed' when referring to the output.
We are also happy that the range of services in TranslatedRight go beyond the typical translation services. Moreover, the company offers translations to more than 50 languages.
There are other companies that offer a higher number than that. If you need something translated to the common languages though, then TranslatedRight has you covered.
Regarding turnaround time, clients we polled mentioned they got the translated documents within 24 hours. Now, remember that this time frame is for simpler and shorter documents.
The customer service of TranslatedRight is also commended by most customers. Queries are answered promptly, and updates are even provided.
Although the office is closed on weekends, their services can still be availed. That's right, for an additional fee, they take on urgent orders.
3. Singapore Translators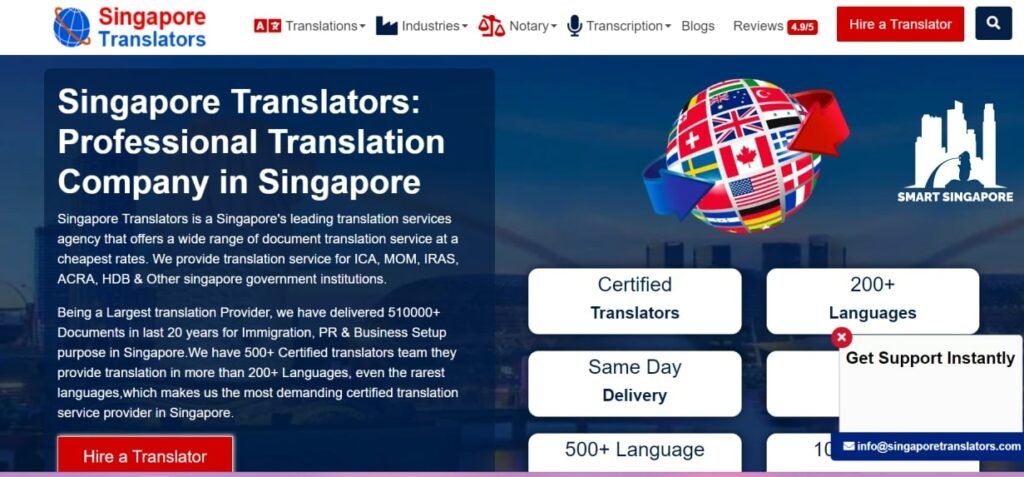 Services: Academic Translation, Document Translation, Medical Translation, Business Translation,Transcription, Notarisation, Legalisation
Website: https://www.singaporetranslators.com/
Address: Online only
Contact Information: +65 3129 4104 | Email: info@singaporetranslators.com
Operating Hours: Open 24 hours
| | |
| --- | --- |
| Google Reviews Score | 4.4/5 |
| Total Reviews | 4.9/5 |
| Score Consistency | 4.6/5 |
| | |
| --- | --- |
| Services Offered | 5/5 |
| Exactness | 5/5 |
| Turnaround Time | 5/5 |
| Quality | 5/5 |
Available 24/7
Same-day delivery
Can translate to more than 200 languages
Wide range of services
Fast response to queries
You never know when you'll need something translated urgently. For exactly this scenario, we put Singapore Translators in your radar: they are open 24/7.
Their customer service can be reached anytime for so many kinds of translation services. That's just one reason we favour the company.
Another is that they can guarantee same-day delivery. With this turnaround time, it's no wonder some clients claimed that Singapore Translators is 'lightning fast'.
Mind you, this is regardless of the translation service availed. Medical or legal translation or other relatively complicated documents can still be finished the same day.
For this option, their rate is steeper, which is kind of expected. But when you are on a deadline, it's really worth it.
That is because aside from the fast turnaround time, Singapore Translators is reputed for excellent outputs. We noticed that many of their clients are returning ones.
Among the translation services in Singapore that we looked into, Singapore Translators has the highest number of languages available.
The company has more than 500 translators, and together, they can translate to over 200 languages. We love that Singapore Translators only uses human translators.
The company has a strict no refund policy which can be a drawback to some. While this is indeed unfortunate, we look at it as a sign of confidence.
At the very least, revisions can be done for free if the translation is found poor. We are pleased with this show of accountability.
4. Eureka Translations

Services: Translation Services, Interpretation, Transcription, Video Editing, Graphic Design, Desktop Publishing
Website: https://www.eurekatranslations.com/
Addresses:
63 Chulia Street, #15-01 OCBC Centre East, Singapore
8 Burn Road, #06-06 Trivex, Singapore 369977
S5019, 431 Teheran-ro Gangnam-gu, Seoul
Contact Information: +65 6610 4439 | Email: info@eurekatranslations.com
Operating Hours: Monday to Sunday, 9:00 am to 9:00 pm
| | |
| --- | --- |
| Google Reviews Score | 4.9/5 |
| Total Reviews | 4.9/5 |
| Score Consistency | 5/5 |
| | |
| --- | --- |
| Services Offered | 5/5 |
| Exactness | 5/5 |
| Turnaround Time | 4/5 |
| Quality | 5/5 |
Extensive range of services
Experts in East Asian languages
Services multinational companies
Offers discounts for high-volume projects
Includes two edits
Open daily
Turnaround time takes a little longer
Admittedly, we were not that impressed when we came across the list of languages available for translation in Eureka Translations. We even became hesitant to include it.
Basically, the company translates to numerou East Asian languages. That is French, German, Russian, Tamil, Thai, Hindi, Tagalog, Indonesian, Burmese, Malay, Vietnamese, and many more.
The also cover a lot of industries. They can handle translations for technology, fashion and manufacturing fields to name a few. 
That's why we were no longer surprised when we checked the clientele of Eureka Translations. They cater to Google, Microsoft, Burberry, Amazon and Honda among others.
Upon knowing that Eureka Translations managed to win over the trust of these multinational companies, we no longer doubted the company.
We are rather sure that exactness and quality are the topmost reasons. There's a chance though that it is due to the discount offered for bulk projects.
Big companies require constant translation especially when they roll out new products and/ or services. So they definitely find the discount sweet.
Going back to quality, Eureka Translations actually conducts two edits of each translation output. We appreciate this kind of meticulousness.
5. Raffles Translation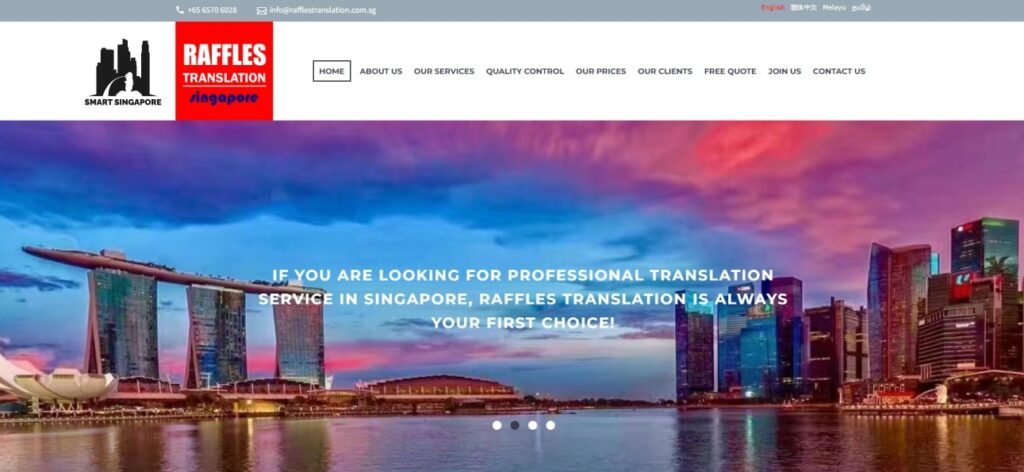 Services: Chinese Literary Translation, Certified Translation, Language Translations, Interpreting Service, Transcreation, Subtitling, Website Localisation, Editing, Proofreading, Desktop Publishing (Typesetting), Voiceover
Website: https://rafflestranslation.com.sg/
Address: 71 Jurong West Central 3, #07-17, Jurong Point Shopping Mall, Singapore
Contact Information: +65 6570 6028 | Email: info@rafflestranslation.com.sg
Operating Hours: Monday to Sunday, 9:00 am to 9:00 pm
| | |
| --- | --- |
| Google Reviews Score | 4.8/5 |
| Total Reviews | 4.6/5 |
| Score Consistency | 4.8/5 |
| | |
| --- | --- |
| Services Offered | 5/5 |
| Exactness | 5/5 |
| Turnaround Time | 5/5 |
| Quality | 5/5 |
Offers various translation services
Translates to over 100 languages available
Open daily
Affordable fees
Fast turnaround time even for bulk projects
Gives discounts to long-term clients
Minimum charges for small orders
Additional fees for rushed orders
On the subject of services provided, Raffles Translation has more to offer than the basic language translations. The company also specialises in more than 100 Asian and European languages.
Considering these two facts, we do not doubt why it has been the go-to translation service provider of many companies with operations all around the world.
What we really like about Raffles Translation is that they are very transparent about, well, everything. They detail their workflow and pricing strategy on their website.
And when it comes to pricing, the fees of Raffles Translation are lower than the industry average. Honestly, this is the deciding factor for us.
Fortunately, many translation services in Singapore deliver quality output. That's why the arguably lowest rate of Raffles Translation sets it apart from others.
The company also provides quotes promptly (not over an hour) and for free. The customer service is well-loved for being quick to respond 24/7.
One thing we are not that happy about is the minimum charge for small orders. You can tell that they are really targeting corporations.
Not that there is something wrong with that. Raffles Translation, after all, is a well-oiled machine known for handling bulk projects the quickest.
6. Elite Asia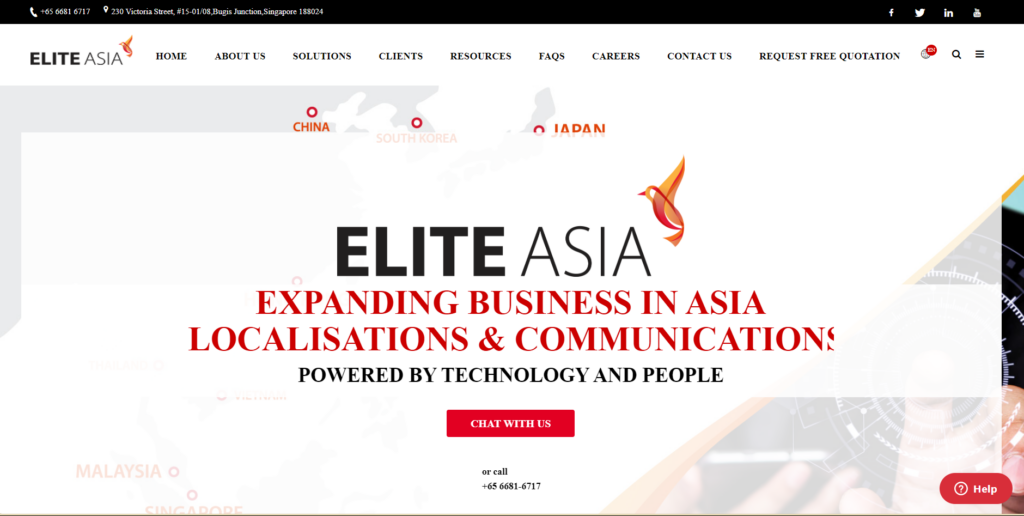 Services:
Website: https://www.eliteasia.co/
Address: 230 Victoria Street, #15-01/08, Bugis Junction, Singapore 188024
Contact Information:
Operating Hours: Weekdays: 9:00 – 18:00
| | |
| --- | --- |
| Google Reviews Score | 4.4/5 |
| Facebook Reviews Score | 5/5 |
| Total Reviews | 4.7/5 |
| Score Consistency | 4.4/5 |
| | |
| --- | --- |
| Services Offered | 5/5 |
| Exactness | 4.5/5 |
| Turnaround Time | 4/5 |
| Quality | 5/5 |
Cultural Expertise
Bespoke Solutions
Wide Array of Services
Elite Asia, a vital arm of TRANSLASIA Holdings, stands as an indispensable partner in the realm of translation services, dedicated to helping businesses traverse language barriers and excel in Asian markets.
Elite Asia's team comprises translators, interpreters, and writers with a deep understanding of cultural nuances. This allows them to deliver translations that not only preserve the original meaning but also capture the essence and context, making it suitable for the target audience.
The company's dedication to crafting tailored business documents means that clients receive materials designed to resonate with their brand's core values. This collaborative approach ensures that each translation accurately represents the client's unique vision and requirements.
Elite Asia offers a comprehensive range of communication solutions, both online and in person. From simultaneous interpreting to website localization, they cater to diverse needs and facilitate seamless communication.
Do take note that the availability of certain services may be subject to demand, which could lead to waiting times or potential scheduling constraints.
FAQs about Translation Services in Singapore