Categories >
Other Services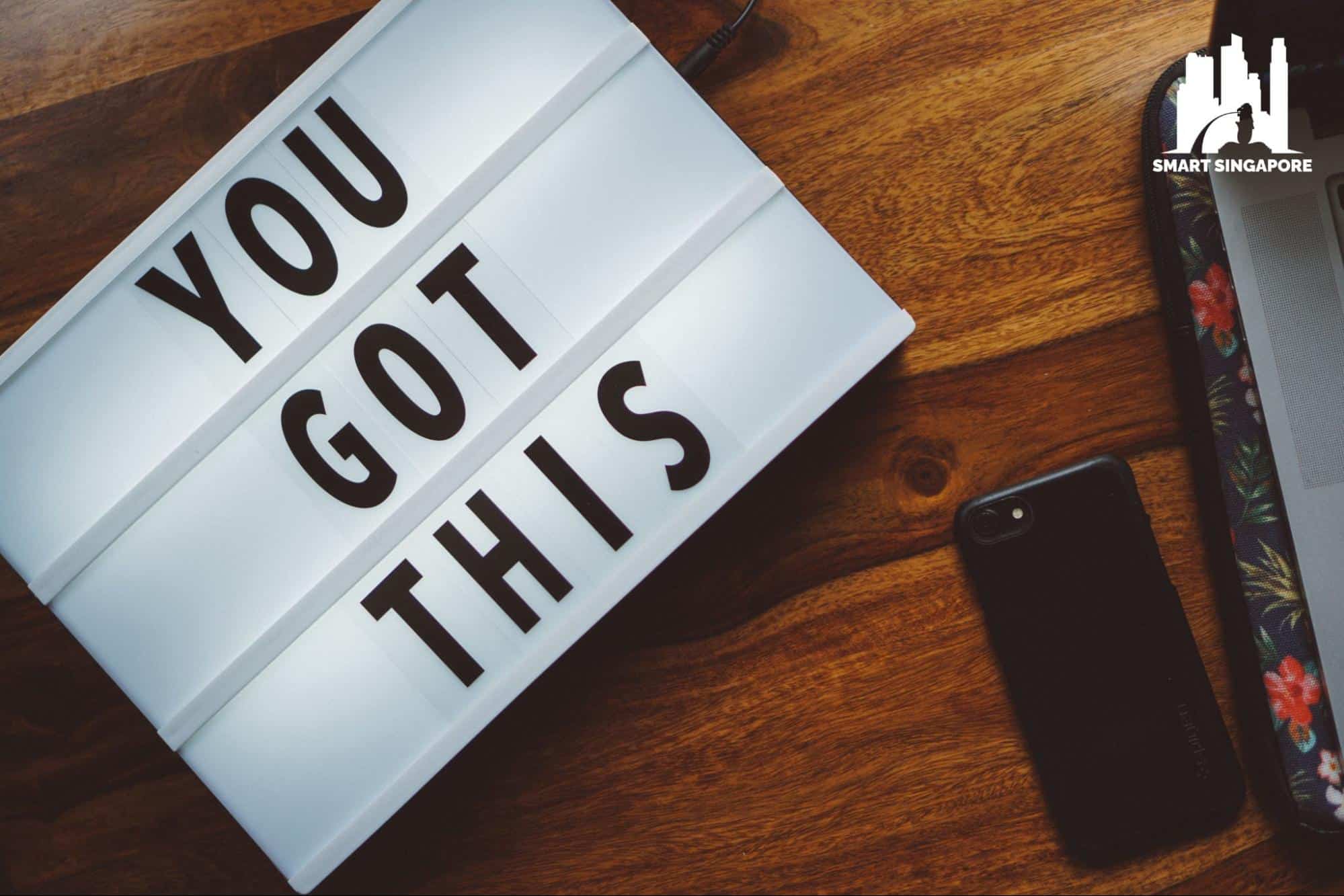 Life Overhaul! Top 5 Life Coaches to Hire in Singapore 
1. Eugene Seah Abundance Life Coach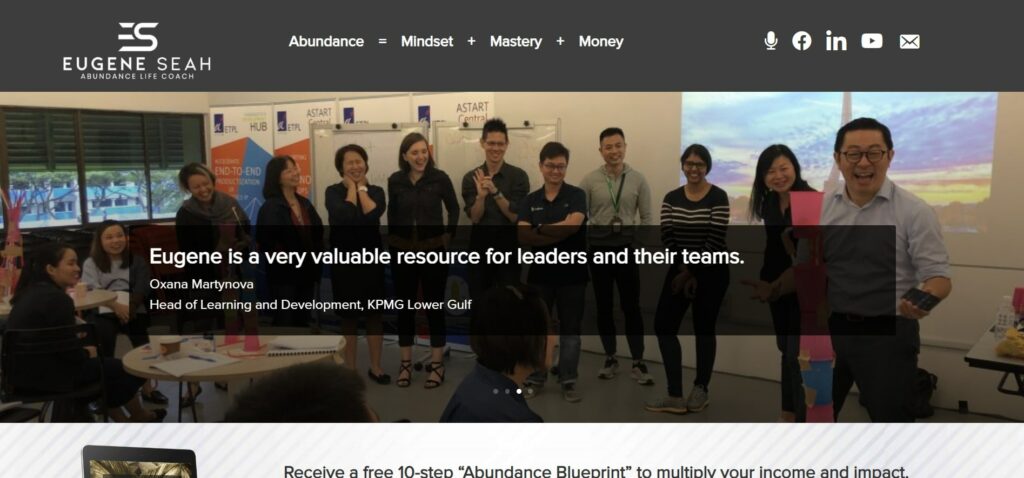 Coaching Sessions: Abundance, Mindset, Mastery, Money
Website: https://eugeneseah.com/
Address: 51 Scott's Rd, #03-08, Singapore 228241
Contact Details: +65 9179-1401
Operating Hours: Monday to Friday: 10:00 AM – 5:00 PM
| | |
| --- | --- |
| Google Reviews | 4.9/5 |
| Total reviews | 4.5/5 |
| Score consistency | 5/5 |
| | |
| --- | --- |
| Coaching quality | 4.9/5 |
| – Approach | 4.8/5 |
| – Effectiveness | 5/5 |
| Industry experience | 5/5 |
| Certifications | 5/5 |
| Reachability | 4.3/5 |
Inspiring coach
Great for people who need financial guidance
Offers a free webinar
May be difficult to book for a one-on-one consultation
Might not fit people needing confidence boosters
Eugene Seah's abundance-focused coaching sessions are perfect for people needing guidance with finance management and personal brand and business growth.
The ICF-certified coach teaches frameworks anchored on his client's financial goals to boost earning power and free up time for joy and fulfillment.
The coach himself experienced financial hardship. Now that he has become a recognized speaker and reputable coach, many clients are drawn to him, wanting to know how he overcame his struggle.
Several clients also praised Eugene's friendly yet straightforward approach. They said he felt like a combination of a friend and a business partner—he's candid and warm, but he's also strict and focused so clients can achieve their goals.
You might find his services challenging to book, as he's in demand, though. Moreover, he's not reachable through chat or e-mail if you're a new client (you should set an appointment first through a contact form).
The good thing is that you can get a taste of his coaching through his free one-hour webinar. If you're working for a company and your executives hire him for employee seminars, the better!
However, note that Eugene's focus on financial growth may not be for people looking to build their lives from the ground up by boosting confidence.
2. Rainmakers Coaching International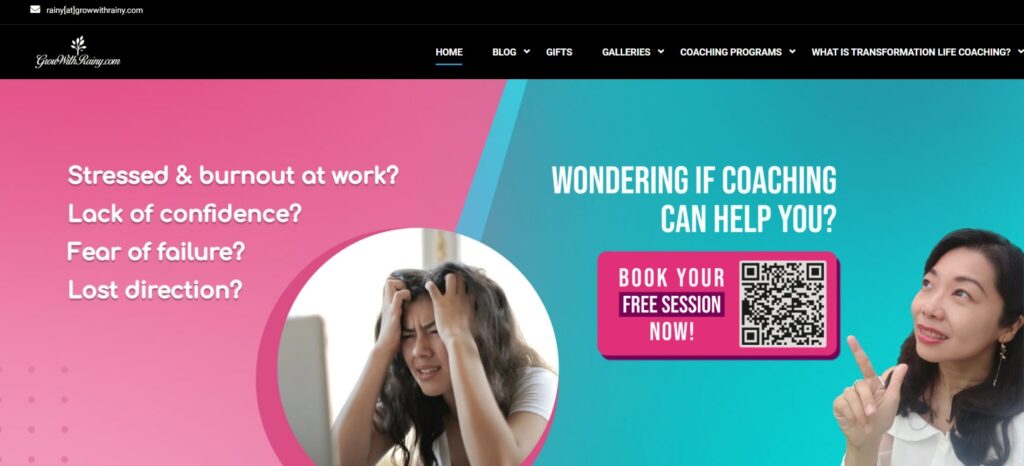 Coaching Sessions: Transformation Coaching, Life Visioning Workshop, Building Rock Solid Confidence
Website: https://growwithrainy.com/
Address: 408 River Valley Rd, Singapore 248306
Contact Details: +65 8645-6762 | rainy@growthwithrainy.com
Operating Hours: Monday to Friday: 10:00 AM – 9:30 PM
| | |
| --- | --- |
| Google Reviews | 4.9/5 |
| Facebook | 5/5 |
| Total reviews | 5/5 |
| Score consistency | 5/5 |
| | |
| --- | --- |
| Coaching quality | 4.8/5 |
| – Approach | 4.8/5 |
| – Effectiveness | 4.8/5 |
| Industry experience | 5/5 |
| Certifications | 4.5/5 |
| Reachability | 5/5 |
Coach helps with inner transformation
Patient and non-judgmental coaching sessions
Easily reachable
Packages' coverages seem to overlap
No ICA/ICF certification yet
Rainmakers Coaching International's hook is its promise of life transformation within six months.
The life transformation sessions, led by Robbins Madanes-trained coach Rainy, start with unpacking each client's baggage and inner conflicts and work from there to unleash the person's full potential.
We noticed that Rainy is a big hit to people who want to change themselves from the inside out. Clients with imposter syndrome, limiting beliefs, and low self-esteem all find Rainy's sessions transformative and enlightening.
They also shared that the coach's kind and patient yet reasonably strict approach consistently motivates them to improve.
The best part? It's easy to schedule appointments with the coach, as you can book directly through the company's online calendar.
However, we find the coaching session descriptions overlapping, which might make choosing one confusing.
For instance, two packages (Fear to Freedom and Building Rock Solid Confidence) pretty much have the same premise and goal of boosting one's self-esteem.
Fortunately, you can take advantage of the company's initial consultation offer to gain clarity. Rainy will recommend the package that will best fit you.
As for us, we think the Life Transformation package is a good starting point, especially if you're at a loss for how to move forward.
However, note that although trained as a coach, Rainy has yet to get an ICA or ICF certification. That might explain why she's focused on inward overhauls and not corporate-related coaching.
3. Jasrin Singh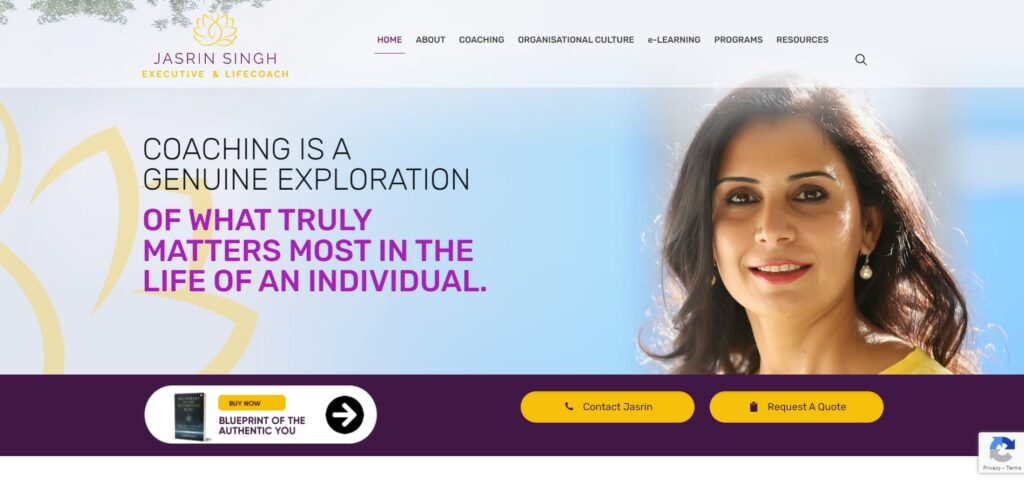 Coaching Sessions: Executive Coaching, Life Coaching, Feminine Leadership, Relationship Coaching
Website: https://jasrinsingh.com/
Address: 32 Lorong Sarhad, Singapore 119151
Contact Details: +65 9066-8234 | jasrin@jasrinsigh.com
Operating Hours: Monday to Friday, Sunday: 9:00 AM – 6:00 PM
| | |
| --- | --- |
| Google Reviews | 5/5 |
| Facebook | 5/5 |
| Total reviews | 4.5/5 |
| Score consistency | 5/5 |
| | |
| --- | --- |
| Coaching quality | 4.9/5 |
| – Approach | 4.8/5 |
| – Effectiveness | 5/5 |
| Industry experience | 5/5 |
| Certifications | 5/5 |
| Reachability | 4.8/5 |
Best for improving confidence and leadership skills
Incorporates spiritual teachings to sessions
Very warm and accommodating coach
Not for people who prefer non-spiritual guidance
Setting an appointment might be challenging
Jasrin Singh's life coaching approach may best fit people looking for holistic advice to sustain well-being, self-esteem, and peace of mind.
The ICA-certified coach's coaching sessions aim to turn people into independent individuals who can operate better in work and relationships, making it perfect for those struggling with career and human connections.
Some clients found sessions with Jasrin life-changing, saying they discovered their leadership potential through her. The discovery helped these clients be comfortable aiming for higher goals, resulting in further career growth.
A few clients also shared that the coach incorporates her spiritual knowledge into the sessions, providing a new perspective. She channels Bhagavad Dita, Tao Te Ching, and Yoga Sutras teachings.
That said, you might want to look for another coach if you prefer a purely pragmatic approach to coaching or don't believe in the spiritual teachings mentioned.
On the other hand, if you don't mind the spiritual factor and have decided to call Jasrin for an initial consult, expect to fall on a waitlist before you can speak to her.
Fortunately, her team does its best to respond to queries within 24 hours so you won't wait that long.
We love that Jasrin offers online classes and is easily reachable via phone, as it favors busy clients who can't attend in-person sessions.
Moreover, she's available on Sundays, unlike other life coaching companies that are only available on weekdays.
4. BestOfMe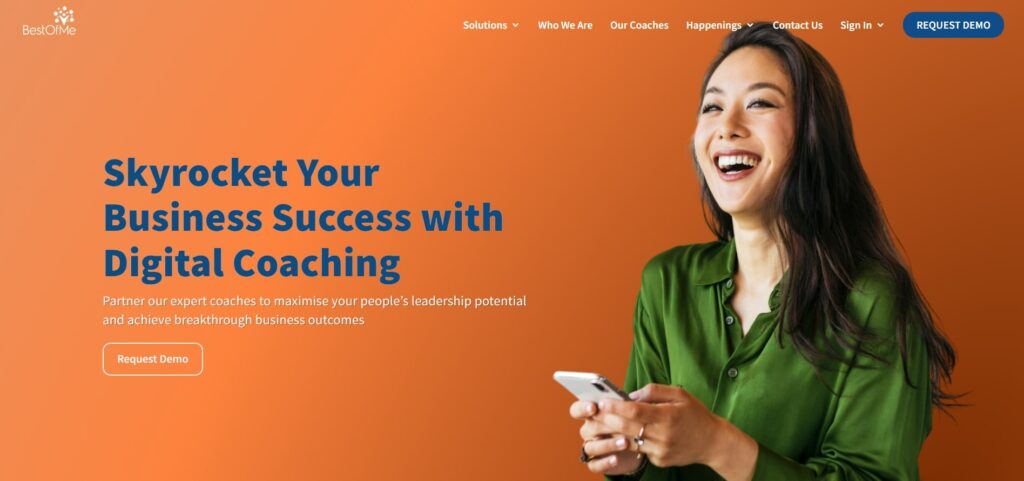 Coaching Sessions: Life Coaching, Leadership Development
Website: https://bestofme.io/
Address: 18 Howard Rd, Novelty BizCentre, Singapore 369585
Contact Details: +65 8876-1936 | hello@bestofme.io
Operating Hours: Monday to Friday: 8:30 AM – 6:30 PM
| | |
| --- | --- |
| Google Reviews | 5/5 |
| Total reviews | 5/5 |
| Score consistency | 5/5 |
| | |
| --- | --- |
| Coaching quality | 4.75/5 |
| – Approach | 4.7/5 |
| – Effectiveness | 4.8/5 |
| Industry experience | 5/5 |
| Certifications | 5/5 |
| Reachability | 5/5 |
Digital, flexible sessions
Plenty of life coaches available
Easy-to-use coaching platform
Not for people who like in-person sessions now and then
Assigned life coach might not always be a good fit
BestOfMe offers bite-sized, available anytime, anywhere coaching materials, making the sessions perfect for busy people who want to learn at their own pace.
According to clients, the digital coaching sessions allow greater flexibility. Some even attend sessions during their commute, making the otherwise mundane activity more meaningful.
And unlike other coaching companies where you speak with coaches via chat or online call apps, BestOfMe has a dedicated platform with an app that the clients can install on their phones.
Clients said the platform is a tremendous help, as it streamlines the coaching process. Plus, it's user-friendly!
One gripe we have with BestOfMe, however, is that the platform's algorithm decides who among the company's many life coaches fits your needs. This setup can be a bummer if you end up not vibing with the assigned coach.
Also, if you crave in-person interactions, you won't experience it with BestOfMe's coaches, as they are only reachable digitally.
That said, company owners who want to improve their employees' well-being may find much value in hiring BestOfMe.
We say so, as we think it's cost-effective to give your workers access to a coaching platform and let them learn remotely rather than gathering them for two to three-day seminars in an events place.
5. Atinon Coaching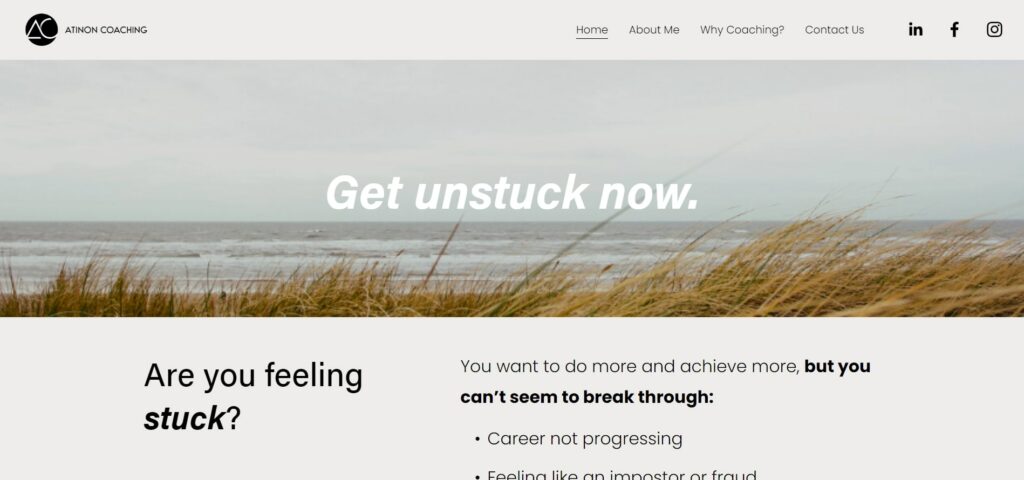 Coaching Sessions: Integrated Coaching
Website: https://www.atinoncoaching.com/
Address: 78 Guan Chuan St, #04-33, Singapore 160078
Contact Details: +65 9636-5389
Operating Hours: Monday to Saturday: 9:00 AM – 6:30 PM
| | |
| --- | --- |
| Google Reviews | 5/5 |
| Facebook | 5/5 |
| Total reviews | 4.5/5 |
| Score consistency | 5/5 |
| | |
| --- | --- |
| Coaching quality | 4.8/5 |
| – Approach | 4.8/5 |
| – Effectiveness | 4.8/5 |
| Industry experience | 4.3/5 |
| Certifications | 5/5 |
| Reachability | 5/5 |
Friendly and highly reachable coach
Ideal for people focusing on health and wellness
ICF-certified
New industry player
Not for people who prefer to focus on one life aspect
Albert Atinon's structured coaching program integrating life, work, and wellness is ideal for people who want to streamline their life overhauling projects.
Clients who had sessions with Albert shared how the integrated approach is practical, as they don't have to book separate packages to improve each aspect of their lives.
Furthermore, several clients shared that the one-hour Discovery Session (the first step to Albert's coaching) impressed them, as the coach figured out what they needed within the duration.
One of them mused that other coaches might take longer figuring him out, as he's a tough nut to crack, but Albert's lighthearted and sincere approach made it easier for him to open up.
That said, Albert is not as well-known as other life coaches in Singapore yet, as he's relatively new in the field.
Nonetheless, his ICF certification and 20 years of marketing experience make up for his coaching newbie status.
People who want to focus on career advancement and prefer a more pragmatic, linear approach may also see other coaches' approach as preferable to Albert's all-in-one package.
FAQs about Life Coaches
---